Pro-Brexit Left Goes the Full Blue Labour.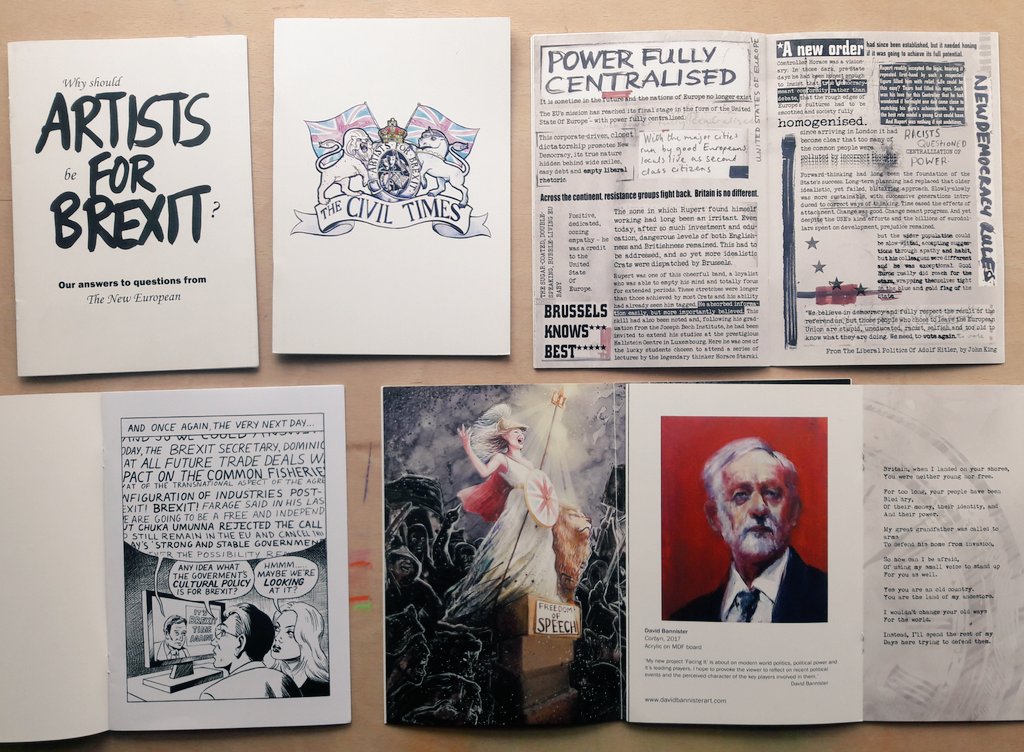 Cutting Edge "Artists for Brexit" Show their Talents at "Transforming Britain After Brexit."
"We are a group committed to seizing the historic opportunity Brexit offers for restoring popular sovereignty, repairing democracy, and renewing our economy."
London Meeting: Speakers, Larry Elliott from the Guardian,  Feyzi Ismail from Counterfire…
Evans Agelissopoulos  A couple of unions need to take the political lead, try and get taxi drivers, truck drivers, fishermen etc on board as they are taking direct action for Brexit.
Eddie Dempsey (RMT)  The EU is an Empire. Is this what our ancestors have fought for? To replace one Empire's flag with another?
(More on Eddie Dempsey below).
Claire Fox from The Institute of Ideas: "I am worried that if Brexit doesn't happen the left will be complicit in destroying the new found voice of the working class."
Here is something on the star Full Brexit speaker from the  RMT.
Eddie Dempsey's postings are totally unacceptable
Labour List today publishes this excellent article.
Beware, Lexiteers: you could be paving the way for Blue Corbynism
On Monday, the "Left Brexit tour" – a series of events organised by The Full Brexit campaign group, which seeks to appeal to Labour members – stopped in London. Original signatories of The Full Brexit campaign include Marxist Eurosceptic economist Costas Lapavitsas, Blue Labour grandee Maurice Glasman and David Goodhart, head of the demography, immigration and integration unit at the right-wing think tank Policy Exchange. At first glance, Glasman and Goodhart do not look like natural allies of a socialist Corbyn government, so what are they trying to achieve?

Inflammatory rhetoric used to discuss the impact of immigration on British jobs and communities was front and centre during and after the referendum campaign. Labour has accepted this narrative, as evidenced by our commitment to ending free movement in the 2017 manifesto and the recent scrambling over whether to oppose the government's immigration bill in parliament.

Immigration is where Corbynism and Blue Labourism currently overlaps. Blue Labour's vision, based on "faith, flag and family", rails against Labour's socially liberal culture and "irresponsible approach to large-scale immigration". They argue that, through this attitude towards immigration, the party has become estranged from its (white) working-class base.

…

The hope of Corbynism was that it could provide the leadership needed to start this shift. We need to build a new consensus on the state and communities, championing economic equality that goes hand-in-hand with socialist values such as class unity, internationalism, feminism and multiculturalism.

To develop the political framework capable of meeting today's challenges, the Corbyn movement urgently needs to get organised and build its own, intellectually coherent, theoretical base. Without that, Corbynism risks becoming a hollow vehicle for other, dangerous, currents within the Labour movement. Corbyn-supporting Lexiteers who consider themselves socialists should be careful – or they risk welcoming reactionary forces into our movement.
More here: Blue Labour, Aaron Banks Funded Labour Leave and 'Trade Unionists' Against the EU, 'Marxists', Plan Rallies on "Transforming Britain after Brexit.".
…we have a series of meetings bringing together Counterfire, New Left Review, The Morning Star, Arthur Scargill, the Communist Party of Britain, magic money sovereigntists,  Benittes in their second youth, Blue Labour, anti-multiculturalists, raving patriots, and Labour Leave, who are embroilled in a scandal about extensive far-right funding, not to mention the other recipients of Banks' money, Trade Unionists Against the EU.
Is it any wonder that amid this political confusionism the Morning Star has now taken off on a Tardis Trip?
13 Responses