Archive for the 'Labour Movement' Category
Stan Keable LAW Secretary at this week's NEC Protest.
Also Stan was for many years the Labour Party Marxist and some say still it.
Also:
The CPGB-PCC (Note – the Weekly Worker group) stood Stan Keable against New Labour's Ken Livingstone in Brent East in the 1997 general election; Keable stood on the CPGB's programme but was listed as an SLP candidate after Scargill had disowned the contest. The CPGB-PCC kept a token presence inside the SLP right up until the early 2000s, essentially to report the internal goings on. 

The far left inside Scargill's Socialist Labour Party Lawrence Parker July 2021.
General election 1997: Brent East[Votes
Labour Ken Livingstone23,74867.3+14.5 Conservative Mark Francois 7,86622.3−14.3 Liberal Democrats Ian M.C. Hunter2,7517.8−1.1 Socialist Labour Stan E. Keable4661.3 New ProLife Alliance Andrew J. Shanks 2180.6 New Rainbow Dream Ticket Claire M. Warrilow1200.3 New Natural Law Dean Jenkins1030.3 NewMajority 15,88245.0+28.8 Labour hold Swing+14.4
Labour Against the Witch-hunt.
July 24, 6pm:
Emergency LAW members' meeting
All members of Labour Against the Witchhunt will receive a Zoom invite in the next few days – if you join LAW before July 24 here, you may attend. If you are unsure if you're a member, you can check your status here – login with your usual email address, then make sure to select 'Labour Against the Witchhunt' from the drop down list (a few groups use membersmojo and your email address gives you access to all your memberships managed by that system). You can of course also email us and we'll check if you are a member.

We totally understand if you wish to attend the meeting with your camera switched off or by using a false name (but please email us if you do so: info@labouragainstthewitchhunt.org).

Please be assured that the Labour Party has of course no access to our membership lists.

Please send any motions or proposals in writing asap to info@labouragainstthewitchhunt.org)
LAW's sponsors include:Alexei Sayle, comedian Ken Livingstone Professor Moshé Machover, Israeli socialist and founder of MatzpenIan Hodson, president of the Bakers Union Ken Loach, film director Noam Chomsky, author and activist LAW's honorary president is Moshé Machover
Weekly Worker.
22.07.2021
Sir Keir's road to Brighton
This latest attack is just part of Starmer's strategy to prove that his Socialist Alternatives past as a Pabloite deep entryist is truly dead and buried.
……..
It is not enough to simply defend the left and oppose bans and proscriptions. We also need to pose an alternative to these anti-democratic restrictions that raise the wider issues of building a militant working class movement to transform society. It means that we have to take the Labour Party seriously and not play with lowest-common-denominator projects of left regroupment outside the party – the only worthwhile project here is one that has the potential to become a mass Communist Party, not a micro version of the Labour Party.
LPM comrades are countering Starmer's bans and proscriptions with the demand that Labour be refounded as a united front of all socialist and working class organisations. All should be able to affiliate and take part in the battle of ideas.
The Labour Party remains an important site of struggle for a Marxist programme, and we should not easily abandon it. Comrades should take elementary security measures to guard their membership. Making oneself an easy target for the witch-hunters is pointless. Inevitably secretaries and editors will be fingered. But we have a very wide rank and file and, of course, organisations such as LPM can recruit, recruit and recruit again. More than that, we can fight the battle of ideas, whatever the Starmer leadership says and does. They can ban organisations, but they cannot ban ideas – crucially the ideas of Marxism.
Thus, we urge the militant left not only to stay and fight back against Starmer's latest attacks, but also to use the opportunity he has given us to deepen the struggle to win the working class movement to the Marxist programme of republican democracy, ecological sustainability and universal human liberation.
Comment.
, ideas of republican democracy .ecological sustainability. and human liberation do not need a 'mass communist party' one which in any conditions, is not going to be created by the Labour Party Marxists of the CPGB (Provisional Central Committee -aka the Weekly Worker) and factionalists, amiable though they may be. like Stan Keable.
The Maddest Post Steve Walker has ever posted?
Answer, no it is not the maddest post.
The Squawking fellow is now attacking Keir Starmer for having a child who has tested positive for Covid.
Keir Starmer has been forced to self-isolate today after one of his children tested positive for the coronavirus. Starmer infamously pushed the government to re-open schools, "No ifs, no buts, no equivocation" – and schools promptly became the main driver for the new 'Delta' third wave of the pandemic – although he subsequently tried to claim he had been advocating caution on the re-opening when cases predictably rocketed.
Starmer also spent time in the Commons chamber before finding out he might be infectious.
The UK is dying – in many cases literally – for want of an actual opposition.
Meanwhile Tina Werkmann- one time stalwart of the CPGB (Provisional Central Committee), Weekly Worker has been busy.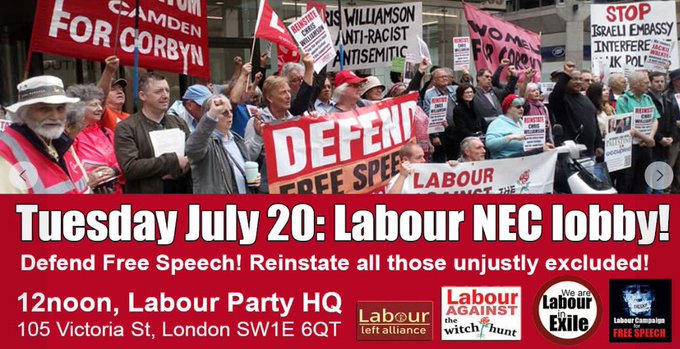 EXCLUSIVE (as in widely trailed by SA and sites like this Blog)
Labour Against The Witchhunt and Socialist Appeal are among the groups to be proscribed by the party's ruling body as the leader bids to stamp out "toxic extremism"
Keir Starmer is preparing to purge far left Labour members part of "poisonous" campaign groups in a bold confrontation with operators loyal to Jeremy Corbyn.
Labour 's ruling National Executive Committee will be asked to proscribe four "toxic" organisations which promote communism, claim anti-Semitism allegations are overblown and demand whips restore Mr Corbyn as a Labour MP.
Those to be banned include Resist and Labour Against the Witchhunt, which claim anti-Semitism allegations were politically motivated, and Labour In Exile, which expressly welcomes expelled or suspended members.
The openly communist Socialist Appeal will also become a forbidden group.
The Mirror understands anyone found to be a member of any group will be automatic expelled from the Labour Party.
The plans on the agenda at the NEC meeting on Tuesday are expected to pass and more than 1,000 members could be "auto-excluded" as a result.
……
A Labour spokesman said: "Labour is a broad, welcoming and democratic party and we are committed to ensuring it stays that way.
"From time to time, there are groups the NEC will proscribe. The NEC will be asked on Tuesday to consider whether these four organisations are compatible with Labour's rules or our aims and values."
Questions continue to be asked about whether Mr Corbyn will continue to sit as the independent MP for Islington North.
Comment:
This Blog is totally opposed to 'purges' – people of sick of this kind of politics as much as we are of Labour Against the Witch-hunt.
It is not a good move. Just because Socialist Appeal are not highly regarded it is not right in principle to suppress 'Communists' who are in fact (dogmatic) Trotskyists opposed to Stalinism. That ban is directed against a very minor cult. The other targets are much more wide-ranging Apart from the principles involved – democratic socialists defeat people politically by argument and debate not by bureaucratic means and this violates such norms – it is hard to see how it could be put into practice. To begin with, given the hard to pint down affiliations of people supporting network groups like LAW and the other named organisations (., Labour In Exile, & Resist) it is a potential nightmare of dispute and court cases.
Note Keir Starmer's own past, at his event held by Tendance marxiste-révolutionnaire internationale (TMRI).