Archive for the 'Labour Movement' Category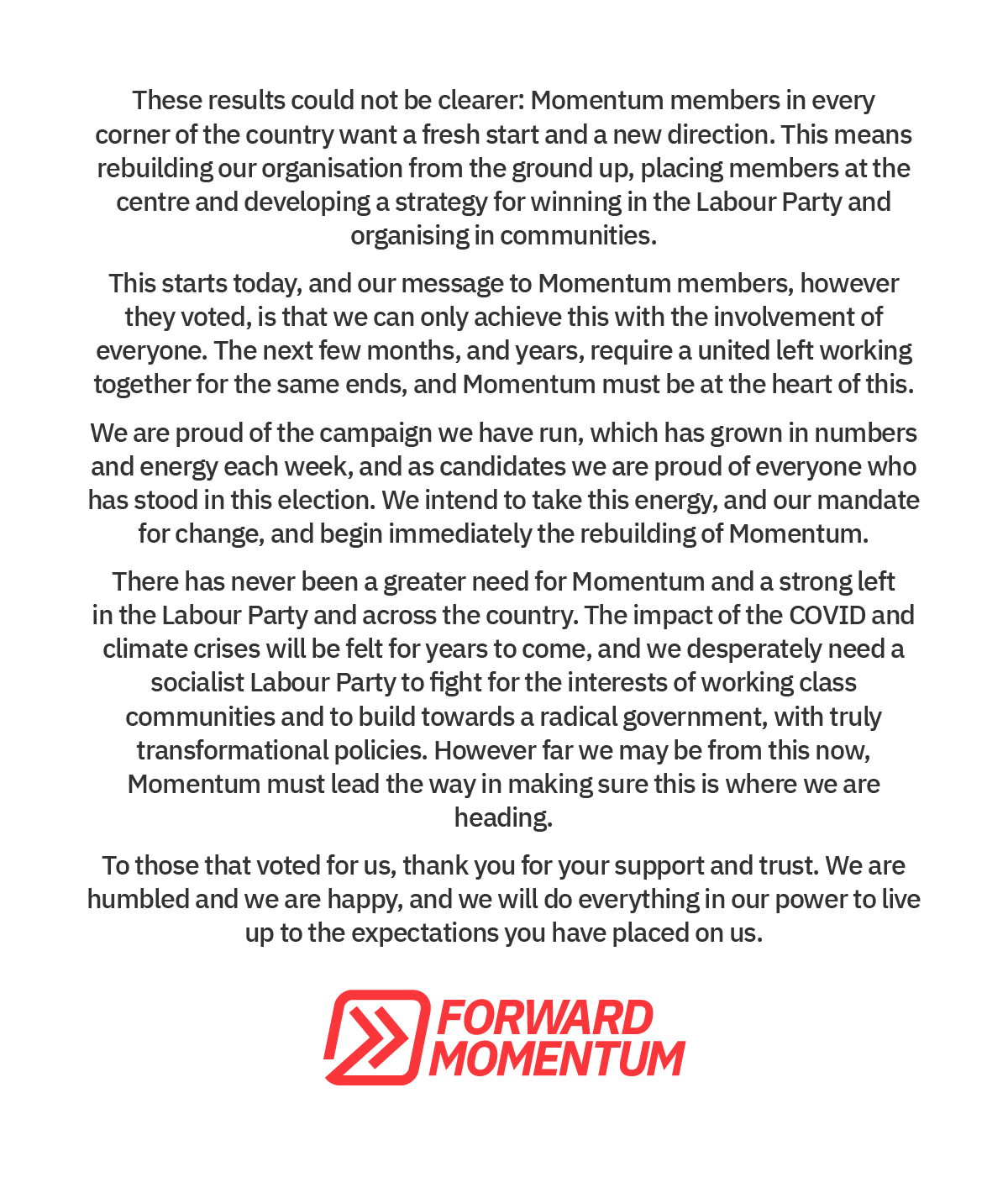 Tears for 'Tribune', Lavery and Bastani as their faction loses..
" Labour MPs such as Ian Lavery, Paula Barker, Sam Tarry and Charlotte Nichols, plus Tribune's Ronan Burtenshaw and Novara Media's Aaron Bastani, had all signed up to back the Renewal initiative."
" the candidates selected by FM – said to include key workers, shop stewards and community organisers – were described by the campaign as "representing a break with the current leadership faction".
It was bitterly contested fight, involving anonymous Twitter feeds attacking some of the Forward Momentum candidates for links with the Alliance for Workers' Liberty.
Described as a less than edifying bun fight this is the result (on a turn out of 8,580, tiny in comparison with Labour's growing membership of over 580,00).
Victory for Forward Momentum candidates as Lansman steps down
Labour List. Sienna Rodgers
Forward Momentum candidates have swept to victory by winning all member representative seats in Momentum internal elections that saw co-founder Jon Lansman step down.

Forward Momentum put forward one of the two main slates in the contest. The group pitched itself as 'anti-continuity' with a focus on democratising the organisation, and held open primaries to select candidates.

Momentum Renewal was the rival platform, more closely associated with Lansman. It stressed the importance of "left unity" within Labour and being "rooted in working-class communities".

FM candidates won all 20 places in the members' section, which gives them a majority on the NCG. Renewal candidates were elected by MPs and councillors to the four office holder posts.
That is, Renewal holds the  "4 representatives of Labour public office holders."
"the candidates selected by FM – said to include key workers, shop stewards and community organisers – were described by the campaign as "representing a break with the current leadership faction".
The Clarion has a report,
Forward Momentum sweeps election for Momentum NCG
Mohan Sen.
Momentum reform group Forward Momentum has won all 20 seats elected by members on the Momentum National Coordinating Group.

The four seats reserved for and elected by public office holders (MPs and councillors) were all won by conservative left / Stalinist slate Momentum Renewal. It remains to be seen if Momentum Renewal will try to use the 'fake seats' on the NCG allotted to various organisations to gain advantage. It will be hard given how comprehensive their defeat is.

(Full results here. Candidates outside the two main slates did poorly.)

This rejection of the conservative, demagogic and witch-hunting campaign Momentum Renewal ran is a good thing for the movement.

It at least opens up possibilities for changing Momentum.

Forward Momentum is a real mixed bag politically, with widely differing perspectives – even on what democratising the organisation means, let alone wider political strategy.

A serious debate about left strategy, demands and campaigning – which didn't get very far during the campaign – is needed.

It is very positive that two candidates who endorsed Momentum Internationalists' socialist platform – Abbie Clark and Ana Oppenheim – were elected on the Forward Momentum slate. We were sorry to see Nadia Whittome MP, who also supported the MI platform, narrowly lose out in the office holders' section.
Poor old Skwawky thinks he has managed to scramble on board the Forward bandwagon:
So far, (written a bare hour after the results were announced) the losers are keeping their chins up.
Keeping the Flag of the Bolivarian Revolution flying Bastani looks to set to continue his work in heralding the latest act of Maduro, and attacking the Labour leader.
It remains hard to see what role Momentum has today.
From its creation, as a group pledged to support Jeremy Corbyn, engaged in some serious election work in 2017, it has struggled to define its role.
Was it to become a "social movement", the yeast in amongst the people that gave substance to a British 'left populism'?
Was it, as it described itself, building socialism "in the community"? A " a people-powered, vibrant movement".
The claim that Momentum has been, "Harnessing people-power, technology and networks, we've won seats for Labour, changed minds about the solutions to the biggest crises of our time and altered the direction of travel for British politics. Our aim is simple: we're creating a society for the many, not the few." looks pretty empty after the 2019 Election Disaster.
Now some of the left seem happier spending their time attacking the popular and respected Labour leader, Keir Starmer.
Flaking away from the Party the self-pitying left seems on the up:
Nobody with morals or self-respect should remain in Labour.

Nobody with any with morals, intellect or self respect should now remain in the Labour Party. Throughout Jeremy Corbyn's leadership, the party was constantly sabotaged from within: the plotters praying that electoral defeat would help restore the hegemony of the right wing careerists – and it has. They have won.
And so it goes..
Many will be happy that Momentum has seen a clear out of the loyalists who used Momentum to ensure factional control of Labour Conferences in the interests of the Corridor Clique  that thwarted, notably, internationalist opposition to Brexit.
Beyond that there is little to indicate that Momentum has found a new positive direction away from its past factionalism.
"A safer pair of hands, a less disruptive force, than even the Tories." – Tribune.
How Keir Starmer Sabotaged Rebecca Long-Bailey
The Editor of Tribune, Ronan Burtenshaw is beside himself, "From her earliest days as shadow education secretary, Keir Starmer set about undermining Rebecca Long-Bailey – because her socialist politics and loyalty to trade unions were incompatible with his leadership."
The socialist politics Rebecca Long-Bailey represents has no place within Starmerism, as the other Left members of the shadow cabinet will realise in due course. His political project is to present Labour to the British establishment as a safer pair of hands, a less disruptive force, than even the Tories.
The chief of the re-vamped and US-owned journal, announced as a monthly in 2018, now reduced to a quarterly appearance,  also asserts,
To many onlookers, Rebecca Long-Bailey's sacking might have seemed strange. After all, she was fired for sharing an interview by someone else in which they made a claim which was only marginally incorrect. (The Israeli police do, in fact, train the US police and encourage the use of "excessive force" against those who "pose little or no threat.").
He concludes,
Starmer's determination to be seen as sensible by the business and media elites is also incompatible, in any longer-term sense, with unity with the Left. It is not possible to present yourself as unthreatening to capital with principled socialists as part of your coalition. And so, they were always going to be sidelined – it was a matter of time.
It would be interesting to see what plans, and with what troops,  Burtenshawn has to threaten capital and to challenge the "powerful", and all those business and media "elites".
The would-be general of the revolt concedes,
Such an approach might win an election.
So what is he wittering on about?
That Starmer might succeed without toppling the statues and moments of capital?
Perhaps he could ask his close allies:
The Morning Star, totally independent of the Communist Party of Britain, which called to boycott Labour and voting for any party in last years' European election,  said of the Long-Bailey's dismissal,
Sacking Rebecca Long Bailey is an attack on the whole left
Attempting to dismiss references to the relationship between the Israeli and US security forces as "an anti-semitic conspiracy theory" is a cynical bid by the Board of Deputies to warn people off attacking the Israeli government at a time when its plans to annex the West Bank are arousing widespread condemnation.

Using it as an excuse to sack Long Bailey looks like a cynical bid by Starmer to drop a shadow minister whose refusal to attack teaching unions and parrot his irresponsible push for schools to fully reopen more quickly showed up the weakness of his opposition to a Conservative government whose mismanagement of the Covid-19 pandemic has cost tens of thousands of lives.
In other words Starmer acted against Long-Bailey because of his own failings, an inability to stand up to a Cabinet which is causing tens of thousands of deaths. Not only is the Labour leader unable to stand up to the mismanagement that is leading to people dying, his "cynical" move is against trade unionists in the teaching profession and in line with a further "cynical bid" bu the Board of Deputies to prevent people attacking Israeli plans for the West Bank.
Some might suggest that this looks a bit like a conspiracy!
Today the paper which likes to speak on behalf of the "whole left" says,
Editorial: Covid-19 is still a crisis – but Labour isn't grappling with it
Where's Labour? Hinting that it is now ready to drop the radical Green New Deal programme developed by the previous leadership.

Keir Starmer's spokesperson says that new climate commitments will be written "in four or five years' time," that is in line with the parliamentary electoral cycle which he assumes is immune from external factors.

That shows no desire at all to try to work with, let alone lead, those fighting to transform this crisis into an opportunity for far-reaching change in the present.
Pause.
The Morning Star believes that Brexit is an "opportunity" for a 'people's' then a 'socialist' Brexit.
Now it seems to think that Covid-19 and the Green New Deal are further opportunities to begin "far-reaching changes".
With such an abundance of fruitful chances, how many more opportunities can we deal with?
Fact Checking.
The furious Tribune boss and his friends in the Morning Star has yet to respond in full to this:
Did Israeli secret service teach Floyd police to kneel on neck?
Channel Four FactCheck.
It seems Ms Peake's original claim is based on an article in the Morning Star from 1 June, which states: "At least 100 Minnesota police officers attended a 2012 conference hosted by the Israeli consulate in Chicago, the second time such an event had been held."

The article has been shared over 40,000 times on Facebook, according to analytics provided by the website Crowdtangle.

This description appears to be supported by a report from Minnesota Public Radio (MPR) at the time of the event. By the MPR account, the conference took place in Minneapolis and was "put on by the Israeli consulate in Chicago, the FBI and Minnetonka police". (Minnetonka is the neighbouring city to Minneapolis).

Which techniques were taught?

The Morning Star piece alleges that those attending the 2012 conference "learned the violent techniques used by Israeli forces as they terrorise the occupied Palestinian territories under the guise of security operations."

The article does not explicitly claim that Israeli forces taught American police to kneel on a person's neck at the conference.

The only link to this tactic in the story is made by an activist, Neta Golan, who told the paper: "When I saw the picture of killer cop Derek Chauvin murdering George Floyd by leaning in on his neck with his knee as he cried for help and other cops watched, I remembered noticing when many Israeli soldiers began using this technique of leaning in on our chest and necks when we were protesting in the West Bank sometime in 2006."

Ms Golan is quoted as saying: "it is clear that they [Israel] share these methods when they train police forces abroad in 'crowd control' in the US and other countries including Sudan and Brazil." The information in square brackets is from the Morning Star's copy.

The article mentions a 2016 report by Amnesty which lists US police forces that have "all traveled to Israel for training" and "thousands of others" that "have received training from Israeli officials here in the U.S."

After yesterday's controversy involving Maxine Peake and Rebecca Long-Bailey, Amnesty International told the New Statesman: "the precise nature of the training offered to US police forces by Israeli officials is not something we've documented".

They added: "Allegations that US police were taught tactics of 'neck kneeling' by Israeli secret services is not something we've ever reported".

Beyond the speculation of one activist, there is no information in the Morning Star article that would support the claim that the specific practice of kneeling on a person's neck was taught to US police by Israeli forces.
Or indeed Jim's latest post which signalled a justified scepticism about anything that appears in the Morning Star, wholly independent of the CPB and owned by the co-op that it is,
Long Bailey, 'antisemitic conspiracy theories' and the dangers of believing what you read in the Morning Star
It is quite possible to feel sorry for RLB – and to doubt that she is personally an antisemite – whilst recognising that she's been an idiot and that Starmer, operating in the real world, had no choice but to sack her (not least because the EHRC's report into antisemitism in the party is on its way, and expected to be highly critical).
Others have noted the flaws in the article Long-Bailey retweeted,
Rebecca Long-Bailey's sacking: such a fine line between stupid and clever
George Chesterton.
The first point – echoing the sentiments of so many charming hard-left voices of the past five years that anyone who didn't like Jeremy could "fuck off and join the Tories" – is all very well for Peake, but for a shadow cabinet minister to put a tick by such a knuckleheaded suggestion, even after the crushing defeat, betrays a lack of nous that would make Chris Grayling blush. According to Peake, Labour voters who didn't vote for Corbyn should "hang their heads in shame". Perhaps the electorate should apologise. But again, couldn't Long-Bailey see what this self-harm had achieved? People literally had fucked off and voted for the Tories.
He concludes,
 ..let's get this straight: Long-Bailey is praising an article in which an actor bad-mouths her new boss.
Quite.
Update, some reverberations: