Archive for the 'Labour Movement' Category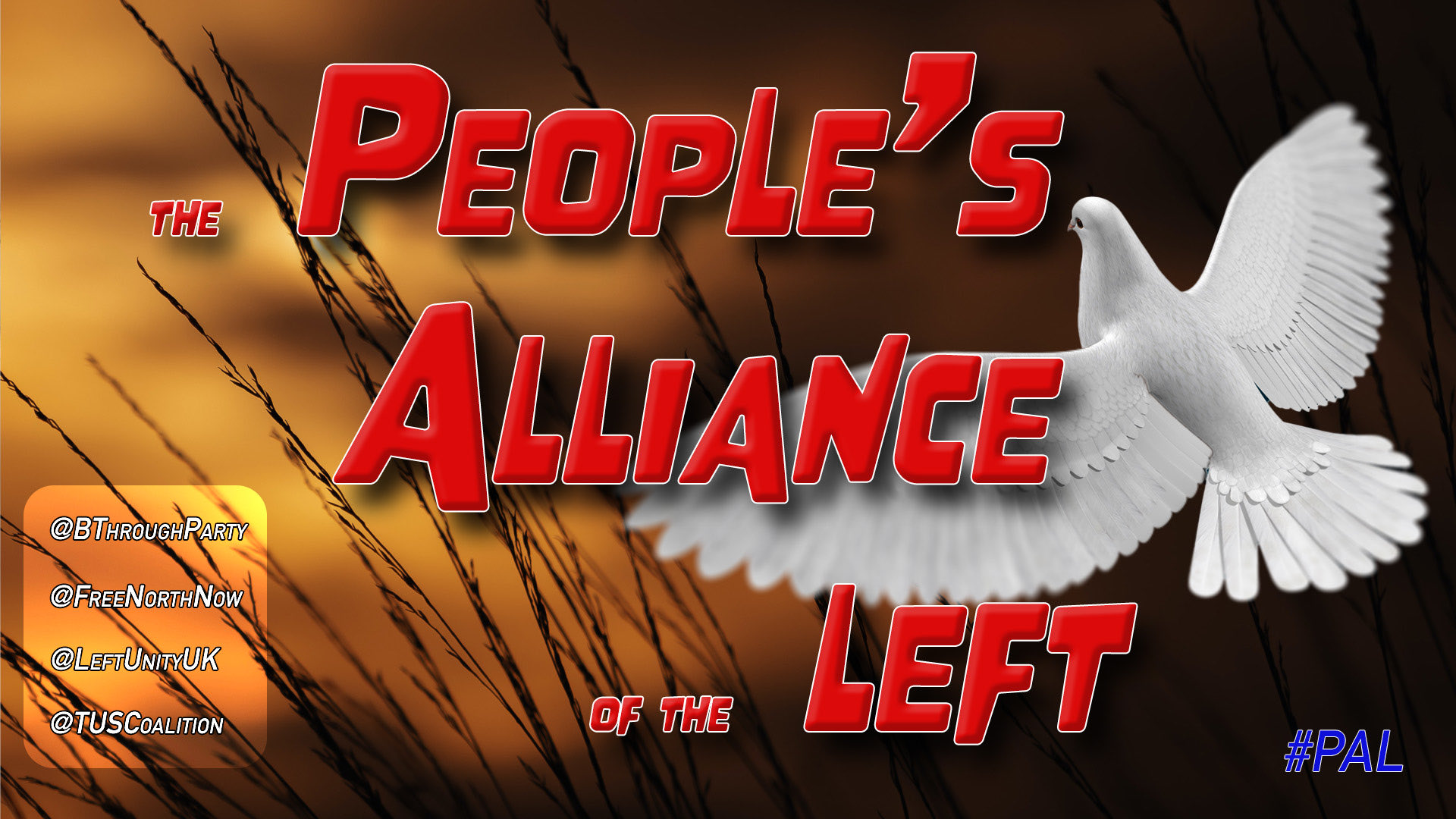 A Rotten Bloc.
At the end of the 19th century some people on the British left, and elsewhere in Europe, got swept up in the craze for occultism and spiritualism (Le xixe siècle à travers les âges, Philippe Muray, "It was in the 19th century that social-occultism was formed, this explosive and unheard-of mixture…. of socialism.") In this land Theosophy was probably the best known strain of thought. Annie Besant (1847 – 1933) was the most significant of the socialist theosophists.
It is hard to summarise such a mixture of ideas. Besant, for example, was an anti-colonialist, a trade unionist and in many respects admirable. But it is this Blog's conviction that such beliefs involved hearing voices and messages from beyond mundane existence. "The main purpose of establishing the society was to prepare humanity for the future reception of a "torch-bearer of Truth", an emissary of a hidden spiritual force that, according to theosophists, guides the evolution of mankind."
The People's Alliance of the Left also seems to have been formed on the basis of messages that transcend ordinary perception.
Left Unity writes,
In the face of the movement of the Starmer Labour Party leadership to the right, and its continued exclusion of former Leader, Jeremy Corbyn, from the whip, it is increasingly necessary to give voice to a true eco-socialist alternative. Particularly so in the face of the attacks of an extremely right-wing authoritarian Tory government, which the Labour Party is doing little to oppose (so much so that it can welcome into membership a Tory MP who has voted for all those attacks).
Pause, Starmer called for Johnson to resign in one of the vigorous interventions of his leadership.
We welcome any initiative to bring together like-minded radical socialists and progressive social movements.
Pause: "Groups that have so far agreed it are Left Unity, Breakthrough Party, Northern Independence Party, and the Trade Union and Socialist Coalition (TUSC). "
Left Unity were opposed to Brexit and took part in the campaign by Another Europe is Possible for a Second Referendum.
TUSC backed the Arron Banks funded 'Trade Unionists Against the EU'.
TUSC is part of the miniature labour movement, including the National Shop Stewards Network, and (nominally) the RMT. It is run by the Socialist Party (fully speaking the Socialist Party in England and Wales, SPEW). Apart from being Brexit 'ultras' the SP has an odd bureaucratic version of Trotskysim (with few admirers in the wider Trotskyist movement). It has spent many decades in a futile attempt at 'party building'. In 2019 it suffered a damaging split, which left it adrift from many of its international allies in the Committee for a Workers' International.
TUSC electoral results including being beaten by the Monster Raving Looney Party in a local contest last year. Their votes rarely exceed a few dozen.
Left Unity continue:
As a significant contribution to building this left collaboration, Left Unity welcomes and will participate in the initiative by Thelma Walker (former Labour MP for Colne Valley) to create a Peoples Alliance of the Left (PAL).
"In November 2020 Walker resigned from the Labour Party. In May 2021, she stood as an independent candidate endorsed by the Northern Independence Party (NIP) in the 2021 Hartlepool by-election and lost her deposit."
The statement says,
Separately from PAL, but not as a function of PAL, those parties that stand in elections (Breakthrough, NIP, TUSC, Left Unity) will seek to cooperate over standing in elections – i.e. aim to avoid standing against each other & offer mutual support to each other's candidates where possible. Candidates will stand as candidates of the constituent party (not PAL itself). This electoral cooperation does not imply electoral support from any organisations involved in the wider PAL coordination discussions who are not electoral parties.
In other words SPEW will continue to build its own "new mass workers' party".
The nasty NIPs , like the SP are a "more borders" party. The SP backed Brexit. NIP's views on Brexit aside, they want "independence" for the North. At its Conference last year LU was to have debated this motion, "Yes to Left Unity No to Northern Separatism – Oliver Charleston. But " Not Moved – so not carried."
These groupuscules are largely isolated from the 'masses', from protean forms like the Breakthrough Party, to hardened sectarians like SPEW.
The idea that they could play a part in helping " Secure a socialist government." is laughable.
Look at the state of this supporter's comment boxes:
Note: "Skwawkbox understands that at least another six groups will announce their involvement in PAL's discussions and wider campaigns in the near future."
But hark!
One torch-bearing voice calls from the beyond…
Rees-Mogg, Johnson was "very rigorous about the rules." Needs no criticism from his 'humble servants' (Channel Four this evening)
This is on Channel Four News now.
Gary GibbonPolitical Editor
Labour is in the lead by 11 points in "red wall" seats, according to an exclusive poll commissioned by Channel 4 News.
Not everybody is happy. Former Labour supporting site Skwawkbox comments:
Even the Hard Right Telegraph joins in.
Northern Ireland secretary Brandon Lewis defends PM as he pulls out of public engagement in Lancashire
Sky.
There are claims that letters from MPs demanding a vote of no confidence – 54 would trigger a challenge – were being submitted to Sir Graham Brady, who chairs the backbench 1922 Committee.
Guardian.
Amid the derision, supportive papers try to rally around the PM but report that 'ambitious' Rishi Sunak is waiting in the wings.
It seems another epoch when the Morning Star could publish this (Monday)
After the damage Starmer has done, the left would need decades to rebuild from within the party – and we don't have decades. The crises facing working people are already urgent, argues CHELLEY RYAN
TWITTER was awash with rumours about Jeremy Corbyn at the weekend — specifically that he might be considering taking the plunge to form a new political party, having accepted that he will never be reinstated as a Labour MP.
The fact this was first reported in the Telegraph led to understandable accusations of mischief-making. However, the overwhelming response on the left (and from some on the right hoping for a split Labour vote) was: "I bloody hope this is true!" That was my response too.

I'm done with being Ms Negativity. I'm done with spending 99 per cent of my political activism aimed at attacking rather than promoting.
And I'm not alone. For five years, we had a vision to fight for. It is devastating emotionally and mentally to go from that to absolutely no hope at all.
Going round saying "a plague on all their houses" might make us less controversial guests round the dinner table, but it makes us more depressed people.
All that energy, all that creativity, all that hope — gone.
The prospect of building slowly from within the Labour Party is now entirely defunct. We don't have time for slow movement-building.
And we don't have the heart for it either. We are all spent from five years of internal warfare, defending one of, if not the, best leader the Labour Party ever had, from sabotage by the PLP and party staff.
The disgraceful treatment of Jeremy Corbyn and left-wing members hasn't sparked a desire to reclaim the Labour Party.
Instead it has sparked a mass exodus. That is simply human nature. No stirring battle cries from well-paid Labour socialist MPs will inspire financially hard-pressed socialists to part with their money to fund a party to which they no longer feel any affinity.
…..
If I believed the Labour Party in its current incarnation would tackle these crises lining up to destroy our children's future, I'd get behind it, despite my personal anger towards Keir Starmer for his sabotage of the last general election with his Brexit policy U-turn. I'd hold my nose and vote Labour for the greater good. That's not the case, however.
Starmer has had ample time to give us some hope. Instead he has used the last 21 months to either attack the left or make clear his lack of vision via a number of boring relaunches, summarised by even more boring, vacuous slogans.
If that's the case, the man has the integrity of a romance scammer and I wouldn't trust him to enact radical socialist policies even if he suddenly claimed them for his own.
I am under no illusions that a new party, headed by Jeremy, would suddenly surge to victory in a general election. What it would do is pose a threat to a far too comfortable Labour Party waiting for their inevitable turn at power.
The Tories will have been in for 13 years next year and they are living on borrowed time. The anger felt over Starmer's Remain policy which drove many lifelong Labour voters either into Tory arms or to not vote at all in 2019, is on the wane.
(The Morning Star is a Brexit ultra paper).
Many will swing back to Labour whoever is leader, especially after the recent Tory scandals which have tripped over each other in their frequency.
So Starmer is sitting there, rubbing his hands in arrogant glee, knowing all he has to do is not cock up too badly and his time will come. And when it does, he will claim it was his purge of Corbyn and the "hard" left that won it. Then it will be business as usual.
Fuscia Labour will tweak the status quo but they won't change it dramatically. Any positive changes they implement will be nice and easy to reverse for their Tory friends when their inevitable turn comes around again.
This revolving door of not much changing can only be challenged by a new party and that new party has to be headed by Jeremy Corbyn.

Why Jeremy? Because he is the most unifying figure the left have. Because he's the most inspiring political figure for generations. Because he has the political weight and credibility to light that spark. His age isn't an issue. Bernie Sanders was six years older when he ran for US president.
Lonely, wandering on a dark cloud, Skwawkbox rails today:
Johnson reels over partygate – but Starmer's benefits betrayal shows English working-class has no alternative to turn to
One of the supporters for a new party comments on his site:
That's the kind of soft betrayal that has been going on all my adult life
until the crescendo that is, when the majority of those dirty cheating fake labour MPs came out as Apartheid racist zionist swines. They lined up and lied about a man of peace for 6 years. We need a new party devoid of the Scabs.