Archive for the 'European Left' Category
Le Pen, Macron parties falter as conservatives surge in French regional polls France 24.
French President Emmanuel Macron and far-right leader Marine Le Pen saw their respective parties stumble on Sunday as incumbent conservatives surged ahead in the first round of regional elections marred by record-low turnout.
Sunday's regional polls had been billed as a dress rehearsal for next year's presidential election – but by 8 pm, the putative protagonists of the Elysée contest had witnessed their respective parties falter at the polls.Low turnout among younger voters and over-35s in France's regional elections.
Marine Le Pen's far-right National Rally (RN) was hoping to lead in as many as six of mainland France's 13 regions, putting it on course to win its first-ever region – or more – in the June 27 runoff.
Instead, the party topped just one contest, in the southern Provence-Alpes-Côtes d'Azur region, securing only a wafer-thin lead in a race it had hoped to run away with. With a national vote share of around 19 percent, according to projections, support for RN was nine points lower than the last regional polls in 2015.Far right's Thierry Mariani receives less support than expected in France's PACA region.
A bitter Le Pen promptly blamed the setback on the record level of abstention, so often her best ally. She called the low turnout "a civic disaster that deformed the electoral reality of the country", urging her supporters to show up for the second round.
Meanwhile, President Emmanuel Macron saw his fledgling party suffer another humbling at the polls, a year after its dismal performance in municipal elections.
LREM performed poorly across the country, with a national vote share of just over 10 percent, according to projections. The debacle underlined how it has failed to convert five years in power at the national level into grassroots support.
Party spokeswoman Aurore Bergé called the results a "democratic slap in the face" – surely a more stinging blow than the smack Macron received at a public event earlier in the month.
French far right irked by election results, southern region in play
I can only but regret this civic disaster, which has very largely deformed the electoral reality of the country and given a misleading idea of the political forces at play," Le Pen said.
"If you want things to change, get out and vote."
An IPSOS exit poll showed the centre-right Les Republicains winning 27.2% of the national vote, ahead of the far right on 19.3%, followed by the Green party, the Socialist Party and Macron's La Republique en Marche on 11.2%.
For Le Pen's far-right, that is a drop of more than 7 percentage points nationwide compared to the last election in 2015, which came on the back of the Paris Islamist attacks,
……
An IPSOS exit poll showed the centre-right Les Republicains winning 27.2% of the national vote, ahead of the far right on 19.3%, followed by the Green party, the Socialist Party and Macron's La Republique en Marche on 11.2%.
For Le Pen's far-right, that is a drop of more than 7 percentage points nationwide compared to the last election in 2015, which came on the back of the Paris Islamist attacks.
Anybody on the left dislikes Les Républicaines but that fades into insignificance compared to our loathing of Marine le Pen.
A major point is that these results show the enduring presence of parties with local implantation, as President Macron's virtual 'start up' party La Républiques en Marche failed to make headway.
Red Brown Front Says Alliance with Farage a Vote Winner.
The Red Brown Campaign took a new turn today with Galloways campaign getting this backing from Skwawkbox:
The increasingly red-brown site Skwawkbox, which has received backing from the Unite union, carries this 'report'
Labour candidate Kim Leadbeater has been criticised as 'disrespectful' by the chair of tonight's Batley and Spen by-election hustings for pulling out at the last minute – after her attendance had earlier been confirmed.
The chair told the audience, which included many Muslim voters, that Leadbeater – and her Tory equivalent – had dropped out with only half an hour before the hustings was scheduled to begin and that when 'every vote counts' in the by-election, he considered this a sign of disrespect:
Keir Starmer – who has described himself as an 'unequivocal' supporter of Israel – has attempted in the last two PMQs to convince Batley and Spen's 20% Muslim population that he is in favour of Palestinian statehood, but without actually calling for it to be recognised.
Now his efforts to appeal to – some might say 'fool' – the constituency's Muslims look to have been undone by a show of disrespect by the candidate, who dropped out rather than turn up to face the one opponent who did attend.
Even Socialist Worker comments,
Galloway is campaigning on his long-term anti-imperialism and support for the Palestinians. He also says that a vote for him will make sure Labour loses and Starmer is forced out.

But this is combined with a poisonous "law and order" and an "anti-woke" agenda, which serves to reinforce divisions and oppression. He provides left wing camouflage for rotten politics.
They continue, "Local Stand Up To Racism activists are organising to warn against the fascists and to protest against Robinson if he appears. The fascists cannot be allowed to gain support and confidence."
When are they going to campaign against Galloway?
No Platform for Fascists!
The Red-Brown Front is a Fascist Front; Smash the Red-Brown Front!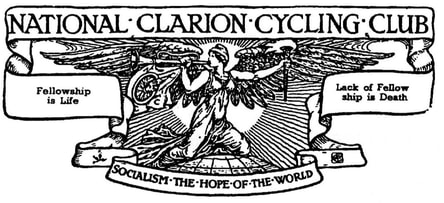 Clarion Cycling Club drops Socialism, and faces Resistance.
This story appeared a few days ago.
Now the Guardian has produced an Editorial.
The Guardian view on socialism and cycling: fellow travellers
Cycling's radical traditions are part of Britain's social history. Recalling her teenage years in the 1890s, the great suffragette Sylvia Pankhurst wrote beautifully about the band of carefree lefties with whom she rode out of Manchester each weekend. Criss-crossing rural Lancashire and Cheshire, her cycling club was one of many associated with the Clarion, a popular socialist weekly newspaper. The more earnest socialists of the time saw this crowd as ideological dilettantes, too keen on having a good time. And their trips do seem to have been rather fun.
The Editorial continues,
Though the Clarion paper has long gone, some of the cycling clubs still thrive. But after 126 years on the road, a dispiriting schism looms. As the Guardian reported this week, the National Clarion Cycling Club AGM has passed a motion to remove a "divisive" reference in its constitution to socialism. The amended version will instead express a commitment to "fairness, equality, inclusion and diversity". The Saddleworth Clarion Club in Greater Manchester has threatened to start a breakaway organisation in protest.
There is, of course, nothing wrong with the new formulation. But it seems sad to lose the literal connection to such a rich past. The Clarion clubs represented a very different, non-doctrinaire and eclectic strand of the early British socialist movement. They were, as the young Pankhurst discovered, a happy haven for the "new woman" of the Victorian era, who got on her bike seeking greater independence, adventure and fun. They were also a Sunday release for the factory worker, relishing clean air away from the smoke and grime of the mill towns and sprawling cities. For many "Clarionettes", socialism was simply another word for idealised fellowship.
The primary function of a constitution is to define the basic principles and laws of an organisation. But in unusual cases such as this, language is also a document of origins; a testimony to the perspectives, associations and hopes of previous generations. The National Clarion Cycling Club has said that local branches are free to write their own constitutions, retaining the reference to socialism. Hopefully some of them will do that, in honour of those cycling choirs that belted out "England, arise!" with such gusto.
Letters to the Guardian.
Those who think socialism is irrelevant should leave the National Clarion Cycling Club and form their own club, says Jim Grozier. For Charles Jepson and his breakaway organisation, the link between cycling and socialism is unbroken
Those behind the recent "coup" in the National Clarion Cycling Club (Keir Hardie's cycling club jettisons socialism, 14 June) have, like so many others nowadays, misunderstood the concept of inclusion, treating it like a mantra to be trotted out without actually thinking. Inclusion can only be invoked in order to remove irrelevant obstacles to joining an organisation.
For almost all organisations, gender, ethnicity, religion, sexual orientation and many other attributes are irrelevant, so they should not be an obstacle. Not so when it comes to political leanings in the context of an overtly political cycling club. One might as well try to persuade the Spurs supporters' club to admit a card-carrying Arsenal fan. Those who are so unaware of the current political situation as to think socialism "irrelevant" should do the decent thing, leave the Clarion and form their own club, to which they would then be free to invite whoever they wish.
Jim Grozier
Brighton & Hove Clarion Cycling Club
Many years ago, I joined the National Clarion Cycling Club because it was a socialist organisation. I didn't expect to talk about the theories of Marx and Engels while out on club runs, or have lengthy discussions on dialectical materialism at the weekly club night. What I did expect, and I was not disappointed, was a comradeship of cyclists who were interested in their fellow human beings and whose behaviour, based on the principles they held, would provide something far more meaningful than a mere love of cycling.
The Clarion Cycling Club and the wider Clarion movement helped to make history. In the days when the working classes were overworked and underpaid, Clarion men and women were in the forefront of those who expounded the theories for a new way of life and who helped to bring about the material benefits we enjoy today. They dared to dream of a new society, a socialist society.
I was secretary of the National Clarion Cycling Club for three years until 2006, when I helped to set up a new organisation, the National Clarion Cycling Club 1895, to protect the founders' commitment to "combine the pleasures of cycling with the propaganda of socialism". The Clarion ideal that socialism is the hope of the world has survived for more than 125 years and the link between cycling and socialism will, for some at least, remain unbroken.
Charles Jepson
Secretary, National Clarion CC 1895
Here is Robert Blatchford, the founder of the paper The Clarion: (1)
My English grandfather was, with his brothers, a member of the Clarion Cycling Club before the Great War. They would cycle out from the East End to what was then still rural Essex. He kept a love of cycling all his life. When he was too old to use a bike (and living in Haringey with my grandmother) he gave his cycle to me. I used it to explore places like Epping Forest (how I managed to get there, the roads were pretty full of traffic in North London even in the late sixties), I do not recall,
My grandfather was a life-long socialist, trade unionist and member of the Labour Party..
******
(1) Blatchford was not a good man, he had his little ways… (Spartacus Educational)
Robert Blatchford, the son of an actor, was born in Maidstone in 1851. Robert father died when he was two and at the age of fourteen he was apprenticed as a brushmaker. He disliked the work and ran away to join the army.

Blatchford reached the rank of sergeant major before leaving the service in 1878. After trying a variety of different jobs he became a freelance journalist. After working for several newspapers he became leader writer for the Sunday Chronicle in Manchester. It was his journalistic experience of working-class life that turned Blatchford into a socialist.

In 1890 Blatchford founded the Manchester Fabian Society. The following year, Blatchford and four fellow members launched a socialist newspaper, The Clarion. Blatchford, who was editor, announced that the newspaper would follow a "policy of humanity; a policy not of party, sect or creed; but of justice, of reason and mercy." The first edition sold 40,000 and after a few months settled down to about 30,000 copies a week.

It was decided in 1893 to publish some of Blatchford's articles about socialism as a book. Merrie England, was an immediate success, with the cheap edition selling over 2,000,000 copies. Influenced by the ideas of William Morris, Blatchford emphasized the importance of the arts and the values of the countryside. Considered to be an excellent example of socialist propaganda, the book was translated into several different languages.

Blatchford upset many of his socialist supporters by his nationalistic views on foreign policy. He supported the government during the Boer War and warned against what he saw was the German menace. Blatchford also changed his views on equal rights and strongly opposed the policies of the NUWSS and the WSPU.

After the First World War Blatchford moved to the right and became a passionate advocate of the British Empire. In the 1924 General Election he supported the Conservative Party and declared that Stanley Baldwin was Britain's finest politician. Robert Blatchford died on 17th December 1943.