Posts Tagged 'Europe'
Paul Embery, Trade Unionists Against the EU.
Embery is not only a FBU member, the leader of the above campaign, he is a" Member of the Labour Party since 1994, and active within the Blue Labour tendency."
Why Poland's Law and Justice Party appeals
Commonly – though somewhat lazily – characterised as 'Right-wing', PiS, after coming to office in 2015, set about redressing economic inequality. It boosted the minimum wage, lowered the retirement age and increased the state pension. It also made heavy investment in a variety of social and welfare programmes, helping to free thousands from poverty. That Poland currently enjoys an economic growth rate superior to many of its European neighbours should command attention.

PiS also promotes the type of cultural traditionalism – with much emphasis on family values – that is in keeping with the country's Catholic heritage and appeals to much of small-town and rural Poland. It is certainly far from perfect: its opponents have accused it of authoritarianism, and it is seen as hostile to the LGBT community.

But its wide support and retention of power should be seen as instructive.

Some of us have been arguing for a long time that a similar sweet spot exists in British politics, where an enthusiasm for economic radicalism fuses with a desire for cultural security. 

Millions of voters here would see themselves as falling into this category, but feel unrepresented by any of the mainstream parties. It was the anger and alienation of these millions that gave us the Brexit vote, and has been instrumental in the ongoing polarisation of our politics and breaking down of normal tribal loyalties.

These voters, often (though not exclusively) residing in the poorer parts of the UK – such as the post-industrial towns across the north and Midlands – would find great appeal in a party that was, on the one hand, committed to delivering an economy built around redistribution, intervention and investment, while, on the other, placing a high value on place, family and nation. The politics of economic fairness mixed with the politics of belonging.
The Polish Law and Justice Partym  Prawo i Sprawiedliwoś (PiS) is called right wing and far right.
This is one of the reasons:
Critics accused the PiS of fomenting homophobia during the election campaign, with party officials calling lesbian, gay, bisexual and transgender (LGBT) rights an invasive foreign influence that threatens Poland's national identity.

"They are trying to impose a narrative that we are in a culture and civilisation war," Scheuring-Wielgus said, adding the bill is aimed at intimidating and silencing educators and activists.
This is another,
The re-election of the conservative-nationalist group, founded and led by Jaroslaw Kaczynski, has heightened fears among the journalists and academics that freedom of the press will be further restricted in the party's pursuit of a proposed "new media order". 

PiS announced in its 232-page election manifesto that it wanted to regulate the status of journalists, promising a "new media order".
And another,
Poland's democracy is not a priority for many of its voters
Derek Scally Irish Times.
A week ago, the "wrong kind of Pole" won the Nobel Prize in Literature. This is the friend-foe language of Poland's Law and Justice (Pis) party, winner of a second term in Sunday's general election.

For her admirers, Olga Tokarczuk is a writer who brings dignity – and, now, international attention – to the lives of ordinary Poles. In PiS doctrine, Poland's sixth Nobel literature laureate is a targowiczanin, a traitor, that the country would be better without. Why? Because in her writing and activism she questions the populist ruling party's claim to be supreme arbiter of the Polish soul.

Because she, and other "traitors" like her, challenge the PiS campaign for absolute control of public institutions and debate. Because they warn against reshaping the Polish history as a patriotic pick and mix that ignores, obfuscates or contests everything that does not serve a Polish victim narrative – from Nazi collaboration to Polish anti-Jewish pogroms. (In the muddied waters of PiS Poland, a critic cannot be a patriot.)

Days before Tokarczuk was awarded the highest prize in the literary world, the PiS culture minister said he had never finished any of her books because they were too difficult. That was a mild criticism by PiS standards of the writer who, in the election campaign, warned of the social cost of a united church-state alliance against the LGBT community.
Embery's right wing cultural politics and caring for our own folk economics has got the backing of the former Henry Jackson Society chief, Marko Attila Hoare.
Embery campaigned for Leave during the 2016 referendum.
His group, Trade Unionists Against the EU appeared on platforms organised by the Socialist Party front, TUSC.
In Ipswich a speaker ranted and raved about their internationalism. As evidence he bellowed about a Paris Meeting – which turned out to have been run by the dodgy French nationalist Trotskyists of the  Parti ouvrier indépendant démocratique (POID). They published this: International anti-EU rally report.
POID published a real account, emphasising the role of their own party in holding the rally and the speech of their chauvinist  General Secretary (at the time) Gérard Schivardi  ( 123 540 votes, 0,34 % in the 2007 French Presidential elections): Le grand meeting de la Porte Charenton du 26 septembre (La Tribune des travailleurs).
Embery spoke at this event in Cardiff: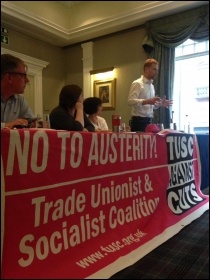 "We built a united front of speakers from genuine workers' organisations, willing to come together to fight the EU 'Employers' Union'. This included Owen Herbert, regional secretary of transport union RMT; London regional secretary of firefighters' union FBU, Paul Embery, from Trade Unionists Against the EU; and Hannah Sell, deputy general secretary of the Socialist Party." TUSC anti-EU tour touches down in Wales
Trade Unionists Against the EU received money from Arron Banks.
Donations were also made, between March and June 2016, to WAG TV Limited (who made an anti-EU film), Ukip (led at the time by Farage), Veterans for Britain… and Trade Unionists Against the EU (TUAEU). Hang on a minute! Trade Unionists Against the EU! Isn't that a supposedly "left wing" organisation, regularly promoted in the pages of the Morning Star? And it received funding from Arron Banks? Yes, dear reader, I have to tell you that it did: £54,000 according to the Electoral Commission.
More on this: Lexit and Brexit collaboration-what did the Morning Star know? John Rogan
There was this (April 2019)
Union official told to 'cease' social media after 'rootless cosmopolitans' tweet

Paul Embery refused to apologise despite criticism over an 'antisemitic' comment about Brexit referring to 'rootless cosmopolitans'
Embery's antics meant he got into a spot of bother with this FBU.
He received the support of the Red-Brown National Populist site Spiked,
The scandal of Paul Embery's sacking
He was dumped by the Fire Brigades Union for speaking at a pro-Brexit rally.
Now Embery is onto higher things….
The politics of national populism, a new leash of life for "solidarisme",  in the sense of solidarity between people from the same society, the  'somewhere' people, social Catholicism, nationalist economics, intolerant towards cultural diversity and critics of good order, is now on Blue Labour's agenda.
Perhaps they will invite somebody from these traditions to speak at a future Full Brexit event er, possibly somebody like Marine Le Pen, who also combines a conservative social agenda, hostility to  globalisation ('Globalism'), support for social protection, and a staunch defence of the Somewhere people.
ewhere people.His new best friend elaborates on the future strategy.