Archive for the 'Populism' Category
Labour Against the Witch-hunt (LAW) was dead: to begin with. There is no doubt whatever, about that. The register of its burial was signed by the Weekly Worker undertakers, and the chief mourners, 4 former members of the Steering Committee.
Implacable December politics. As much mud in the hamlet of the divided left as if the waters had but newly retired from the face of the earth, and it would not be wonderful to meet a Megalosaurus, forty feet long or so, named Galloway, waddling like an elephantine lizard to merge up in the cul-de-sac of the amorphous socialist movement. If you can juggle the metaphors.
Friday saw a gathering of saurian socialists: Galloway, Williamson and …TUSC (Trade Union and Socialist Coalition, chief backers, the Socialist Party, ex-Militant, and the RMT – National Union of Rail, Maritime and Transport Workers). (1)
Organised by the group they call, "George Galloway's nationalistic Workers Party and his lieutenants in the Stalin Society" – the pro-Democratic People's Republic of Korea (DPRK), Communist Party of Great Britain (Marxist-Leninist), Vice-Chair Joti Brar. Also Vice-Chair of the Workers Party of Britain.
More news from Birmingham Workers Party of Britain.
Attended by (see above) Chris Williamson, ex-Labour MP, and the newest best friend of the man they say slew LAW, Tony Greenstein.
It was the epoch of belief, it was the epoch of incredulity, it was the season of light, it was the season of darkness, it was the winter of despair.
You can see a bit here.
And here.
Birmingham: "the Workers Party, which has already selected challengers for Brandwood & Kings Heath, Bordesley & Highgate, Balsall Heath West and Alum Rock. Balsall Heath East, Sparkbrook, Shard End, Bordesley Green are all in the process of selection."
(1) Via JR, update.
Socialist Party, 5th of July 2021.
The Socialist Party fights for steps towards such a party by participating in the Trade Unionist and Socialist Coalition (TUSC) which enables trade unionists, community campaigners and socialists from different parties and none, to stand against pro-austerity establishment politicians under a common banner and an agreed platform of core policies.

It was an important first step for the post-Corbyn era that, in the May 2021 elections, TUSC was able to stand over 300 candidates. At the same time we argue for the trade union movement to take steps towards founding a new mass party.
Will George Galloway be able to play a role in the development of such a party? The Socialist Party has in the past criticised Galloway for creating a too narrowly-based appeal aimed specifically at Muslims, rather than the working class as a whole. While this has allowed him to make electoral breakthroughs, winning elections first in Bethnal Green and Bow, and later in Bradford West, he has not consolidated a base or, eighteen years after his expulsion from Labour, built a stable organisation. The lack of a consistent class-based approach, or roots in the trade unions, or a democratic structure, have all been major obstacles to him doing so.
In Batley and Spen his official election propaganda seems to have attempted to appeal to all working-class voters rather than Muslims alone. However, some of his personal statements appear to have been trying to win votes on a reactionary and divisive basis: such as, for example, tweeting that he is a "straight white man with six children", particularly when he was standing against an LGBTQ+ woman. Or tweeting that he would not stand "for the BBC trying to teach our young children that there are 99 genders".
Galloway has a history of these kind of divisive comments, which should be opposed. But the biggest obstacle to him playing a positive role in the formation of a mass workers' party in Britain is his record on crossing class lines and backing pro-capitalist candidates.
He rightly lambasts the Labour right wing for turning Labour into a pro-capitalist party, yet just two months ago, in the Scottish parliamentary elections, the Workers' Party and Galloway stood as part of the "Alliance4Unity" which recommended tactical votes for various pro-austerity politicians, including ten Tory constituency candidates. One of them, Jackson Carlaw, was leader of the Scottish Conservatives from February to July 2020. Plus, in the 2019 European elections, Galloway publicly backed Nigel Farage's Brexit Party.
One of the most burning issues for the workers' movement is the need for the working class to have its own independent voice rather than being politically disenfranchised as it is now. All kinds of debates will take place on how to achieve that, in which the role of fighting trade unionists will be critical. But what is clear is that no public figure can take that process forward by backing candidates of the capitalist Tory party, or Farage and other right-wing populists of his ilk. For George Galloway to play a positive role in the formation of a new party – which his own vote shows the potential for – he would need to adopt a different approach.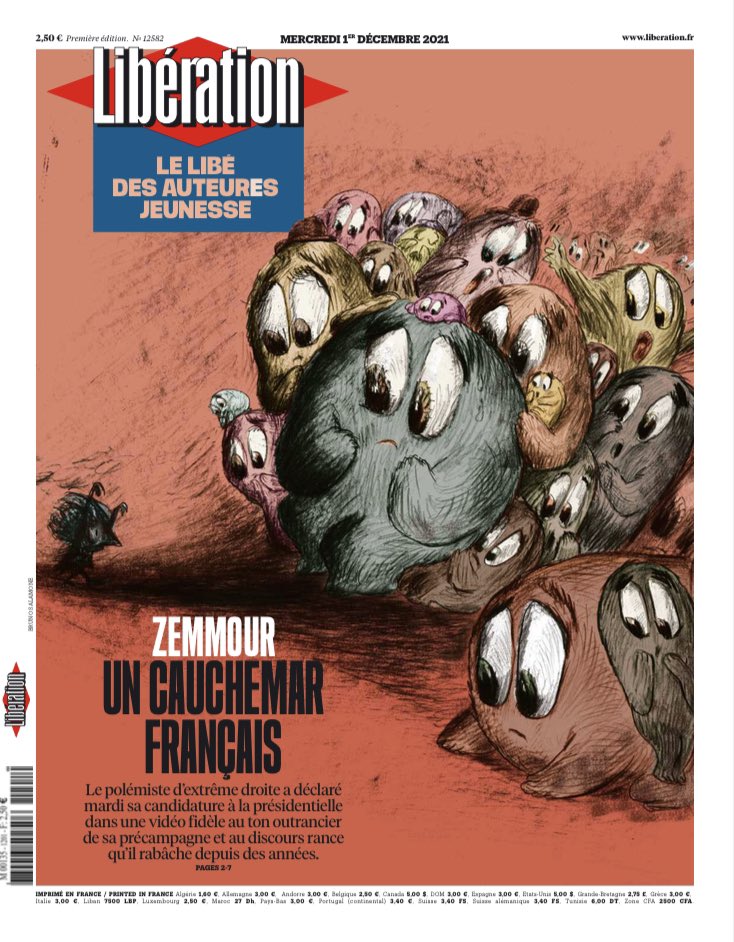 A French Nightmare.
Éric Zemmour's most recent book La France n'a pas dit son dernier mot (2021) is self-published by the Maison d'édition Rubempré. The far-right polemicist named his imprint as a tribute to the novelist Honoré de Balzac and the central character of his masterpiece, Illusions perdues (Lost Illusions), Lucien Chardon. The ambitious provincial writer becomes, by assent of the Restored Monarchy, Lucien de Rubempré, "a cowardly and unscrupulous character", able to play with women's affections and a large fortune, in Splendeurs et misères des courtisanes.
Few French commentators who have alighted on this name and the fondness of the polemicist for the author of la Comédie Humaine have failed to remark that from being the toast of Paris, Lucien, "le dandy et le poète" ends up shunned, accused of fraud and theft in cahoots with the identity-shifting criminal mastermind Jacques Collin. In gaol, overcome with remorse, rent with a "fièvre de suicide" he hangs himself. Recounted in detail, it is a deeply affecting passage. "One of the greatest tragedies of my life," wrote Oscar Wilde in his 1889 essay The Decay of Lying, "is the death of Lucien de Rubempré. It is a grief from which I have never been able completely to rid myself. It haunts me in my moments of pleasure. I remember it when I laugh."
Yesterday our modern Rubempré (whose fall one can only hope will be worse than Balzac's famed protagonist) announced this, putting an end to a threadbare game about whether or not he would officially aim to be France's Head of State.
This Blog has published quite a few posts about Zemmour, which we have no need to repeat.
One of the best overviews is offered by the Fondation Jean Jaurès (suitably named after a nemesis for the man who has cast doubt over the innocence of Dreyfus) by the specialist on the far-right JEAN-YVES CAMUS.
ÉRIC ZEMMOUR : UN DISCOURS QUI LIBÈRE LA PAROLE EXTRÉMISTE
The Origins of the Zemmour Candidacy.
"The first sign of the polemicist's presidential ambitions dates back to the creation, in January 2021, of a website entitled "I sign with Zemmour". According to the investigation of the daily Liberation and the weekly L'Express , it comes from the entourage of the mayor of Orange, Jacques Bompard 1and more broadly from the La Ligue du Sud, the micro-movement he founded in 2010. The former member of the Front National (1986-1988), which broke with Jean-Marie Le Pen in 2005, is a major actor on the "right outside the walls" working since the end of the five-year term of President Sarkozy to the constitution of a union which brings together those who, within the FN / RN and the conservative right, agreed to put an end to the ostracization of the camp lepenist (that is Le Pen, fille et père). He is also a follower of the "great replacement" theory, as shown by the motion for a European resolution that he tabled in 2015 as a member of the National Assembly 2. In his explanatory memorandum, we find two major themes of Eric Zemmour's campaign: that of immigration-invasion and that, consequence of the first, of "massive immigration [which] resulted in an explosive and dangerous situation for civil peace and the future of France ". "
Camus offers an extremely detailed account which is certainly one of the best available.
This is also highly recommended, by a radical left writer who is a critic of right-wing and left-wing populism.
This is equally important, how the upper-levels of the bourgeoisie are showing a degree of good-will towards Zemmour, invitations to speak at elite clubs, bosses' organisations, and how some of the liberal left (Marcel Gauchet, Luc Ferry, Jacques Julliard) have shown more than an interest in the way he has raised 'real issues':
In the last few days Zemmour has stalled in the opinion polls.
One of the reasons has been his response to a forceful female critic during his visit to Marseille, which has drawn comparisons with former President Nicolas Sarkozy who once told somebody who refused to shake his hand during a visit to the Salon de l'agriculture, saying it would dirty him, "Eh ben, casse-toi pauv' con" – fuck off you pathetic tosser.
It seems that Zemmour is fond of the C word (one meaning is the same as the one in English), calling television presenter Gilles Bouleau a "connard" (stronger than con), yesterday.
A Harris Interactive poll for Challenges credited Eric Zemmour with 13% of voting intentions, far behind Marine Le Pen (19%). The polling institute gave it at 18% just a few weeks ago.
(1.12.21. Eric Zemmour candidat : bousculé sur TF1, vidéo polémique, sondages en berne… ça part mal
Then there is this:
Still Zemmour has some friends.
Oscar Wilde's other famous literary judgement concerns Charles Dickens and The Old Curiosity Shop.
"One must have a heart of stone to read the death of little Nell without laughing."
Let us hope that Zemmour's candidacy ends badly so we can also break out laughing.
And please, do not forget this: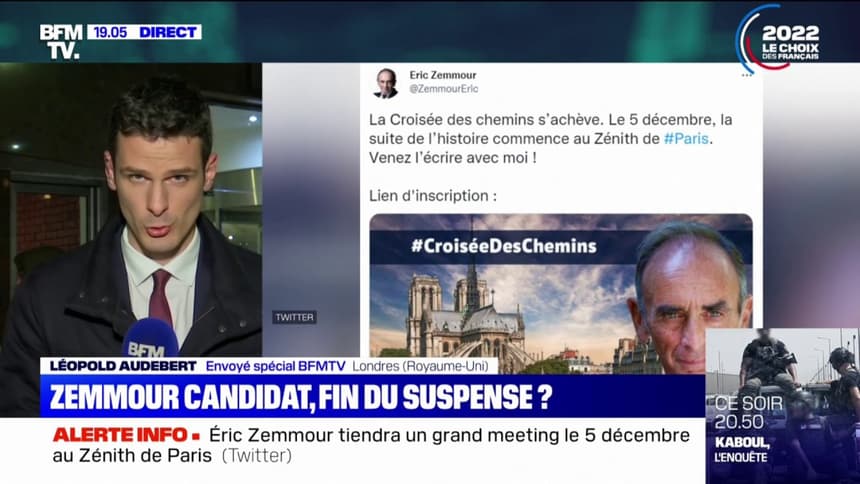 Planned Meeting Faces Protests.
In the Conclusion to his self-published selfie, La France n'a pas dit son dernier mot (2021) Éric Zemmour speaks of how his homeland has often faced death. On each occasion an invader has swamped her soil by armed force, occupying whole slices of the territory. There have been civil wars. A section of "nos élites" has taken the side of the "empire of the moment" against the people – in the name of a "universalism" gone astray. The empires were in succession, British, Spanish and German..
Yet, he perorates on the page, each time La France found a Man of Destiny ("Homme Providential"), Joan of Arc (sic), Bonaparte, de Gaulle. Each time, he continues, choked through with emotion, a handful of French people has gathered together around the principles that have guided the nation for a thousand years, whether it be the Capetian Monarchy or the Republic. Their names? Sovereignty of the nation against the empires, sovereignty of the state against the feudal barons, sovereignty of civilisation against the barbarians ("barbares").
Across the world, the patriot thunders, the Great Nations have returned to their glorious past. The Russians have brought together the Czars and Stalin, China has synthesised Confucius and Mao, Turkey has fused the Ottoman Empire with Ataturk and the Islamic Umma, Britain has championed Peppa Pig World, Moses and the noise of an accelerating car.
Okay I made that last one up, but this writer is already bored with Zemmour's opinons…
Despite his admiration for Joan of Arc and rude words about the British Empire ,Éric Zemmour has found friends in the UK. Fellow hard right nationalists that is,
"..Zemmour looks down at a copy of The Spectator and cocks his eyebrows at the unflattering cartoon of him on the cover. He decides he doesn't care. 'It takes a lot to offend me, you know,' he says. He then leafs through the magazine making polite and appreciative noises. 'Ah, Doooglas Murray!' he exclaims. 'I like Doooglas Murray very much. We've exchanged ideas.'"
What are his views?
"His plans include reintroducing border controls, suspending Schengen border-free rules for two years and, according to a member of his team in charge of European topics, ignoring rulings from the European Court of Human Rights and the Court of Justice of the European Union — despite France being bound to the latter — on issues such as immigration and government subsidies." (Politico)
A public meeting will be held in Paris on December 5 at the Zénith, which could, according to his entourage, be the first meeting of a campaign for the presidential election.
Visit to Geneva yesterday, 300 people came to listen to Zemmour.
.
Also, yesterday, Geneva: "We hate Zemmour".
And not everybody in France loves Zemmour.
Call for a Protest against Zemmour on the occasion of his Zénith meeting, by the CGT Union Federation's Paris wing.