Archive for the 'Nationalism' Category
Labour Against the Witch-hunt (LAW) was dead: to begin with. There is no doubt whatever, about that. The register of its burial was signed by the Weekly Worker undertakers, and the chief mourners, 4 former members of the Steering Committee.
Implacable December politics. As much mud in the hamlet of the divided left as if the waters had but newly retired from the face of the earth, and it would not be wonderful to meet a Megalosaurus, forty feet long or so, named Galloway, waddling like an elephantine lizard to merge up in the cul-de-sac of the amorphous socialist movement. If you can juggle the metaphors.
Friday saw a gathering of saurian socialists: Galloway, Williamson and …TUSC (Trade Union and Socialist Coalition, chief backers, the Socialist Party, ex-Militant, and the RMT – National Union of Rail, Maritime and Transport Workers). (1)
Organised by the group they call, "George Galloway's nationalistic Workers Party and his lieutenants in the Stalin Society" – the pro-Democratic People's Republic of Korea (DPRK), Communist Party of Great Britain (Marxist-Leninist), Vice-Chair Joti Brar. Also Vice-Chair of the Workers Party of Britain.
More news from Birmingham Workers Party of Britain.
Attended by (see above) Chris Williamson, ex-Labour MP, and the newest best friend of the man they say slew LAW, Tony Greenstein.
It was the epoch of belief, it was the epoch of incredulity, it was the season of light, it was the season of darkness, it was the winter of despair.
You can see a bit here.
And here.
Birmingham: "the Workers Party, which has already selected challengers for Brandwood & Kings Heath, Bordesley & Highgate, Balsall Heath West and Alum Rock. Balsall Heath East, Sparkbrook, Shard End, Bordesley Green are all in the process of selection."
(1) Via JR, update.
Socialist Party, 5th of July 2021.
The Socialist Party fights for steps towards such a party by participating in the Trade Unionist and Socialist Coalition (TUSC) which enables trade unionists, community campaigners and socialists from different parties and none, to stand against pro-austerity establishment politicians under a common banner and an agreed platform of core policies.

It was an important first step for the post-Corbyn era that, in the May 2021 elections, TUSC was able to stand over 300 candidates. At the same time we argue for the trade union movement to take steps towards founding a new mass party.
Will George Galloway be able to play a role in the development of such a party? The Socialist Party has in the past criticised Galloway for creating a too narrowly-based appeal aimed specifically at Muslims, rather than the working class as a whole. While this has allowed him to make electoral breakthroughs, winning elections first in Bethnal Green and Bow, and later in Bradford West, he has not consolidated a base or, eighteen years after his expulsion from Labour, built a stable organisation. The lack of a consistent class-based approach, or roots in the trade unions, or a democratic structure, have all been major obstacles to him doing so.
In Batley and Spen his official election propaganda seems to have attempted to appeal to all working-class voters rather than Muslims alone. However, some of his personal statements appear to have been trying to win votes on a reactionary and divisive basis: such as, for example, tweeting that he is a "straight white man with six children", particularly when he was standing against an LGBTQ+ woman. Or tweeting that he would not stand "for the BBC trying to teach our young children that there are 99 genders".
Galloway has a history of these kind of divisive comments, which should be opposed. But the biggest obstacle to him playing a positive role in the formation of a mass workers' party in Britain is his record on crossing class lines and backing pro-capitalist candidates.
He rightly lambasts the Labour right wing for turning Labour into a pro-capitalist party, yet just two months ago, in the Scottish parliamentary elections, the Workers' Party and Galloway stood as part of the "Alliance4Unity" which recommended tactical votes for various pro-austerity politicians, including ten Tory constituency candidates. One of them, Jackson Carlaw, was leader of the Scottish Conservatives from February to July 2020. Plus, in the 2019 European elections, Galloway publicly backed Nigel Farage's Brexit Party.
One of the most burning issues for the workers' movement is the need for the working class to have its own independent voice rather than being politically disenfranchised as it is now. All kinds of debates will take place on how to achieve that, in which the role of fighting trade unionists will be critical. But what is clear is that no public figure can take that process forward by backing candidates of the capitalist Tory party, or Farage and other right-wing populists of his ilk. For George Galloway to play a positive role in the formation of a new party – which his own vote shows the potential for – he would need to adopt a different approach.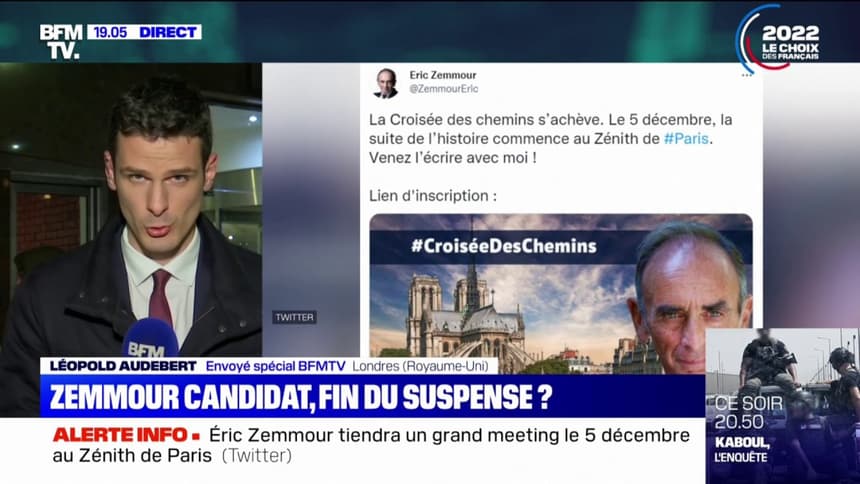 Planned Meeting Faces Protests.
In the Conclusion to his self-published selfie, La France n'a pas dit son dernier mot (2021) Éric Zemmour speaks of how his homeland has often faced death. On each occasion an invader has swamped her soil by armed force, occupying whole slices of the territory. There have been civil wars. A section of "nos élites" has taken the side of the "empire of the moment" against the people – in the name of a "universalism" gone astray. The empires were in succession, British, Spanish and German..
Yet, he perorates on the page, each time La France found a Man of Destiny ("Homme Providential"), Joan of Arc (sic), Bonaparte, de Gaulle. Each time, he continues, choked through with emotion, a handful of French people has gathered together around the principles that have guided the nation for a thousand years, whether it be the Capetian Monarchy or the Republic. Their names? Sovereignty of the nation against the empires, sovereignty of the state against the feudal barons, sovereignty of civilisation against the barbarians ("barbares").
Across the world, the patriot thunders, the Great Nations have returned to their glorious past. The Russians have brought together the Czars and Stalin, China has synthesised Confucius and Mao, Turkey has fused the Ottoman Empire with Ataturk and the Islamic Umma, Britain has championed Peppa Pig World, Moses and the noise of an accelerating car.
Okay I made that last one up, but this writer is already bored with Zemmour's opinons…
Despite his admiration for Joan of Arc and rude words about the British Empire ,Éric Zemmour has found friends in the UK. Fellow hard right nationalists that is,
"..Zemmour looks down at a copy of The Spectator and cocks his eyebrows at the unflattering cartoon of him on the cover. He decides he doesn't care. 'It takes a lot to offend me, you know,' he says. He then leafs through the magazine making polite and appreciative noises. 'Ah, Doooglas Murray!' he exclaims. 'I like Doooglas Murray very much. We've exchanged ideas.'"
What are his views?
"His plans include reintroducing border controls, suspending Schengen border-free rules for two years and, according to a member of his team in charge of European topics, ignoring rulings from the European Court of Human Rights and the Court of Justice of the European Union — despite France being bound to the latter — on issues such as immigration and government subsidies." (Politico)
A public meeting will be held in Paris on December 5 at the Zénith, which could, according to his entourage, be the first meeting of a campaign for the presidential election.
Visit to Geneva yesterday, 300 people came to listen to Zemmour.
.
Also, yesterday, Geneva: "We hate Zemmour".
And not everybody in France loves Zemmour.
Call for a Protest against Zemmour on the occasion of his Zénith meeting, by the CGT Union Federation's Paris wing.
British Sovereigntist 'Left'.
Sovereigntist politics have made a big mark in French politics. Issues relating to claims about the importance of political, economic, and cultural independence of France are not only more explicitly discussed but make the political headlines beyond controversies as important as, say, Brexit is in the UK.
The news from France today is that Arnaud Montebourg, a former Socialist Minister and pessimistic reformer inspired by nation-state based versions of "anti-globalisation" (démondialisation) centred upon protectionist ideas, has not given up his Presidential bid. A sovereigntist, who sometimes still claims to be on the left, Montebourg got into trouble over this:
The quondam 'left wing firebrand' and one-time Minister of the Economy, Industrial Renewal and Digital Affairs (2012 – 2014) , announced his candidacy at the start of September. Better known these days for his Honey – he markets it under the highly amusing label of Bleu, Blanc Ruche (Bee-Hive) – this venture has got the backing of ultra-sovereigntist and another one-time Socialist, Jean-Pierre Chevènement and the remnants of the 'Che's Citizen and Republican Movement (MRC), the anti-Charlie Hebdo essayist and protectionist Emmanuel Todd, and (somebody of whom one would have hoped better Thomas Guénolé, whose unhappy experience of working at close quarters with Jean-Luc Mélenchon, La Chute de la Maison Mélenchon : Une machine dictatoriale vue de l'intérieur (2019) has been referred to on the present site. The objective was to gather together "sovereigntists", that is those from all political backgrounds, who put French national sovereign power first, foremost, and at the top of priorities. Made in France has become the axis of his economic policy.
By no coincidence whatsoever that was the Chevènement Presidential programme (the MRC was then called the Mouvement des citoyens (MDC) in 2002 (5,3% of the vote). His approach was to appeal beyond left and right, to the Republic ("au-dessus de la droite et de la gauche, il y a la République") . The campaign got the backing of, amongst others, this unenviable list,  Régis Debray, Max Gallo,  Emmanuel Macron and  Florian Philippot (later to be Marine le Pen's henchman, now leader of his own far-right outfit, Les Patriotes).
L'Engagement is the name of the outfit working for Montebourg. It addresses those who want to "take back control of our lives" (reprendre le contrôle de nos vies) wrest the state from the hands of a minority and get it to work for the general interest ( le retour d'un État au service de l'intérêt général, libéré de l'emprise d'une minorité). A New France based on "la souveraineté populaire et l'indépendance économique."
An important part of the campaign is a robust approach to immigrants and integration. Those living in France, he has said, must "learn French, respect the laws, accept the values ​​of French society, like secularism, and should work, and have their own resources ".
Monty, as nobody calls him, got in a mess a couple of days ago with this call ", he proposed to block "all transfers" of money from immigrants , and evoked "the 11 billion that goes through Western Union" , to put pressure on countries that refuse to take back their nationals expelled from France. Wokists all all sides did not hesitate to point out that Marine Le Pen had already had that idea. It also looks as if preventing immigrants in France from sending money to family or friends, was not only illiberal but most certainty illegal under French and European law. Montebourg has back-peddled, " C'était une erreur, cette mesure ne sera pas dans mon programme. » An error, a measure which will not be in his programme.
0,2 % of those surveyed have expressed a favourable opinion of the candidate's 'robust' views on immigration. But it is said that they have expanded his audience on Twitter, (Présidentielle 2022 : avec ses propos sur l'immigration, Montebourg élargit son audience… sur Twitter)
Beyond Left and Right Sovereigntist politics, with patriotism, protectionism and lots of state control, looks as if it's found an expression in the UK….
LEADER: George Galloway :: Deputy leader: Joti Brar
Our country needs the state to guide the economic life of the country in such a way as to promote work, to respect the dignity of labour, and to serve the working people. All adults have a duty to work in a useful fashion, according to their talents and abilities, and society has an equal duty to ensure that useful employment is available to all, part-time or full-time according to the domestic, health and life constraints of the worker.
The Workers Party positively embraces Britain's withdrawal from the EU. Britain needs to be free of the EU regulations that would restrict our fiscal and monetary policy and prevent Britain from taking public ownership of key utilities and transport infrastructure.
If we are to be free to direct the affairs of our country to meet the needs of working-class people, we must be able to have something to say on the free movement of capital out of our country as well as the free movement of labour into it. Under a socialist system, the control of our borders, both physical and financial, will be a guarantee not only of the rights of our workers to good labour rights and rates of pay, but will restrict the ability of capital to pack up and leave for greener pastures, abandoning our workers and decimating British industry.
We reject a future of parasitism where the British people, through the operation of the City of London, degenerate into an unemployed feckless rump living off cheap imported food and the plastic-electronic consumables of global capitalist anarchy.
One has to admit that the Workers Party of Britain does have some rather 'specific' views on national independence:
Workers Party Britain-Kent Retweeted