Archive for the 'Nationalism' Category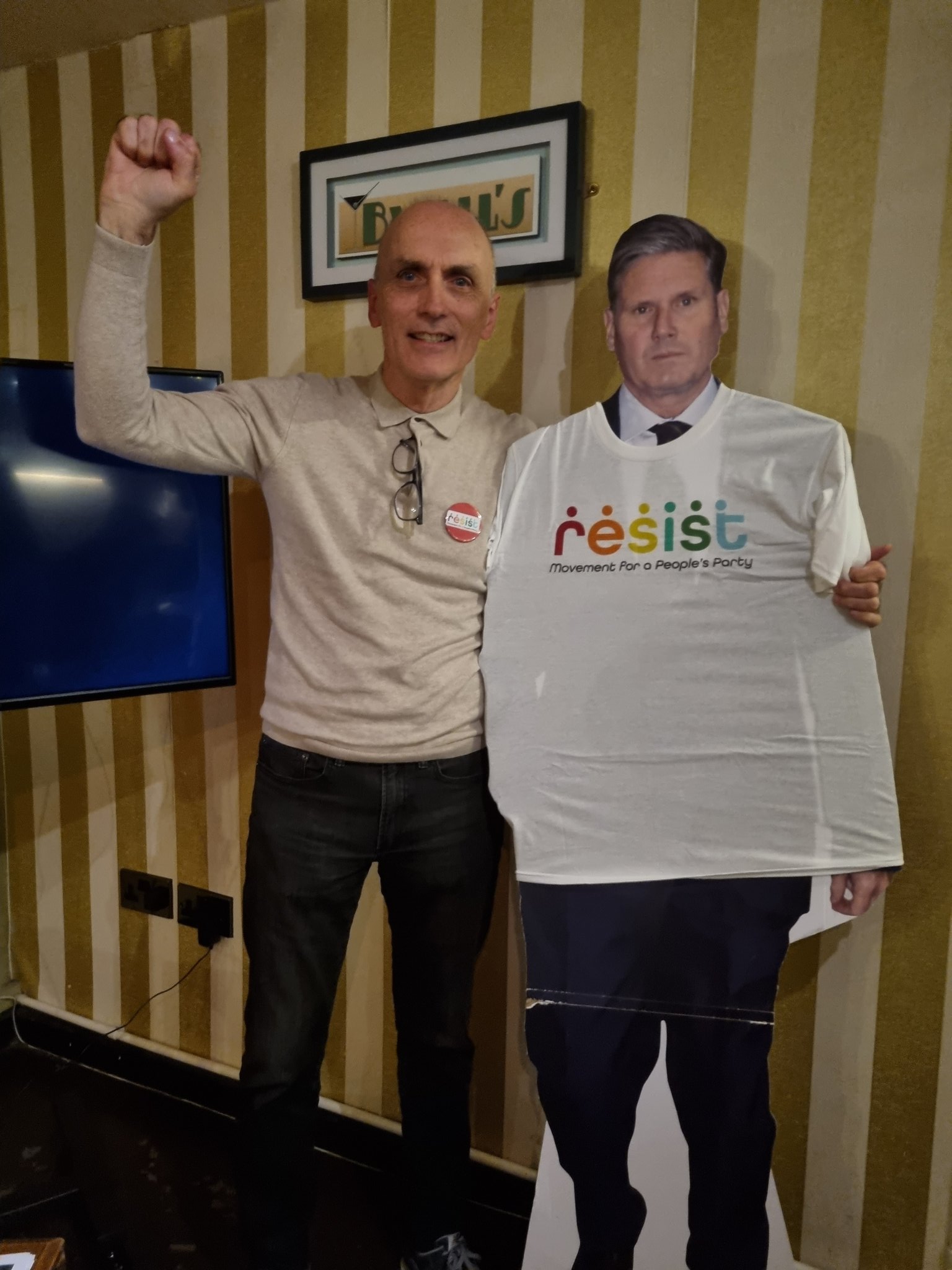 How we chortled.
Chris Williamson who canvassed for George Galloway's Red Brown Workers Party of Britain in the Batley and Spen By-Election is out on the bords again today.
They know how to tell 'em!
Plugging an old friend.
"It was the Betrayal of Chris Williamson by Corbyn, Formby and Lansman That Paved the Way to Starmer's Stasi." Tony Greenstein.
Chris Williamson will long be remembered as a brave and principled Labour MP who was let down and betrayed by those who are only in politics for what they can personally get out of it. All those SCG MPs, such as Russell Lloyd-Moyle who lied to me about Chris Williamson, aren't fit to walk in his shadow
There are many matters of great concern with recent suspensions and expulsions from Labour.
John McDonnell says 'Labour Party's purge is having a severe impact on mental health of members'
21st of September, (from the centre left, Left Foot Forward).
Labour MP John McDonnell has condemned what he says 'is a good old fashioned purge' of party members by the party and is warning that the leadership and party bureaucracy must recognise the impact it's having on the mental health of members.
According to the party's own election records, by November 2020, it was reported that 50,000 members had left the party since Keir Starmer became leader, however McDonnell says the number has now reached 100,000.
He has since been critical of the way in which the Labour Party's disciplinary procedures have been applied against members on the left of the party.
In July, the party's ruling body proscribed four groups, Socialist Appeal, Labour in Exile Network, Labour Against the Witchhunt and Resist. Three of the groups (Labour Against the Witchhunt, Labour in Exile network, and Resist) were criticised by party officials for downplaying anti-Semitism.
McDonnell has since told the BBC that left-wing members of the party were now facing disciplinary action through guilt by association and that action was being taken against members 'retrospectively'.
In a separate incident, the chair of Labour's youth wing, Jess Barnard, received a letter telling her she was under investigation for "hostile or prejudiced" behaviour, with the Labour party later apologising and saying it was a mistake that happened amid an attempt to clear a backlog of complaints.
Kate Osborne, the party's MP for Jarrow was also issued with an investigation warning for allegedly breaching party rules. Osborne swiftly responded with a lawyer's letter, and, within an hour, Labour retracted the investigation and issued an apology for the 'administrative error.'
Commenting on the wider issue of suspensions and investigations, McDonnell told LFF: "Elements of the right in the Labour Party now are close to the leadership and the bureaucracy and they've launched an old-fashioned purge that's what it is".
He said the suspensions and expulsions put members in an 'extremely difficult situation when they're under investigation', as it stymies them from undertaking political activity and demotivates and demoralizes a large number of other people.
"We've lost over 100,000 members, some people say 150,000, that's the army that goes out and fights the elections for us", he said.
"The Labour leadership need to be worried and concerned about the impact this is having on people's mental health, when you receive that letter you're under investigation or you received the charges, you can't recognize them against you, you get worried, then it drags on for months and months, the stress builds up. I think it's causing a severe impact on a large number of people's mental health and I think the party really needs to be concerned about the impact this is having on party members wellbeing.
"I've been particularly concerned about how members of Jewish Voice for Labour have been treated because the accusations against them, and I find it bizarre and ironic, that some of the accusations against our Jewish members are around anti-Semitism. Our concern about tackling anti-Semitism both in our party and in our society has resulted in Jewish members being disciplined or expelled, it's ridiculous."
One can support the welcome Conference decision to back this without stopping criticism and opposing these exclusions:
Some things needs saying.
People, from all parts of the left can agree, and in this Blog's case, disagree strongly with the groups proscribed.
But charges such as bringing the party into discredit, the rest of 2.1.8 ("be seen to demonstrate hostility or prejudice based on age; disability; gender reassignment or identity; marriage and civil partnership; pregnancy and maternity; race; religion or belief; sex; or sexual orientation as conduct prejudicial to the Party: these shall include but not be limited to incidents involving racism, antisemitism, Islamophobia or otherwise racist language, sentiments, stereotypes or actions, sexual harassment, bullying or any form of intimidation towards another person on the basis of a protected characteristic as determined by the NEC, wherever if occurs, as conduct prejudicial to the Party." were already there.
Supporting candidates against Labour, the case of Chris Williamson's Resist, is also something you can be expelled for. There have been been ways to get rid of people who overstep the mark.
Why action against factionalisers in marginal networks, messianistic grouplets (Socialist Appeal) with no influence, is needed has never been properly explained. The charge does not seem to be against the possible damage that may have done, but on a Maoist basis that amongst the hundred flowers of Labour thought they are "poisonous weeds."
The clear out now seems to have seeped much further than the original targets. Some worry that it has become a pretext to get rid of Jewish Voice for Labour (JVL). As Dave Lister argues in the latest issue of Chartist (September/October 2021), it is time for "halt to the purge of Jews from Labour." "Of JVL's 17 officers and committee members nine have been investigated for anti-semitism and three are are currently suspended." Lister states, "criticisms of Israel and support for Palestinian rights is not racist unless it is couched in racist terms". (Jewish Voice stifled?)
Opposition to these administrative measures is not helped by these antics by one of Chris Williamson's many best friends:
JVL clarifies, implying that Greenstein is not a member of the JVL – something they have said to those of us who asked, but which has then got contradicted by assertions that he is.
We hope that Richard Kuper can clarify matters:
Meanwhile in another world some political steps forwards are taking place.
UPDATE.
LBC's Political Editor Theo Usherwood explains how he was forcibly removed from the Jewish Voice for Labour fringe event by Tony Greenstein – a man expelled from the Labour Party for "virulent anti-Semitism".
Tony Greenstein caught my eye from across the room. He seemed oddly angry that I had arrived at the Jewish Voice for Labour event at the Mercure Hotel on the seafront.
I knew the meeting was going to be rowdy but I had no idea it would take the turn it did.
Greenstein – a man expelled from the Labour Party for virulent anti-Semitism – started by snatching my mobile phone from my hand. I managed to get it back after he threw it across the room.
But then, boxed into the corner, I was told by Greenstein that he wanted to kick me out of the meeting. When I refused to go, I was told they were calling the police. I said that was fine, only for Greenstein to grab my arm and force me out of the hotel's ballroom.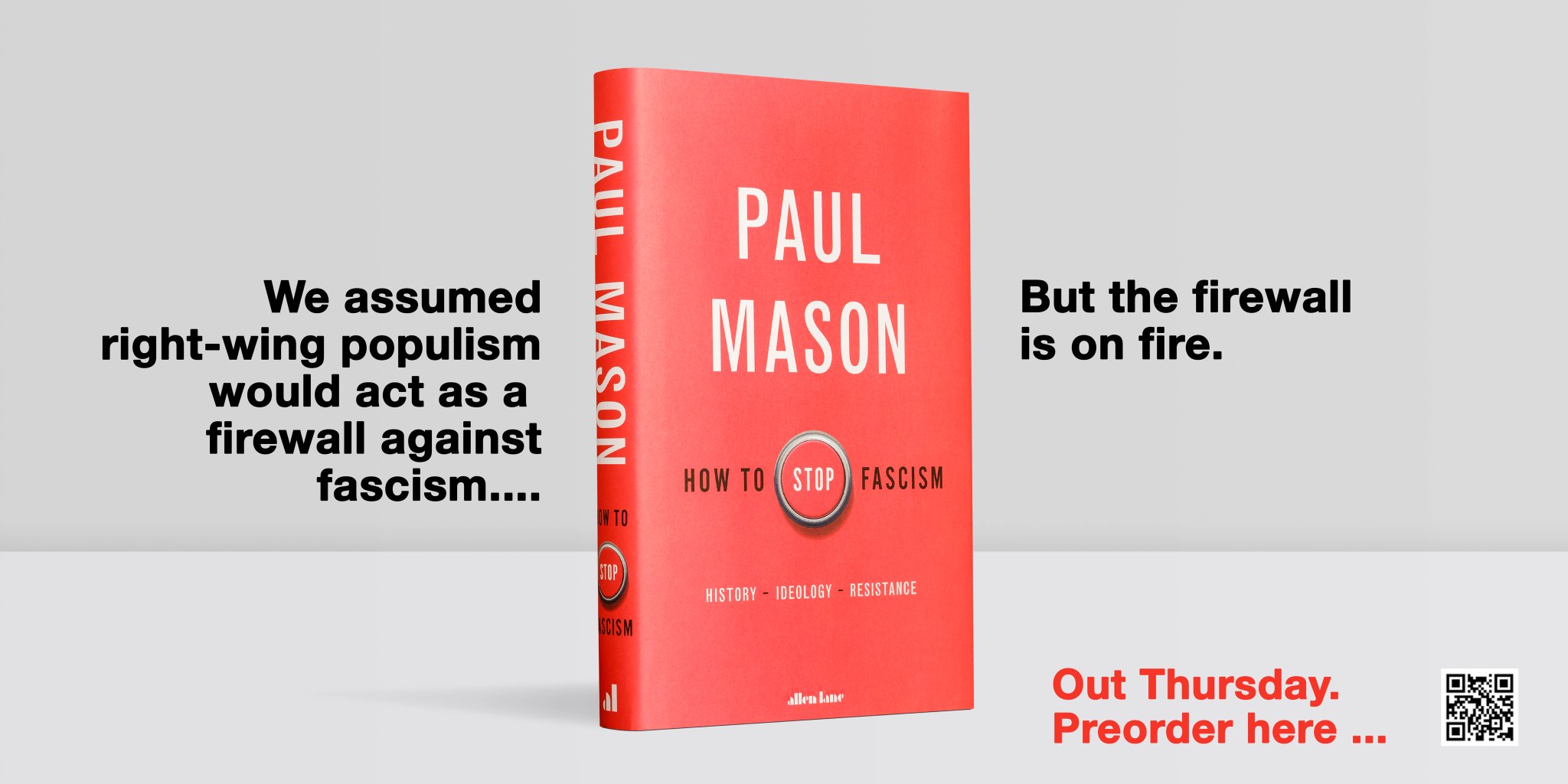 How to Stop Fascism, History, Ideology, Resistance. Paul Mason. Allen Lane 2021.
Last weekend there were demonstrations across the world for "freedom", against Health Passes and all Covid-19 restrictions. In London There was a presence of anti-vaxxers London saw one of Britain's best known, Covid Confusionist Piers Corbyn out yelling about Vaccination centres. In France the far-right, Florian Philippot's Patriotes and a galaxy of extreme-right groupuscules marched in many towns and cities, sometimes physically clashing with far-left protestors, also opposed to Macron's Pass Sanitaire.
At a rally against anti-Semitism called the Réseau contre l'anti-semitisme place Baudoyer in the 4th arrondissement held by the some of the best people you could ever wish to meet, from the Ligue des Droits de l'homme (founded after the Dreyfus Affair), moderate left-wingers, greens, civil society campaigns, the radical left, including to the anarchist federation. Speakers denounced the prevalence of anti-Semitic ideas circulating in the movement against the Health Pass. A few hundred attended. The anti-Pass movement drew fewer numbers than in previous weeks, down to around 80,000 across France – at their height in July 200,000 marched across the country.
Today "Fascism is back" writes Paul Mason (site). Right-wing populist parties have not stemmed its rise. The failures of free-market globalisation have turned established ideas to dust. Right wing populists, in power in countries like Hungary and Poland with influence across Europe, and with the (former) Donald Trump Presidency, no longer act as a "firewall" that stops the flames of fascism spreading from the more extreme right. Fascism has grown, he says, through the "salience of its ideas" spread through social media.
Neoliberalism is broken, the "neo-liberal self" is in crisis, competitive democracy is decaying, the planet is burning, the pandemic has been a golden opportunity for extreme conspiracy movements, The "sudden ideological collapse of neo-liberalism and rapid concentration of online power into the hands of the far right" has combined with these developments. This indicates¸ How to Stop Fascism argues, "Fascism, is "a recurrent symptom of system-failure under capitalism."
"In the 2000s it is possible that the rules-based global order will shrive, even if a few, isolated right-wing populist regimes persist. But it is more likely that the world order will break, that we need up with competing power blocs…. that will force through the globalisation that prevailed between 1989 and 2008." In this "fascism" – while the far right considers itself the sworn enemy of the "globalists" – will be a "willing helper."
The appeal of modern fascists, which have "spread rapidly through social media" is to offer a "new utopia based on racism, misogyny and violence". Their goal is "a global race war that reshapes the world into ethnic monocultures." What the American neo-Nazis call "leaderless resistance" are one part of "movements perpetrating symbolic violence against the left, minorities and democratic institutions." Indeed, such is their strength that there "is a non-negligible risk of a fascist breakthrough".
Fascist Ideology.
The rallying call, based on anti-fascist ethos' has to be, Mason argues an "alternative vision and an alternative practice" has to be axed around new forms of the Popular Front. The "mutually hostile offshoots from the Enlightenment, liberalism and Marxism, can at least now mount a joint defence operation against fascism." This democratic front, assuming that either of these diverse sides would wish such an alliance, is probably the argument of this important book that will get the most attention.
Paul Mason offers many well-argued passages about the nature of fascism, citing writers as diverse as Hannah Arendt (totalitarianism as the "temporary alliance of the mob and the elite', William Reich (fascism as the 'fear of freedom), Eric Fromm (who developed this idea);) the historian John Paxton ('stages' of how fascism develops) and Ernest Nolte (his earlier writing, underlining fascism's anti-Marxism). Whether these replace or add to Marxist explanations of the role of fascism in crushing and atomising working class movements, is open to debate. No doubt there will be those who wish to defend a "united front" (the Trotsky version) against Mason's history and defence of the Popular Front in Spain and France.
The (relative) free-floating ability of fascist ideology to take ideas from all sources, including anti-democratic currents on the left, or, more directly the claim that it grew from " a synthesis of anti-materialist socialism and nationalism" (Zeev Sternhell) is another avenue to be explore. Red-Brown movements, defending both 'Britain' and the "Working class, taking bits from 'Marxism'-Leninism' and patriotic tub-thumping have not disappeared.
The confusion between left and right, or the far-right claim to be neither right nor left, is explored in Ni droite ni gauche. L'idéologie fasciste en France (1983) and other writing by Zeev Sternhell. although his views on Georges Sorel, like Paul Mason's, have been hotly contested in other studies of the revolutionary syndicalist , L'Illusion du politique. Shlomo Sand. 2986). Sternhell gives a much denser (if often contestable) account of ideological shifting and confusion than, say, the 'discourse' approach to populism and fascism of Ernesto Laclau and Chantal Mouffe
Today in France many defenders of the 'somewhere' 'peripheral' real national and working class people against 'metropolitan elites' trace the original fault of the French left to that experience. It dates back to the late 19th century Boulangist movement, when a section of the left initially welcomed the anti-Parliamentary agitation around the 'Charismatic' General Boulanger, along with anti-Semites, royalists and ultra-nationalists, while others stood with republican democracy. This alliance, formal and informal, reached at a peak during the Dreyfus affair, when socialists of many stripes co-operated with the republicans and 'bourgeois' democratic side. This early 'human rights left' was incarnated in the figure of the socialist and democratic Marxist Jean Jaurès.
Populism.
Enzo Traverso has suggest that populism" is a style, not an ideology. We can see that in British P.M Boris Johnson's bluster and British boosting, the populist identity 'anti-woke' politics of Spiked, and GB News. But it there more at stake? Post-fascism Traverso argues, is not ideologically as strong as that embodied in the fascist regimes of the 1930s, embodied in totalising mass parties, and, above all, states. Ethno-states are the banner of a fringe. The far right today is a machine manufacturing demands for economic protectionism, national sovereignty and the defence of "national identities. (Les nouveaux visages du fascisme, 2017)
This right is interested in "identification" controls of the population, registering and documenting foreigners, criminals, subversives, and the control of nations imagined as if there were "living bodies " (corps vivants). The French Rassemblement National of Marine Le Pen stands for, as it has done since the days of the Front National, la préférence nationale, giving nationals preference over others. This is a realisable programme, not gestures and ways of addressing and claiming to speak for the "people" and attacking the metropolitan 'left' 'liberal' elite.
Éric Zemmour, potential candidate in the 2002 French Presidential elections to Marine Le Pen's right, now standing at above 10% in opinion polls, talks of a rigorous policy of assimilation – extending to forenames. (1) Zemmour, who is of a North African Jewish background has promoted the Great Replacement conspiracy theory, contending that Frances population will be replaced by immigrants. Yet biological racism seems largely absent. By contrast the marginal US Richard B. Spencer, influenced by the French Nouvelle Droite, and despite this 'culturalist' background, says bluntly "Race is the Foundation of Identity. " Nobody is talking of Spencer or his race-comrades, as future contenders in electoral American politics
Going into the backdrop to the support for national populism and the far right Mason tackles the 'culture wars'. He makes many acute observations on the "new divisions in the working class", a globally spread "reactionary ethos" and a "new kind of working class conservatism". He offers some hope that the "new working class" in urban areas can be drawn into progressive movement- or, as those who are close by will say, often to be on "our – the left's – side". Put simply many do not put up with appeals to some mystical common heritage when they know and experience what being working class, always close to, if not on, benefits, has become.
But it is not just the material problems that causal, 'flexible', employment have brought with them that are an obstacle to the left, Parts of the left itself have contributed to the confusion that allows national populist ideas to get hold. In Britain the 'Lexit' supporters of Brexit imagine that national sovereignty, Parliamentary power, could break the strength of 'neo-liberal' EU. There is also the issue of ultra anti-Zionists, a marginal but real presence on the left, with its own Rothschild conspiracy theories.
National Neo-liberalism.
Neoliberalism, what Paul Mason has called in the past, 'national neo-liberalism' – the dominance of private enterprise extend right into public functions with a dose of global 'buccaneering' trade deals – has not gone away. The collapse of classic borderless neo-liberalism has been replaced by 'more borders' national populism and internal economic liberalism. It was never a 'firewall' against the fascist right, but a shifting ground where themes from the extreme meet up with classic conservative nationalism, the 'rooted' politics of the old ruling classes, the new surveillance capitalism, popular and working class conservatism, and right wing identity politics. Or, to put it simply, a bridge to a bigger political audience.
The left needs the kind of call to arms against these new forms of right and far-right politics made by Paul Mason, even if we may not agree on the details of his programme. Against the far-right and against populism alliances with democrats, socialists and progressives (which formed the basis of 1970s anti-National Front campaigning) are needed. Yet, how, people will ask, exactly can they be fought if their matrix is in the hyper-reality of cyberspace? There does not look like a systematic return to the street marches and direct confrontations of previous decades, though some kind of counter-protests at anti-vaxx events would be welcome.
There remains one issue. Is, looking at things more simply, a mass movement – even virtually – that we can call Fascism really on the march to power, or decisive influence? How far have they got? Are they really, even in the bud, headed for a 'breakthrough'? The limited physical and electoral presence of the fascist right, even their broader identitarian fronts, and the shrinking attendance at the anti-Health pass events in France, not countered by a rise in this agitation across the world last weekend suggests that they have some way to go.
(1) This is not a joke. Zemmour has said he would make French forenames compulsory for children: Le polémiste d'extrême droite Éric Zemmour… souhaiterait interdire en France les prénoms d'origine étrangère. There is a lot, a lot, more to say about Zemmour, from his defence of Vichy, his loathing of May 68, to his 'masculinist' hatred of feminism. Eric Zemmour: A French Trump or a French Farage? John Lichfield
*****
A National Populist review:
If this is 'anti-fascism', count me out. Brendan O'Neill.
It is hard to know where to start with How To Stop Fascism. Parts of it are just batshit crazy.

I knew the Remain elites felt a visceral hostility towards the working-class communities that ensured a victory for Brexit, but even I did not know that it ran this deep, that it was giving rise to a new theory of fascism that views the working classes as the likely key component in the next mass panic of authoritarianism. This explains Mason's hostility to democracy. Even in this book in which he lists the view of democracy as 'dispensable' as a core fascistic belief, Mr Mason cannot help but expose that his fear of populism is at root a fear of the democratic will. He slams the charismatic leaders of the new right for fetishising the 'will of the people'.

…this is the 21st-century Labour left summed up. It is a poisonously elitist project. If fascism were ever to return, I know who I would trust to stand against it – not Mason and the other cushioned, comfortable loathers of democracy who make up the supposedly radical left, but rather ordinary working people who oppose extremism, are wary of experts who claim to have all the answers, and who believe that national sovereignty is really worth fighting for
Hairy Biker and Comrade to Speak at Galloway Workers Party of Britain Beano.
Chris Williamson has a long friendship with Tosh:
The WPB (as nobody calls it) is "the working-class patriotic alternative to fake woke anti-British 'Labour'. The leader George Galloway worked hand in hand with Nigel Farage to back the Bosses' Brexit in the European Referendum Its cadres in the CPGB (M-L) backed the Brexit Party in the 2019 Euro Elections. "The Workers Party stands with all those countries that have attempted to break free of imperialist domination and build a different kind of world. We defend the achievements of the USSR, China, Cuba etc, not least the debt owed by humanity to the Soviet Union and Red Army in their war of liberation against German fascism."
We shall defend the positive historical legacy of the Soviet Union as well as all those today who struggle for socialism; for an alternative world order.
Its HQ address (kidding, not) is 274 Moseley Rd, Birmingham. B12 0BS.
Deputy leader of the WPB, Jodi Brar, has contributed to this classic: Identity Politics and the Trhttps://s3-eu-west-2.amazonaws.com/s3.cpgb-ml.org/TransgenderTrend_read.pdfansgender Trend (2019). This a publication of the CPGB (M-L) and carries this notice at the end.
The following resolution was passed overwhelmingly at the party's eighth congress in September 2018, following a six-month inner-party debate.
Identity politics are anti-Marxian and a harmful diversion from the class struggle.


While being totally opposed to discrimination on grounds of race, sex or sexual proclivity, this congress declares that obsession with identity politics, including sexual politics, is anti-Marxian.


Congress therefore resolves that the propagation of identity politics, including LGBT ideology, being reactionary and anti-working class and a harmful distraction and diversion from the class struggle of the proletariat for its social emancipation, is incompatible with membership of the party, rendering those involved in its promotion liable to expulsion.
Well established opinion is that this resolution was the end product of some considerable rows amongst the cadres who now run the WPB.
On Williamson there is now this claim,
on Saturday's demo against the arms fair in Liverpool with Jeremy Corbyn refusing to share a platform with Chris Williamson who told me that he wasn't allowed to speak