Archive for the 'Nationalism' Category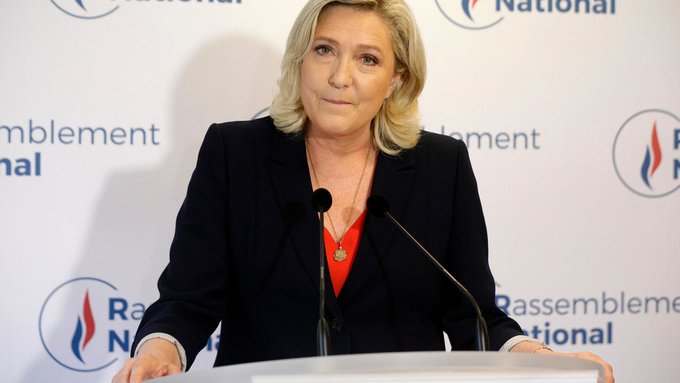 Marine Le Pen gets re-elected to lead France's far-right National Rally
Marine Le Pen won re-election as head of France's far-right National Rally Sunday at a party congress, where she is seeking new impetus for her 2022 presidential bid after performing badly in regional polls.
The National Rally (RN), which had been tipped for strong gains in last month's regional elections, was left floundering after failing to win any of the 13 regions in mainland France.
The results raised questions about Le Pen's strategy of trying to detoxify her party's brand and position it as a more mainstream right-wing force.
But she faced no challenge for the party leadership, with her quest for a fourth term winning the backing of 98.35 percent of members in an online and postal ballot, RN announced on the second day of its congress in the southern city of Perpignan.
Note (there was some pretty good coverage in the British press, this is from the Guardian)
In the run-up to the elections to mainland France's 13 regional governments, the leader of the far-right RN party was confident of capturing three or even five regions, with pre-vote polls giving her party a first-round lead in six.

In the end, she failed to win one. The RN's highest hopes were for the Provence-Alpes-Côte d'Azur region that includes Marseille and Nice, but its candidate, Thierry Mariani, managed only 43%, against 57% for the centre-right's Renaud Muselier.

The party's usually reliable voters failed to turn out; candidates, including Mariani, recruited from the mainstream right in an attempt to broaden its appeal performed dismally; and in many areas the RN fared markedly worse than last time.
The conference marked therefore an electoral setback in the campaign to 'de-diabolise' the RN. But Marine le Pen announced its conclusion there would no going back to the days of the Front National, the close of the 17th Congress of the RN, the presidential candidate repeated her plan to "implement a government of national unity" in 2022. The underperformance of her party at the regional level had (still) prevented the dynamic of "opening" on the right that she thought they had begun. Congrès du RN : «Nous ne reviendrons pas au FN», Marine Le Pen le jure.
The below reminds us of their limits: the number of their elected representatives.
In case anybody thinks that the French National Populist RN is a 'normal' party, and not something resembling the fringes of Trumpism, the Brexit Party Spiked and the Tory Party's 'anti-woke' Common Sense group here is a key note speech at the Conference,
Le Monde.
The deputy of the North explained in a speech, Saturday July 3 in Perpignan, why, according to him, the philosopher "was wrong about everything".
After fifteen rather classic minutes, during which the speaker declared, after the Italian communist philosopher Antonio Gramsci: "the fight that we lead is a cultural battle before being a political fight" ……….(note added) he went into this rant, worthy of Brendan O'Neill or Frank Furedi.
The sickness, for Sébastien Chenu, dates back to May 68, and in particular to… Jean-Paul Sartre, around whom he drew an unpublished portrait, but perfectly in line with the thought of the extreme right. "Since 1968, the thought of Jean-Paul Sartre ha circulated and influenced all intellectuals, academics, and he media" , began the deputy. The great French philosopher (1905-1980) is for him "the man of all errors, of all blindness" , and not the least: "He is the one who hated the people at the time of the Popular Front, the one who loved the Germans at the time of the Occupation, he wrote it moreover with Simone de Beauvoir, they were fascinated by these events, declared Sébastien Chenu. This is the man who hated de Gaulle and who preferred dictators like Mao, like Stalin. It is the one who made Mitterrand vote in 1981, it is the one who is alongside Ayatollah Khomeini when he was hosted in France. We can still see that this intellectual has planted everything. "
Details on the allied currents now integrated into the RN, Hervé Juvin, of the Parti localiste, and Thierry Mariani, of, La Droite populaire, and a loss of influence of the openly 'identarian' individuals in this article:
La députée du Pas-de-Calais a été réélue triomphalement, dimanche, à la tête de la formation d'extrême droite. Son numéro deux, Jordan Bardella, assurera l'intérim pendant la campagne pour l'Elysée.
Allies:
Official account of the European Political Party Identity & Democracy – #IDParty
th European Parliament[edit]
I am in the middle of reading Anne Appelbaum's Twilight of Democracy and the Parting of Friends. She is on the conservative anti-Communist right. But she is a democrat who stands against national populism and the Polish and Hungarian governments – hence her 'falling out' with those she befriended or worked with. The issue of anti-semitism, embodied in attacks on George Soros, has a big place in the opening chapters.
The book, like the magazine piece, begins with a party she and her Polish husband (who was then a deputy foreign minister in a center-right government) hosted on New Year's Eve, 1999, at their home in the Polish countryside. The guest list was multinational and politically diverse, united by the afterglow of the Cold War victory over Communism and a shared belief in "democracy, in the rule of law, in checks and balances, and in … a Poland that was an integrated part of modern Europe."

"Nearly two decades later, I would now cross the street to avoid some of the people who were at my New Year's Eve party," Applebaum writes. "They, in turn, would not only refuse to enter my house, they would be embarrassed to admit they had ever been there."

These erstwhile friends, classmates and colleagues have lost faith in democracy and gravitated to right-wing nationalist regimes and movements. She calls them "clercs," borrowing from the French philosopher Julien Benda, who a century ago seems to have meant a sarcastic fusion of "clerks" and "clerics," functionaries and evangelists.

Bill Keller Why Intellectuals Support Dictators
The book is both a moving personal account and an argument about the denial of pluralism by national populists that could be extended to many countries.
Applebaum's books, such as Iron Curtain: The Crushing of Eastern Europe, 1944–1956 (2012), are – you do not have to agree with them – well worth reading.
More broadly, I can't help drawing some comparisons with the way some on the left in the UK have become supporters of red-brown politics, pro-Brexit, pro-Sovereigntist ideas, and constant attacks on Keir Starmer and the Labour Party. Not to mention their obsessional 'anti-Zionism' Some have backed Chris Williamson and George Galloway, and encourage the latter in the Batley and Spen by-election. How we left democratic socialists have reacted is not too far off the way Applebaum does to her erstwhile colleagues.
Look at this type who runs Labour Heartlands.
(2019)
Paul Knaggs, 52, a former army officer, is standing for a seat on Chesterfield borough council next month
In an article in Labour Heartlands published last year, Knaggs wrote, addressing Jews and Muslims: "I respect your freedom to have a religion and even practise it.

"But I do not respect the fact that you want your religion to dominate our politics or undermine the working class struggle."

The article, which has not been deleted, accuses former Board of Deputies president Jonathan Arkush of spreading "poison" by attacking Labour and Jeremy Corbyn over antisemitism.

Knaggs defended his comments at the weekend, saying Islamophobia and antisemitism were "plagues" distracting attention away from the working-class, The Times reported.

A Labour Party spokesperson told The Times it takes prejudice "extremely seriously and we are committed to challenging and campaigning against it in all its forms.

"All complaints are fully investigated in line with our rules and procedures."

A spokesperson for Labour said the party "takes all complaints of antisemitism extremely seriously and we are committed to challenging and campaigning against it in all its forms.

"All complaints about antisemitism are fully investigated in line with our rules and procedures and any appropriate disciplinary action is taken. We can't comment on individual cases."
Look at the state of the Red-Brown Front:
One Britain One Nation Day at your school. Free copies of I-Spy: Unpatriotic Classmates will be given to all pupils so that they can keep a record of any schoolfriends who do not sing the #OBONDAY21 anthem loudly enough.
This, the holiest of Days, has been soiled by this revelation.
Well established rumour has it that Matt Hancock has a supply of portraits of the Queen he is willing to give away to constituents.
Allegations shareholders have funded Tory party and Hancock leadership bid