Posts Tagged 'Brexit'
Labour Boost "Almost Meaningless": Morning Star Hearkens Back to a 'People's Brexit'.
At the accession of Boris Johnson, the patricians, men and women, were at the height of their good fortune. Society and the voters recognised their superiority, which they themselves pretty calmly took for granted. They owned not only titles and estates, but donors to his cause had seats in the House of Peers, and a preponderant say in the House of Commons. There were a multitude of Government places and contrats, and not merely these, but "paid advocacy" flourished, which, until found out, members of his Party in the Palace of Westminster took not much shame in receiving. It was the good time for the Conservatives. Small blame to them if they took and enjoyed, and over-enjoyed, the prizes of politics, the pleasures of social life.
Others, sprung from the same class, took a critical view of Britain's Prime Minister.
In June 2019, Hastings described Boris Johnson as "unfit for national office, because it seems he cares for no interest save his own fame and gratification…[his] premiership will almost certainly reveal a contempt for rules, precedent, order and stability…If the price of Johnson proves to be Corbyn, blame will rest with the Conservative party, which is about to foist a tasteless joke upon the British people – who will not find it funny for long. (Max Hastings)
"Like many showy personalities, he is of weak character. I recently suggested to a radio audience that he supposes himself to be Winston Churchill, while in reality being closer to Alan Partridge."
Others extend this dim view of the Prime Minister to an equally dark judgement on the leader of the Labour Party.
The Morning Star opines today that Labour should take cold comfort from their rise in the polls (Editorial: As Johnson freefalls, Labour's poll lead is almost meaningless.
Most of the recent polls show more of a shift from the Tories to the "don't knows" than to the Labour Party, many of them electors who voted Conservative in 2019 and for Brexit in the 2016 referendum.

Some had previously voted Labour in 2017, when Jeremy Corbyn promised to honour the EU referendum result.

They have not forgotten Labour's betrayal of that pledge in 2019 nor the name of the chief betrayer — Starmer. They don't trust Starmer's subsequent disavowal of any intention to take Britain back into the EU.

Who can blame them, when he has surrounded himself with shadow cabinet members and advisers whose commitment to the pro-big business, pro-market EU remains undimmed?
Editor-in-Chief Dave Spart continues,
Which brings us to the principle reason why Starmer's bubble is just so much hot air. For many people, there is more to life and politics than Tory lies and hypocrisy, past breaches of Covid rules and even EU membership.

What is Labour saying about rising gas and electricity bills? What about Britain's multi-faceted housing crisis? How can we upgrade our local and public services? Where should the money come from? How can we combat domestic violence? What about fairness and rights at work? What more can be done to counteract global warming?

In truth, the Labour leadership has nothing to say that is much different from the Conservatives, nothing to inspire young people and no vision of a fundamentally fairer society.
The harping on about "pro-EU" Starmer advisers and the Referendum reflects on thing: the daily was virulently pro-Leave. They claimed that quitting was a breakthrough, one that the left and labour movement would flourish in if everybody agreed to accept the result, knuckled down, and built socialism in a free sovereign Britain. Given that a section of the bourgeoisie and finance capital, and the national populist wing of the Tory Party were better placed to benefit in a Brexit they engineered this was a fantasy. A toxic one that encouraged the Conservatives in the ballot box and afterwards.
It looks as if the Morning Star still sports Widower and Widow's Weeds at the unexpected failure of a People's Brexit, heartily backed by the Labour Party, to happen after their successful support for a Leave Vote, along with Boris Johnson and his Party.
This is what the Communist Party of Britain believed to be close to the Morning Star, said about Labour's 2019 Defeat,
Britain's Communist Party blames Labour's "Stop Brexit" stance for election defeat. December 2019.
The Labour Party secured its election defeat by shifting to a "Stop Brexit" stance, Britain's Communist Party says.
Addressing an extended meeting of the CP political committee Monday, General Secretary Robert Griffiths said that other factors in Labour's general election defeat should not be seized upon to obscure this "undeniable and overriding" fact.
This will be a Brexit in name only at a cost of around £33 billion ($43 billion USD)—not the 'people's Brexit' that would allow a British government to support strategic industries, take transport and energy fully into public ownership, reform public procurement rules, slash Value Added Tax, regulate the labour market, and raise funds for massive investment in housing and economic infrastructure."
For those who recall the still-born People's Brexit idea here is another version in the House of Commons:
A PEOPLE'S BREXIT EDM (Early Day Motion)13: tabled on 21 June 2017
Tabled in the 2017-19 session.
That this House believes that the UK leaving the EU gives the opportunity for a People's Brexit; further believes that the UK should make use of the opportunity to bring health services, railways services and postal services fully under public management and ownership; urges the Government to require procurement contracts let by public authorities to give preference to British businesses, to introduce a fair points-based immigration system, to establish devolved boards to assess local needs and capacity for immigration, to make provision about the priority accorded to British citizens for the allocation of local authority-owned housing…
Mann, JohnLHopkins, Kelvin Mr Jim Godsiff, Mr Roger Hoey, Kate Stringer, GrahamLabour Signed on5 July 2017
The 'People's Brexit', in any version, never happened, and was never going to happen.
Does the Man at the Helm of the 'Daily Paper of the Left' have an alternative for the present?
China:
The country, according to him, is evidence that "you can run a society without surrendering to the idea that the market is always right".
"Top People" got Labour to Oppose Brexit and back a People's Vote – Morning Star.
The Morning Star describes itself as the Daily Paper of the left. It embraces many lefts that agree with its editorial line. In recent eulogy Andrew Murray writes warmly of a new book, The Forty-Year War in Afghanistan by his old mucker, Tariq Ali, a member of New Left Review's Editorial Committee, a much-liked sage, a doughty fighter for Brexit, and a stellar figure in the international left. "Erudite and committed writings of Tariq Ali on Afghanistan, published at every stage of the calamity, are a illuminating read." writes the one-time member of the Communist Party of Britain, scion of the Slains Pursuivant of Arms, and former top adviser to Jeremy Corbyn.
Murray expresses some reservations about Ali's criticism of the Soviet Union's direct military intervention to help the Afghan regime. The future leading aide to the Labour leader backed the move:
.
Our view was not informed by any particular knowledge of Afghan affairs, but by the supervening requirement, as it seemed to us, to support the Soviet government as a principle of international class struggle, the more so when it was under attack by the imperialists.

We were also concerned to support a regime in Kabul that seemed to have progressive achievements, although we understood little about it
But all's well that ends well.
Looking back, I do not regret supporting the Soviet endeavour in Afghanistan, for the same reasons that I had at the time. However, on the substance of the matter — the wisdom of the intervention and its baleful consequences for both Afghanistan and the USSR itself — it should be acknowledged that, here too, Tariq Ali was right and has been vindicated.
Speculation is growing that Tel's nipper, Oliver Eagleton, of New Left Review's Sidecar and the popular TikTock broadcasts of Novara Media, is set to have his own column in the worker's organ. He will explore his latest marotte, "After Brexit, the partnership with France unravelled, as Barnier and Macron pushed to inflict maximal damage on Britain to deter future experiments in popular sovereignty."
Another one-time radical leftist who writes for the paper is Solomon Hughes. He was a member of the SWP and before Comrade Delta crisis wrote for Socialist Review, Tribune says that he has been "writing about corporate influence in politics for twenty years, mostly for Private Eye."
Hughes also has a weekly column in the Morning Star. In that outlet he has been delving into the forces who opposed the Vote Leave camp, the 'Left Brexit' forces.
These campaigners called for a Second Referendum to thwart Brexit. The success of Britain's departure from the EU, the burgeoning upsurge of a people's movement to assert real popular sovereignty, "real independence", was stopped in its tracks. Labour refused to support a People's Brexit. "Unconstrained by EU treaties, single market rules and directives, a left-led Labour government could develop a worker-led industrial strategy; aid industry, invest in training, youth and jobs, social welfare, housing, education and health services; and take the transport, energy and postal service profiteers back into public ownership. " Was this listened to? No. The result, as foreseen by leading CPB member Nick Wright, was the Labour Defeat in 2019.
How did this happen? Hughes has been piling on the evidence, or what he considers to be proof, of a damming trail of centrist plots and underhand deals, that show what happened in Labour behind the scenes ever since.
The latest, hot off the press:
How Labour got lumbered with its disastrous Brexit policy
SOLOMON HUGHES picks apart some revealing comments by the head of comms at the People's Vote campaign
The writer asserts that he has found "confirmation that the whole reverse-Brexit People's Vote campaign was, for some top people, "a stick with which to beat the Labour Party" and "an anti-Corbyn thing" comes from one of the top figures in the People's Vote campaign itself."
This is the smoking pistol:
"UK In A Changing Europe, a research institute based at King's College London focusing on Britain-EU relations, is building an archive of interviews of major players in the various Remain and Leave campaigns: the interviews are invaluable and revealing on the People's Vote."
Tom Baldwin, who was head of communications at the People's Vote campaign, told them: "There was always an issue about how much the People's Vote campaign should be a stick with which to beat the Labour Party rather than a neutral instrument for just winning a people's vote."
Here it is…
"I was trying to maintain some strategic discipline around the latter but there were constantly people who wanted it to be an anti-Labour thing, an anti-Corbyn thing, a realignment thing, a Liberal Democrat thing, a proportional vote thing.

"I think those were all distractions and the more we did it the more we just confirmed some people in their view that we were a liberal elitist, metropolitan organisation that was playing at politics."
Hughes continues in this vein,
Baldwin was particularly drawing attention to Roland Rudd: he is a City lobbyist and the brother of top Tory Amber Rudd.

The "People's Vote" was not a typical grassroots campaign, and was instead built from the top, by lobbyists and multimillionaire donors.

Roland Rudd effectively controlled one of the main organisations in the People's Vote campaign, an organisation called Open Britain.

Baldwin also pointed to Rudd's ally, Hugo Dixon: he says these two figures wanted to use the People's Vote campaign to "realign" politics.

At that time Labour's leader was the very left-wing Jeremy Corbyn, supported by a large number of members and a surprisingly good "second-place" result in the 2017 election.
Then….
Baldwin suggests people like Rudd and Dixon wanted to use the campaign to "realign" politics away from the left back to the centre.

Baldwin said the "big strategic difference was over the extent to which we wanted to win a People's Vote and then win a referendum, or whether we wanted to use this extraordinary energy that we had built up to realign politics.

"I was in the former group. I understand why, but The Independent Group (TIG) and the Liberal Democrats, and indeed the SNP in a different way, sometimes saw the instability we were helping to cause in a political system and within Parliament as an opportunity for them."
Baldwin says: "That sort of strategic tension was very clear by the end, because I think people like Roland Rudd and Hugo Dixon were of the view that we should be part of a realignment process."
It is pretty much an open secret that many central figures in the People's Vote campaign saw the whole business as more about rebuilding "centrist" politics, which was in a weak position in a polarised politics of the time."
This may well be true, and given the long-standing views of 'centrists' hardly news. The issue is, what effect did it have on the Labour leadership? Unfortunately for gumshoe Hughes this is what Baldwin said of their efforts to get Labour to back a People's Vote,
I think that was very difficult for Jeremy Corbyn and difficult for the Labour leadership. There was huge resistance from the Labour leadership to us, because we were seen as some sort of New Labour plot or new party plot. I think there was that element there. It certainly wasn't an element which I wanted to encourage or have any part in, and I remember having some terrible meeting with Karie Murphy in the Leader's Office where she is sort of jabbing her finger into my chest and saying, 'Who the fuck are you and what are you doing?

…

When we didn't back the TIGs and we didn't take those opportunities to back early votes in the House of Commons on having a People's Vote, which were merely designed to embarrass Corbyn, we made a lot of headway with the Labour leadership – and people like John McDonnell in particular- in persuading them that we really were what we said we were. We were a campaign for a People's Vote and not anything else. But it took a big effort.'.

Brexit Witness Archive – Tom Baldwin – UK in a changing Europehttps://ukandeu.ac.uk › Brexit Interviews
We shall leave others to delve further.
But Hughes goes further. He insinuates that the Labour Policy was led into a snare as part of a deliberate plan.
When Labour was finally persuaded to adopt a "second referendum" policy, Rudd used his control to end the campaign, sacking key staff, so the People's Vote would not actually campaign in the 2019 election.

It looked like a crude trap: Labour was persuaded to adopt an electorally disastrous policy, then left to crash without support by the people who did the persuading.
Labour's policy was not exactly the same as the Morning Star newshound asserts, "Labour will give the people the final say on Brexit. Within three months of coming to power, a Labour government will secure a sensible deal. And within six months, we will put that deal to a public vote alongside the option to remain. A Labour government will implement whatever the people decide.".
Most people think that Labour sounded neither fish nor fowl, a marriage between a carp and a rabbit. Nobody was satisfied. Nobody felt enthusiastic. The stand was tolerated, at best.
Hughes claimed that the whole People's Vote campaign was an operation to divide Labour, firstly to win the leadership, and then and to pave the way for a centrist re-alignment. Few would underestimate the capacity of, say, the Liberal Democrats and micro-party Change UK to dream of an Emmanuel Macron style shake down of British politics. But it was just that, a voyage to the dream-time followed by tiny numbers of people, a handful of the 'target' MPs, and even smaller numbers of Labour members.
Labour took the policy stand it did as a result of pressure from the membership, overwhelmingly anti-Brexit, and a majority of Labour voters, also opposed to Leave. There were Labour Conference debates. During them internationalists from groups such as the radical left led Another Europe is Possible – who were amongst the leading forces opposed to tearing the country from the EU – met the brick wall of people aligned with figures like Kate Murphy, Andrew Murray and the Leader's Office (LOTO) – from which the above compromise position emerged.
For Hughes, who is absorbed in his own nightmare, there was one result. Standing against the Bosses' Brexit was a harmful diversion:
It diverted Labour from it's "Corbynite" left-wing, populist themes. And it lumbered Labour with a policy that ensured the party would be defeated in the face of Boris Johnson's "Get Brexit Done" election campaign.
A few more nudges at the beginning of this piece and one could believe that Starmer was in on the cabal behind it all….
You can follow Ace-Reporter Hughes' footsteps and read the full inside dope here:
Brexit Witness Archive – UK in a changing Europe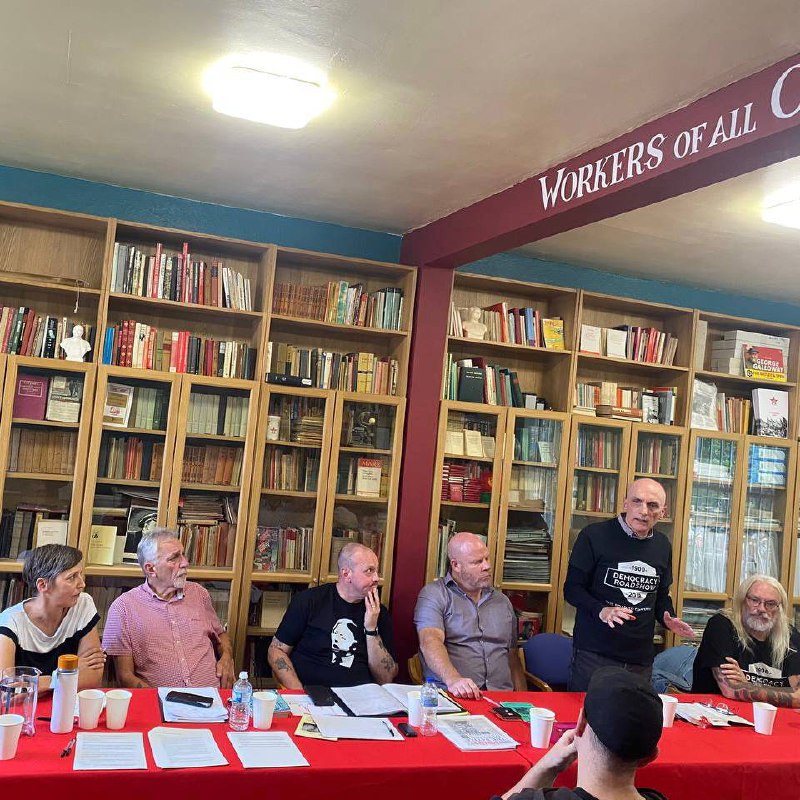 "Great to share a platform with the inspirational @joti2" (left in photo)- Chris Williamson.
The passion between George Galloway and the micro-Stalinist Communist Party of Great Britain, (M-L) (the word is not abuse, the founder of the groupuscule, Harel Brar, is a proud member of the Stalin Society) has blossomed in the last few years. The 'party' essentially make up the cadre of the red-brown Workers Party of Britian.
Historians of the labour movement have written up the story.
Galloway and the CPGB-ML: notes on a romance.
the CPGB-ML are loyal foot soldiers of Galloway in the Workers Party of Britain (WPB), so it would be interesting to know what the Brars now think of this 2004 characterisation of their new leader. This relationship is not being squirrelled away by the WPB. Joti Brar is deputy leader of the WPB and according to its website: "The Communists [the new branding of the CPGB-ML] have a long history of working with George on various issues. In 2019, The Communists stood alone with George on many questions, not least the defence of the Brexit referendum result and opposition to Labour's treachery on this question… The Workers Party wants communists to play an active role, and we're appealing to British workers, whether they have formerly been in the Brexit Party, UKIP, the Labour Party, a socialist organisation or none, to get involved with and build this party."[2]

True love blossoms
George Galloway, the CPGB(ML) and 9/11.
John Rogan.
Bastions of US Imperialism Crumble –

"For the millions who never thought it would be possible to wreak vengeance on the all-powerful United States aggressors for the suffering inflicted on them and on those they loved, the success of the attacks on the most powerful symbols of US financial and military might has been a matter for great satisfaction and even joy.
Now it seems that another suitor of the CPGB (M-L) has appeared. Chris Williamson is courting the favours Jodi Brar, daughter of Harpal, now Vice Chair of the CPGB (M-L) and also Deputy Leader of Galloway's 'Workers Party' of Britain.
"Great to share a platform with the inspirational @joti2gaza"
The mutual love-in continues,
The CPGB-ML opposes Trotskyism, social democracy, democratic socialism and what they term revisionist (including Khruschevite) parties. In 1995 former CPGB-ML chairman Harpal Brar published a book called Social Democracy: The Enemy Within.
More madness, they call it madness! from Joidi's Joint,