Archive for the 'Anti-Fascism' Category
Back in the News Again.
This Blog's project of building an encyclopaedia of confusionism, following in the footsteps of our 'look up to' Phillipe Corcuff has been gathering pace.
With our hard-nosed news hounds we have been tracking the red-brown movements like the WPB, Galloway, Williamson, the Farage coat-tailers and national populist identitarians, of Spiked, The Full Brexit, and former New leftists recycled into Brexiteers, anti-rootless cosmopolitans like Paul Embery, and the overt "conspiracy movements and far-right parties and action groups". Not to mention by-ways such as the music of the Revolutionary Communist Party of Britain (Marxist Leninist) troubadour Cornelius Cardew.
A mighty task, and even our best gumshoes find it difficult to keep track of our star confusionniste, Piers Corbyn, and his latest antics.
As recently as 2015, Johnson claimed "global leaders were driven by a primitive fear that the present ambient warm weather is somehow caused by humanity; and that fear – as far as I understand the science – is equally without foundation".
He also wrote an article in 2013 suggesting the government should consider preparing for a mini-ice age caused by solar activity, drawing on a discredited theory by the climate denier Piers Corbyn – brother of the former Labour leader. And in the same year, Johnson said windfarms – now a key part of the government's plan to transition to net zero – couldn't "pull the skin off a rice pudding".
Guardian. Today.
There is this as well:
There is a confusionniste explanation of why Piers is in the news again, and trending on Twitter.

Condamner l'antisémitisme et combattre tous les racismes !
RAAR press release The RAAR is pleased with the success of the gathering it organised today in Paris on the Place Baudoyer (Town Hall of the 4th district).Several hundred people there demonstrated their strong determination to combat anti-Semitic propaganda. …..
The presence of Jean-Luc Mélenchon and his party La France insoumise made the news:
Libération published this 'Tribune' on Saturday.
It begins….
"The Covid pandemic has given rise to a surge in anti-Semitism and conspiracy-mongering. It has taken the form of the comparison between vaccination and the health pass (Vaccination 'passport') to the Shoah. Yellow stars have been brandished . There have been talk of the 'Nazi Pass' and analogies to the words written on the gates of Auschwitz.
Anti-Semitic words and acts have multiplied during and outside of recent demonstrations. There have been those who have not hesitated to blame Jewish figures for the health situation, in direct and explicit form, or through the use of the coded anti-Semitic meme Qui? "Who?" (a call on marches, as in 'Who is to blame?" – not far off QAnon thinking).
The open letter underlines the leading of the far-right in the recent anti-Macron, anti-Health Pass demonstrations.
The supporters of the far right are at the forefront of this campaign. But tolerance of anti-Semitic words and speeches goes well beyond that.
This is a longer list of those backing the rally:
Liste des organisations signataires de l'appel au rassemblement du 19 septembre :
Juifves VNR ; Juives et juifs révolutionnaires (JJR) Mémorial 98 ; Mémorial des nomades et forains de France ; Union des juifs pour la résistance et l'entraide (Ujre) ; Une autre voix juive (UAJV) ; Ligue des droits de l'homme (LDH) ; Mouvement contre le racisme et pour l'amitié entre les peuples (Mrap one of the oldest anti-racist groups in France) ; Mouvement de la paix ; Fédération syndicale unitaire (FSU) (teachers' trade union); Mouvement national lycéen (MNL) ; Union syndicale Solidaires ; Cedetim ; Collectif Collages judéités queer ; Collectif Agitations ; Collectif Cases rebelles ; Collectif Nta rajel ? ; Collectif national pour les droits des femmes (CNDF) ; Comité Vérité pour Adama (anti-fascists and anti-racists from the banlieue) ; Lallab ; Debunkers de hoax et rumeurs d'extrême droite ; Dijon antifa ; Droit au logement (DAL) ; Fédération nationale des maisons des potes ; Attac-France (linked to Le Monde Diplomatique and 'alter-globalisation' movements) ; Fondation Copernic (left think-tank) ; Assemblée citoyenne des originaires de Turquie (Acort) ; IBUKA-France ; SOS Racisme (known for its big anti-racist demos in the 1980s); La Horde ; La Jeune Garde ; 1 001 Lesbiennes et Queers ; Mouvement du christianisme social ; Pour une écologie populaire et sociale (Peps) ; Editions syndicalistes ;
From the radical left and the Communist Party:
Revue «Révolution prolétarienne» ; Vigilance et initiatives syndicales antifascistes (Visa) ; Gauche démocratique et sociale (GDS) ; Les jeunes écologistes ; Ensemble ! ; Fédération anarchiste ; Parti communiste français (PCF) ; Union communiste libertaire (UCL).
More backing:
Background:
By: John Barzman New Politics. September 16, 2021
Extract:
What is the role of the right in these demonstrations? Who makes up these rightwing groups?
John Barzman – Beyond the broad social and semi-political layers described above, two organized categories should be distinguished: issue-oriented groups and clearly identified ideologies and organizations.
The first category is best represented by Reinfocovid. It has appeared at various moments as denying the gravity of the pandemic, opposed to masks, or vaccinations, and now to the «pass» and to any «vaccinal obligation». It includes dissident embittered nurses, medical doctors, researchers, whose scientific credentials are often unclear. There are also parents concerned with the ability of their children to flirt. And internet influencers too. They tend to support Didier Raoult and his various proposals for alternatives to the best-known remedies, as well as guru Louis Fouché. After July 12, these networks encouraged the formation of Facebook pages titled «Anti pass sanitaire» followed by the name of a city or region, which immediately recruited hundreds of thousands of subscribers. They have equipment : sound systems, musical instruments, disguises (all-white uniforms), speakers and a hierarchy of influencers. They often admire the Trumpist movements of various kinds in the US and imitate their tactics.
The second category encompasses organized far-right groups, generally acting undercover or combining open interventions and quiet infiltration. The context is the decision of the main far right leader, Marine Le Pen, to present her party, Rassemblement national, as conventional republicans («banalisation») uninvolved in violence, and capable of uniting the French people («apaisement», «union nationale»). Her acceptance of the euro caused a split. Her number two leader, Florian Philippot, split and formed the Parti des patriotes with a more «sovereigniste» (nationalist) message. As Philipot was stagnating, he seized the opportunity of widespread social discontent, police demonstrations and the anti-pass moment to organize demonstrations in his own name, or in alliance with sections of the Gilets Jaunes. Other far-right groups known as «identitaires» have engaged in similar work. They combine this with infiltration of the broader movement promoting the actions called by their leaders, as well as the slogan «Freedom», and a ban on «corrupt» political organizations and trade unions. All of this is quite compatible with a future sudden call for unity behind the far right candidate, be it Marine Le Pen, Eric Zemmour, François Asselineau, or Nicolas Dupont Aignan, in exchange for prominent positions on the Marine Le Pen team. Or a far-right and right coalition, as advocated by Marion Maréchal Le Pen (Marine Le Pen's niece).
Another strong far right current is the Catholic fundamentalist («intégrisme catholique») group Civitas. Most recently, this organization acquired a mass audience and experience with organizing demonstrations and tactical relations with middle-of-the-road allies, in demonstrations against the law extending the rights of homosexual couples to marry (the «Mariage pour tous» law) in 2012-2013, actions which were dubbed «Manif pour tous» (the demonstration for everybody). There has been a constant resistance since then to each new measure going in that direction, in the name of protecting children, a theme which reemerges today as «protect our children against the evil vaccine»."
Libération reports that week after week there have been clashes between the far left and the violent wing of this far-right, "Semaine après semaine, les affrontements opposant militants d'extrême droite et antifascistes se multiplient dans les cortèges. "
It would be a step forward in Britain if a similar united front could be shown against the anti-vaxx and their far-right allies here.
Like this lot: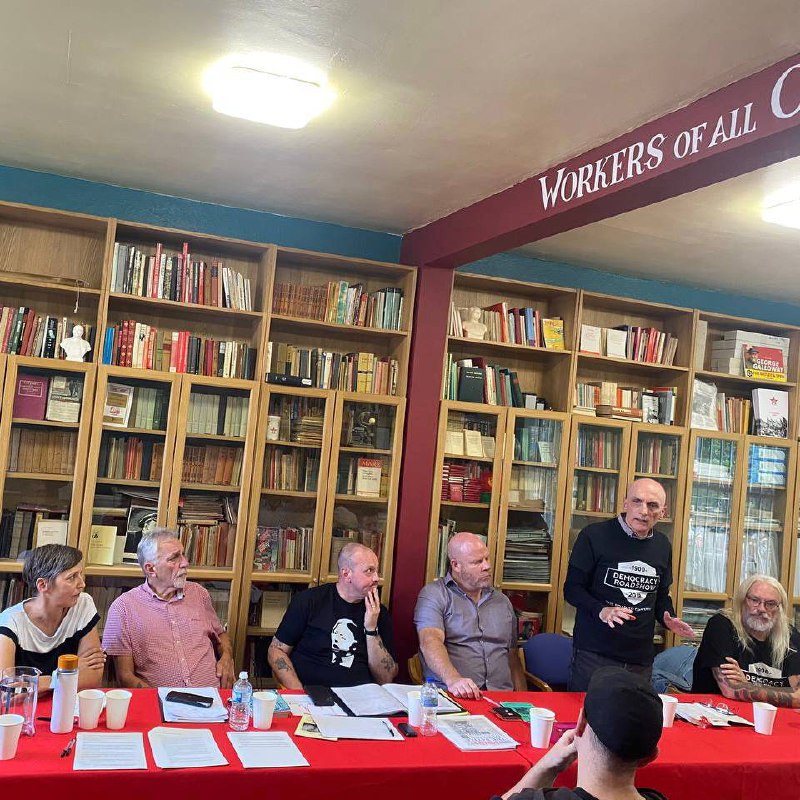 "Great to share a platform with the inspirational @joti2" (left in photo)- Chris Williamson.
The passion between George Galloway and the micro-Stalinist Communist Party of Great Britain, (M-L) (the word is not abuse, the founder of the groupuscule, Harel Brar, is a proud member of the Stalin Society) has blossomed in the last few years. The 'party' essentially make up the cadre of the red-brown Workers Party of Britian.
Historians of the labour movement have written up the story.
Galloway and the CPGB-ML: notes on a romance.
the CPGB-ML are loyal foot soldiers of Galloway in the Workers Party of Britain (WPB), so it would be interesting to know what the Brars now think of this 2004 characterisation of their new leader. This relationship is not being squirrelled away by the WPB. Joti Brar is deputy leader of the WPB and according to its website: "The Communists [the new branding of the CPGB-ML] have a long history of working with George on various issues. In 2019, The Communists stood alone with George on many questions, not least the defence of the Brexit referendum result and opposition to Labour's treachery on this question… The Workers Party wants communists to play an active role, and we're appealing to British workers, whether they have formerly been in the Brexit Party, UKIP, the Labour Party, a socialist organisation or none, to get involved with and build this party."[2]

True love blossoms
George Galloway, the CPGB(ML) and 9/11.
John Rogan.
Bastions of US Imperialism Crumble –

"For the millions who never thought it would be possible to wreak vengeance on the all-powerful United States aggressors for the suffering inflicted on them and on those they loved, the success of the attacks on the most powerful symbols of US financial and military might has been a matter for great satisfaction and even joy.
Now it seems that another suitor of the CPGB (M-L) has appeared. Chris Williamson is courting the favours Jodi Brar, daughter of Harpal, now Vice Chair of the CPGB (M-L) and also Deputy Leader of Galloway's 'Workers Party' of Britain.
"Great to share a platform with the inspirational @joti2gaza"
The mutual love-in continues,
The CPGB-ML opposes Trotskyism, social democracy, democratic socialism and what they term revisionist (including Khruschevite) parties. In 1995 former CPGB-ML chairman Harpal Brar published a book called Social Democracy: The Enemy Within.
More madness, they call it madness! from Joidi's Joint,