Archive for the 'Left' Category
They are calling it the debate of the year!
Tony Greenstein's best friend tweeted a couple of days ago:
From the Monster Raving Greenstein Party (canal historique):
Is it possible to salvage anything from the Corbyn Project or is the socialist left destined to talk to itself?
The process of forming a new organisation began at the end of November when All Members Meetings of Labour-in-Exile-Network and Labour Against the Witchhunt voted to merge into a single organisation. Both LAW and LIEN had been proscribed by Labour's National Executive Committee last July 20th.
The decision of the 2 organisations to merge was taken in the teeth of opposition from Labour Party Marxism which is the Communist Party of Great Britain in the Labour Party. 5 of the 6 members of LAW's Steering Committee were also opposed to the merger and 4 of them explained their reasons in a statement Why we resigned.
his was accompanied by an article both in Weekly Worker and on the LPM website Something serious is needed: confronting Tony Greenstein and Merging into a cul-de-sac. I replied with Not a liquidation? and Self-declared heretic replies.
The fact that the CPGB and its leading theoretician Jack Conrad felt the need to personalise a political disagreement (Note: Heaven Forefend that Monster Raving should stoop so low! ) suggests that the CPGB is finding it difficult to mount a sustainable argument.
LPM insisted, contrary to all the evidence, that what was being proposed was not a merger but a liquidation and notwithstanding the evidence they have continued to insist that this is the case.
A trusty ally comments on his site comments,
As ever Tony your political instincts are spot on for me. LPM and certainly the CPGB will be consigned to the outer political reaches which is where they have always been.
Even the Hard Right Telegraph joins in.
Northern Ireland secretary Brandon Lewis defends PM as he pulls out of public engagement in Lancashire
Sky.
There are claims that letters from MPs demanding a vote of no confidence – 54 would trigger a challenge – were being submitted to Sir Graham Brady, who chairs the backbench 1922 Committee.
Guardian.
Amid the derision, supportive papers try to rally around the PM but report that 'ambitious' Rishi Sunak is waiting in the wings.
It seems another epoch when the Morning Star could publish this (Monday)
After the damage Starmer has done, the left would need decades to rebuild from within the party – and we don't have decades. The crises facing working people are already urgent, argues CHELLEY RYAN
TWITTER was awash with rumours about Jeremy Corbyn at the weekend — specifically that he might be considering taking the plunge to form a new political party, having accepted that he will never be reinstated as a Labour MP.
The fact this was first reported in the Telegraph led to understandable accusations of mischief-making. However, the overwhelming response on the left (and from some on the right hoping for a split Labour vote) was: "I bloody hope this is true!" That was my response too.

I'm done with being Ms Negativity. I'm done with spending 99 per cent of my political activism aimed at attacking rather than promoting.
And I'm not alone. For five years, we had a vision to fight for. It is devastating emotionally and mentally to go from that to absolutely no hope at all.
Going round saying "a plague on all their houses" might make us less controversial guests round the dinner table, but it makes us more depressed people.
All that energy, all that creativity, all that hope — gone.
The prospect of building slowly from within the Labour Party is now entirely defunct. We don't have time for slow movement-building.
And we don't have the heart for it either. We are all spent from five years of internal warfare, defending one of, if not the, best leader the Labour Party ever had, from sabotage by the PLP and party staff.
The disgraceful treatment of Jeremy Corbyn and left-wing members hasn't sparked a desire to reclaim the Labour Party.
Instead it has sparked a mass exodus. That is simply human nature. No stirring battle cries from well-paid Labour socialist MPs will inspire financially hard-pressed socialists to part with their money to fund a party to which they no longer feel any affinity.
…..
If I believed the Labour Party in its current incarnation would tackle these crises lining up to destroy our children's future, I'd get behind it, despite my personal anger towards Keir Starmer for his sabotage of the last general election with his Brexit policy U-turn. I'd hold my nose and vote Labour for the greater good. That's not the case, however.
Starmer has had ample time to give us some hope. Instead he has used the last 21 months to either attack the left or make clear his lack of vision via a number of boring relaunches, summarised by even more boring, vacuous slogans.
If that's the case, the man has the integrity of a romance scammer and I wouldn't trust him to enact radical socialist policies even if he suddenly claimed them for his own.
I am under no illusions that a new party, headed by Jeremy, would suddenly surge to victory in a general election. What it would do is pose a threat to a far too comfortable Labour Party waiting for their inevitable turn at power.
The Tories will have been in for 13 years next year and they are living on borrowed time. The anger felt over Starmer's Remain policy which drove many lifelong Labour voters either into Tory arms or to not vote at all in 2019, is on the wane.
(The Morning Star is a Brexit ultra paper).
Many will swing back to Labour whoever is leader, especially after the recent Tory scandals which have tripped over each other in their frequency.
So Starmer is sitting there, rubbing his hands in arrogant glee, knowing all he has to do is not cock up too badly and his time will come. And when it does, he will claim it was his purge of Corbyn and the "hard" left that won it. Then it will be business as usual.
Fuscia Labour will tweak the status quo but they won't change it dramatically. Any positive changes they implement will be nice and easy to reverse for their Tory friends when their inevitable turn comes around again.
This revolving door of not much changing can only be challenged by a new party and that new party has to be headed by Jeremy Corbyn.

Why Jeremy? Because he is the most unifying figure the left have. Because he's the most inspiring political figure for generations. Because he has the political weight and credibility to light that spark. His age isn't an issue. Bernie Sanders was six years older when he ran for US president.
Lonely, wandering on a dark cloud, Skwawkbox rails today:
Johnson reels over partygate – but Starmer's benefits betrayal shows English working-class has no alternative to turn to
One of the supporters for a new party comments on his site:
That's the kind of soft betrayal that has been going on all my adult life
until the crescendo that is, when the majority of those dirty cheating fake labour MPs came out as Apartheid racist zionist swines. They lined up and lied about a man of peace for 6 years. We need a new party devoid of the Scabs.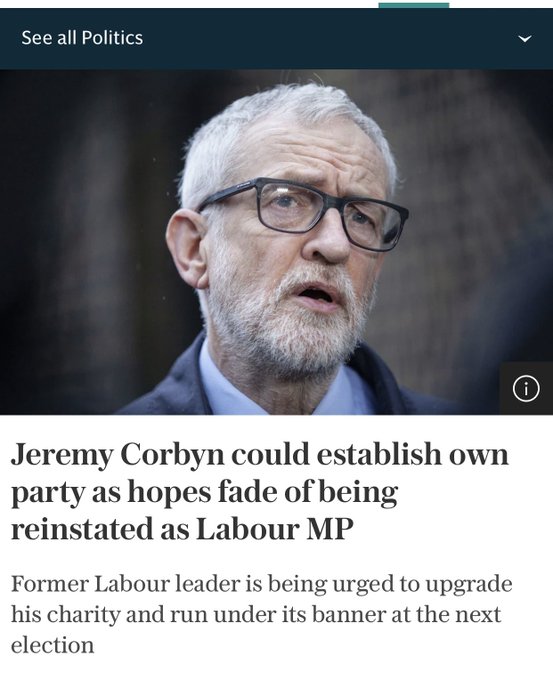 This is, apparently, not a joke.
Already 'weighty' figures on the British labour movement are backing such a move:
Can I be amongst the many to point out that such a party, splitting our vote, will be a magnet for every kind of off the wall enthusiast. It has no support from large – the vast majority – parts of the left.
Such a move could split the Labour vote and prevent Sir Keir Starmer from winning the next General Election
According to the paper Mr Corbyn has been urged by many within his inner circle, including his wife Laura Alvarez, to establish the new party and accept his time within Labour has come to a close.
A close ally of the former Labour leader did not deny claims he was considering setting up a new political party, but told the Telegraph there had been no "advanced discussions".

A spokesman for the Peace and Justice project said there were as yet "no plans" for it to

A spokesman for the Peace and Justice project said there were as yet "no plans" for it to become a party.

Mr Corbyn's spokesman said he "wants to see a Labour Party and government that is serious about shifting wealth and power from the few to the many".

While a rival party could form a dent in Sir Keir's chances of ousting the Tories in the next General Election, insiders say some of Mr Corbyn's close allies would not be tempted to ditch Labour.

This includes, John McDonnell and Diane Abbott who served as Shadow Chancellor and Shadow Home Secretary in Mr Corbyn's Shadow Cabinet.