Archive for the 'Left' Category
Morning Star platforms 'Marxist-Leninist' defence of Chinese Regime.
"Perhaps China's current ability to tolerate paradoxes is the most notable legacy of Mao – that dedicated admirer of contradictions." (P 465) "An adaptive 'guerrilla-style' mode of policymaking", ""Maybe that is why China, for the time being, can be ruled by a party that continues to emphasise its Marxist-Leninist-Maoist heritage, whole proclaiming the necessity of market forces; that proclaims its possession of a 'comprehensive plan' at a time when China is more complicatedly diverse than at any point in is history. Maybe this explains also why I has a leader who has revived Maoist strategies fifty years after his family were torn apart by Mao's policies."(P 465)
Maoism: A Global History. Julia Lovell. 2019.
The one-time pro-Soviet Communist Party of Britain has taken to admiring the Chinese Communist Party.
Quotes from Mao festoon party members' tweets, the CPB has taken to calling itself 'Marxist-Leninist'(an old orthodox Official Communist tag, but one these days largely confined to the remaining fragments of Maoism) and they have produced this:
It seems as if the CPB, lacking the Beacon of the USSR, has, in desperation, found a new Socialist Fifth of the World.
Enter the latest sally.
Kate Woolford, a member of the Southampton Young Communist League and social media editor of Challenge (The YCL journal) writes.
"The latest red scare propaganda targets China and its autonomous region of Xinjiang. Many people will have seen statistics that refer to "one million Muslims" being held in concentration camps and various other human rights abuses — even "genocide." It is crucial that the public are aware of where the main allegations come from and gain a picture of what is really going on in Xinjiang."
Scales no doubt fall from our eyes when, after a farrago of ad hominem attacks on small number of reports abut the persecution of this minority we come to,
According to CGTN, "From 1990 to 2016, thousands of terrorist attacks have been launched in Xinjiang, killing large numbers of innocent people and hundreds of police officers."

In response, China has launched campaigns to crack down on violent extremism, separatism and terrorism with a focus on re-education. The camps were built to de-radicalise Muslims who had been victims of Etim's ideas — this is the point of the mass mobilisation in the region that has led to false allegations of "genocide," "forced sterilisation" and "torture."
In the spirit of fairness, after having rubbished any report of bad treatment of China's Uighur minority China expert Kate Wolford cites the Chinese state's own line:
"the State Council Information Office of the People's Republic of China puts the state's case forward plainly."
"Faced with this severe and complex problem [religious extremism], Xinjiang has upheld the principle of addressing both the symptoms and the root causes in the fight against terrorism and extremism, by striking hard at serious terrorist crimes, which are limited in number and by educating and rehabilitating people influenced by religious extremism and involved in minor violations of the law.

"In accordance with the law, it has established a group of vocational education centres to offer systemic education and training in response to a set of urgent needs: to curb frequent terrorist incidents, to eradicate the breeding ground for religious extremism, to help trainees acquire a better education and vocational skills, find employment and increase their incomes and most of all, to safeguard social stability and long-term peace in Xinjiang."

At the camps residents are taught Mandarin — the lingua franca spoken by 73 percent of the Chinese population — taught technical skills in order to help them find work when they leave and offered mental guidance to overcome radicalised ways of thinking.

Of course, as is the case everywhere in the world, the severity of a sentence depends on the scale of the crime and the willingness of a person of acknowledge their guilt.

The people in the re-education centres are assessed on how much harm they have been caused, their willingness to receive training and whether they have already completed a prison sentence but might still require further rehabilitation.

The people in the centres are provided with free education and once the trainees reach their expected criteria, they are offered certificates of completion and can leave. Depending on the reason they are there, many are allowed to go home to visit their families once or twice a week.

It is absolutely not a campaign to stop them practising Islam — religious activities are protected by Article 36 of the constitution: "Citizens of the People's Republic of China enjoy freedom of religious belief. No state organ, public organisation or individual may compel citizens to believe in, or not to believe in, any religion; nor may they discriminate against citizens who believe in, or do not believe in, any religion.
The lengthy piece ends with this:
"We cannot ignore the drive to war against China. Fear of speaking out against atrocity propaganda because of its upsetting and controversial nature will only lead to the manufacturing of consent for war. Western intervention led to two million people dying in Korea, 2.4 million people dying in Iraq since the 2003 invasion, three million people dying in Vietnam among millions more elsewhere.
Given the history, given the body count, socialists have a duty to vehemently oppose the idea that our countries should be able to interfere in others; denouncing the false narrative on Xinjiang is now part of that duty."
This is how the Chinese state has reacted to reporting on the issue;
John Sudworth's relocation to Taiwan comes after 'months of personal attacks' over reporting of alleged abuses of minorities
Here is some more History.
. "From October 1050 to October 1951, the regime eliminated somewhere between 1,5 and 2 million people. (P 24) this time, death sentences were fewer, formal executions many suspects killed themselves. "The objective was to produce a docile population by transforming almost every act and every utterance into a potential crime."(P 241)
The Cultural Revolution A People's History, 1962—1976 Frank Dikötter 2016.
Here are some more Fellow Travellers: John Ross, former leader of the International Marxist Group (IMG),
The main theme of the fellow Travellers of Chinese Communist Party is that its development of the productive forces in the country is a miracle. The lack of democracy, human rights, is less important that "this extraordinary successful political project". The regime has "extraordinarily" increased the 'real' freedoms of the population. Happiness is the CCP.. (Martin Jacques).
Martin Jacques, editor of Marxism Today, was famously the betist of bêtes noires of the Communist Party of Britain. Speculation is growing that he will be invited back to their pages.
Left Internationalists do not agree:
Update: there is also this,
'FIND OUT THE FACTS ON THE UYGHURS'
The Communist Party of Britain is urging labour movement bodies not to rush to judgment on the Uyghur question in China. 
Mr Griffiths said the reports of 'genocide' from a network of right-wing institutes and pressure groups funded by the US, British and Australian governments are recycled uncritically in the Western media. 

As one of many international delegations to visit Xinjiang, he had seen for himself that mosques are open, the Uyghur language can be seen and heard everywhere, and the majority of top state and political officials are Uyghurs, not Han Chinese. 
"'Identity politics allows the privileged to pretend to be oppressed'" Brendan O'Neill. (Spiked)
Identity politics have become the plaything of the right and an array of confusionnistes. Farewell Woke. Goodbye gender politics. Adieu, Intersexuality. The magnetism of the national neo-liberalism of the British Government, and ;the claims of National Sovereignty have worked their effects. The politics of the identity and, nation, and flag, right wing identity politics are everywhere. There's even a 'left' version, claiming to speak for the 'real' working class, not the shifting cosmopolitans of the left,, and a variety of nationalist (SNP) and regionalist forms (Northern Independence Party, NIP).
Post Brexit you would have thought that Sovereigntist politics, left' or right would have lost traction. But from the pages of Spiked to the launcher of GB News, it's the right wing, the nationalist populists, who are leaders of the pack.
"Andrew Neil launches 24-hour news channel to rival BBC and Sky."
Nowhere have the voices of the new identitairians been louder than in the London Mayoral Elections.
From the London mayor: The full list of candidates standing at the 2021 election
Piers Corbyn and the Let London Live movement demand an immediate end to all lockdowns and restrictions imposed on the people in the name of fighting a virus.

If elected as Mayor of London Piers Corbyn calls on the people to "refuse to abide by coronavirus restrictions on freedom, life and liberty. I will instruct the police to stop enforcement of coronavirus rules and regulations in London. We will stand up as a beacon of hope to the people of the world."

..the breakthrough for the pandemic industry had to wait for the next opportunity which came in 2020 with the SARS-COV-2 "pandemic" which they had been preparing by means of simulations and catastrophe planning exercises, like an army prepares for war. …..It is not a conspiracy theory to say that there is no pandemic.
Confusionist, Conspiracist, one-time International Marxist Group activist, and, for term, a Labour Councillor in the 1990s: He has actually got on the ballot.
Piers Corbyn, Let London Live
Peter Gammons United Kingdom Independence Party (UKIP). There is no need to comment further
Social Democratic Party (SDP), canal historique, now a hard-line pro-Brexit groupuscule:
David Kurten Heritage Party: "a socially conservative political party in the UK, standing for free speech, traditional family values, national sovereignty & financial responsibility."
This chap, already familiar to our readers:
And, naturally, old matey Fox:
To round it off there's this, (Spiked) Julie Burchill.
He showed the self-obsessed duo what a life of public service really looks like.
Just as I could never vote Tory until it became clear that this was the only way to get Brexit done, so I could never stand up for the queen's theme song until Harry and Meghan rocked up with their passion project – 'The Grabdication' as I coined it – to make it all about them.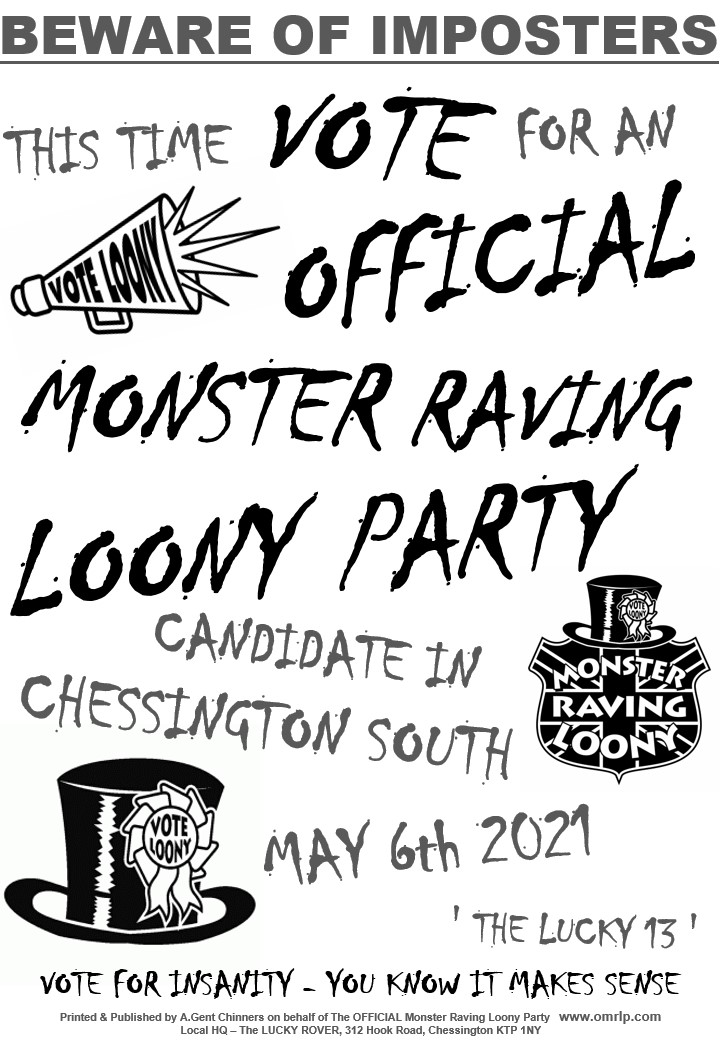 Trade Union and Socialist Coalition (TUSC) Faces Tough Competition From Monster Raving Looney Party.
Newshound David Walsh writes,
In this strange week where nothing political is stirring – anywhere – and nowhere on the left, please see the attached notice of nominations for a mundane by election in the Chessington South ward of Kingston upon Thames Borough Council. This follows the death of a Lib Dem Councillor.
When you open it, you will see that beside the three main parties , there are 13 candidates for the Raving Monster Looney Party – ranging from the Lady Dave Pither to the Count of Casual Corinthians via Captain Coily. In a ward where the last elections saw the Tories fighting off the Lib Dems in the mid one and a half thousands, and Labour trailing in with a couple of hundred it seems an odd place for Loonyism. Street view shows solid upper middle England villas and detached houses, and Google Earth shows a lot of big gardens with the blue dots of swimming pools. For the Loonies to have got the 130 signatures is a job of industrial enterprise. Odder still, the contest also sees a TUSC candidate – they must have found a hidden proletarian enclave that escaped me. See PDF from the council.
The following is a statement of the persons nominated for election as Councillor on Thursday 6 May 2021
Looniest election: Why 13 Official Monster Raving Loony Party candidates are competing for your vote in the same seat.
A total of 13 candidates for the Official Monster Raving Loony Party are standing for just one seat in Kingston's Chessington South by-election, possibly setting a record for the number of candidates a party has contested in a single-seat election.

There is nothing in the rules against this stunt, and there have been occasions in the past where two or three candidates have stood for one political party in a seat.

But it obviously makes it harder for a political party to win if their votes are split between several candidates. But then maybe that's the point…
The story continues.
Loony candidate A. Gent Chinners tweeted about the political ploy stating: "It's going to be a squeeze getting all 13 of them into that seat!"

He told MyLondon that despite "this massive plan of mine taking up far too much time" it was something he'd always wanted to try and arrange in a local election "and this one just seemed right what with lockdown."
Speculation is growing in the international workers' movement as to whether TUSC will manage to beat the Official Monster Raving Loony Party in a crucial contest in the proletarian heartlands.