Éric Zemmour, Presidential Candidate.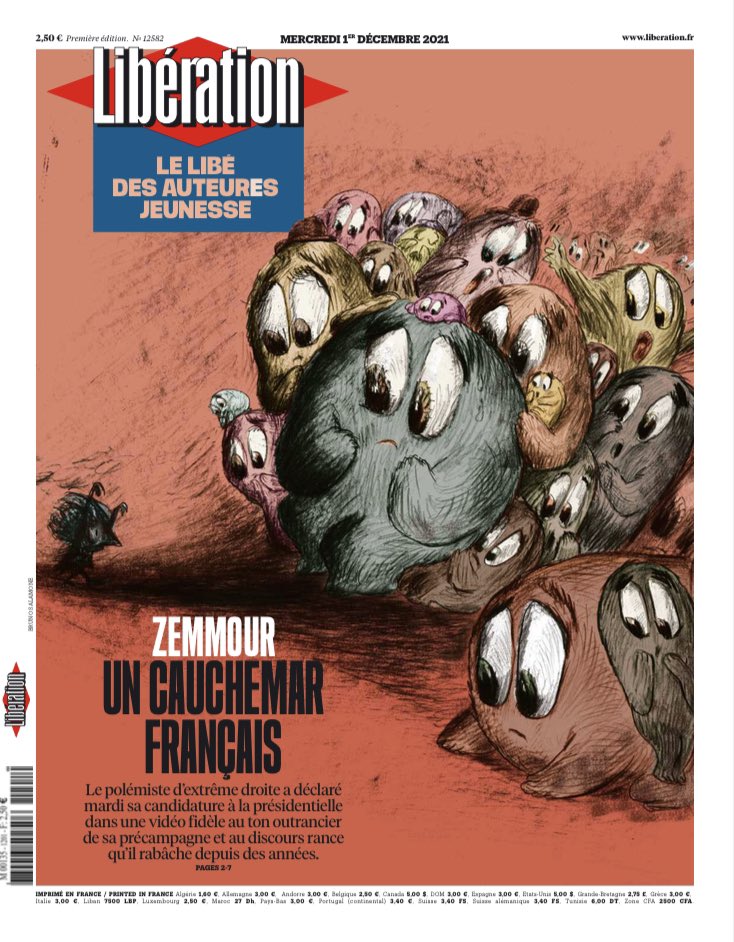 A French Nightmare.
Éric Zemmour's most recent book La France n'a pas dit son dernier mot (2021) is self-published by the Maison d'édition Rubempré. The far-right polemicist named his imprint as a tribute to the novelist Honoré de Balzac and the central character of his masterpiece, Illusions perdues (Lost Illusions), Lucien Chardon. The ambitious provincial writer becomes, by assent of the Restored Monarchy, Lucien de Rubempré, "a cowardly and unscrupulous character", able to play with women's affections and a large fortune, in Splendeurs et misères des courtisanes.
Few French commentators who have alighted on this name and the fondness of the polemicist for the author of la Comédie Humaine have failed to remark that from being the toast of Paris, Lucien, "le dandy et le poète" ends up shunned, accused of fraud and theft in cahoots with the identity-shifting criminal mastermind Jacques Collin. In gaol, overcome with remorse, rent with a "fièvre de suicide" he hangs himself. Recounted in detail, it is a deeply affecting passage. "One of the greatest tragedies of my life," wrote Oscar Wilde in his 1889 essay The Decay of Lying, "is the death of Lucien de Rubempré. It is a grief from which I have never been able completely to rid myself. It haunts me in my moments of pleasure. I remember it when I laugh."
Yesterday our modern Rubempré (whose fall one can only hope will be worse than Balzac's famed protagonist) announced this, putting an end to a threadbare game about whether or not he would officially aim to be France's Head of State.
This Blog has published quite a few posts about Zemmour, which we have no need to repeat.
One of the best overviews is offered by the Fondation Jean Jaurès (suitably named after a nemesis for the man who has cast doubt over the innocence of Dreyfus) by the specialist on the far-right JEAN-YVES CAMUS.
ÉRIC ZEMMOUR : UN DISCOURS QUI LIBÈRE LA PAROLE EXTRÉMISTE
The Origins of the Zemmour Candidacy.
"The first sign of the polemicist's presidential ambitions dates back to the creation, in January 2021, of a website entitled "I sign with Zemmour". According to the investigation of the daily Liberation and the weekly L'Express , it comes from the entourage of the mayor of Orange, Jacques Bompard 1and more broadly from the La Ligue du Sud, the micro-movement he founded in 2010. The former member of the Front National (1986-1988), which broke with Jean-Marie Le Pen in 2005, is a major actor on the "right outside the walls" working since the end of the five-year term of President Sarkozy to the constitution of a union which brings together those who, within the FN / RN and the conservative right, agreed to put an end to the ostracization of the camp lepenist (that is Le Pen, fille et père). He is also a follower of the "great replacement" theory, as shown by the motion for a European resolution that he tabled in 2015 as a member of the National Assembly 2. In his explanatory memorandum, we find two major themes of Eric Zemmour's campaign: that of immigration-invasion and that, consequence of the first, of "massive immigration [which] resulted in an explosive and dangerous situation for civil peace and the future of France ". "
Camus offers an extremely detailed account which is certainly one of the best available.
This is also highly recommended, by a radical left writer who is a critic of right-wing and left-wing populism.
This is equally important, how the upper-levels of the bourgeoisie are showing a degree of good-will towards Zemmour, invitations to speak at elite clubs, bosses' organisations, and how some of the liberal left (Marcel Gauchet, Luc Ferry, Jacques Julliard) have shown more than an interest in the way he has raised 'real issues':
In the last few days Zemmour has stalled in the opinion polls.
One of the reasons has been his response to a forceful female critic during his visit to Marseille, which has drawn comparisons with former President Nicolas Sarkozy who once told somebody who refused to shake his hand during a visit to the Salon de l'agriculture, saying it would dirty him, "Eh ben, casse-toi pauv' con" – fuck off you pathetic tosser.
It seems that Zemmour is fond of the C word (one meaning is the same as the one in English), calling television presenter Gilles Bouleau a "connard" (stronger than con), yesterday.
A Harris Interactive poll for Challenges credited Eric Zemmour with 13% of voting intentions, far behind Marine Le Pen (19%). The polling institute gave it at 18% just a few weeks ago.
(1.12.21. Eric Zemmour candidat : bousculé sur TF1, vidéo polémique, sondages en berne… ça part mal
Then there is this:
Still Zemmour has some friends.
Oscar Wilde's other famous literary judgement concerns Charles Dickens and The Old Curiosity Shop.
"One must have a heart of stone to read the death of little Nell without laughing."
Let us hope that Zemmour's candidacy ends badly so we can also break out laughing.
And please, do not forget this:
7 Responses