Archive for the 'French Politics' Category
Campaign Already Faces Storm.
«Zemmour boys» et instrumentalisation des victimes du terrorisme : une plainte déposée
Libération yesterday.
The 13onze15 association has filed a complaint after the broadcast, Tuesday afternoon, of photomontages of victims of terrorism by supporters of the editorialist who wish to see him as a candidate for 2022.
Associations and families of victims of the attacks do not have harsh enough words to denounce the exploitation of their loved ones who fell on November 13, 2015 by circles campaigning for the candidacy of Eric Zemmour in the presidential election of 2022. This The campaign was organised and broadcast by the networks of the columnist convicted of inciting racial hatred – but who however carefully kept his distance – with the keyword #NosViesCountent on Twitter. An unworthy and dangerous manipulation according to relatives of victims contacted by Liberation.
From Tuesday, July 19, the "Generation Z" group, which claims to be a youth movement supporting a potential candidacy of the far-right polemicist Eric Zemmour for the presidential election, as well as Twitter accounts supporting the editorialist, has been disseminating photos of victims of attacks as part of a digital campaign. A complaint was lodged by an association.
Among these photos, victims of the Bataclan, the terraces of November 13, but also the couple of police officers killed in Magnanville (Yvelines), in June 2016, Father Hamel killed in his church in Saint-Etienne-du-Rouvray in 2016 The faces of victims who died during various events which had marked the national debate are also found, such as the young Victorine , found dead in Ville (Isère) in September, Brigadier Eric Masson , killed during a check in Avignon in May , or Adrien Perez , killed leaving a nightclub in 2018 while trying to defend a friend.
By Samy Adghirni and Daniel Zuidijk29 June 2021,
Zemmour is a controversial television pundit, who makes the leader of the anti-immigration National Rally look soft. There's been speculation for weeks about whether Zemmour would enter the race in April 2022. He hasn't confirmed his intentions — but his supporters have taken matters in their own hands, plastering placards of him wearing an enigmatic half-smile on walls across the country.

While Zemmour and his supporters have often benefited from great media visibility, he'd get only 5.5% of votes in the presidential election, according to a recent poll by Ifop. That places him way behind Le Pen, who's polling second behind President Emmanuel Macron.
While this may split the Rassemblement National vote for Maine Le Pen, – if it is more than self-publicising for Zemmour and his friends – this campaign indicates just how far the extreme right in France is prepared to go publicly these days.
It goes without saying that using the victims of terrorism for this so-called Presidential bid is about as low as you can get.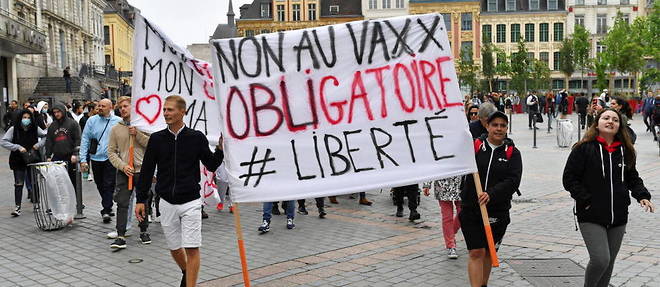 Manifestations anti-pass sanitaire : un gloubi-boulga aux airs de gilets jaunes
Libération.
After Germany, the United Kingdom and Spain , there was there was only France, which had not been shaken by a major protest movement against Covid health measures. The many spontaneous gatherings that arose on Wednesday, a national bank holiday (14th of July), all over France, bringing together numbers from a few dozen to several thousand participants, marked the end of this French exception. Spontaneous demonstrations? Not quite: enraged after Emmanuel Macron's speech on Monday evening, conspiracists, gilets jaunes, supporters of (far right) Florian Philippot, care-workers and people and opposed to compulsory vaccination, but also left-wing collectives, participated on Wednesday in numbers against the establishment of a compulsory health pass needed to get to access public places, denouncing the establishment of a " health dictatorship ".
France's new health pass rules raise questions as many scramble to adapt
France 24:
While the extension of France's health pass and other new anti-Covid 19 measures announced by President Emmanuel Macron Monday night are yet to be hammered out in detail, what's certain is that a full-throttled return to a normal life of frequenting café terraces, restaurants, cinemas, theatres and other culture and leisure activities will now hinge on having a pass sanitaire (or health pass).
From the moment Macron announced new anti-Covid measures Monday evening that include an extension to the health pass requiring holders be either fully vaccinated or have proof of a recent (taken within 48 hours) negative Covid-19 test, the French have been gripped by panic. Thousands rushed to online medical appointment sites, like Doctolib, which had a record 926,000 people book their first dose within hours of Macron's address – a record for the site. Hundreds of thousands more continued to book jabs on Tuesday, a vast number of whom are health professionals now subject to mandatory vaccination under the new rules. Simply put, the changes mean that anyone in France – except for those aged 12-17 years – who wants to visit or, indeed works in, a café, restaurant, cinema, theatre, bar or other places of leisure and culture will need to have a health pass.
FRANCE 24 takes a closer look at the changes to the government's health pass rules.
12-17 year olds exempt from health pass until August 30
Everyone will have to have a health pass if they want to access most leisure and culture spaces from July 21, except those aged 12 to 17 who will have until August 30 to meet the requirement. That means they will need to get "vaccinated quickly", said health minister Olivier Véran on Tuesday, who added they will have to also continue to wear a mask where necessary.
"We have identified a solution for teenagers aged 12 to 17, so as not to spoil families' holidays. For them, the health pass will apply in all places where it applies, from August 30," the minister said on France 2.
Voluntary vaccination has been available to teenagers since June 15, provided they have the consent of both parents and are accompanied by one of them when they receive their shot.
Health pass valid one week after second dose
Under the new health pass rules, a person is fully vaccinated one week after they receive their second dose and no longer than two weeks, the health minister said. However, under EU regulations they would need to be vaccinated at least 14 days before travelling outside of France to other EU states.
Health pass for long-distance travel but not for local commutes
A health pass will be required for all long-distance travel, for both passengers and employees, and will be subject to on-board checks. However, it will not be necessary for local commutes such as on buses and metros, said Minister for Transport Jean-Baptiste Djebbari on BFMTV.
"It will essentially concern the TGV and intercity trains, coaches making interregional journeys, and domestic travel by plane", said Djebbari, as journeys by plane to foreign countries.
Questions remain over how foreign non-EU visitors to France can prove their health status under France's pass sanitaire scheme, which will from August be required to go to restaurants and cafes and for long-distance trains and coaches and many other activities in France.

It will also be needed to access cultural venues such as cinemas and concerts from Wednesday next week (July 21).

The Connexion has identified no information on this from the UK's foreign office travel advice for France or the American embassy in Paris, which simply states that access to some spaces in France "may be subject to… presentation of a health pass".

France's tourism minister has stated on Twitter that he is looking into the issue, especially on behalf of French people living abroad, and The Connexion has asked the French Health and Foreign Affairs Ministries if it is able to confirm if the same proofs that travellers use to enter the country will be widely accepted for other

From the Connexion.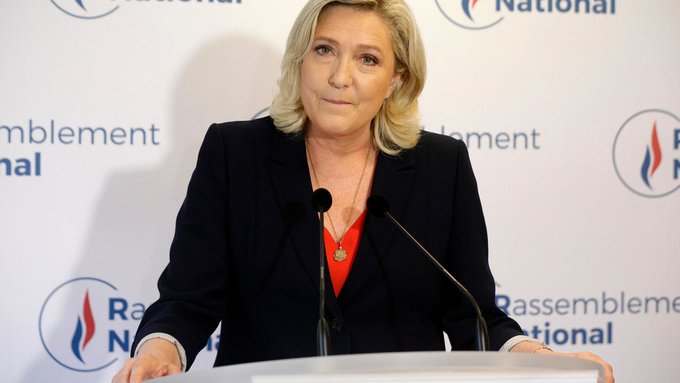 Marine Le Pen gets re-elected to lead France's far-right National Rally
Marine Le Pen won re-election as head of France's far-right National Rally Sunday at a party congress, where she is seeking new impetus for her 2022 presidential bid after performing badly in regional polls.
The National Rally (RN), which had been tipped for strong gains in last month's regional elections, was left floundering after failing to win any of the 13 regions in mainland France.
The results raised questions about Le Pen's strategy of trying to detoxify her party's brand and position it as a more mainstream right-wing force.
But she faced no challenge for the party leadership, with her quest for a fourth term winning the backing of 98.35 percent of members in an online and postal ballot, RN announced on the second day of its congress in the southern city of Perpignan.
Note (there was some pretty good coverage in the British press, this is from the Guardian)
In the run-up to the elections to mainland France's 13 regional governments, the leader of the far-right RN party was confident of capturing three or even five regions, with pre-vote polls giving her party a first-round lead in six.

In the end, she failed to win one. The RN's highest hopes were for the Provence-Alpes-Côte d'Azur region that includes Marseille and Nice, but its candidate, Thierry Mariani, managed only 43%, against 57% for the centre-right's Renaud Muselier.

The party's usually reliable voters failed to turn out; candidates, including Mariani, recruited from the mainstream right in an attempt to broaden its appeal performed dismally; and in many areas the RN fared markedly worse than last time.
The conference marked therefore an electoral setback in the campaign to 'de-diabolise' the RN. But Marine le Pen announced its conclusion there would no going back to the days of the Front National, the close of the 17th Congress of the RN, the presidential candidate repeated her plan to "implement a government of national unity" in 2022. The underperformance of her party at the regional level had (still) prevented the dynamic of "opening" on the right that she thought they had begun. Congrès du RN : «Nous ne reviendrons pas au FN», Marine Le Pen le jure.
The below reminds us of their limits: the number of their elected representatives.
In case anybody thinks that the French National Populist RN is a 'normal' party, and not something resembling the fringes of Trumpism, the Brexit Party Spiked and the Tory Party's 'anti-woke' Common Sense group here is a key note speech at the Conference,
Le Monde.
The deputy of the North explained in a speech, Saturday July 3 in Perpignan, why, according to him, the philosopher "was wrong about everything".
After fifteen rather classic minutes, during which the speaker declared, after the Italian communist philosopher Antonio Gramsci: "the fight that we lead is a cultural battle before being a political fight" ……….(note added) he went into this rant, worthy of Brendan O'Neill or Frank Furedi.
The sickness, for Sébastien Chenu, dates back to May 68, and in particular to… Jean-Paul Sartre, around whom he drew an unpublished portrait, but perfectly in line with the thought of the extreme right. "Since 1968, the thought of Jean-Paul Sartre ha circulated and influenced all intellectuals, academics, and he media" , began the deputy. The great French philosopher (1905-1980) is for him "the man of all errors, of all blindness" , and not the least: "He is the one who hated the people at the time of the Popular Front, the one who loved the Germans at the time of the Occupation, he wrote it moreover with Simone de Beauvoir, they were fascinated by these events, declared Sébastien Chenu. This is the man who hated de Gaulle and who preferred dictators like Mao, like Stalin. It is the one who made Mitterrand vote in 1981, it is the one who is alongside Ayatollah Khomeini when he was hosted in France. We can still see that this intellectual has planted everything. "
Details on the allied currents now integrated into the RN, Hervé Juvin, of the Parti localiste, and Thierry Mariani, of, La Droite populaire, and a loss of influence of the openly 'identarian' individuals in this article:
La députée du Pas-de-Calais a été réélue triomphalement, dimanche, à la tête de la formation d'extrême droite. Son numéro deux, Jordan Bardella, assurera l'intérim pendant la campagne pour l'Elysée.
Allies:
Official account of the European Political Party Identity & Democracy – #IDParty
th European Parliament[edit]