Archive for the 'French Politics' Category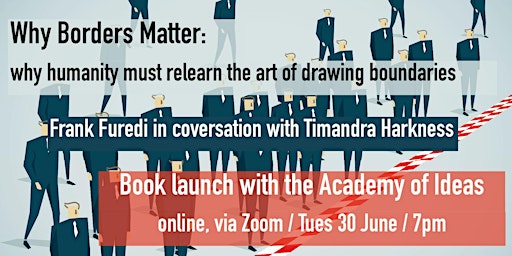 The "war to uphold the precious gains of civilisation is being lost."
Critics of Spiked magazine, and its offshoots, The Academy of Ideas and its work in founding the red-brown Front, the Full Brexit, do not often discuss the work of its founding pundit, Frank Furedi.
A  sheave of references, in the duller corners of publications on social policy, crime, and psychology, indicates that the former revolutionary Marxist has some kind of academic standing. The assistance of Google reveals, for example, a citation in this work which begins, "In this article I examine the attractions and shortcomings of the "positive" neohumanisitic turn in organizational theorizing and how positivity might be developed. "
One can see why he enjoys the heady moments  when he can escape from this to the Spiked/ex-Living Marxism network's annual beanfeast.
Events reported in 2010, and surely on the next occasion more convivial after their alliance with the Brexit Party and the success of Spiked contributor Munira Mirza, as Cabinet Head of Policy.
The fifth annual Battle of Ideas was held over a weekend last October at the Royal College of Art in West London. There was a route you could do, a circuit, up the stairs at one end of the windowless basement and down them again at the other, and I did it many times, bag dragging at my back. Each day was divided into five time-slots, each slot into 'strands': the Battle for Energy, Battle for Work, Battle for Reproductive Choice; or Breakfast Banter, Café Controversies, Bookshop Barnie.

The talks themselves had titles like 'Working for the State: Public Service or Gravy Train?', 'India's Future: Slumdogs or Millionaires?' So much stuff, so much Horrible Histories alliteration, so many dispiritingly either-or questions: out of 74 talks, I spotted just one whose take-home message I couldn't immediately guess. It was on 'football, greed and the recession', it was called 'Who Ate All the Pies?', and I'm afraid I don't know the answer, because I went to 'Rethinking Freedom in an Illiberal Age: Securing Rights or Celebrating Liberty?' instead.

Jenny Turner reports from the Battle of Ideas
Furedi's latest work, puffed in Spiked (Why Borders Matter: Why Humanity Must Relearn the Art of Drawing Boundaries. 2020.), he explores the idea that "The rejection of borders between nations and communities runs in parallel with the unbounding of cultural norms in all dimensions of social life."
Just in case you hadn't got this he today offers a summary of the work,
As I note in my new book Why Borders Matter, the ability to 'tell right from wrong' has been compromised by the cultural devaluation of boundaries, such as those between good and evil; adult and child; man and woman; human and animal; and private and public. All of these symbolic boundaries have been called into question in recent decades.
Readers of Spiked will have guessed that the (two part) article is a lengthy rave against "Identitarians", identity politics, political correctness, and the "culture war" being waged by the new "counter-cultural establishment".
(it) has successfully marginalised conservative and classical-liberal ideas, be they tolerance or democracy, within institutions of socialisation, such as schools and universities. And it has turned many cultural institutions, from the arts to the media, against humanist sentiments and ideals associated with the Western tradition that runs from Classical Greek philosophy through the Renaissance to the Enlightenment. Even classical socialist ideals of solidarity and internationalism have been torn asunder by the politicisation of culture and identity.
Furedi asserts that, "These developments take the form of a one-sided war against the past in general, and the legacy of the West in particular."
In a passage that bears the most royal of purple he writes,
Having gained hegemony, members of this countercultural establishment are now less and less afraid to impose their own values on the rest of society. From their standpoint, Boris Johnson is an elite outlier, and his defence of Churchill offers them a reminder that there are still obstacles to the realisation of the project of detaching society from the legacy of its past. They now constitute the cultural establishment, and people who wish to defend the statues of Churchill or Abraham Lincoln are their countercultural adversaries.
It would be facile to dismiss this (who in fact is in Government?).
But within Why Borders Matter (or as far as Goggle Books unearths) are a number of substantial claims that go to the heart of political philosophy and political practice:
That human beings need limits in order to grow, that political rights (in the tradition of Edmund Burke) are not only national constructions, but should remain circumscribed by these boundaries.
That national sovereignty and the border security it establishes  helps one of these needs, a "sense of belonging"
That attempts to deterritorialise sovereignty and citizenship rights reduces people to "their most abstract individual qualities", depriving them of "the cultural qualities which give their lives meaning".
How those who argue, against these views, that human rights are universal, that there are no national frontiers or limits on the right (for example) not to be tortured, murdered, oppressed, starved or beaten, are linked to attacks on a "principled commitment to the civilisational accomplishments of humanity." is not explained.
In Spiked Furedi cites Hannah Arendt's conservative reaction to mid-1960s student radicals questioning established values of right and wrong.  Arendt's also famously argued that human rights without national legal systems to back them up are meaningless. In despair at the way people were left stateless and without rights in the 1930s and in the aftermath of the Second World War) the political philosopher  talked of the "right to have rights".
This is a deeply felt and pondered claim, and one that can only be answered by political action to make sure that the rightless are given protection. And rights, unless, and we hope this is not the case, Ferudi is arguing that boundaries once drawn mean that they are permanently excluded.
The liberty to grow and flourish in our own freely determined conditions, of the kind outlined by John Stuart Mill and by Marx's ideal of a society in which the liberty of all is a  condition of each person's  development, is a better goal for the foundation for "belonging" than a host of customs controls and the ownership of a passport.
Nevertheless this is not an abstract question of an intellectual conversation about human  "qualities" but of the mechanisms that might make such potentials, that is substantial, rights real.
But, one of the facts about globalisation, the world wide exchange of news and direct communication, is: How we ignore what is happening outside our "borders"?
Do we have any responsibility to act on one of the most basic moral impulses, human sympathy?
Leaving issues of war, oppression and rights to national states, run by political parties who may be hostile to rights – the national populists or straightforward dictatorships – is a real concern, from Poland, the Russian Federation, the People's Republic of China, Brazil, Turkey, not to mention Syria.
Furedi would leave us trapped in a bubble, without any answers to the demands that solidarity make on people.
And what 'cultural meaning" does Assad's Syria give to people slaughtered in a civil, not "culture" war?
It is precisely the sovereigntist, Spiked, quarter that has argued. not just against armed humanitarian intervention in these conflicts, but against anything more than gestual solidarity with the millions whose lives are at risk.
It's as plain as a pikestaff that if there is a culture war in the West Furedi is an "identitarian" on one side, that of the  rights of tradition, the Land and the Dead (la terre et les morts – as a founding figure of the French far-right, Maurice Barrès , put it ) He stands for the cemetery of the past against the universalism of the future…
Spiked's claim to stand for the "the so-called "traditional ideals", or, more bluntly evokes two sources.
The first is the most obvious. Furedi's book seems, consciously or unconsciously, to base its title on this book, In Praise of Borders (Éloge des frontières. 2010)". In this, the endlessly prolific writer and academic Régis Debray defined limits as needed to make sense of the world. "The border is what gives meaning to our world. It is the first response to the nothingness of space and existence. " How can we bring order to chaos?" By drawing a line. By separating an outside from an inside . " The deeper reason at work lies in the deep-laid, multifarious connection between borders and identities."
Debray accused sans-frontiérisme of "économisme", treating culture and polities – summed up in the goals of the international charities like Médecins Sans Frontières – as part of the "global marketplace". It is the bearer of  "technicisme", aligning the world to the same standard, of unbounded absolute values. At the heart of the wish for a borderless world is imperialism, through the call for universal Law and human rights is Western power imposed through NATO.
The second is that Spiked is, out of design or not (and few of its contributors seem to be French speakers), echoing themes peddled on the French sovereigntist thinkers, who have become increasingly right-wing and national populist.
The analysis of the "culture wars" by one of the best known far-right writers in France  the historian  Éric Zemmour, may lack the sociological guff about, "the corrosive influences" of the cultural contradictions of capitalism  generational conflict and the individualism of the post-war world.
But…..
In Le Suicide français (2014 – free to download here) is a long (534 pages in the French edition) Zemmour laments about French decline, at the hands of the post-68 cultural rebels, who have become the new establishment. In this Potemkin Republic the  watchwords of 68,: "Dérision, Déconstruction, Destruction", have undermined the foundations of society, family, and work.
The French left has become a vehicle for metropolitan elites, a supporter of the mass immigration that is underlining France's ancestral values, its cultural heritage and the Republic's national economy. In its place it encourages a bohemian "cosmopolitanism", cultural consumption and mixing. Trapped in its postmodernism and political correctness the left  despises the People, the victims of this New World Order. This Zemmour, Ferudi fashion, contrasts with true  Enlightenment cosmopolitan idealism,  which used to spread theories, ideals and civilisation.
Zemmour has been, liked Spiked, a supporter of the anti-elite protests by "Peripheral France', the Gilets Jaunes. At present, nobody will be surprised to hear, he is frothing at the mouth at Black Lives Matter and the toppling of statues and getting rid of memorials to slave owners and colonialists (in fact I guessed the latter without reading, but a brief check shows pages of his latest rants on the topic).
No doubt his anti-immigration views would make Zemmour unacceptable – for how long? – to Spiked.
But there are others who would perhaps be more acceptable.
Zemmour is only one of a host of French writers obsessed with the themes of defending civilisation against multiculturalism, identity politics, political correctness, . they range from supporters of Marine Le Pen, such as Christian Bouchet,  France's Melanie Phillips, Alain Finkielkraut,  to former leftists like Michel Onfray who has just launched his own 'red-brown' journal, Front Populaire, bringing together right (including the extreme right, Éléments pour la civilisation européenne) and left wing supporters of sovereigntism. There is name for this political current, national populism.
Is this the kind of search for meaning and cultural belonging Furedi has in mind? 
Ronan Burtenshaw, editor of Tribune, says Starmer acted to "protect the reputation of the Israeli occupation'.
In recent weeks Keir Starmer, elected Labour leader with 56,2% of the party members' vote,  has managed to dent Boris Johnson's in the House of Commons. He has raised  issues, including the Tories' handling of the Coronavirus panademic, and the rubber-stamping a Tory donor's property development, that have further weakened the Conservatives position. Starmer's approval rating keeps rising in the opinion polls.
This news now dominates the Labour landscape.
Now, according to many on the left (overwhelmingly those who never supported him), the sacking of Rebecca Long-Bailey has struck a blow against the Corbyn legacy and socialism.
Momentum is using the sacking to mobilise to "win back power" in the party.
The Editor of Tribune (now owned by the US left-populist Bhaskar Sunkara, (New owner of relaunched bi-monthly Tribune magazine says 'Morning Star will cover the beat and we'll do more analysis') is perhaps not widely taken seriously.
But John McDonnell is.
McDonnell immediately received these replies (by people this Blog knows),
The Guardian's Heather Stewart reports on widely shared explanations for the sacking.
One Starmer-sceptic also pointed out that Long-Bailey, who represents a leave-voting constituency, had been sympathetic to Brexit, during the bitter internecine battle over the party's stance that raged throughout last year.

Perhaps it didn't help, either, that Starmer was visibly irritated last week when Boris Johnson wrong-footed him at prime minister's questions by pressing him to say he thought it was safe for children to go back to school.

Starmer's allies insist he has worked closely with Long-Bailey on schools policy; but some more centrist Labour MPs have accused her of listening too intently to teachers' unions, and not enough to parents, as she warned about the risks of wider reopening.

For these reasons he may not lament her departure from the frontbench, but Starmer's allies insist he would deal just as determinedly with claims of antisemitism even if they came from a close political friend.

Starmer's removal of Long-Bailey has rekindled Labour's civil war
A measured repose comes from Paul Mason.
The claim that Israeli police forces taught the US police the "neck kneeling" that murdered George Floyd has been denied.
The same link was made recently by Tariq Ali, who has supported a variety of political  parties and is at present believed to be a member of Labour.
I would now like to come to another part of the world which ironically links the knee on the neck to George Floyd to this region because a lot of the American police forces have been trained in Israel. Not just the Americans but many from right-wing countries in South America. And the methods in dealing with protests or ordinary citizens is virtually the same. You can find lots of photos of Israelis when these people are brave enough to take photographs with their knees on the neck of Palestinians."

Coronavirus, War & Empire: Arundhati Roy & Jeremy Corbyn in Conversation w/ Tariq Ali
Many consider that some on the left are so anxious to tie in Israel and Zionism to anything that they jumped on the opportunity to get them implicated in George Floyd.
Perhaps they will claim that the French police, who have been caught up in (justified) accusations, have been instructed by Israel.
Cédric Chouviat, a 42-year-old deliveryman, died in January after officers pinned him to the ground and put him in a chokehold, police tactics that are increasingly being called into question.

…

On Monday, Le Monde newspaper and Mediapart, an investigative news site, both reported details of the videos in which Mr. Chouviat can be heard saying "I'm suffocating" seven times over a roughly 20-second period as the officers arrested him.
More: Violences policières : avant la France, comment certains pays ont limité le recours à la clé d'étranglement et au plaquage ventral. Radio France. 20.6.20.
Update:
Long-Bailey continues to gain support….