Posts Tagged 'Éric Zemmour'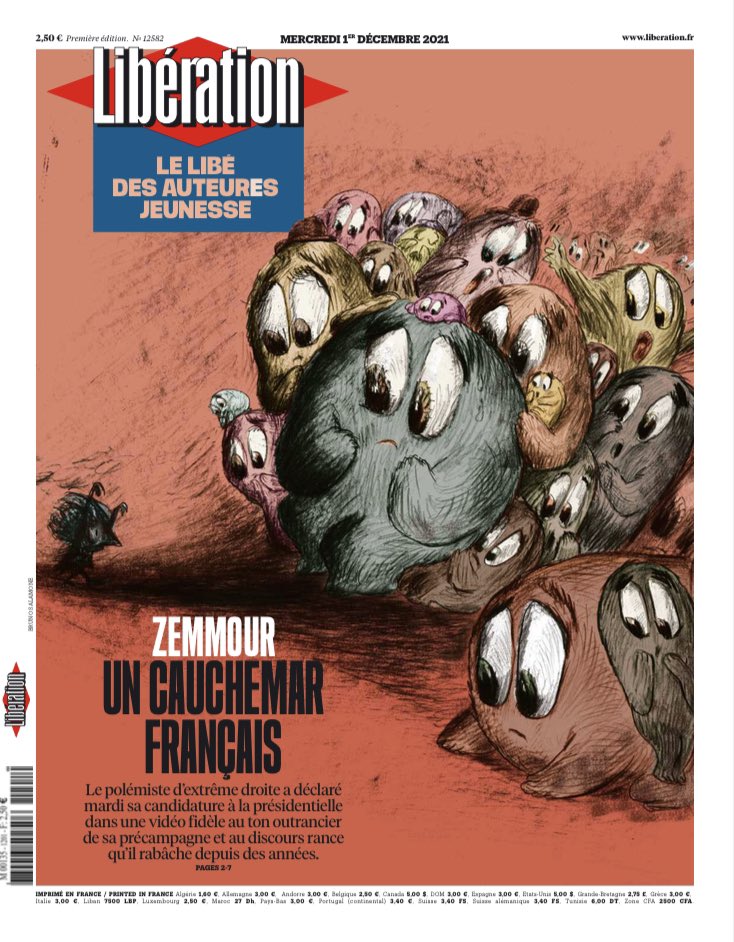 A French Nightmare.
Éric Zemmour's most recent book La France n'a pas dit son dernier mot (2021) is self-published by the Maison d'édition Rubempré. The far-right polemicist named his imprint as a tribute to the novelist Honoré de Balzac and the central character of his masterpiece, Illusions perdues (Lost Illusions), Lucien Chardon. The ambitious provincial writer becomes, by assent of the Restored Monarchy, Lucien de Rubempré, "a cowardly and unscrupulous character", able to play with women's affections and a large fortune, in Splendeurs et misères des courtisanes.
Few French commentators who have alighted on this name and the fondness of the polemicist for the author of la Comédie Humaine have failed to remark that from being the toast of Paris, Lucien, "le dandy et le poète" ends up shunned, accused of fraud and theft in cahoots with the identity-shifting criminal mastermind Jacques Collin. In gaol, overcome with remorse, rent with a "fièvre de suicide" he hangs himself. Recounted in detail, it is a deeply affecting passage. "One of the greatest tragedies of my life," wrote Oscar Wilde in his 1889 essay The Decay of Lying, "is the death of Lucien de Rubempré. It is a grief from which I have never been able completely to rid myself. It haunts me in my moments of pleasure. I remember it when I laugh."
Yesterday our modern Rubempré (whose fall one can only hope will be worse than Balzac's famed protagonist) announced this, putting an end to a threadbare game about whether or not he would officially aim to be France's Head of State.
This Blog has published quite a few posts about Zemmour, which we have no need to repeat.
One of the best overviews is offered by the Fondation Jean Jaurès (suitably named after a nemesis for the man who has cast doubt over the innocence of Dreyfus) by the specialist on the far-right JEAN-YVES CAMUS.
ÉRIC ZEMMOUR : UN DISCOURS QUI LIBÈRE LA PAROLE EXTRÉMISTE
The Origins of the Zemmour Candidacy.
"The first sign of the polemicist's presidential ambitions dates back to the creation, in January 2021, of a website entitled "I sign with Zemmour". According to the investigation of the daily Liberation and the weekly L'Express , it comes from the entourage of the mayor of Orange, Jacques Bompard 1and more broadly from the La Ligue du Sud, the micro-movement he founded in 2010. The former member of the Front National (1986-1988), which broke with Jean-Marie Le Pen in 2005, is a major actor on the "right outside the walls" working since the end of the five-year term of President Sarkozy to the constitution of a union which brings together those who, within the FN / RN and the conservative right, agreed to put an end to the ostracization of the camp lepenist (that is Le Pen, fille et père). He is also a follower of the "great replacement" theory, as shown by the motion for a European resolution that he tabled in 2015 as a member of the National Assembly 2. In his explanatory memorandum, we find two major themes of Eric Zemmour's campaign: that of immigration-invasion and that, consequence of the first, of "massive immigration [which] resulted in an explosive and dangerous situation for civil peace and the future of France ". "
Camus offers an extremely detailed account which is certainly one of the best available.
This is also highly recommended, by a radical left writer who is a critic of right-wing and left-wing populism.
This is equally important, how the upper-levels of the bourgeoisie are showing a degree of good-will towards Zemmour, invitations to speak at elite clubs, bosses' organisations, and how some of the liberal left (Marcel Gauchet, Luc Ferry, Jacques Julliard) have shown more than an interest in the way he has raised 'real issues':
In the last few days Zemmour has stalled in the opinion polls.
One of the reasons has been his response to a forceful female critic during his visit to Marseille, which has drawn comparisons with former President Nicolas Sarkozy who once told somebody who refused to shake his hand during a visit to the Salon de l'agriculture, saying it would dirty him, "Eh ben, casse-toi pauv' con" – fuck off you pathetic tosser.
It seems that Zemmour is fond of the C word (one meaning is the same as the one in English), calling television presenter Gilles Bouleau a "connard" (stronger than con), yesterday.
A Harris Interactive poll for Challenges credited Eric Zemmour with 13% of voting intentions, far behind Marine Le Pen (19%). The polling institute gave it at 18% just a few weeks ago.
(1.12.21. Eric Zemmour candidat : bousculé sur TF1, vidéo polémique, sondages en berne… ça part mal
Then there is this:
Still Zemmour has some friends.
Oscar Wilde's other famous literary judgement concerns Charles Dickens and The Old Curiosity Shop.
"One must have a heart of stone to read the death of little Nell without laughing."
Let us hope that Zemmour's candidacy ends badly so we can also break out laughing.
And please, do not forget this:
Charlie Hebdo Helpfully Suggests Zemmour Campaign Posters.
A few weeks ago an article in the French press remarked that it is tempting to run a new story every day about extreme right, will-he-or-won't-he-run-for-President Éric Zemmour, the dances of the seventy veils as he shows his latest provocations, the cadres of the far-right backing him, amongst the crowd are (there is a constant stream) the anti-Semite Hervé Ryssen, radical identitarians like Daniel Conversano, up to the outermost fringes (latest, "La Famille gallicane"), his social network successes, and his wealthy backers, beginning with Charles Gave, and his potential electorate, "an alliance between the patriotic bourgeoisie and the popular classes" (i.e. workers, unemployed and lower middle class), with highest support from Marie-Le Pen and classic right-wing François Fillon voters (BFMTV) There has also been this, "France's chief rabbi called Eric Zemmour, a Jewish journalist and far-right provocateur thought to be weighing a presidential bid, an antisemite." (Times of Israel. 2.10.21)
For those welcoming the split on France's far right between Zemmour and Marine Le Pen, which has weakened the support for her Rassemblement National, one should caution that the major effect has been to drag French political debate on the terrain of the identity anti-immigration politics of this pair and to render almost inaudible the campaigns of the fractured left wing candidates (at least 7 of them). In this atmosphere it is wonder that Michel Onfray has drawn together an alliance of sovereigntist ideologues in his magazine Le Front Populaire. axed towards the nationalist right but including one-time left-wingers. As Yves Colman has pointed out, the former left drawn to the politics of this side are no longer evidence of 'confusionism' but part the national populist far right.
The polemicist's most recent book, La France n'a pas dit son dernier mot (France has yet to say her last word), is a vulgar self-regarding, self-pitying 359 page long journal starting in April 2006. Launched to boost his campaign, over 205.000 copies have already been sold. This long pamphlet has a title whose rancorous tone that sounds like a cornered villain shouting "You haven't heard the last of me! Come And Get Me Coppers!".
It is a "man obsessed with the idea of ​​an inevitable fight to the death between the "native" French people of true national stock and the "enemies of France", full of whingeing about feminism, gay marriage and his least favourite Daily, Libération, lightened by memories of playing Monopoly in a lost paradise of Gallic culture – Suburban France. Amongst the sustained hatred against the Great Replacement, a war waged by "envahisseurs prédateurs "(Predatory Invaders) we learn that in the Battle of Civilisations only France has a truly "Great" (Grande) Cuisine.
One of the few passages of note, as the writer talks of his brushes with famous people – his list of dining companions outclasses The Goncourt Journal – is a convivial visit in 2015 to Régis Debray, a sage much liked by New Left Review. Zemmour describes the once-upon-a-time revolutionary as his own Barrès (novelist and founding figure of La Terre et les Morts refrain) and Paul Valéry (greatly loved poet and essayist, yes I find the reference to him obscene, Le cimetière marin is one of the best poems ever written, his is the subject of a book by Debray, out in 2019). The one-time guerrilla says that he feels like he is living like a monk during the Fall of the Roman Empire, looking at ancient Greek manuscripts in which nobody else is interested. Debray said that he agrees with Zemmour's views in his best known books, Le Suicide Français about everything except women, Islam and Vichy. Look it up, "J'ai bien lu votre Suicide français. Je suis d'accord avec tout. Sauf sur les femmes, l'Islam and Vichy" (Page 216).
Britain is now catching up on the permanent news machine that is Zemmour:
Royal Institution cancels event with far-right French pundit Éric Zemmour
Guardian.
London's prestigious Royal Institution has cancelled an event at which the far-right French TV pundit Éric Zemmour was due to speak on Friday.
Zemmour, who has convictions for inciting racial hatred, is due to arrive in London on Thursday as he ponders a potential run in France's presidential elections next year.
He was due to speak in the grand surroundings of the RI's headquarters in Albemarle Street off Piccadilly, in an event billed as "Eric Zemmour in London". The venue appears to have been deliberately chosen for its grandeur and association with the RI, which was founded in the 18th century to promote science and research and which boasts Prince Charles as one of its patrons.
The RI stressed that it had not invited Zemmour to speak and had only cancelled the booking after researching his background.

In a statement it said: "The RI has taken the decision to cancel a private venue hire booking for an event featuring the media commentator and politician Eric Zemmour."

It added: "The booking was received at short notice and was one of many the RI receives each week. Following a process of due diligence the RI has taken the decision to cancel the venue hire event and therefore Mr Zemmour will not be speaking at the RI."
Meanwhile.
Many famous and even notorious French writers and statesmen have sought refuge in England over the years. It's the proud boast of the English to have hosted generations of exiles and dissidents from Voltaire to Zola, Napoleon III to De Gaulle. That was then. Zemmour appears to offend the tender sensibilities of today.
I hear through a paper cup through a very long piece of string that on orders from Number 10, Conservative MPs have been banned from meeting Zemmour in London this week, for the absurd reason that this is a sensitive time in Anglo-French relations. As if Anglo-French relations have not been sensitive for 1,000 years.

Michael Gove was said to be interested in meeting Zemmour. I'm guessing that won't happen. It seems like a missed opportunity. Zemmour has at least a theoretical chance of being the next president of France. Is it smart that London should snub him? A cheeky Boris would be rattling Macron's cage, inviting Zemmour to Downing Street for a cup of tea and a photo opp.

Zemmour will go ahead with private dinners in London as he raises money in advance of a possible declaration of his candidacy on 5 December at the gigantic Zenith concert hall in Paris. Where he's not been cancelled. He has been speaking right across France recently without being cancelled. That he's been shut down in London is pathetic.

To be honest I was not surprised to hear that Zemmour had been blacklisted (if you're allowed to say that). For all its grandeur, the Royal Institution is evidently thoroughly woke, and only took the booking in the first place because it was too dim to refuse the money. It's also been fairly broke, one reads.

François Fillon, the French presidential centre-right candidate five years ago until he was written out of the script by a corruption investigation, spoke at the Royal Institution, so presumably it's not French politicians generally who are unacceptable. As they say in France: 'C'est comme ça.' There have supposedly been 25,000 lectures at the Royal Institution but in our age of Cancellation, Eric Zemmour's will not be amongst them.
Zemmour sill stands at 17% in opinion polls to Marine Le Pen's 16%. The chances of there being a run off between a far-right candidate and Emmanuel Macron remain very very high.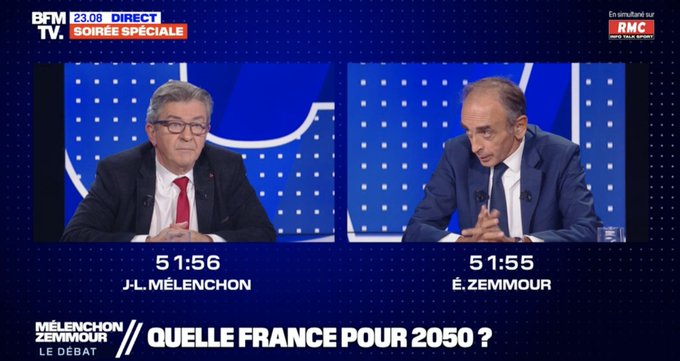 Opinion Polls this week had put a Zemmour Candidacy ahead of Mélenchon.
Last night on BFMT there was a two hour debate between the leader of La France insoumise (LFI) Jean-Luc Mélenchon and the far-right self-proclaimed Presidential candidate Éric Zemmour.
I watched it. Zemmour's hatred for immigration, that is immigrants, in general and Muslims in particular stood out. The theme of the 'great replacement' (grand remplacement) and the end of the French nation was never far from the polemicist's lips, as was crime, social security fraud, and allegations of a brewing civil war. Islam was the opposite of the country, "aux antipodes de la France". C'est une guerre de civilisation qui nous est menée, une guerre de pillages, une guerre de viols, une guerre de meurtres." (A war of civilization which is being waged against us, a war of looting, a war of rape, a war of murder.) said he. The 'polemicist', who is from a Jewish background, generously allowed that possibly some Muslims might be assimilated to the French republic, on the model of his own community's integration. Those who did not fit in should leave.
To British eyes it seemed extraordinary that this unbridled hatred was given an airing. Fact-checks on some of the wilder claims did not diminish that impression. Experienced in communication and media techniques (having seen him on C-News) Zemmour got away with the ravings of a bigot.
Not one to take this claims lying down Mélenchon called his opponent a racist with court convictions for it, "Vous êtes un raciste, condamné pour ça. » On immigration Mélenchon defended "créolisation", that is cultural mixing. On the name issue (Zemmour wants children to have French forenames) he rightly said that a French prénom was a name of a French person. The left populist also cited the claim that Couscous was France's favourite dish – reminding people that not everybody has the British taste for curry.
The LFI leader tried, many times, to get the discussion back to issues that could be rationally, or at least, calmly talked about. His election programme included retirement at 60, blocking the prices of energy and certain food products – as well as increased agricultural 'sovereignty' for France – leaving NATO or increasing the minimum wage to 1,400 euros. Taking up some of his favourite themes Mélenchon vaunted France's maritime role and the potential of space exploration. .
Zemmour attacked Mélenchon for daring to criticise heavy-handed – brutal – policing, for his Trotskyist past, questioned how anybody from a Marxist background could back green energy, and for good measure peppered his speech with attacks on the "obese" welfare state and people living on benefits.
Both figures linked the growth of abstention in French elections to the lack of effective change on offer. Emmanuel Macron, Zemmour said, stifled politics, representing both the liberal right-wing and the liberal-left wing.
Hell, those two hours were dire.
Zemmour, who has still not officially announced his candidacy for President, is eating into Marine Le Pen's electorate.
Before people smile:
"Eric Zemmour would collect 10% of voting intentions in the first round of the presidential election and Jean-Luc Mélenchon 8% if Xavier Bertrand would be the right-wing candidate and Yannick Jadot the EELV Ecologists) candidate. Same score if Xavier Bertrand and is a candidate and Sandrine Rousseau is committed for the Greens. Eric Zemmour would total 10.5% of the vote and Jean-Luc Mélenchon 7.5% if Valérie Pécresse wears the colours of the right and Yannick Jadot defends EELV. Last scenario: Eric Zemmour is credited with 10.5% of voting intentions and Jean-Luc Mélenchon with 8% in the event that Valérie Pécresse and Sandrine Rousseau are candidates."
La Dépêche. 23.9.21.
There has been a debate on the French left as to whether it was wise to debate with Zemmour.
Here is a good introduction to Zemmour's ideology:
Le «zemmourisme», un ultranationalisme intégral.
This is what Britain's ace reporters are interested in today: