Archive for the 'Culture' Category
En soutien au journal "Charlie Hebdo".
The Guardian reports:
A teacher displayed satirical cartoons depicting the prophet Muhammad. The teacher has been suspended pending a formal investigation.
Gary Kibble, the head of Batley grammar school, apologised to parents for the inappropriate use of the cartoons, taken from the French satirical newspaper Charlie Hebdo, during a religious studies lesson this week which sparked a protest outside the school on Thursday morning.
"Upon investigation, it was clear that the resource used in the lesson was completely inappropriate and had the capacity to cause great offence to members of our school community for which we would like to offer a sincere and full apology," Kibble said in an email sent to parents that promised further investigation.
Images on social media showed about 30 to 40 protesters, many wearing masks, outside the school, with police at the entrances to the school grounds and the road outside. The Huddersfield Examiner reported from the school that the protests were peaceful as children arrived, with the start of the school day delayed until 10am. West Yorkshire police said that no fines or arrests were made.
However, the Department for Education spokesperson condemned the protests which it said included issuing threats and was "in violation of coronavirus restrictions". A spokesperson described the protest as "completely unacceptable"
A demonstration that took place outside a school after a teacher showed a caricature of the Prophet Mohammed in the classroom was "disturbing", a cabinet minister has said.
Housing Secretary Robert Jenrick said the protest was "not right" and that "we shouldn't have teachers feeling intimidated".
"That is not a road we want to go down in this country so I would strongly urge people concerned about this issue not to do that," he told Sky News on Friday.
Mr Jenrick added that reports the teacher is now in hiding are "very disturbing".
The National Secular Society has criticised the protests and the school's response.
The NSS is planning to write to the school, to ask for an explanation of its rationale and urge it not to pander to demands for blasphemy taboos.
Reports suggest the teacher warned that some members of the class may find the cartoon offensive, before using it to prompt a discussion about killings that have taken place after the publication of Muhammad cartoons.
School's statement
In a statement, the school said: "The school unequivocally apologises for using a totally inappropriate resource in a recent religious studies lesson. The member of staff has also given their most sincere apologies.
"We have immediately withdrawn teaching on this part of the course and we are reviewing how we go forward with the support of all the communities represented in our school.
"It is important for children to learn about faiths and beliefs, but this must be done in a sensitive way.
"The school is working closely with the governing board and community leaders to help resolve this situation."
NSS comment
NSS chief executive Stephen Evans said the protest was "an attempt to impose an Islamic blasphemy taboo on a school".
"Teachers must have a reasonable degree of freedom to explore sensitive subjects and enable students to think critically about them.
"Schools will understandably want to promote community cohesion and inclusiveness. But this cannot be achieved by pandering to religious groups who wish to dictate what can and cannot be taught.
"And the school's weak response will fuel a climate of censorship, which is brought on by attempts to force society as a whole to accommodate unreasonable and reactionary religious views."
Note
In October last year a school teacher in Paris, Samuel Paty, was killed after he showed cartoons of Muhammad from Charlie Hebdo magazine during a class about free expression.
Paul Embery, Patriotic Flags from "all Corners of the UK'   for Brexit.
Kate Hoey.
Back in March, on the day we were supposed to Leave the European Union, there was a rally at Westminster. Emotions ran high. People had travelled to London from all corners of the UK to tell Parliamentarians how angry they felt about the extension to the departure date. The cross-party platform featured speakers across a wide political spectrum and it had one aim: to call for the referendum result to be respected.

One of the best, and most carefully listened to speeches, was the one delivered by Paul Embery, on behalf of Trade Unionists Against the EU. In it, he reiterated his position on the Brexit debate – that democracy must be defended.
Sadly this befell the work, family and community gent:
…..shortly after the rally, Matt Wrack, the General Secretary of the FBU, issued a statement which said that it was outrageous that so-called Trade Union officials and Labour MPs attended joint rallies with Nigel Farage and others on the nationalist Right. In no uncertain terms, he stated: "They are a disgrace to the traditions of the Labour movement."
Now, Sputnik takes up he cudgels for one of Britain foremost critics of "rootless cosmopolitans".
Trade Unionist and Labour Activist Sacked 'For Supporting Brexit' – Tribunal Hearing
Embery says he was thrown out of the FBU after 11 years due to his vocal support for Britain's withdrawal from the European Union, after addressing a Leave Means Leave rally in London with Brexit Party leaders Nigel Farage and Richard Tice in March 2019.

The firefighter and lifelong Labour Party activist argues that the justifications given for his dismissal were "contrived, unprecedented, and perverse" and was actually down to his "pro-Brexit views and activity." he argues that the "leadership's resentment" of his prominent position as a supporter of the Leave campaign is also to blame.
Paul Embery, a man of quick parts and a deep labour movement education, was stunned to hear, "Hours before his speech at the Leave Means Leave rally (pictured), FBU's Ian Murray told him that to speak alongside Mr Farage would be a breach of union rules".
Paul Embery National Organiser for Trade Unions Against the EU and 'life long Labour activist' had such keen eyes that he could ignore that  the organisation received money from hard right money-bags Aaron Banks.
A stalwart of Blue Labour Mr Embery was welcomed on a speaking tour in 2016  by the Trade Union and Socialist Coalition (Socialist Party and RMT) to preach in his homely toiler's clothes against the European Union and support for a Leave Vote in the Referendum.
Paul Embery, London secretary of the Fire Brigades Union and national organiser of Trade Unionists Against the EU, pointed out: "The EU is rampantly pro-austerity and that approach has caused suffering throughout Europe, a collapse in living standards, the rise of the far-right and the decimation of public services."
Paul Embery is a man whose identity, who defends the  love of flag, relatives, class and creed. He charges the dissolute "Left political establishment swallowed a poisonous brew of economic and social liberalism. They have come to despise traditional working-class values of patriotism, family and faith and instead embraced globalisation, rapid demographic change and a toxic, divisive brand of identity politics."
One can only hope that other supporters of the liberty of expression, of national populism and patriotic identity politics will rally round to defend what promises to be another Free Speech War.
We look forward to hearing support for Embery from the Labour Campaign for Free Speech.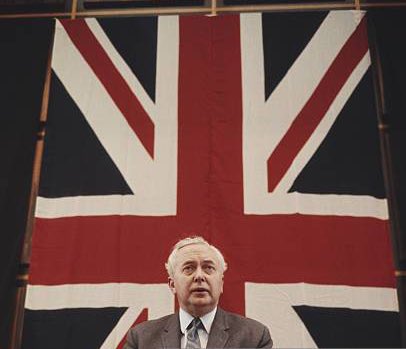 Harold Wilson. Labour P.M.
The professional anti-Starmer crowd have been out in force today.
Here is why:
You would have thought that those who backed Rebecca Long-Baily and her call for "progressive patriotism" would be well pleased. ("To win we must revive this progressive patriotism and solidarity in a form fit for modern Britain. "
Alas, no.
The anti-Labour site, baked by a well known Trade Union,  the Skwawkbox, yells,
Starmer's 'flag-shagging' can't even fool his own front bench, let alone working class communities
Move looks desperate and as false and stupid as it is – and will probably end Labour in Wales and Scotland.
This is the story itself (Guardian):
Leak reveals Labour plan to focus on flag and patriotism to win back voters
Labour must make "use of the [union] flag, veterans [and] dressing smartly" as part of a radical rebranding to help it win back the trust of disillusioned voters, according to a leaked internal strategy presentation.
Let us treat the  froth of the likes of Steve Walker, other 'alt-news' sites and professional anti-Starmer haters.  with the contempt they deserve. It comes from nothing and destined for the Wheelie Bin of History.
One could,  by contrast, write at length on this, about George Orwell's efforts to distinguish patriotism and nationalisa, about Imperialism,  the theory that the "national popular" can be captured by left populism.  about how Scottish nationalists get off the hook despite their country's own contribution to the British Empire, and about how in most countries, France and the USA, just about all politicians use the Flag. Not to mention the long list of Labour Party leaders and politicians have been pictured with the Union banner in one shape or another.
The Harold Wilson government of the 1960s supported this campaign in 1968:
Things have developed, obviously.There is also a history to be written of the nationalism behind Brexit (indulged by many anti-Starmer people who helped Leave win). In the last decades internationalists have opposed those brandishing Britain in at the end of a pole. UKIP, the Brexit Party, Johnson and his cronies have made the sight of the Union Flag distasteful at present. There are serious left wing reasons to be wary of it, and a discussion to be had.
That is, what kind of country does it stand for?
That critical case needs to be explored and expanded.
But this is not what this Blog is going to do today.
Real love of the country is love of people and things dear, it is demonstrated not by symbols, it is shown by acts.
What can that mean?
One of my favourite, fictional, stories explaining English patriotism comes from the satirical novel England, Their England (1933) by A. G. Macdonell.
It is 'travel memoir' by a youthful Scots, Donald Cameron, who has been invalided away from the Western Front  With "no qualifications for any profession except the ability to drive a moderately crooked furrow and to direct the fire of a six-gun battery of eighteen-pounder guns" "he resolved to try his fortune as a journalist." Donald writes for a series of London newspapers, before being commissioned by a Welshman to write a book about the English from the view of a foreigner.
To collect material for his book the young Sots enters the Dragon hostelry in Fleet Street at a Quarter to Twelve.  Engaging in conversation he encounters that he has met once of twice,  a man of about thirty-five from  circles he had begun to get to know. The  man exclaims, ""Have a drink. Flaming fish! but this is a stinking country."
"This is on me," he said. "It is the anniversary of Roland's death in the Valley of Roncesvalles. The world came to an end on that day. It has never really existed since. We must drink to my fellow-countryman who saved Europe in the Pyrenees a thousand years ago, just as that other fellow-countryman of mine saved Europe in the marshes of St. Gond on the River Marne in 1914."

"Do you mean Sir John French?" asked Donald.

The red-faced man became apoplectic. He swelled like a frog and his eyes appeared to become bloodshot. A queer, hoarse croaking issued from his lips. At last he managed to say, "I mean Ferdinand Foch, Marshal of France," and he stood to attention.

"I beg your pardon most profoundly," said Donald in great distress. "I had no idea—I mean your English is so perfect—is it really possible that you are a Frenchman?"

"My family name is Hougins," replied the man with superb dignity. "And there were Hougins in the Channel Islands a good long time before Duke Robert of Normandy cast his eyes upon the tanner's daughter."
After his departure a perplexed Donald was informed of the truth,
But he said his family name was Hougins."

"So it is, in a sense. It's Huggins. Tommy Huggins, and he comes from Bolton. His great-grandfather was Mayor of Bolton about a hundred years ago."

"But he sneered at the British Army," protested Donald.

Mr. Hodge laughed again.

"That's a favourite pose of his," he said. "He went to the War as an infantry Tommy and performed prodigies of valour."
True valour and irony, mocking patriotism, love for others, for countrywomen and men, courage, and humour, are not Jingo.
The below captures the right tone as well…
Susan Press says,