Archive for the 'French Left' Category
This story has been rumbling on for the last few weeks, but this is the first proper report in English, from the always-worth looking at France 24 site (the French language version often covers different stories and is also well worth reading).
Bearing in mind that Marine Le Pen heads French polls (and by far and away, is the strongest candidate amongst working class voters at 44% ) – though is unlikely to get from the first round in the Presidential elections to win in the second.
French far-right leader Marine Le Pen on Friday vehemently denied having ever admitted to anti-fraud investigators that she misused EU funds to pay her bodyguard, saying she is the target of outright lies.
"It's a shameless lie, I have never admitted such a thing to investigators," the National Front leader told French radio France Bleu Besançon.

The comments come after French investigative news site Mediapart and weekly Marianne on Thursday published extracts of a report by the European anti-fraud body (OLAF) which claimed that Le Pen had admitted to falsely employing at least one of her staff as an EU parliamentary assistant.

According to the extracts of the report, Le Pen had defended the move, claiming the parliament owed her and her party money from unpaid salaries and expenses.

But according to Le Pen, this conversation with investigators never took place.

"I never even saw the sight of them [the investigators]," she said.

The persistent scandal, which erupted when the report was handed to French judges last year, is a needle in the eye for the 48-year-old whose bid for the French presidency had been picking up steam after it was revealed last month that her main rival, conservative presidential nominee François Fillon, paid his wife hundreds of thousands of euros by employing her as his assistant in the French parliament – a job the weekly Le Canard Enchainé claims she did not actually do.

Who said what?

European anti-fraud investigators say that Le Pen used European Parliament funds to pay her bodyguard, Thierry Légier, a total of €41,554 between October and December in 2011 by falsely claiming he was an EU parliamentary assistant. In the report, they claim that Le Pen acknowledged that she did not employ Légier in that capacity during those three months.

Le Pen is also accused of having signed off on a similar contract for her France-based assistant Catherine Griset, to whom a total of nearly €298,500 was paid out between December 2010 and February 2016.

In the report, investigators allege that "Le Pen had the European Parliament employ Madame Catherine Griset as a parliamentary assistant accredited in Brussels whereas she has been serving as her personal assistant at her party headquarters in France since December 2010".

To qualify as an EU parliamentary assistant, the person needs to work in one of the parliament's three offices – in either Brussels, Strasbourg or Luxembourg – and is required to reside in the vicinity of his or her workplace.

Refuses to repay

The EU parliament has sought to recover the funds – which amount to almost €340,000 in all – claiming the two employees worked as Le Pen's own staff rather than parliamentary assistants, but Le Pen has so far refused to repay them, denying any wrong-doing.

"In order to reimburse, I'd have had to have received the funds, but my name isn't François Fillon," Le Pen was quoted by Agence France-Presse as saying earlier this month.

"Moreover, I formally contest this unilateral and illegal decision," Le Pen told AFP.

Her failure to repay the EU parliament means Le Pen faces a pay cut of some €7,000 a month as punishment.

French investigators have also opened a preliminary inquiry for fraud following the claims made in the OLAF report.
Must-Read Background to Mania For Fake News.
Everybody is aware of the Fake News uproar.
But the extent of the wave seems now to have reached something out of the Extraordinary Popular Delusions and the Madness of Crowds by Scottish journalist Charles Mackay, (1841).
MacKay covered financial manias (South Sea Bubble, Tulip craze, John Law and  Mississippi Company), the Witch Persecution  and such topics as " the influence of Politics and Religion on the Hair and Beard", alchemy, prophecy, and mineral, and afterwards of animal, magnetism, and, halting the list here, how Quoz became the must-say London catchphrase,
When a disputant was desirous of throwing a doubt upon the veracity of his opponent, and getting summarily rid of an argument which he could not overturn, he uttered the word Quoz, with a contemptuous curl of his lip and an impatient shrug of his shoulders. The universal monosyllable conveyed all his meaning, and not only told his opponent that he lied, but that he erred egregiously if he thought that any one was such a nincompoop as to believe him. Every alehouse resounded with Quoz; every street corner was noisy with it, and every wall for miles around was chalked with it.
No doubt Quoz is due for a revival, though I imagine that the later fashion for asking "Has your Mother Sold Her Mangle?" has had its day.
The Preface states, "THE OBJECT OF THE AUTHOR in the following pages has been to collect the most remarkable instances of those moral epidemics which have been excited, sometimes by one cause and sometimes by another, and to show how easily the masses have been led astray, and how imitative and gregarious men are, even in their infatuations and crimes."
The first chapter starts, "IN READING THE HISTORY OF NATIONS, we find that, like individuals, they have their whims and their peculiarities; their seasons of excitement and recklessness, when they care not what they do. We find that whole communities suddenly fix their minds upon one object, and go mad in its pursuit; that millions of people become simultaneously impressed with one delusion, and run after it, till their attention is caught by some new folly more captivating than the first. "
Today Magnetisers, alchemists, fortune tellers and prophets have their own Twitter Accounts and Web sites.
The Internet means no doubt that 'nations' of posters and viewers, not to mention re-posters and commentators, are much, much, bigger. When they "go mad" the scale is beyond counting. It has become both a Baudrillardian "hyper-reality" and a "hypo-reality", the beyond and beneath of the factual.
These are just a few examples: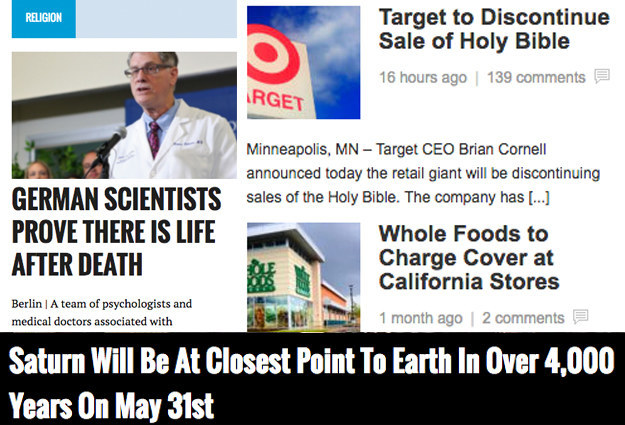 This is more serious:
This is  more serious (Reuters 2 days ago)
French presidential candidate Emmanuel Macron is a "fake news" target of Russian media and his campaign is facing thousands of cyber attacks, his party chief said on Monday.

Richard Ferrand, secretary-general of Macron's En Marche! (Onwards!) party, said that Russian state-controlled media Russia Today and Sputnik had spread false reports with the aim of swinging public opinion against Macron.

An independent centrist, Macron has surged in campaigning for the French election and opinion polls make him favorite to win election in May.

Ferrand said that Macron, as a staunch pro-European, was a Russian target because he wanted a strong united Europe that had a major role to play in world affairs, including in the face of Moscow.

Sputnik earlier this month ran an interview with a conservative French lawmaker accusing Macron, a former investment banker, of being an agent of "the big American banking system".

"Two big media outlets belonging to the Russian state Russia Today and Sputnik spread fake news on a daily basis, and then they are picked up, quoted and influence the democratic (process)," Ferrand said.
This is really a hell of a lot more serious:
The 'news'(from the satirical site Le Gorafi) that Marine Le Pen proposed to build a wall around France, paid for by Algeria, was treated seriously in the Arab world.
"Marine Le Pen propose d'entourer la France d'un mur payé par l'Algérie" (France 24. 15.2.17.)
The story made the Front Pages:
Virtual Mélenchon.
Reuters reports (Sunday),
Far-left firebrand Jean-Luc Mélenchon embraced technology during the launch of his presidential campaign at a rally in Lyon on Sunday, with a 3D hologram of him making his speech appearing at the same time at another rally in Paris.

Mélenchon, wearing a Nehru-style jacket, tried to use the hologram technology give a modern look to his launch, which coincided with that of the far-right leader Marine Le Pen.
Jean-Luc Mélenchon opened his meeting, transmitted by hologram to Paris, with a rousing speech. But it was hard to hide that the selection of the radical green socialist, Benoît Hamon as Socialist Party candidate, has created profound difficulties for the leader of La France insoumise.
After Hamon's victory the French left is divided. While many welcomed the Socialists' change in direction, for the majority of Ensemble, an alliance of radical left currents and part of the (nearly defunct Front de gauche), Mélenchon remains central to the left's prospects in France.
On the Ensemble site Roger Martelli writes of the left's Presidential candidates, (Gauche : et maintenant ?)
Mélenchon:
Depuis une quinzaine d'années, il est de tous les combats majeurs visant à redonner au peuple sa souveraineté et à la gauche son dynamisme. Son programme, dans la continuité de celui de 2012, reprend la logique « antilibérale » et démocratique qui s'est déployée après le choc de la présidentielle de 2002.

For over 15 years he has been there in all the principal battles which have aimed to return to the people their soveriegnty and to the left its dynamism. His programme, consistent with the (Presidential election) of 2012 (when Mélenchon stood, backed by the Front de gauch left bloc), takes up again the « anti-liberal » and democratic logic used since the shock of the 2002 Presidential elections.
Of Hamon:
Au fond, Benoît Hamon incarne la continuité d'un Parti socialiste qui a accompagné les reculs successifs d'un socialisme devenu hégémonique au début des années 1980. Jean-Luc Mélenchon ouvre la voie d'une rupture dont toute la gauche pourrait bénéficier.

At root Benoît Hamon embodies continuity with a Parti Socialiste which has, since it became hegemonic since the start of the 1980s, has been marked by a succession of backward steps. Jean-Luc Mélenchon opens up the prospect of a radical break, from which all the left could benefit.
Martelli's reference to "popular sovereignty" raises perhaps one of the most serious problems about Mélenchon's campaign. The leader of La France Insoumise is not only concerned with "une majorité populaire à gauche". Or a " dose" of populism into the left, to re-occupy the field of social division, with a campaign that can express a radical protest vote.
Another Adieu au Prolétariat.
Mélenchon's ambitions extend far and wide as he asserts the need to replace the traditional strategies of the left.
In a series of writings he has talked about L'Ère du peuple in (the grandly titled)  "époque de l'Anthropocène." (the 'new epoch' in human political geography). In this perspective the old 'hierarchy' of struggles, centred on the primacy of the proletariat as a political subject, has been surpassed.
In a short history which takes him from the people as a " multitude " (without cohesion), the people/working class, as a demand-making category, we have come to the age of « networks » (réseaux). And, in France, more specifically, as he puts it himself, "réseau de soutien à ma candidature et à son programme". (Réseaux et mouvements. 7th of January 2017)
The network launched as La France Insoumise is  at the core of the electoral and social strategy. Mélenchon is engaged in an explicit effort to capture (in his terms, form), the People, in opposition to the Oligarchy, financial and globalising. It is not shaped only by economic issues, but the with the wider effects of capitalism in society: marginalisation, social division, the long series of cultural contradictions and demands of the diverse oppressed groups. Above all it aims to "net" the concept of the People, and refound the left as a movement capable of structuring it politically as a force for progressive transformation (details of the programme on their site). Membership of what might be called a permanent "rally" does not require payment, only backing.
Supporters put this project in the same political sphere as Podemos, as a movement that aims to expand the field of democratic mobilisation against the political caste (la casta), more commonly called, in French and in English, the elites.
For this venture, which draws on the writings of Ernesto Laclau and Chantal Mouffe, populism is a political logic. The objective is to unify, to create a radical democratic People, not as (it is asserted) through the forms of exclusion and division, between "us", on ethnicity or nationality and others.
Citizen-Movement and the Leader.
But, as Pierre Khalfa has observed, the "citizen-movement", La France Insoumise, charged with this objective, organised in hundreds of "groupes d'appui" (support groups) is not democratic in the sense that political parties are – in principle.  (Le peuple et le mouvement, est-ce vraiment si simple?). There are no organised confrontations between different currents of opinion; disagreements only arise over applying the 'line' in local conditions. There is, in fact,the worst form of Occupy style 'consensus politics", ruling out by fait real dissensus,  wedded to the decisions of the Chief. It is "JLM who decides". Or, as Laclau put it, the, "..the "symbolic unification of a group around an individuality" is inherent to the formation of a 'people' (Page 100. On Populist Reason 2005. ) (1)
Critics point to the lack of coherence in the definition of the would-be "people" a vast category with many internal conflicts between social groups. They also state that it is also highly unlikely that the ambition to remould populist resentment, expressed and solidly articulated in the Front National's nationalist attacks on globalisation and a whole range of groups, from Muslims to migrant workers, has struck deep into French political reality. Detaching the  'floating signifier' of the People and putting it to a new use is a hard task. It more probable, and Mélenchon's comments on Europe, migrant labour and the importance of the French 'nation', that it will end up more influenced by nationalism than become an alternative to it. Over everything lingers Pierre Khalfa put it the figure of "l'homme providentiel", the Man of Destiny. (Le populisme de gauche, un oxymore dangereux).
In these conditions it is little wonder that many of the French  left are not just wary of Mélenchon, but actively hostile to his entire project.
It is equally not surprising that elsewhere would-be People's Leaders, like George Galloway in Britain, have warmed to La France Insoumise.
****
(1)Le peuple et le « mouvement. Jean-Luc Mélenchon (2.11.16. Blog).
"Il n'y a pas de carte. Il ne peut y avoir des cotisations mais seulement des participations financières à l'action c'est-à-dire des dons ou des versements réguliers pendant la durée de celle-ci. Il n'y a pas d'autre discipline que celle de l'action, c'est-à-dire celle que chacun s'impose dans l'action individuelle ou collective." In other words, la France Insoumise is devoted to the "action" of getting votes.