Posts Tagged 'Fascism'
"A virus that is less dangerous than the flu, is being used as an excuse to turn the world into a new kind of global communism."
Pursuing our exploration into confusionist right 'left', and extreme right, this is the latest:
The creator of the rapidly growing 'Sabmyk Network' is said to be a Berlin art dealer with a record of media manipulation.
They face competition from this rival cult (Hat-To Trev).
Mask mandatory? Social distancing? Lockdown after lockdown? Loneliness and depression? Forced vaccination? Ruined businesses and livelihoods? Silent genocide through depopulation? We say NO! We have recognised that the covid restrictions are destructive and deeply dehumanising. A virus that is less dangerous than the flu, is being used as an excuse to turn the world into a new kind of global communism. For the sake of our children, and their children, we peacefully resist this evil evolvement. We say NO! to new normal because it is entirely abnormal and inhumane.
This is deeply distasteful:
In the midst of World War II a German underground movement called Die Weisse Rose (The White Rose) distributed leaflets calling on people to passively resist the Nazi regime.

One of their leaflets stated that every single human is entitled to a practical government that guarantees the freedom of every single person and the wellbeing of the community. Every human should be able to reach their natural goal, their earthly joy, autonomously and by their own accord. The White Rose spoke to people's conscience and urged them to wake up from their dangerous lethargy.

…

Even though, we are not suffering the lack of food or the danger of bombs dropping on our homes, there are remarkable parallels in The White Rose's appeal to the current coronavirus crisis. All around the world we have been brainwashed into panic over a virus from which the vast majority of people don't get ill of, yet alone die of. Listen to the experts—doctors, professors, virologists and epidemiologists—who explain why lockdowns are pointless. We have always lived with viruses, and we will need to live with this one too.
Covid-19 is not more dangerous than the seasonal flu. The disproportionate and dehumanising restrictions are a disgrace to humanity. People protesting against lockdowns are being arrested and treated like criminals for gathering and exercising their right of free speech.
Claire Edwards
"COVID-19" was long pre-planned in documents and simulation exercises emanating from the eugenicist Bill Gates and the Rockefeller Foundation. A platform with 200 detailed levels is provided by the World Economic Forum led by Klaus Schwab, a technocrat and promoter of transhumanism, in order to provide

detailed instructions on how the "COVID-19" pandemic is to be used to implement a global monetary reset1 and digital currency, technocracy and totalitarian government worldwide under the guise of socialism and environmentalism, with China as the model, and enslave humanity through a sinister vaccine conspiracy."
She is an old Trooper,
The video shows a woman named Claire Edwards sharing numerous conspiracies about the pandemic. The caption says that Edwards worked for the United Nations between 1999 and 2017.

A U.N. spokesperson told Reuters that Edwards did work for them as a Conference Services Officer between 29 May 1999 and 28 March 2017, but confirmed she is "no longer professionally affiliated with the United Nations."

This article will only address the primary claims in the video.

"The COVID-19 pandemic was planned by Bill Gates"

The video says: "COVID-19 was long pre-planned in documents and simulation exercises emanating from the eugenicist Bill Gates and the Rockefeller Foundation."

There is no evidence that the coronavirus pandemic was deliberately planned or that Bill Gates has any links with such a plan.

This conspiracy theory, along with other misinformation that references Gates, has already been debunked by Reuters here.

"5G spreads COVID-19"

The video says: "Wireless technology suppresses the immune system. 5G is implicated in COVID-19 through correlations between the locations of the 5G rollout and morbidity and mortality."

There is no connection between the coronavirus outbreak and possible 5G health effects.

Reuters has already disproved allegations relating to 5G here and here.

"There is no pandemic"

The video says: "There is and was no pandemic…Mortality is at a lower level than in previous years."

This is false. Reuters has debunked claims relating to annual death rates here, here and here.

As of Nov. 3, figures from the World Health Organisation (WHO) show 1,201,000 people have died globally due to COVID-19: covid19.who.int/.
Dr Vernon Coleman is a leading figure, he is also pretty well known.
Vernon Coleman (born 18 May 1946) is an English conspiracy theorist, anti-vaccination activist, AIDS denialist, blogger and novelist who writes on topics related to human health, politics and animal issues. Coleman's medical claims have been widely discredited and described as pseudoscientific. He was formerly a newspaper columnist and general practitioner
One sign of their appearance in public:
They seem to have a network,…
11 071 members
Please post photos of your sticker sightings in the chat room (t.me/thewhiterosechat), so the admins can put them up on the main channel!
Posters purporting to be from lockdown sceptic group The White Rose appeared in parts of Middleton over the weekend
Many people will feel that their use of the name the White Rose is obscence.
The White Rose (German: Weiße Rose, pronounced [ˈvaɪ̯sə ˈʁoːzə] (listen)) was a non-violent, intellectual resistance group in Nazi Germany led by a group of students from the University of Munich, including Sophie Scholl, Hans Scholl and Alexander Schmorell. The group conducted an anonymous leaflet and graffiti campaign that called for active opposition to the Nazi regime. Their activities started in Munich on 27 June 1942, and ended with the arrest of the core group by the Gestapo on 18 February 1943.[1] They, as well as other members and supporters of the group who carried on distributing the pamphlets, faced show trials by the Nazi People's Court (Volksgerichtshof), and many of them were sentenced to death or imprisonment.
Far Right Conspiracists Try to Capitalise on Vigils for Sarah Everard.
This morning in the middle of the highly recommended Going Dark, the Social Lives of Extremists, and happening upon the Chapter about QAnon, Julia Ebener I have just got to this line, "These global networks can then be leveraged for real-world mobilisation." (Page 170)
Most of us think that these ideas are off-the-wall claims about "red-pilling" (shedding the scales from the eyes) to enter the rabbit hole of conspiracy theories. Or as Ebner puts it ""how distorted the whole online space is, and how that doesn't reflect general opinions. The extremist voices usually get a megaphone for their posts." (Guardian) But when it comes to Covid Conspiracy theories we have a proof not as deadly as on-line organised Jihadism, or far-right terrorism, of how extreme right wing ideas can enter the "real-world".
They are rather shy, the British lot, about what's happening today, at the Vigil for the Voiceless, no list of speakers, not even a time and a place.
But their American friends are not so quiet.
Stephen Hall in the Ark Valley Voice reports,
In the far-right extremist ecosystem, Saturday, March 20 is being billed as a Worldwide Rally for Freedom Day. Some may wonder – freedom from what. But far-right organizers of these rally events include grievances ranging from COVID-19 anti-vaccine sentiment, to opposition to face masks, to the continuing dispute of the 2020 election, to gun rights issues, to their perceived sense that Colorado's governor might try to limit the consumption of meat.

……

The MeWe group Colorado Patriots, a 494 member group posting regular far-right propaganda from such media as, Us Against the Media, The Federalist, and Breitbart, have been promoting the worldwide event with commentary such as (emphasis theirs): "RED ALERT PATRIOTS, VERY IMPORTANT,… ESPECIALLY IF YOU LOVE FREEDOM AND OPPOSE INSIDIOUS LOCKDOWN REGULATIONS"

One prominent Telegram Channel (a social media favored by the far-right) that calls itself Freedom Warriors boasts that they are new "Freedom Fighters". Their symbol, a lion's head, is familiar: it is used in many far-right social media sites representing the Patriot Party, features dozens of variations on that image.

MARCH 20 "FREEDOM RALLY" AND "MEAT IN" DAY COULD COMBINE FOR INTERESTING WEEKEND IN COLORADO 
We have also learnt that:
US: Activists to rally against COVID-19 restrictions in multiple urban centers March 20
Activists plan to hold demonstrations in multiple urban centers in the US March 20, under the global "World Wide Rally for Freedom" protest campaign to denounce COVID-19-related restrictions and vaccination rollout plans in numerous countries. The following protest times and locations have been confirmed in the US..
Global March 20 Anti-Vaccine Protests Promoted by QAnon-Linked Groups
Australia:
Hundreds converge on CBD to rally against restrictions, vaccine rollout
More: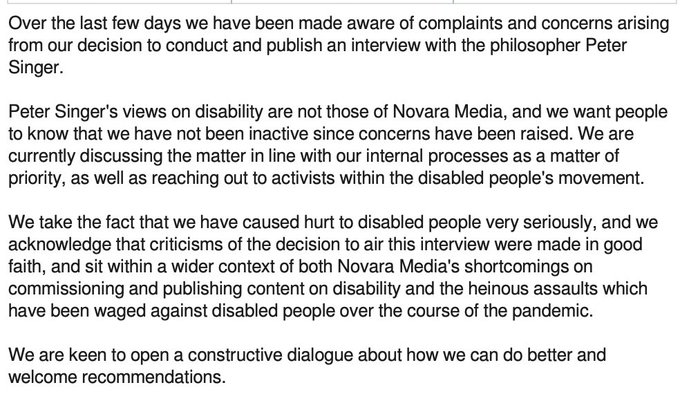 Outrage at 'alt news' site Novara Media.
Arron Bastani recently cleared his busy schedule. He does not only spend his days attacking the Labour Party criticising Keir Starmer, advising the Labour Party on the Hartlepool by-election election, and making off-the-wall 'accelerationist' comments on China.
This was the leader of Novara Media's venture into journalism.
This the reaction from some greatly respected activists.
Outraged disabled activists have criticised a left-wing media organisation for publishing an interview with a philosopher who has repeatedly advocated killing disabled babies, and for failing to challenge him on his views.

Novara Media's video interview with Peter Singer focused on his position as one of the best-known animal rights philosophers, and almost completely bypassed his views on disabled people.

When Singer's views were briefly touched on by Novara co-founder Aaron Bastani, there was no effort to challenge him on his past statements.

Instead, Bastani (pictured, above, left) asked him to respond to the "controversy" and "criticisms that you've had from people around disability activism and so on", but he failed to challenge Singer on any of the disturbing statements he had made in the past.

Singer (pictured, above, right) repeated some of those statements.

He told Bastani that "parents of children with severe disabilities and poor prognoses should have the option of ensuring that those children do not live, that they die rapidly and humanely", which he described as "a proposal".

But Bastani made no response to this and made no attempt to question this "proposal".

Anger at the interview, both the decision to publish it and the way it was conducted by Bastani, was led by Disabled People Against Cuts (DPAC), which said it had caused "justifiable outrage".

DPAC is set to meet with Novara today (Thursday) "in order for our members, especially those with learning difficulties, to express their dismay, hurt, and political objections to how the interview was conducted".

Andy Greene, a member of DPAC's national steering group, said Bastani had allowed Singer to continue "without interruption, without rebuttal, without being challenged or asked to provide evidence for claims and assertions he made.

"No attempt was made to hold Peter Singer accountable in a conversation that began with the premise that disabled children's lives were worth less than others."

He added: "Unfortunately, there's nothing 'new' or 'different' about Novara Media in the eyes of many disabled people now. Only more of the same old same old.

"The same old narrative. The same old rhetoric. The same old failings."

Another DPAC activist, Lucy Burke, said: "If you are someone who needs support in daily living, if you are someone who may not be able to engage in wage labour, if you are someone whose life is characterised by a strong difference, then, for Peter Singer, you are better off dead. (And everyone around you is better off too.)
This blogger has read Peter Singer's best known book  Animal Liberation: A New Ethics for our Treatment of Animals,  and can confirm that the following first statement  is indeed the case, though even I was shocked to learn the more recent Singer claims.
For the last 40 years, Singer's views on disability have shocked and angered disabled activists and allies across the world, and have led to repeated controversies over his various appointments, interviews, publications and speaking engagements.

As a strict utilitarian, Singer has previously made it clear that he believes some disabled babies should be killed after birth, including those with haemophilia, spina bifida and Down's syndrome, because he has said they are lives "not worth living".

He has argued: "When the death of a disabled infant will lead to the birth of another infant with better prospects of a happy life, the total amount of happiness will be greater if the disabled infant is killed.

"The loss of happy life for the first infant is outweighed by the gain of a happier life for the second."

Singer has also suggested that, if it had been his choice, he would have wanted his mother, who had Alzheimer's disease, to be given a lethal injection in the last months of her life.

And more recently he has suggested that it might not be wrong to rape a person with learning difficulties and high support needs if they do not have capacity to consent to sex.
They state,
A DPAC spokesperson said: "We are disappointed that prior to this incident Novara had consistently failed to take up advice from individual DPAC members concerning the importance of acquaintance with the social model of disability and the particular form of oppression that disabled people face.
Disabled People Against Cuts statement on Novara interview with Peter Singer
 We are disappointed that prior to this incident Novara had consistently failed to take up advice from individual DPAC members concerning the importance of acquaintance with the social model of disability and the particular form of oppression that disabled people face. This led to a situation where Singer was given a platform to express views that encourage division and hate without challenge, and at a time of rising hostility towards disabled people and the explicit devaluing of disabled people's lives that has characterised the pandemic – which we are still living through. Either the interviewer lacked even the most basic understanding of why Singer's views are problematic for disabled people or he chose not to deploy those arguments. We are not in a position to know which. DPAC members are currently drafting a longer statement to explain our objections which we hope to make publicly available next week.
Here some of Singer's beliefs.
https://twitter.com/RespectIsVital/status/1369821639114977283?s=20
Speculation is growing about how long the controversial Novara Media site will go on its present journey.