Giles Fraser, Guardian Columnist and radical Priest attacks "Cosmopolitans" and calls for New Patriotic Party – "Home".
Giles Fraser: Fighting "Rootless Cosmopolitans". 
Clergyman Giles Fraser is a bit of character.
During his time at St Paul's – as Canon – he backed the Occupy! movement.
More recently he has embarked on a journey which began with his studies of Nietzsche, then passed through his staunch denunciation of the 'atheist' French revolution, and, above all, Charlie Hebdo, who misused freedom as "white atheists to sneer at non-white believers".
Then he attacked the "The oppressive individualism of human rights."
As you do.
Pride is not normally considered a Christian virtue, but this has not stopped our Padre this week from terminating his voyage with his very own proud call for a new political party.
He begins with this lament for the past.
The Labour party began as a party for the working class, reflecting the patriotic communitarian commitments of working class people. Many who were not themselves working class were attracted to its values of fairness and social solidarity.

But towards the back end of the 20th century, the party was increasingly taken-over by those who espoused a cosmopolitan and liberal philosophy of individualism that was too relaxed about the effect of market forces and indifferent to the importance of communal life.

There was a dangerous hubris about the way liberals accepted no limit to individual self-assertion. Under the banner of progress and spreading liberal values, we invaded Iraq and brought the world to the very edge of another world war.

Enough is enough. It's time for a new political party. My one would be called Home. It wants a United Kingdom that is generous at home and reluctant to intervene abroad.
Liberals, human rights – all vanity.
In touch with Twilight of the Gods Fraser has thus spake.
Let's Concentrate on Home
Home is a party that accepts we are no longer a global power. The empire is long behind us, and, therefore, we do not need an expensive global military to go with it. We would immediately cancel Trident and substantially reduce our budget for the armed forces. We will be extremely cautious about foreign military interventions. Withdraw all forces from the Middle East. We need more police and fewer soldiers.

Exit EU, without a deal if necessary: no to the Single Market, no to the Custom's Union. We must have a home of our own, and others should respect we have our own way of doing things. We need a British Bill of Responsibilities and Rights. The seat of government should move to Manchester during the refurbishment of the Houses of Parliament, and an English Parliament should remain there when the United Kingdom government returns to Westminster.

…

Home is a patriotic party. Not narrowly nationalist, but nonetheless proud of our heritage. It believes in stable communities, full of people who are very definitely citizens of somewhere. Deracinated cosmopolitanism, and its accompanying philosophy of liberalism, has transformed us into a society of atomised individuals, cut off from each other and ill at ease together. Home is a proposal for the fightback.
Liberalism has broken us – we need a new party to call Home.  7th of June.
This looks, probably because as it is, like 1930s neo-socialism, a half-way house to the nationalist far right.
Fraser is only one anti-EU figures to go in this direction.
Sovereigntism, a "home of our own" is the maison commune of many an anti-globaliser.
Communities, the real destination of the once influential communitarian thought of Michael Sandel and others, end up being exclusionary Nation States for all this fretting Man of the Cloth's warm words.
Fightback Forsooth!
Rootless Cosmopolitans. 
There are those, less enchanted, and full of resentiment who have picked up on some of his language.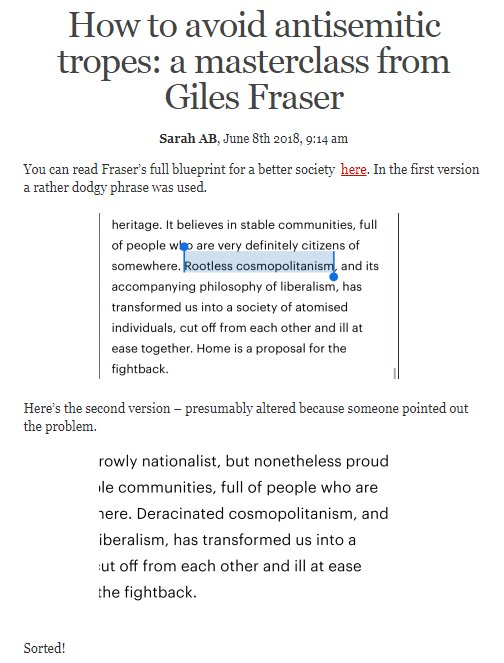 Here is a recent example of how Fraser is Beyond Good and Evil.
8 Responses