Archive for the 'Free Speech' Category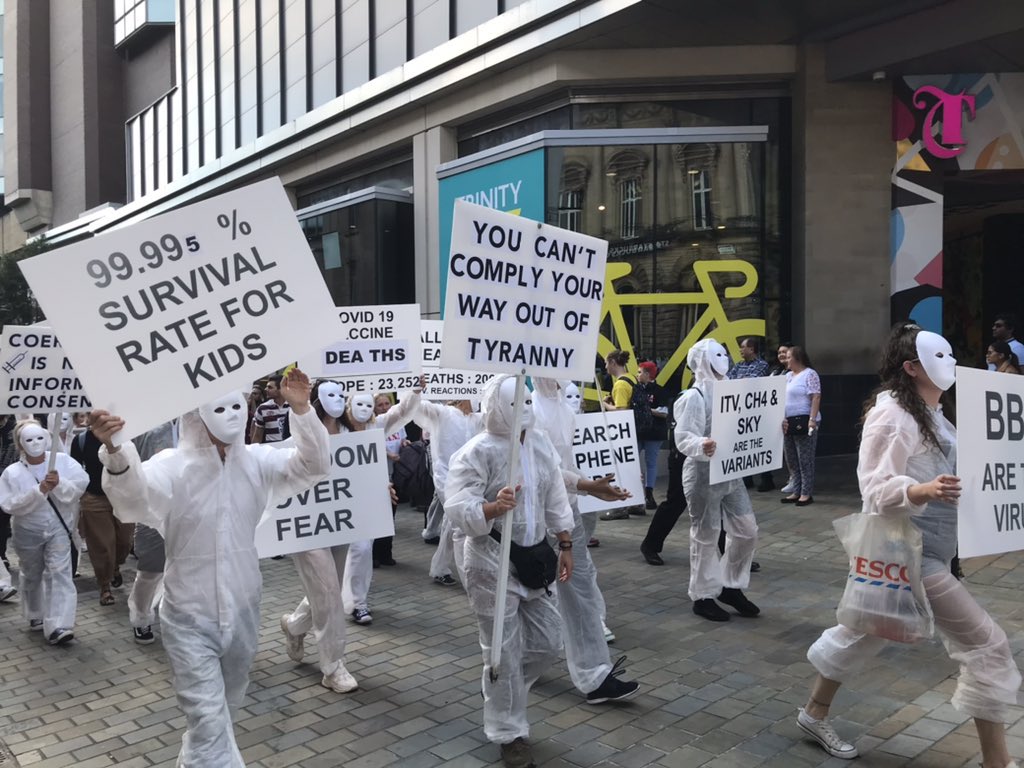 Indiana Jones: Confusionists: I hate these guys.
In an in-depth, important, article on the French anti-Health Pass movement John Barzman notes, the increased influence of the confusionist, conspiracy movements and far-right parties and action groups.." (French Anti-Pass Demonstrations. September 16, 2021).
Today saw this: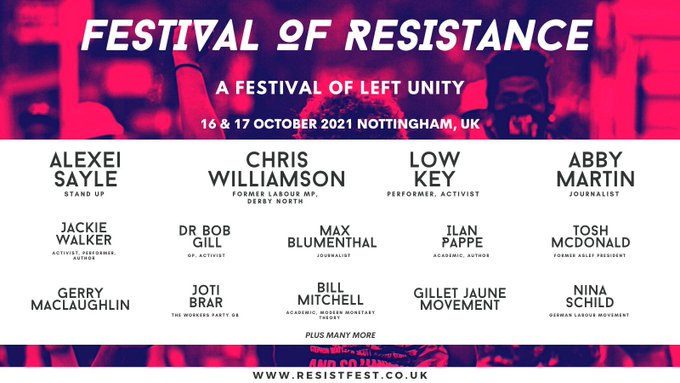 Confusionnistes Barely Covers This One.
Joti Brar:
Head of the Stalin fan-club and pro-North Korea Communist Party of Great Britain (Marxist-Leninist) Joti Brar
Max Blumenthal is an American journalist, author, blogger and filmmaker. Max established 'The Grayzone' in December 2015; he is the website's editor and one of its contributors. Max appears regularly on independent media platforms, including ResistanceTV and The Jimmy Dore Show. The Grayzone investigative journalists host channels on YouTube at The Grayzone and their website is https://thegrayzone.com/
Abby Martin is an American journalist, TV presenter and activist. She helped found the Citizen journalism website 'Media Roots' and serves on the board of directors for the 'Media Freedom Foundation', which manages 'Project Censored'. Abby also hosts her own YouTube Channel 'Empire Files' https://www.youtube.com/c/EmpireFiles
9/11 Truth movement
In 2008, Martin was part of the 9/11 Truth movement,[13][14][15][16][17] starting her own 9/11 Truther group in San Diego.[18][19] In a 2008 video of a 9/11 truth movement demonstration, she said: "I've researched it for three years and every single thing that I uncover solidifies my belief that it was an inside job and that our government was complicit in what happened."[20]

Shortly after beginning her show on RT, Martin stated in an interview with Mark Crispin Miller that "the media dismisses things that are too controversial as conspiracy theory".[21] In March 2014, Martin told the Associated Press that she "no longer subscribes" to the theory that 9/11 was an inside job, as she had earlier.[22
However,
" in recent years she has moved away from the more extreme elements of the 9/11 truth movement."
Then there's this Funny Money Crank.
Bill Mitchell is a professor of economics at the University of Newcastle, New South Wales, Australia, and Docent Professor of Global Political Economy at the University of Helsinki, Finland. He is one of the founding developers of Modern Monetary Theory.
Why the Leave victory is a great outcome.
Bill Mitchell – Modern Monetary Theory 2016.
Macroeconomic research, teaching and advocacy
GILLET JAUNES MOVEMENT
Well-established rumour has it that this will be Fly Rider, real name, Maxime Nicolle , born in 1987 in Limoges , is a French activist who is one of the main figures of the yellow vests movement. Is he the "Movement" that will speak?
(automatic translation)
presented by the media as adhering to conspiracy theories 3 and relaying them in his communications, Maxime Nicolle mentions in particular, the Dec 3, 201817 , the rumor according to which the signing of the Marrakesh Pact by President Emmanuel Macron would amount to "selling France to the UN and accepting the arrival of 480 million immigrants in Europe" 18 . He defends himself, declaring: "The conspirators, for me, they are people who fabricate. What I am saying has been seen and filmed 6 " . But he admits to not trusting " mainstream media " , and relying on "what people say" in Facebook groups 3 . However, France Info analyzes the" Significant number of false information or unverifiable rumors" that Maxime Nicolle relays – the infox on the Marrakesh Pact being considered by France Info as one of the "most fanciful which circulates persistently in the Facebook groups of yellow vests " 19 .

In a video by december 2018, Maxime Nicolle affirms to have consulted the documents of a certain "Mr. X" which would prove the existence of a "lobby of the lobbies" able to start "the nuclear war" 20 . theDecember 6, he organizes a meeting with "Mr. X" and a few yellow vests, filmed in " Facebook live" from two hours 21 , and which, according to Le Parisien , is "punctuated by multiple eccentric theories" 22 . The conference is described by the press as "strange" 23 , "delusional" 24 , "chaotic" 25 , "astonishing" 21 , "hallucinating" 22 , "bad joke" 25 .

In a video broadcast in february 2019, he attacks the Freemasons he accuses of plotting, adding that Emmanuel Macron would be a pawn raised to his post by "the lobbies, and all the little friends he has in Freemasonry" . However, this speech is far from gaining the consent of a majority of yellow vests 26 .

the March 24, 2019he relays in a video posted on Facebook a rumor according to which Roma are trying to kidnap children, a false rumor since the police quickly explain that no kidnappings have been reported, but which nevertheless triggers a surge of violence against Roma " with real lynching scenes " 20 .
Man of deep principle: Tosh McDonald, a friend and ally of former leader Jeremy Corbyn,
March 2021.
The now independent councillor, who joins his wife Nikki following her resignation from the party, said he will 'encourage anyone who rides a powered two wheeler not to vote for any Labour candidates' in the upcoming elections and added that Labour controlled authorities are an 'unsafe place for motorcycle riders'.
Prominent Marxist historian Alexei Sayle has many followers in the radical intelligentsia.
Perhaps there are some serious people appearing. But the name of the host, Chris Williamson, should have warned anybody on the left away.
Last General Election, 2019.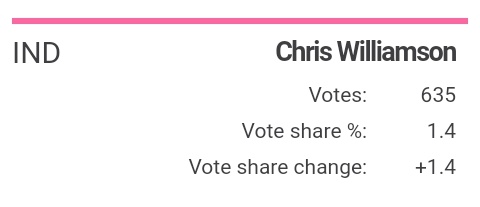 Law's Most Recent Meeting, 28th of August.
t's a sad day when the Newshounds have had to rely on the Spectator for first sight of this information. But in fact Greenstein has provided an insight into this debate, all on his own, extracts from which this Blog kindly reproduces without asking anybody's opinion..
29 August 2021, 11:12am
The not-so-great and good of the onetime Labour left were out in force last night, as members of Labour Against the Witchhunt (LAW) held a Zoom meeting to determine whether they should create a new party. A motion put forward by Tony Greenstein – who last month declared himself bankrupt after losing his "notorious antisemite" legal battle – called for 'a socialist movement' to 'keep activists in the Corbyn Project together, with a view to forming a distinct socialist party in the near future.'

Much to Starmer's chagrin no doubt, attendees voted narrowly against such a proposal by 31 votes to 40, despite the motion claiming that within Labour 'there is no longer any possibility that someone facing expulsion can challenge their accusers.' Documents prepared for the meeting did however claim some success from Labour's shift in stance on this issue, writing that: 'the recent growth in LAW's membership following the NEC's re-introduction of bans and proscriptions in July shows the potential that exists for our campaign against the witch-hunt.' Hmmm.

stead the steering committee has endorsed a strategy which depends on 'winning the Socialist Campaign Group of MPs, Momentum, CLPD, etc, to adopt a militant, a principled, an unambiguous stance against the witch-hunt.' Other items on the agenda were plans to disrupt Labour's conference next month in Brighton. The group is seeking to recruit delegates and attendees to 'help plan our various interventions, inside and outside of conference' with co-ordination done via email and WhatsApp.
Greenstein writes,
It would seem that the Spectator had a mole at the meeting! Its account is published here. It would seek that some sad nerd spends his time doing little else than attending the meetings of groups. This is the nerd in his own words and this is an interview with him in The Critic.

The most revealing comment is in his article Infiltrating the Left where he says:

Of course what mole doesn't reveal is who is paying him and his relationship to the secret state. My assumption throughout is that mole is a man.
Key Point: this Blog, Tendance Coatesy, strongly opposes the present wave of 'automatic exclusions/expulsions'.
This statement from the Alliance for Workers' Liberty puts the case against it well:
Oppose Labour's new wave of purges! Defend due process!
Actions like "contributing written material to the website" of one of the groups (which, it turns out, can include being interviewed), "participating in an event" (a public, open, one), or "repeatedly [how often?] liking or sharing content on social media" are being cited as grounds for exclusion with no hearing or right of appeal. Those sent letters on 13 August are asked for "evidence" that they are not supporters of such-and-such group, i.e. told they will be considered guilty until they can "prove" themselves innocent.

We have no brief for three of the groups banned, and many criticisms of the fourth, Socialist Appeal. But the bans negate all due process. They are a hardening of the current catch-all rule, used against hundreds or thousands of members in 2015 and 2016 and a number in 2020-2, which says that people can be auto-excluded for "support" (interpreted widely) for any political association other than an "official Labour group"
In his own words Greenstein gives his account of the LAW event giving details that the Spectator misses.
LAW votes narrowly not to support setting up a socialist movement but votes to uphold No Platform for Fascists
Update
LAW held its All Members Meeting last Saturday night with over 100 members attending. The agenda and a record of the decisions are here. This is a brief report on what took place.
"The stupidity of much of the Labour left coupled with its cowardice has led to the present situation of automatic expulsions, where due process and natural justice have been abolished. "
Greenstein gives an example of these poltroons' activity,
LAW has also participated, not without problems, in an organisation Labour Left for Socialism. LLS has published a statement signed by 15 organisations, some of which, such as CLPD have effectively been complicit in the witchhunt. Now of course people and organisations can learn the error of their ways, but the question unfortunately they haven't.

After prolonged discussion LAW's Steering Committee agreed to send two delegates to this organisation and to agree to the statement yet strangely enough LAW's name has been left off the statement. What is even worse is that the statement contains the following weasel words. LLS 'stand(s) in solidarity with every grouping that is proscribed solely for holding socialist views.' What this meant is that of the 3 proscribed Labour Party organisations LLS only supports one of those organisation, Socialist Appeal.
He continues,
Because LAW and LIEN have been proscribed for their opposition to the fake anti-Semitism witchhunt and this statement effectively refuses to support them. Stan Keable, the CPGB secretary of LAW sent an email to (LLS) expressing his 'disappointment' with them.

When I saw this anaemic email I immediately sent a somewhat stronger email saying that:

'it really is disgraceful that Labour Against the Witchhunt, one of the proscribed groups, has been deliberately left off the joint statement by Don't Leave Organise, that purports to oppose the proscriptions but instead introduces the following weasel words:

'We stand firmly against proscriptions, and stand in solidarity with every grouping that is proscribed solely for holding socialist views.'

Unfortunately the co-Chair of LAW, CPGB supporter Tina Werkman (sic) took exception to my blunt words and at an emergency Steering Committee moved that I be removed as a delegate to LFS. My replacement has since decided not to take up his place as delegate, yet Ms Werkman, instead of proposing that I be restored as delegate has proposed that LAW just send one delegate, the CPGB's Stan Keable. None of this was reported to the AMM meeting
The news here is that Tina Werkmann (who has been Vice Chair LAW and now seems promoted, is Greenstein still a Vice-Chair?) seems back in the CPGB (PCC) fold – rumour had it that she had distanced herself from them. One is tempted to say that she has better judgement than Greenstein, but that is not a hard to find quality.
This is Greenstein, saying out loud what some of us, perhaps many of us, know all too well>
Although over 100 people attended the meeting and there were some good debates, it cannot be said that the meeting responded adequately to the needs of the hour. Partly this was because of the disarray of LAW's Steering Committee whose 6 members are grossly unrepresentative of the organisation. LAW has had hundreds of new members since Starmer outlawed us yet 50% of the Steering Committee are members or supporters of the tiny Communist Party of Great Britain. I have no objection to the group per se. After all I have written for their newspaper the Weekly Worker for over 15 years, but they have a line on the Labour Party, that it was founded as a 'united front of a special kind' which is bonkers. The Fabians were amongst those that formed the Labour Party and they are and were an organisation of the liberal bourgeoisie, the Webbs and the Shaws.

The CPGB suggest that any attempts to build anything outside of Labour is doomed to failure. They follow what amounts to a rigid dogma, almost a theology. I termed them the Catholic Church of the Left at the meeting! Regardless of changing circumstances they stick to the same line. Some 120,000 members of the Labour Party have already left in disgust at the behaviour of Starmer and they have nothing to say to them apart from stay in and fight!
Those interested can read up this meandering piece by clicking on the link.
If they have not already lost the will to live this crucial bit follows:
What set the cat among the pigeons was points 8 and 9 of my motion:

8. We believe that it is essential to create a socialist movement, that encompasses people inside and outside the Labour Party, which will keep activists in the Corbyn Project together, with a view to forming a distinct socialist party in the near future.

9. We believe that the time has come when socialists in trade unions should argue for disaffiliation from a party that is now part of the neo-liberal consensus.

In other words I called for the formation of a socialist movement which encompassed both those in and those who have left the Labour Party. It did not call for the formation of a new party today but said that that should be on the agenda in the near future.
He continues,
Of course this was anathema to the CPGB for whom devotion to the Labour Party is an article of faith. Contemplating a break from the Labour Party is akin to committing idolatry in the temple. It is heresy in any language.

Despite my fear of being cast into perdition, the CPGB motion obtained 40 votes to 31 for my motion. In other words 44% of those voting agreed with me that it was not enough to call people to fight in a Labour Party where democracy has been abolished.

I think I can make one prediction and that is this debate will not go away. What is also obvious is that membership of LAW's Steering Committee needs to be doubled. Whilst I have no objection to the CPGB having representatives on the Steering Committee, it is undemocratic for them to have effectively 50% of members when they are a small and tiny group. In other words they will have to win votes by argument not force of numbers.

Tony Greenstein
The word 'Brief' is perhaps not the best description of the report.
The CPGB (PCC) are a very small group, estimates of their membership vary from 15 to 25. They attracted a wider audience and contributors to the Weekly Worker (including this writers) from the middle of the first decade of the new millenium up till their present dérive on what they call Free Speech (yet as Greenstein notes, they also stand for No Platform for Fascists) and more broadly their 'Labour Party' orientation when many took their distance. People with long memories on the left recall their activities around the actual CPGB, not with fondness (see the final chapter of this: Enemy within: Rise and Fall of the British Communist Party Francis Beckett. 1998) Most, with a couple of exceptions (eg Stan), do not come from the old Communist Party of Great Britain tradition itself. They have newer friends. Their recent 'Communist University' attracted Dave Broder, the European Editor of the US left populist magazine, Jacobin. 'Left wing communism': a long-established disorder?' Speaker: David Broder.
This Blog has strategic and political differences, not personal ones, with them, as do most of the left, soft or radical. Despite Greenstein's rhetoric their longer-term aim is to create a mass communist party.