Archive for the 'Free Speech' Category
Far Right Station for Tip-Top News.
Former Apprentice winner Michelle was presenting a segment titled "What Matters To You?" on Tuesday when a man supposedly named Mike Hunt contacted the studio.
GB News Hilariously Trolled Live On Air After Falling For The Oldest Trick In The Book
A STRING of brands have pulled advertising from GB News just days after its launch – but will you stop buying products from the companies in protest against cancel culture?
By KATIE HARRIS
Express.co.uk readers can vote in our poll on whether they will boycott brands who have withdrawn their adverts on GB News. And let us know more about what you think in the comments section.

Ikea, Kopparberg and Octopus Energy are among companies who have withdrawn advertising from veteran broadcaster Andrew Neil's channel.
Swedish furniture giant Ikea said it had "not knowingly" advertised on GB News.

It added: "We are in the process of investigating how this may have occurred to ensure it won't happen again in future, and have suspended paid display advertising in the meantime."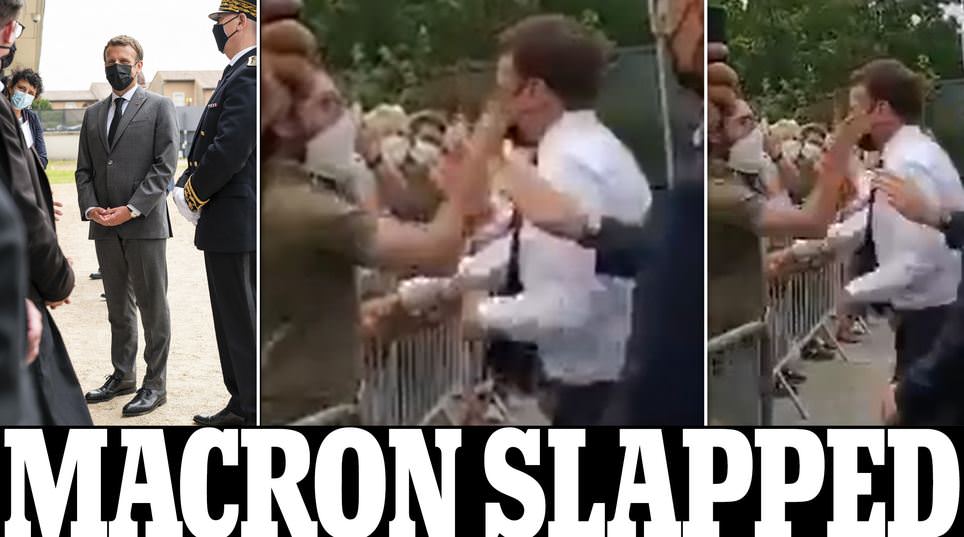 This is apparently a major news story and is Trending on Twitter.
"À bas la macronie !
BFMTV
EMMANUEL MACRON GIFLÉ LORS D'UN DÉPLACEMENT DANS LA DRÔME, DEUX PERSONNES INTERPELLÉES
Given the people revelling in this it makes you feel a slight twinge of sympathy for Macron.
Update: this Blog agrees with Cde Mélenchon.
Appel à manifester «pour les libertés et contre les idées d'extrême droite» le 12 juin
Libération
For several months now, we have observed an alarming political and social climate.
To make alliances with the extreme right or to take up their ideas is no longer a taboo. Racist and sexist words and acts in the workplace and in daily life are spreading. Attacks on social rights and freedoms are on the rise. In this political, economic, social and health context, injustices explode and generate strong social misery.
"faced with this climate of hatred, racism and attacks on individual and collective freedoms, we have collectively decided to organise on Saturday June 12 a first major national day of demonstration and mobilizations which will take place locally ".
Just to prove the first sentence former Socialist PM Manuel Valls signed this open letter with figures from the far right only a couple of weeks ago: Valls pas gêné de signer une tribune avec l'extrême droite
They included "l'intellectuelle britannique figure de l'extrême droite post 11-septembre Bat Ye'or ou encore l'avocat très très à droite Gilles-William Goldnadel (more of an ultra-conservative pro Israel supporter who writes for papers like le Figaro, roughly The Daily Telegraph/Times but certainly not somebody a left of centre person would associate with) .
Bat Ye'or!
Her books Eurabia and Europe, Globalization, and the Coming of the Universal Caliphate are about the alleged relationship from the 1970s onwards between the European Union (previously the European Economic Community) and the Arab states. Ye'or argues that Islam, anti-americanism and antisemitism hold sway over European culture and politics as a result of collaboration between radical Arabs and Muslims on one hand and fascists, socialists, Nazis, and

Nazis, and antisemitic rulers of Europe on the other.[3]
In an Haaretz profile, Adi Schwartz called her book on Eurabia Protocols of the Elders of Brussells.
Plans for the protests already making serious waves in France.
Map of Marches already planned across France: la carte des rassemblements
Support from (present list):
Syndicats : CGT, FSU, Union syndicale Solidaires, Syndicat des Avocats De France, Syndicat de la Magistrature, UNEF (Union nationale des Étudiants de France), UNL (Union nationale des Lycéens), Fidl, MNL (Mouvement national Lycéen), FSE (Fédération Syndicale Etudiante, l'Alternative, Confédération Paysanne, USP (Union Syndicale de la Psychiatrie), CNT-SO, CGT-Police, Résilience France, SNMPMI (Syndicat National des Médecins
de Protection Maternelle et Infantile)
Associations et collectifs : Attac, LDH, FCPE, Fondation Copernic, Oxfam, Alternatiba, Amis de la terre, Résilience commune, DAL, CNL (Confédération nationale du Logement), Comité justice pour ibo, Emancipation collective, Rencontre des justices, Coexister, CRAN, SOS Racisme, QNQF (Quartiers nord, Quartiers forts Marseille) , Observatoire National contre l'extrême droite, MRAP, association ViSA, Femmes égalité, Collectif National pour les Droits des Femmes, Collectif féministe Les Rosies, Les effronté.e.s, JOC (Jeunesse Ouvrière Chrétienne) , AFPS, Conseil démocratique Kurde France, FTCR, CRLDHT, UTAC, France Amérique Latine, La Jeune Garde (Lyon, Strasbourg et Paris), Université Ouverte, Unis pour le climat et la biodiversité, collectif Police Contre la Prohibition, Youth For Climate, Changer de Cap, Compagnie Jolie Môme, Mémoire Traumatique et Victimologie, Héro.ïnes95, Union des Femmes Socialistes de Turquie, La Maison des Femmes de Montreuil, CNAJEP, Les États généraux des migrations, la Libre Pensée, Les Francas
Médias : Regards, L'Humanité, Politis, Contretemps, Le Media, Blast
Organisations politiques : ENSEMBLE !, Génération.s, La France Insoumise, EELV, GDS, Nouveaux Démocrates, NPA, Place Publique, le Parti de Gauche, Nouvelle Donne, les jeunes écologistes, MJCF (Mouvement des Jeunes Communistes), UEC, PEPS, Jeunes Génération.s, Rassemblement Communiste, UCL (Union Communiste Libertaire), PCOF, MdP (Mouvement des progressistes)