Posts Tagged 'Religion'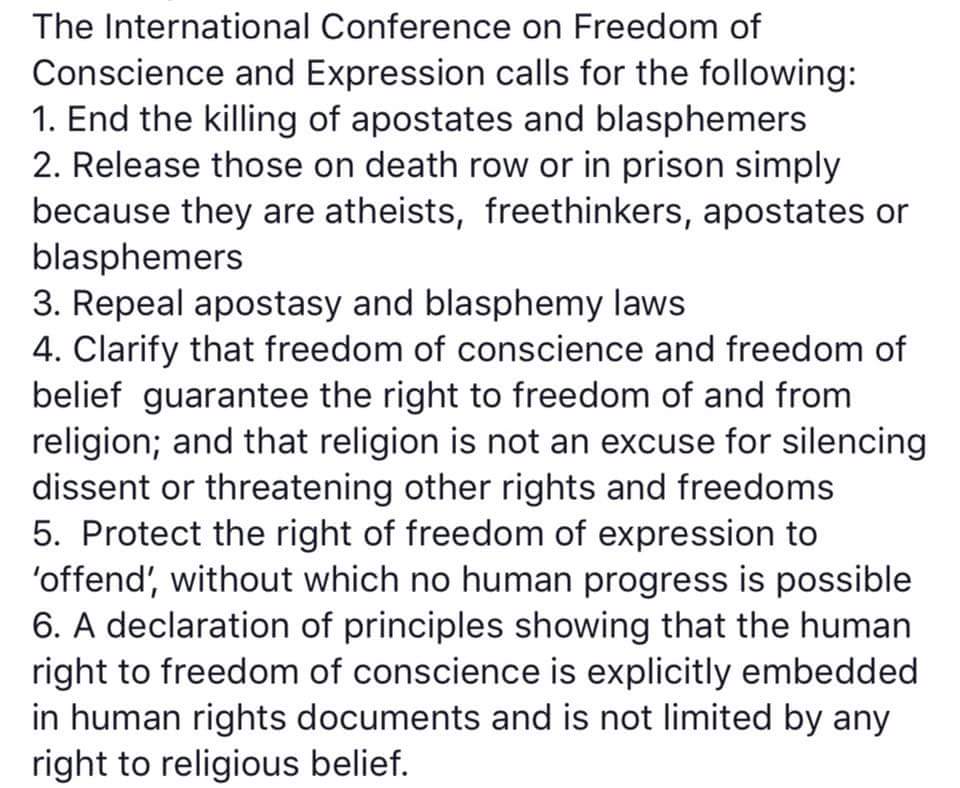 International Conference on Freedom of Conscience and Expression in the 21st Century
This is important and we extend our solidarity to those standing up for freedom of thought against religious bigotry.
The International Conference on Freedom of Conscience and Expression, the largest gathering of ex-Muslims in history, was held during 22-24 July 2017 in London.
Over 70 notable speakers from 30 countries or the Diaspora gathered in what was dubbed "The Glastonbury of Freethinkers" and "a Conference of Heroes" to honour dissenters and defend apostasy, blasphemy, and secularism.

The sold-out conference highlighted the voices of those on the frontlines of resistance – many of them persecuted and exiled – and included the first London film screening of Deeyah Khan's film, Islam's Non Believers, a public art protest of 99 balloons representing those killed or imprisoned for blasphemy and apostasy, a body-painting action, and crucial discussions and debates on Islamophobia and its use by Islamists to impose de facto blasphemy laws, the relation between Islam and Islamism as well as communalism's threat to universal rights, art as resistance and Laicite as a human rights. The conference hashtag, #IWant2BFree, trended on Twitter during the two days.

At the conference, the Council of Ex-Muslims of Britain (CEMB) honoured ten individuals to mark its tenth anniversary, namely Bangladeshi freethinker Bonya Ahmed, Saudi freethinkers Ensaf Haidar and Raif Badawi, Moroccan atheist Zineb El Rhazoui, Philosopher AC Grayling, Centre for Secular Space's Gita Sahgal and Yasmin Rehman, Algerian Sociologist Marieme Helie Lucas, Jordanian Atheists' Founder Mohammad AlKhadra, Egyptian Atheist Founder of The Black Ducks Ismail Mohamed and Author and Scientist Richard Dawkins.

The conference issued resolutions against the no-platforming of Richard Dawkins by KPFA radio station, in defence of Ismail Mohamed who was prevented from leaving Egypt to speak at the conference by the Egyptian government, and on CEMB's presence in Pride in London as well as a Declaration of Freethinkers (see below).

The event was live-streamed, which can be seen here. Professional video footage will be made available soon as well photos and more details of the event.
Report from Sedaa,  London conference sees 'largest gathering of ex-Muslims in history'.
Sedaa founder Iram Ramzan, who was co-hosting the event, said: "The conference reminded us all that there are people in the UK and around the world who are ostracised or persecuted simply for deciding to think for themselves.

"It was also noted that one does not necessarily have to be an atheist in order to be a champion of secularism. In fact, a lot of religious people at the event recognised that secularism allows them to worship in the way they want to, just as it would protect non-religious people. A secular state would remain neutral in religious affairs."
And this:
No apologies.  Maryam Namazie
This is my letter to you.

Not you, the Islamist, who wants me silent or dead whilst dreaming of your vile caliphate, nor you, the racist, who wants my Muslim and migrant family out whilst dreaming of your contemptible white, Christian Europe. To me, you are two sides of the same coin.

This is my letter to you who I should consider a friend, an ally, but who refuses to make a stand with me. You: the progressive, the anti-racist, the supposed defender of human rights.

How come your defence of freedom of conscience and expression never includes my right to reject and criticise Islam?

You exclude, bar, ban, blame and shame me – or at the very least – remain silent, simply because of who I am: an ex-Muslim, an atheist, a critic of Islam.

Of course, you have a right to your silence.

You are not responsible for my persecution. Only those who threaten, kill and harm freethinkers in countries and communities under Islamist control are directly responsible; justice, after all, can never be about placing collective blame.

But I do accuse.

I accuse you of blaming me and never the perpetrators.

They always seem to have some 'legitimate' grievance or 'hurt' sensibility that justifies their incitement to violence or mass murder.

I, on the other hand, am always at fault:

'If only I had not offended' Your religion offends me but I am still able to stand with you and defend your right to religion.

'If only I had not provoked' Islamists kill, maim, silence and I am the one provoking them by saying what I think? Is that you speaking or them?

'If only I had respected Islam' You don't respect my atheism; why must I respect your religion? In any case, one is not required to respect beliefs but the right to belief.

'If only I had kept my opinion about Islam to myself'… You do not keep your opinions to yourself. Every day, from every corner I hear how 'Islam is a religion of peace' and that 'Islamists are not practising real Islam'. Religion is shoved down my throat until I suffocate; yet I must keep my opinions to myself? Do I not also have the right to speak and think as I choose? Until Islamists stop threatening me, I will shout my atheism from every rooftop.

'I am aiding racism because I criticise Islam' Are you promoting terrorism because you defend Islam? I do not blame you for terrorism; stop blaming me for racism – which, by the way, affects me too.

Dear 'friend',

Is it really so hard to grasp that freedom of conscience is not just for the believer? That it includes the right not to believe, the right to reject Islam – publicly or otherwise. That freedom of expression is not just for those who defend and promote Islam. It is also my and our freedom to criticise Islam, mock it, and even see it as the regressive ideology of the Islamist movement.

And to do so publicly without fear.

Frankly, when I hear the Quran recited, it feels like a kick to my stomach.  It reminds me of executions in Iran and the totalitarian nightmare from which I have fled and sought refuge.

Nonetheless, I can still make a distinction between beliefs and human beings. I can still defend the right to religion; I can still stand with you against fascists of all stripes.

Why can you not defend my right to reject religion?

Why can you not stand with me?

Can you not see that freedom of religion is meaningless without freedom from religion? These are corresponding freedoms. They cannot exist fully without the other.

Maybe you can afford your silence. After all, religion and its defenders have always been privileged and freethinkers have always been persecuted throughout the ages. But I and we cannot.

Because we have no choice.

Because we have a right to think and live freely – even if it offends you.

Because if we don't speak for ourselves, who will speak for us? You certainly won't.

Because we must speak for ourselves, our loved ones, for those who cannot speak, for those who are beaten into submission in homes in London, imprisoned in Riyadh or are facing the gallows in Tehran and Karachi.

For Raif Badawi, for Sina Dehghan, Sahar Ilyasi, Ayaz Nizami, Ahmad Al-Shamri, Taimoor Raza, Avijit Roy…

Because we are the tsunami that is coming…

Yes, I don't blame you for my persecution, but I do often wonder how much of a role your victim blaming and silence play – even if unwittingly – in normalising the open season on Islam's atheists and freethinkers.

I wonder. If you were not so tolerant of the culture of offence and so intolerant of my criticism, would the world not be a different place?

I accuse.

#IWant2BFree
"Religion has ever filled the mind of man with darkness, and kept him in ignorance of his real duties and true interests. It is only by dispelling the clouds and phantoms of Religion, that we shall discover Truth, Reason, and Morality. Religion diverts us from the causes of evils, and from the remedies which nature prescribes; far from curing, it only aggravates, multiplies, and perpetuates them."  ― Paul Henri Thiry d'Holbach