Posts Tagged 'Anti-Fascism'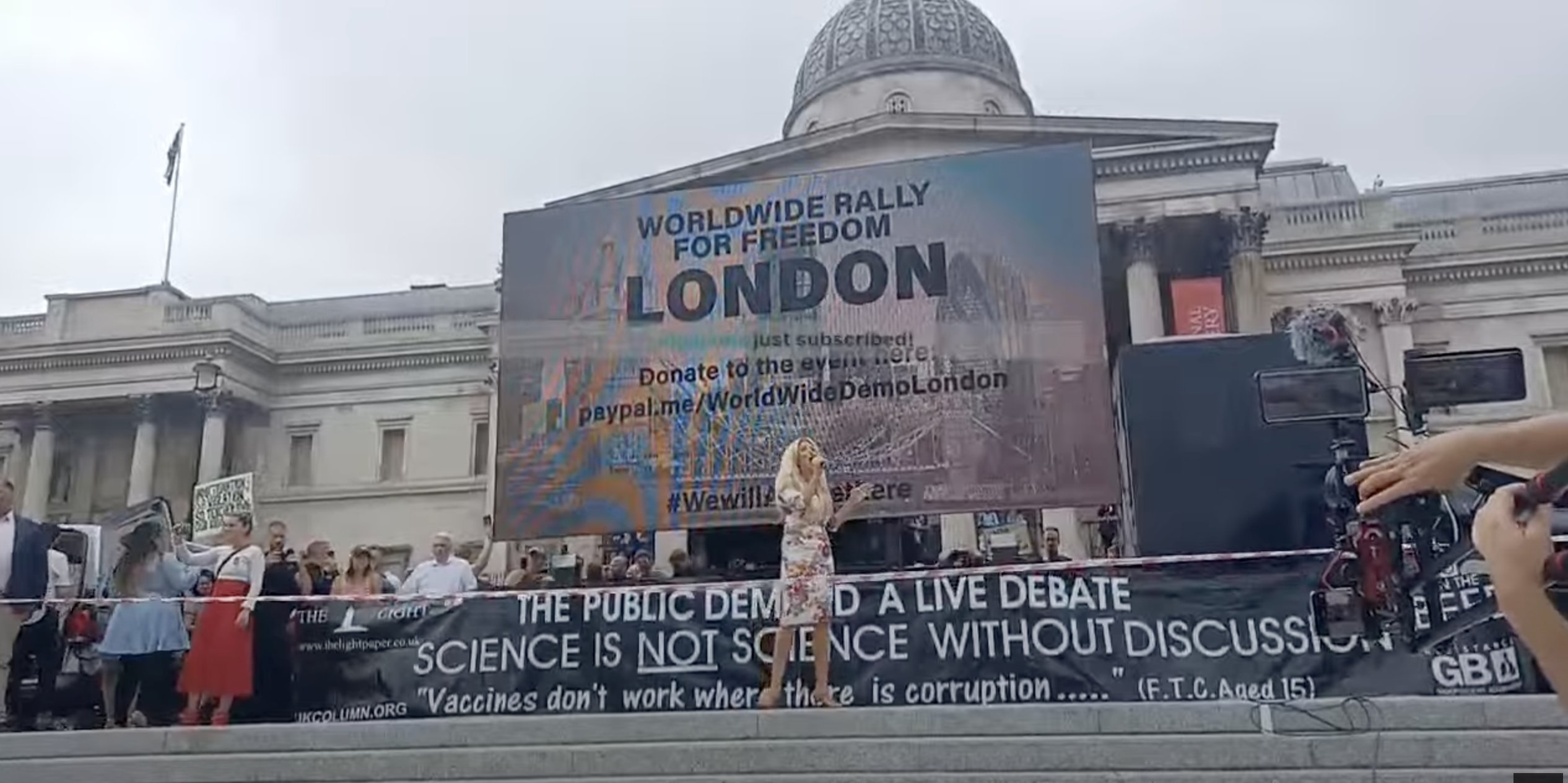 Confusionnistes soil our much-loved Trafalgar Square.
Galloway's Core Cadres; the CPGB (M-L).
From Yorkshire Live.
Defeated Batley & Spen by-election candidate George Galloway is understood to be setting up a base in the area in order to fight next year's local elections.
Campaign manager for Mr Galloway, James Giles, said support was growing and that the party was intending to set up groups across the country "from Penzance to the Shetland Islands".
The Workers Party is also embroiled in a legal tussle over the by-election and is seeking to have the result set aside. Mr Giles said it was hoping to have the case heard in the High Court.
""
Locals who lived through what has been described as a bitter and divisive by-election period say Mr Galloway's support is actually drifting away.
One said: "It was like a frenzy during the by-election but people are now realising that they've been taken for a ride.
"It's only after Galloway lost that people came to their senses. A lot are now questioning the whole thing.
"They're leaving in droves. Support is dwindling. People feel they made a mistake."
Who are the real cadres of the Workers Party of Britain?
Joti Brar@joti2gazaAnti-imperialist, scientific socialist, truthseeker, mum. Workers of the world, unite; we have a world to win! @WorkersPartyGB@CPGBMLhttp://t.me/JotiBrar
The Deputy Leader of the WPB and daughter of the former Dear Leader r of the CPBML, Harpal Brar who is now herself also the Dear Leader of the of CPB (M-L)
Galloway and the CPGB-ML: notes on a romance
Extract)
…..the CPGB-ML, if it has inherited anything from its patriarch, should not be dismissed as a mere nothing. Even though the formation of another pure Stalinist sect in 2004 was of no significance to the strategic woes of the revolutionary left, it was reasonably astute to form the CPGB-ML in 2004 in order to mop up what remained of the old 'anti-revisionist' communist milieu in the face of the terminal decline of older organisations such as the New Communist Party, the Revolutionary Communist Party of Britain (Marxist-Leninist) and the Communist Party of Britain (Marxist-Leninist). Also, the Morning Star's CPB had started to become more agnostic, at least in public, on issues such as Stalin's legacy, which annoyed some of its members. By contrast, the CPGB-ML is defiantly unambiguous in praising Stalin's Soviet Union, in a manner that echoes the personality cults of the 1930s and 1940s. Allied to this, the CPGB-ML is clearly a well-disciplined, well-financed, 'cadre' organisation that punches beyond its weight in terms of the money and commitment it gets from its members. It has obviously recruited younger members in some numbers, although there has recently been some internal controversy around the issues of identity politics and transsexual rights that I'm not qualified to comment on.
In the above organ of the 'party' they publish this statement,
The following statement was issued by the Workers Party of Britain on 27 April 2021.
*****
The Workers Party of Britain is opposed to the mandatory use of identity card documents, or digital applications, linked to personal medical information, in this instance Covid status, either by proof of vaccination or recent test result.
Workers Party statement: No to Covid passports
It is hard to tell their exact weight within the WPB, although as a centralised group they clearly play a greater role than mere foot-soldiers. The mix of 'anti-imperialism', nationalism, right wing cultural views, odd bits of libertarianism, and sovereigntist ideology masquerading as socialism is a characteristic of many other red-brown confusionniste groups.
On the far-right GB News:
Academics defend "eminent scholar" David Miller.
The prestigious site Spiked led,
I don't know what's going on inside the head of Professor David Miller of Bristol University. I do know that he is a fantasist devoted to conspiratorial thinking. I also know he hates Israel, and Jewish people who take exception to his vile polemics against Zionism. And I know that despite the distorted version of reality he promotes, and his obsessive fantasy about Zionism being responsible for the evils of the world, it is wrong to call on his university to fire him. I believe academic freedom is a foundational principle of university life and that it would be far better to challenge Miller's abhorrent views rather than suppress them.
'Educators' (educator, noun, mainly US,  a person who teaches people) and 'researchers' someone who conducts research, i.e., an organised and systematic investigation into something) have been bolder, a lot bolder…
Educators and Researchers for David Miller
Re: Academic freedom and the harassment and victimisation of Prof D Miller
We wish to express our serious concerns about the unrelenting and concerted efforts to publicly vilify our colleague Prof David Miller.

Prof Miller is an eminent scholar. He is known internationally for exposing the role that powerful actors and well-resourced, co-ordinated networks play in manipulating and stage-managing public debates, including on racism. The impact of his research on the manipulation of narratives by lobby groups has been crucial to deepening public knowledge and discourse in this area.

……….

As public intellectuals and academics, we feel duty-bound to express our solidarity with Prof Miller and to oppose such efforts to crush academic freedom. Given your roles within the University and your responsibilities to the wider academic community, we urge you to vigorously defend the principle of academic freedom and the rights to free speech and to evidence-based & research-informed public discourse. We hope that you will uphold the integrity of academic debate.

Prof Sarah Purdy Pro VC (Student Experience)
Prof Tansy Jessop Pro VC (Education)
Mr Jack Boyer Chair, Board of Trustees
Dr. Moira Hamlin Vice-Chair, Board of Trustees
Prof Judith Squires, Provost
Ms Jane Bridgwater, Director of Legal Services
Prof Simon Tormey Dean, Faculty of Social Sciences and Law

Yours truly

Professor Noam Chomsky, University of Arizona, Linguistics
Professor Judith Butler, UC Berkeley Comparative Literature
Mr. John Pilger Journalist, author, film-maker, London.

…..

Professor Roy Greenslade, City, University of London, Journalism.

….

Professor Alex Callinicos, King's College London (Emeritus)

And lots of others (see link).
Not everybody is happy:
Reminders:
And,
And another reminder:
Here is another petition by a public intellectual and expert on the Middle East;
Tony Greenstein finds time in his busy job publicly intellectualising  to comment on Tendance Coatesy:
you are a scab Jim Denham. The demand to sack a lecturer for speaking out on the oppression of Palestinians and the activities of the Israeli state via its proxies, which is what the Union of Jewish Student is, shows just how much you have degenerated politically.

Andrew Coates is no better.

You are both disgusting scabs.
Today he has expanded his field,
Being a scab Denham you wouldn't understand. However it is a widely used substitute for 'Keir' as Keir Hardie was a socialist whereas Starmer and you aren't!!
Tony Greenstein is expected to play a leading role in tomorrow's Labour in Exile Network (LIEN) Conference
Today he offers it extensive publicity on his Blog:
Labour In Exile Network Conference – This Saturday February 27th
Labour In Exile Network was formed in the wake of Jeremy Corbyn's suspension and the ensuing suspension of officers of the Labour Party who had the temerity to allow their parties to discuss such mundane matters as whether Starmer was out of his reactionary mind to suspend his predecessor.

……

To Labour's racist leader this is in itself a crime.  The only acceptable Black people to this Zionist 'without qualification' are the David Lammy's of this world.

"

LIEN has received considerable publicity in its call for an explanation from Starmer as to why he employed an Israeli spy, Assaf Kaplan, as a member of his staff, with the remit to snoop on members.

…

I sometimes despair at what I call the Stupid Left – Momentum and their fellow travellers.

…

Today even the most stupid member of Momentum realises that Starmer is a liar.

…..

The Corbyn Project attracted hundreds of thousands of people to the idea that a better world was possible.  They were betrayed by people like Jon Lansman and John McDonnell who thought they could trim their sails to the wind and bow to the ruling class 'anti-Semitism' attack that was launched against Corbyn and his supporters.
The doolally gent concludes,
Looking forward to seeing everybody

Tony Greenstein
Anybody 'stupid' or not can expect a warm welcome.