Posts Tagged 'Anti-Fascism'
Evan Smith (see, Toppled statues and the free speech culture war) asks:
Yesterday's clashes in London centred on the antics of a few thousand far-right piss-heads.
London protests: More than 100 arrests after violent clashes with police
They behaved true to type.
For those reading this Blog who are not familiar with the name Keith Palmer, the man was a true hero in every sense of the word.
Keith Palmer, GM (1968 or 1969 – 22 March 2017) was a British police officer who was posthumously awarded the George Medal, the second highest award for gallantry "not in the face of the enemy". Though unarmed, he stopped a knife-wielding terrorist from entering the Palace of Westminster during the 2017 Westminster attack; he died from wounds he received in this attack
The BBC states,
MP Tobias Ellwood, who gave first aid to PC Palmer as he lay dying after being stabbed in the grounds of Parliament by Khalid Masood in 2017, said the image of the man urinating next to the memorial was "abhorrent".

He told the BBC: "He was fully aware of what he was doing, he should step forward and apologise."
For many people, beginning with leading figures involved in the Black Lives protests, and extending to the left and  independent anti-fascists, it was not a good idea to engage in confrontations with the far right rabble.
PM Boris Johnson had been inciting opinion against BLM protests and the left.
It seems as if the Tories are more than willing to engage in a US style "culture war" – at a time when a massive recession looms .
The Guardian headlined on its front page yesterday, "Boris Johnson 'stoking fear and division' ahead of BLM protests
Critics say PM's claim that George Floyd protests 'hijacked by extremists' is dangerous".
In the same daily, Johnathan Freedland offered an account of how these cultural clashes work in the very different political culture of the US, and how they might develop in the UK,
The right loves a culture war, because such a battle changes the subject – almost always shifting from ground on which they would lose to ground on which they can win.

Let's imagine the initial focus had remained instead on a demand to tackle discrimination in policing and criminal justice, expanding to include the higher death rates from Covid-19 among black Britons. Johnson and others in power would now be on the defensive, forced to promise action.

But once the focus shifted, they could exhale with relief. Not only is a debate about statues or faulty TV shows a handy distraction from the specific injustices at the heart of all this, it also splits the coalition, even the consensus, that had, remarkably, formed in revulsion at Floyd's killing. Once statues of Gandhi and Mandela are also boarded up for their own protection, as they now are, it means precious unity has been lost.
In France the Comité Adama has taken up issues of discrimination in policing and the legal system, focusing on justice against the police (Death of Adama Traoré) See also, yesterday: Comment le comité Adama est devenu le fer de lance de la lutte contre les violences policières. BFMTV.
ITN carries the story:
Assa Traoré wears a t-shirt which says "Justice for Adama, without justice you will never have peace."

She knows the price of peace – Adama is her brother.

He died four years ago detained by French police after running away from them because he wasn't carrying his identity documents.

She has been campaigning ever since.

All these years on, the officers involved in his detention have just been cleared of any involvement in Adama's death.

That decision has triggered protests across France and led to her brother being dubbed the 'French George Floyd'.
Yesterday they also demonstrated.
Not without difficulties, as this self-policing against would-be 'casseurs' (those who attack and smash after marches)  illustrates.
Far right 'identitaries' tried to disrupt the protest.
David Lammy has taken up one of the issues  Feedland highlights:
Lammy takes an approach to the statue issues which many will agree with:
After the scuffling and fighting it is unlikely that anybody is going to want to side with yesterday's would-be defenders of Churchill.
Yet there are those who not only wish to fight the culture wars but to oppose the far-right (on this issue) in the streets,
Weyman Bennett, co convenor Stand Up To Racism said
"It is right to take a presence on the streets – we should not let the fascists go unopposed. For the past two decades we have been told when Nazis march 'ignore them and they will go away'. This simply is not true.

"Without the encouragement of Boris Johnson pretending that the issue of Bkack Lives Matter is reduced down to statues. He has not engaged on the key point about racism and its systemic nature in this society.

"Johnson's callous disregard for black people's lives in the current Coronavirus crisis and also for the mistreatment by the police and the court system, is an other attempt to reinforce racism and we must reject reject this and demand justice. No justice no peace".
Weymann Beynett is a leading member of the SWP.
Here is his plea during the EU referendum, when the SWP and the 'Lexit' left stood on the side of the hard-right and backed the Johnson, Cummings and Farage Brexit project and opposed internationalists.
Stand up to Racism: Keep racism out of the EU Referendum – Weyman Bennett
His party paper reports today:
Around 5,000 Nazis and racists gathered in Parliament Square, central London, on Saturday. Hundreds of the thugs tried to carry out a violent attack on Black Lives Matter (BLM) protesters.

It's a warning of how the British far right is hoping to initiate a right wing backlash against the BLM movement.

But they can be humbled. That was underlined late in the day on Saturday when several thousand people who had seen the pictures of the far right answered calls from musician Megaman and others to come to central London to oppose them.

…

Up to 300 supporters of Stand Up To Racism (SUTR) joined a counter-protest in Hyde Park where they faced abuse and intimidation from the far right.

..

The fascists' 5,000 was small compared to the 50,000 that came out last Saturday and the monster march last Sunday.

BLM organisers had planned another central London demonstration for this Saturday. But called it off out of fears of clashes with the far right and coronavirus concerns.

The far right may feel confident after their protest. But seeing tens of thousands of people—black, white, overwhelmingly young, and militant—on the streets is the best way to demoralise them and make sure they cannot regroup.
There are others who take an even more forthright position.
These responses do not look like calls for unity:
And there is this:
The Malcolm X Movement has a web site.
Its last pubic event was in 2017.
Here is one in 2016,
The Malcolm X Movement proudly hosts the premier of a hard-hitting, informative and inspiring look at African and Libyan popular anti-imperialist resistance entitled Nato War on Libya (53mins). We are also hosting at the same event a book launch of a collection of writings about the martyrdom of Muammar Gaddafi entitled On the Martyrdom of Muammar Gaddafi: 21st Century Fascism and Resistance. One of our MXM coordinators – Sukant Chandan is the editor of the book and the filmmaker of the doc.

The event takes place this Sat 29th Oct at 6pm at Marx Memorial Library,  EC1R 0DU (£5 suggested entry). The Libyan community are kindly and generously providing free Libyan snacks and refreshments at this event.
Italy, 'Orange Vests', "Pandemic Never Existed'.
Cast your mind back.
October 2018.
The Gilets Jaunes were a mass protest movement in France, initially demanding cheap petrol, relaxation of speed limits and low taxes they expanded into a large direct action in which serious  acts of violence, by protesters, and police, took place. They developed into a larger movement in which some far-right and radical left voices were heard This is, in this Blog's view, a fair instant summary of their ideology:
An opinion poll published by the Elabe Institute showed that in the presidential election in May 2017, 36% of the participants voted for far-right candidate Marine Le Pen and 28% for far-left candidate Jean-Luc Melenchon in the 2017 presidential elections. Five Le Monde journalists studied the yellow vests' forty-two directives[39] and concluded that two thirds were "very close" to the position of the "radical left" (Jean-Luc Mélenchon, Philippe Poutou and Nathalie Arthaud), nearly a half were "compatible with" the position of the "far right" (Nicolas Dupont-Aignan and Marine Le Pen), and that all were "very far removed" from economically "liberal" policies (Emmanuel Macron and François Fillon)
Some people on the British left admired the revolt against Macron. Some tried to imitate the activism of the 'Yellow Vests. An attempt to do so, by the groupuscule that runs the  People's Assembly, Counterfire, collapsed faced with the presence of far-right Pro-Brexit supporters clad in identical colour vests (perhaps not such a coincidence….).
We have not heard a lot about the Gilets Jaunes in recent months, although they launched a ;protest as lockdown began in France.
A couple of days ago the Gilets Jaunes most fervent UK admirers, the Red-Brown Front Spiked, carried this bleat, by Fraser Myers, .
Where was the outrage when police were maiming protesters in France?

While the rioting in the US is tacitly condoned and understood as a righteous expression of anger, the yellow vests' populist uprising was looked at with horror. The sad truth is that even when the gilets jaunes were being maimed and brutalised, they did not elicit much sympathy among the political class on these shores.
Spiked, which has recently expressed support for the far-right Vox party's demonstrations against Cornavirus restrictions in Spain (Spain is in revolt against the lockdown. This dissent is welcome., now has an opportunity to shine anew.
Remember the 'yellow vests'? Now, Italy is seeing an 'orange vests' movement that says coronavirus pandemic doesn't exist
CNBC reports,
Remember the "yellow vests" movement that brought France to a standstill in late 2018? Now, Italy is seeing its own grassroots, anti-government, populist movement: The "Orange Vests" or "Gilet Arancioni." 

Hundreds of protesters wearing orange vests or jackets gathered in Rome on Tuesday, chanting "Liberta'!" ("Liberty!") to protest the government's handling of the coronavirus crisis and calling for it to resign.

Described as a "rightist-libertarian" and "turbo populist" movement by the Italian media and modeling themselves on the yellow-vested anti-government movement seen in France, the leader of the "Orange Vests," former Carabinieri General Antonio Pappalardo, has said that the coronavirus pandemic did not exist.
The story refers to its source in La Repubblica – Il 2 Giugno dei Gilet arancioni, folla in piazza del Popolo e insulti a Mattarella – and continues,
The pandemic does not exist, it's total bulls–t," Pappalardo told a rally in Bari on Sunday, Italian news agency ANSA reported. "The coronavirus is not lethal, it only kills the already sick over 80s. Enough with the lies and falsehoods, you have terrified the Italian people," he reportedly said.

Similar demonstrations were seen in Milan and small rallies in other regional capitals at the weekend. Speaking to a crowd of orange-vested supporters on Tuesday in Rome's Piazza del Popolo — many of whom were defying a government order to maintain social distancing and to wear masks in busy public spaces — Pappalardo made similar claims, alluding to a high-profile doctor who said at the weekend that the virus "no longer exists clinically."

"Now virologists also say that this coronavirus is nonsense," Pappalardo told the crowd as he argued against the use of masks. In addition, Pappalardo called for Italy to return to using its former currency, the lira.
The comparison with the Gilets Jaunes is widespread.
The left wing daily Il Manifesto leads with the straightforward line that they are conspirationalists, conspis.
. Hundreds of people, many without masks, against the "government of terror" that "invented the Coronavirus"
The crowd  was varied, although tattoos and shaved heads predominate. Manyare  animal rights activists (especially women), and anti-vaxination campaigners.  (shouts of) "Freedom and sovereignty", "God honour and country", 
Italian Wired has denounced this demonstration of neo-fascist and 'Orange vests" as an affront to the victims of the pandemic,
In the homeland of the Gilets Jaunes the story has reached News 24.
They describe them as "right-wing libertarian" and "turbo-populist" (an endearing expression, and not a dynamic one, it's as if they are some kind of wonky petrol driven machine, spraying out noxious gases): 
Décrit comme un mouvement "de droite-libertaire" et "turbo-populiste" par les médias italiens et s'inspirant du mouvement anti-gouvernement à gilets jaunes vu en France, le chef des "gilets orange", l'ancien général des Carabiniers Antonio Pappalardo, a a déclaré que la pandémie de coronavirus n'existait pas.
One thing is clear, they are very keen on sovereignty.
RT, as ever reliable, is enthusiastic:
These protests have a lot in common with the German and other fringe movements against restrictions imposed to contain the pandemic.
And of course, the ideology of Spiked…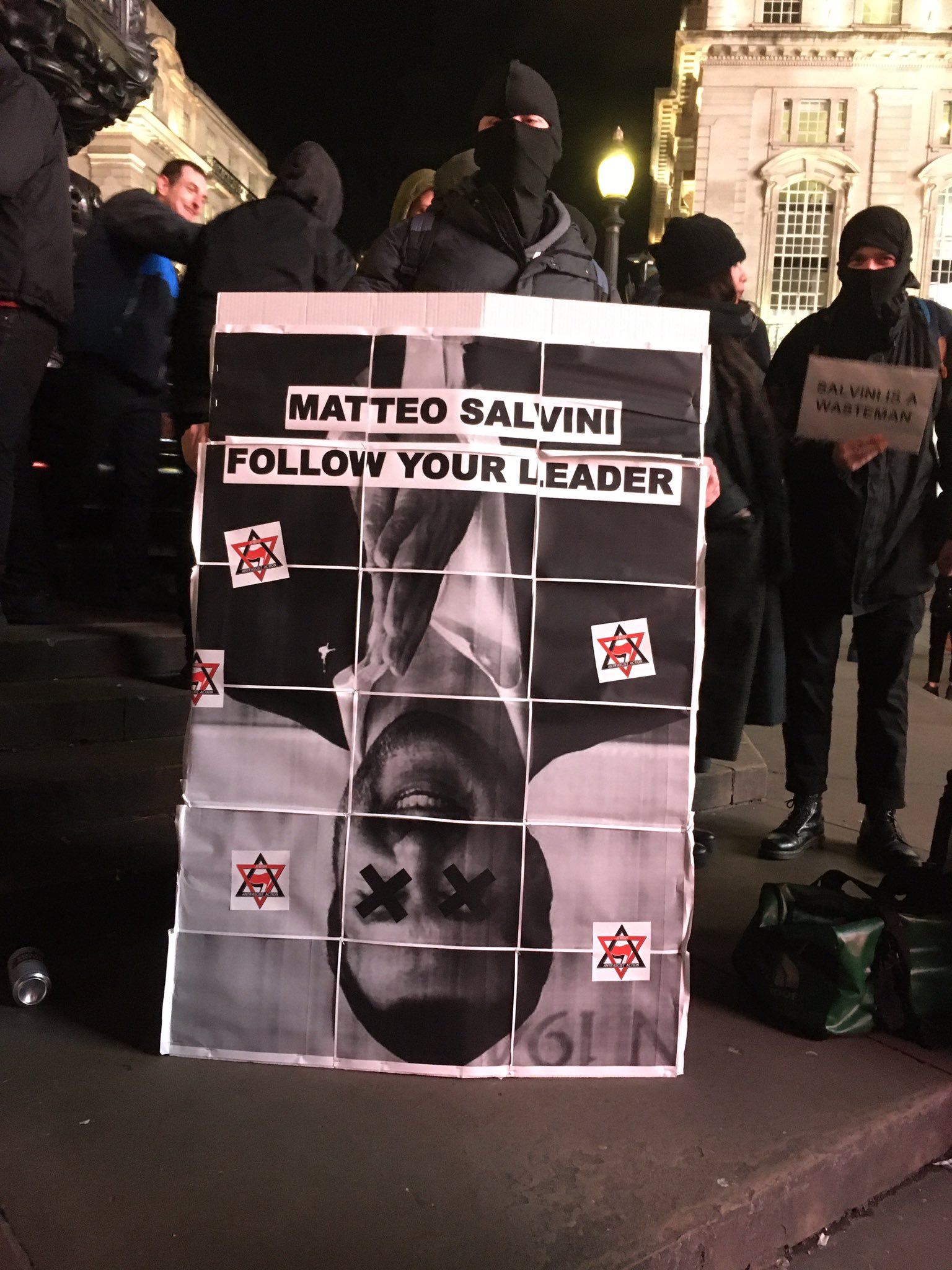 London Protests Against No-Show Salvini.
Inspired by Italy's anti-far right, and anti-Salvini movement, the Sardines, people protested in London yesterday against the visit of the Italian national populist leader to the British capital.
The fact that his flight was cancelled because of the Coronavirus did not stop people demonstrating.
This is the movement in Italy: Sardines against Salvini 
Socialist Resistance.
December 2019.
A few weeks ago four thirty year olds from Bologna were complaining about the victory of Salvini's  hard right Lega (League) in the Umbrian regional elections and the danger of him winning their traditionally left of centre region in the January elections, writes Dave Kellaway. They then did something that is typical of angry thirty year olds. They went onto social media and cooked up the Sardines idea.

Put simply, it was to fill the squares of Italy with people against the Lega.  The reference to the sea was twofold. Firstly, small fish group together in massive shoals to defend themselves against predators and secondly Salvini was the notorious interior minister who was happy to let migrants die in the Mediterranean by closing the ports.

As sometimes happens, the whole idea exploded on social media and the squares of Bologna and other places across the region were successfully taken over by huge crowds. A majority were young but people of all ages came too.

On December 3 there were 25,000 in Milan and tens of thousands in Florence and Naples. The weather has been as bad in Italy recently as it has been here.  Given that the merest hint of rain on an Italian beach sees them emptied very quickly, this showed the strength of this movement as a sea of umbrellas covered the squares.
And:  New "sardine" movement in Italy. Hugh Edwards.
Solidarity.
December 2019.
In the past few weeks, as if from nowhere, a new movement, calling itself "the sardines", has filled the squares of Italy, originating from Emilia Romagna's capital city, Bologna.

25,000 came out in Milan on Sunday 1 December, and there will be a mass national demo of all groups and organisational conference in Rome on 15 December.

Drawing in thousands of the young, and often very young, the dynamic of the mobilisation is focused against the reactionary racist extremism of Matteo Salvini and his party, La Lega nationale.
Radical anti-Fascists took part.
This is the Sardines UK.