Archive for the 'Conservatives' Category
Paul Embery, Patriotic Flags from "all Corners of the UK'   for Brexit.
Kate Hoey.
Back in March, on the day we were supposed to Leave the European Union, there was a rally at Westminster. Emotions ran high. People had travelled to London from all corners of the UK to tell Parliamentarians how angry they felt about the extension to the departure date. The cross-party platform featured speakers across a wide political spectrum and it had one aim: to call for the referendum result to be respected.

One of the best, and most carefully listened to speeches, was the one delivered by Paul Embery, on behalf of Trade Unionists Against the EU. In it, he reiterated his position on the Brexit debate – that democracy must be defended.
Sadly this befell the work, family and community gent:
…..shortly after the rally, Matt Wrack, the General Secretary of the FBU, issued a statement which said that it was outrageous that so-called Trade Union officials and Labour MPs attended joint rallies with Nigel Farage and others on the nationalist Right. In no uncertain terms, he stated: "They are a disgrace to the traditions of the Labour movement."
Now, Sputnik takes up he cudgels for one of Britain foremost critics of "rootless cosmopolitans".
Trade Unionist and Labour Activist Sacked 'For Supporting Brexit' – Tribunal Hearing
Embery says he was thrown out of the FBU after 11 years due to his vocal support for Britain's withdrawal from the European Union, after addressing a Leave Means Leave rally in London with Brexit Party leaders Nigel Farage and Richard Tice in March 2019.

The firefighter and lifelong Labour Party activist argues that the justifications given for his dismissal were "contrived, unprecedented, and perverse" and was actually down to his "pro-Brexit views and activity." he argues that the "leadership's resentment" of his prominent position as a supporter of the Leave campaign is also to blame.
Paul Embery, a man of quick parts and a deep labour movement education, was stunned to hear, "Hours before his speech at the Leave Means Leave rally (pictured), FBU's Ian Murray told him that to speak alongside Mr Farage would be a breach of union rules".
Paul Embery National Organiser for Trade Unions Against the EU and 'life long Labour activist' had such keen eyes that he could ignore that  the organisation received money from hard right money-bags Aaron Banks.
A stalwart of Blue Labour Mr Embery was welcomed on a speaking tour in 2016  by the Trade Union and Socialist Coalition (Socialist Party and RMT) to preach in his homely toiler's clothes against the European Union and support for a Leave Vote in the Referendum.
Paul Embery, London secretary of the Fire Brigades Union and national organiser of Trade Unionists Against the EU, pointed out: "The EU is rampantly pro-austerity and that approach has caused suffering throughout Europe, a collapse in living standards, the rise of the far-right and the decimation of public services."
Paul Embery is a man whose identity, who defends the  love of flag, relatives, class and creed. He charges the dissolute "Left political establishment swallowed a poisonous brew of economic and social liberalism. They have come to despise traditional working-class values of patriotism, family and faith and instead embraced globalisation, rapid demographic change and a toxic, divisive brand of identity politics."
One can only hope that other supporters of the liberty of expression, of national populism and patriotic identity politics will rally round to defend what promises to be another Free Speech War.
We look forward to hearing support for Embery from the Labour Campaign for Free Speech.
Baying Mob of Woke Statue Topplers (National Treasure Brendan O'Neill Cast into the Brink).
Alt Right Ipswich MP (KNOB, Knight Noble of Britishness) writes in Nigel Farage's favourite paper, the Express,
History of our nation must not be rewritten by baying mob of woke statue-topplers
Tom Hunt. Express.
WOKE culture seems to have become an invitation for some of our institutions to undermine social cohesion and local pride. Historic England is the latest prominent example of a once trusted body waging war against our heritage, and in particular our villages.
Villages be Warned!
They have compiled a list of sites across the country which have links to people involved in the transatlantic slave trade. With this list, Historic England has named village halls, farms, schools and parish churches going out of their way to establish even tenuous links with the transatlantic slave trade. This has included chapels where historical figures worshipped and were buried. The sites can house the graves of those who profited directly from slavery, but also their relatives.
Sacred Places!
this view is used by those who seek to denigrate our cultural heritage and vandalise our shared sacred places.
He continues,
For many, it feels Maoist and dystopian. A quiet cultural revolution administered from the top rungs of the institutions which have been tasked with the great duty of preserving our culture and beautiful buildings for centuries to come.
Great Pyramids.
Obviously, the transatlantic slave trade was a moral blight.

But it was by no means exceptional.

For thousands of years prior, slaves and serfs had been used to build great works throughout the world, from the pyramids of Giza, to the Taj Mahal, to many of the ancient Cathedrals of England which were funded by repressive regimes of serfdom. Britain was the first nation in history to confront the horrors of the global slave trade in which some of her citizens were involved.
He concludes,
It is right to condemn slavery as a great sin, but it is the wrong approach to go about auditing our towns and villages to shame people into a sense of guilt about the places in which they grew up and the buildings which have brought their communities together.
Our gumshoes are now tracing out the links between Hunt and his fellow alt-Right anti-Wokeists.
Expect Revelations!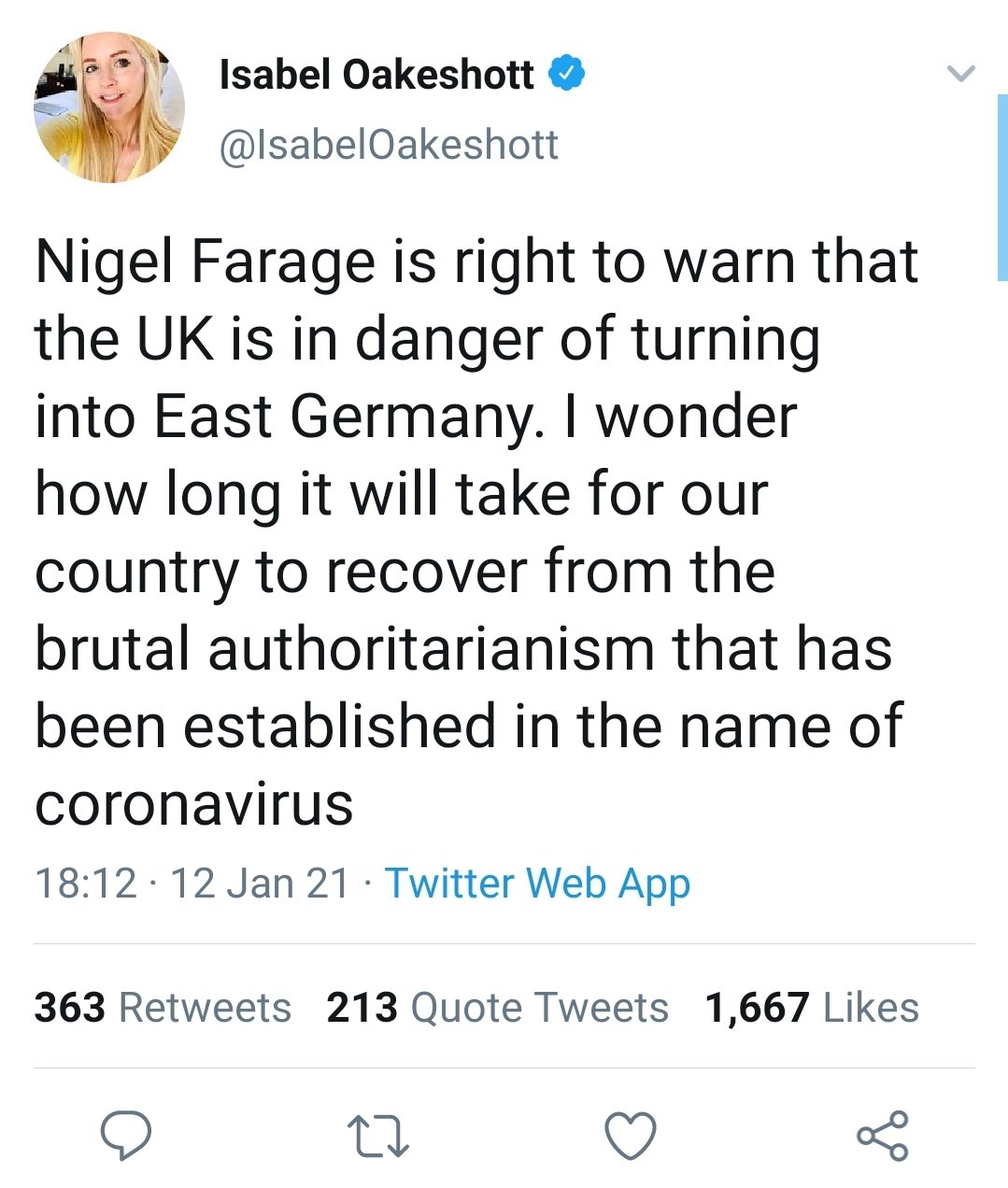 Self-identifying Heavyweight Journalist and Brexiteer Heeds Farage Call.
Nigel Farage has launched his new front, the Reform Party UK
Things are going swmmingly.
The New European reports,
Nigel Farage's new political outfit has received just 2% of support in the first poll carried out since it launched.

Reform UK – which has been shortened to REFUK by pollsters – attracted a small amount of support in new polling from Redfield & Wilton Strategies.

It is currently attracting smaller backing than the Brexit Party – which would still poll around 5% even after 'Brexit Day'.

By contrast the SNP and Green Party are on 5% of support, the Lib Dems on 8%, Labour on 37% and the Tories on 41%.
Farage has not forgotten one old friend,
Nigel Farage warns Democrats: If you 'martyr' Donald Trump what follows 'could be very sinister indeed'
But what of another, George Galloway, who is backing his own Alliance for Unity list for the next Scottish elections to Holyrood?
Looks like he has….
"Nigel Farage launches new party in Scotland to promote 'positive case for the Union'
Daily Record.
The defection means Farage has an elected politician at the Scottish Parliament

Ex Tory right-winger Michelle Ballantyne will lead Nigel Farage's new Reform UK party in a move which means he now has an MSP at Holyrood.

Ballantyne quit the Scottish Conservatives in December after clashes with the leadership on policy and direction.
Galloway, who has backed Farage's Brexit Party ( George Galloway reveals he will support Nigel Farage's Brexit Party in EU elections next month) has yet to comment.
Is there space for a new red-brown alliance, the Workers Party of Britain supplying the Red Guard for the Reform Party?
The views of other old chums, Spiked, the Living Marxism group which also supported the Brexit Party, have not been made public for the moment..
But only a couple of months ago one of their crew, Tim Black, deputy Editor Brendan O'Neil organ, gave Farage a wink and a nod,
It is apposite that it is Nigel Farage who has 

stepped forward

 as the party-political voice of lockdown scepticism, with prospective Brexit Party rebrand, Reform UK. After all, it was as the leader of UKIP that he started to give expression to a similar anti-technocratic sentiment a decade ago.
*********