Posts Tagged 'Left'
The party backs Starmer's plans as groups protest.
Labour's NEC backed the proscription of four groups at just before 7pm on Tuesday after a marathon session.
While the meeting took place, a protest outside Labour headquarters organised by groups opposing the expulsion of hundreds of members who denied claims of antisemitism in the party included a speech by Covid-denier Piers Corbyn and "notorious antisemite" Tony Greenstein.
The protest took place as the National Executive Committee was voting on whether to proscribe four Jeremy Corbyn-supporting groups which have denied the extent of Labour's antisemitism problem and which are said to promote communism.
..
Comment.
This, much as many of us on the left dislike the politics of and in some cases personally, the people involved, is a blanket ban. It is anti-democratic, and should be strongly opposed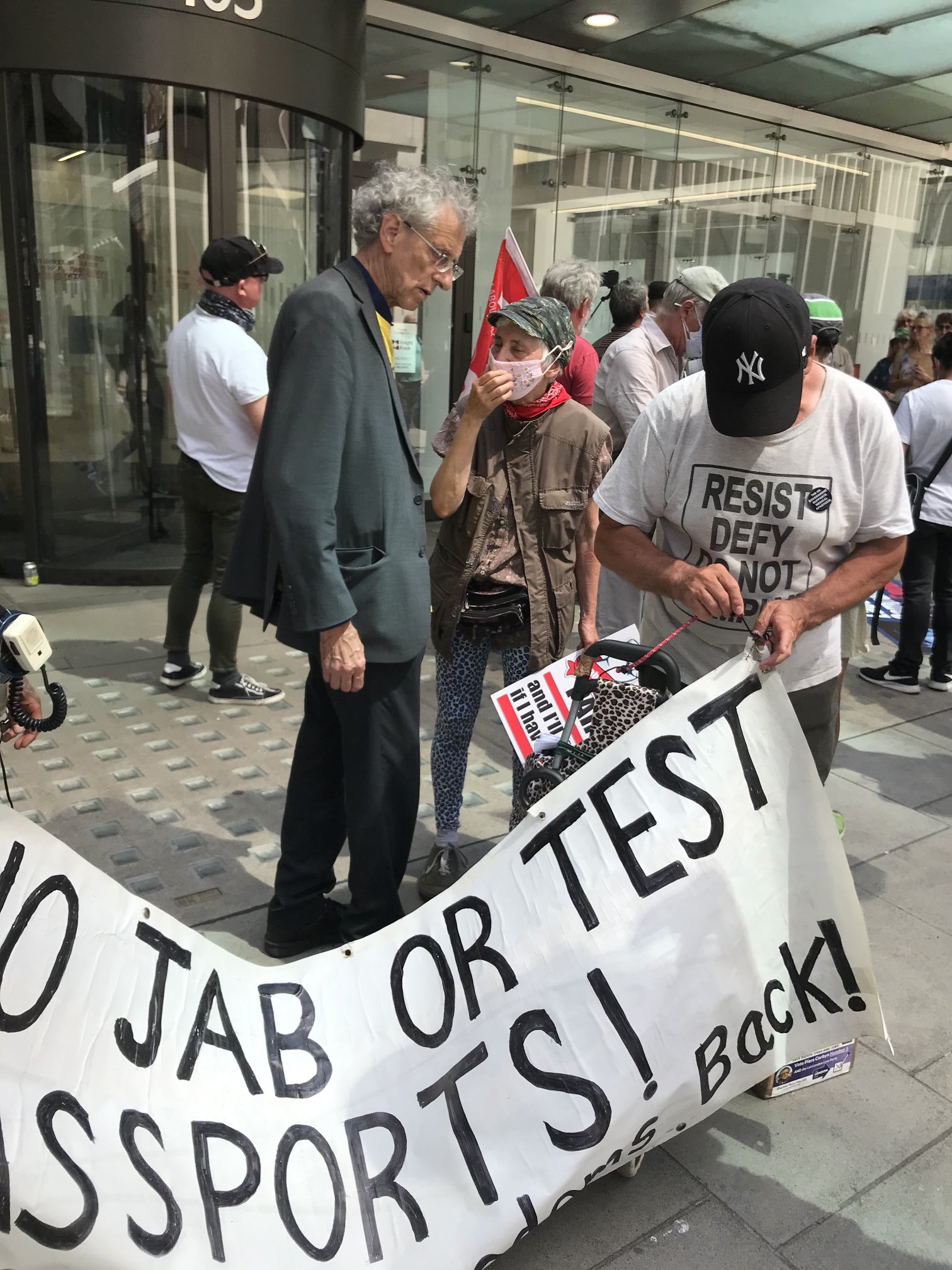 Piers Corbyn Joins Protest against Labour Plans to some Proscribe Left Groups.
While we are waiting for the NEC's decisions…..
Heiko Khoo above. This is the noted Red-Browner's background (standing for the confusionniste Let London Live anti-Lockdown slate in the London elections, led by Piers Corbyn, "Stop All Lockdowns and Covid Rules". He claims to have been in Socialist Appeal.
Heiko Khoo Let London Live candidate Central West-London
Dr. Heiko Khoo is a researcher, a journalist, and a radio producer. He organizes the highly acclaimed Karl Marx in London Walking tour (Marxwalks.com). But he is best known for his oratory at Speakers' Corner, Hyde Park, where he has spoken since 1985. Heiko 57 was born in London and lives in Ladbroke Grove.
We have spent a year under a regime of petty diktats that robbed us of our dignity and our basic rights and freedoms.
The coronavirus crisis concealed a global power grab by finance, tech and Pharma giants. It is time for the people of London to stand up to the global capitalist elites and their governments and stop this descent into dystopian madness.
Heiko is standing for the London Assembly to give voice to the anger and discontent of the people at the disaster that has befallen our city and the world. This means empowering the people to challenge state and corporate power. London has played a decisive role in world history for centuries. Now we need to stand up the powers that be and create London anew out of the wasteland.
Heiko has prepared a comprehensive document explaining the events of the last year, which you can find on www.unmask.org.uk
Here is how it began:
Jewish News.
Brother of ex Labour leader spoke alongside Tony Greenstein at demo opposing the party's actions against far-left groups whose members are accused of antisemitism
Speaking outside the Southside building in Victoria, central London, Piers initially heaped praise on Tony Greenstein – the "notorious antisemite" who was among the 100-odd activists present.

he ex Labour leader's brother then said he was present to give "100 percent support" to those he said were "being purged from the Labour Party."

He then added:"It's not just for my brother – I support his right to go back into the PLP fully, and everybody who is being purged."
As Piers continued to speak he then openly linked current attempts to tackle the pandemic with the climate under the Nazis in 1930s Germany.

At one stage he appeared to suggest compliance with the vaccine was a replica of submission to Hilter's Nazis.

"You know what happened in Germany.. they believed in Hitler, " he said.
You know what happened, the rest is history. "

Corbyn then attended that "the Jews" were "locked up" and that "the rest is ..what they were told to stay safe."
The article says, "When Piers Corbyn spoke some of the activists present attempted to distance themselves from a "Covid denier."
In the anti-vaxx/conspiracy/mad Pier's gang a speaker Heiko (above) said he, like Corbyn, was on the left.
This is the kind of the 'left' they are: 11th of July.
Laurence Fox and Piers Corbyn lead anti-lockdown and vaccine passport protests outside Wimbledon
Keir Starmer's Group in the 1980s: the International Revolutionary Marxist Tendency.
KEIR Starmer has made plans to expel 1,000 Labour Party members who are considered far left and "poisonous".
These groups have been said to promote communism, claim anti-Semitism allegations are overblown and demand the reinstatement of Jeremy Corbyn as a Labour MP.
The Labour national executive committee (NEC) meeting next Tuesday is expected to pass the new motion to ban the select groups.
The ban will affect approximately Labour Party 1,000 members who could be "auto-excluded".
These groups have been said to promote communism, claim anti-Semitism allegations are overblown and demand the reinstatement of Jeremy Corbyn as a Labour MP.
Two of the groups that will be banned are Resist and Labour Against the Witchhunt.
Another group to be proscribed are the communist leaning Socialist Appeal.
It has been reported in the Daily Mirror that anyone found to be a member of any of the four groups will face an automatic expulsion from the Labour Party.
A Party source said: "Under Corbyn, those from the far left fringes with poisonous beliefs and warped world-views were welcomed into the party.
"Keir is right to stamp out anti-Semitism and toxic extremism."
Call to widen the Purge.
,
….we hope that this is not the limit of current action on antisemitism. Other groups such as the Labour Representation Committee (whose President is John McDonnell MP) played a significant role in mainstreaming anti-Jewish racism and they too should be proscribed. Moreover, Keir Starmer must also address the provocative and inflammatory actions of some of his MPs who continue to promote the anti-Israel extremism that is described in the most recent CST report 'A Month of Hate. There is still a long way to go and much work to be done."
Socialist Appeal was formed in 1992 and was not threatened with expulsion under Tony Blair or any other previous Labour leader.
Keir Starmer was a leading figure in this small revolutionary Marxist group in the 1980s. Its international main body was, many would consider, far to the left of Socialist Appeal.
Socialist Alternatives was the British section of the International Revolutionary Marxist Tendency (IRMT), a formerly Trotskyist Pabloite group based in Paris.[1]

A small group in the UK it was best known for the Marxist magazine of the same name partially edited by Keir Starmer from 1986 to 1987.[2] The magazine is believed to have been produced by the Pabloist International Revolutionary Marxist Tendency (IRMT)[3] and advertised its events and publications, although one of the authors identified it as being an outgrowth of the Socialist Society connected with Ralph Miliband and Hilary Wainwright.[4] Paul Mason has called it a "Trotskyite front magazine"[5] although this is disputed.[4] The French Troksyite journalist Maurice Najman was also cited as a key supporter.[4]

Its politics were defined by one of its later authors Andrew Coates as being "aligned to the European 'alternative' movements of the time which stood for ecology, feminism and self-management. These were forerunners of later radical green-left groups, Los Indignados, Podemos, the left of Labour and similar currents within social democratic parties."[6]

It was described by the left wing magazine Chartist as "the human face of the hard left".[7] Peter Hitchens described Socialist Alternative's "preoccupation with sexual politics and green issues" as presaging the politics of all today's major British politicians.[8]

The magazine included articles by Michalis Raptis,[9][10][11] the leader of the International Revolutionary Marxist Tendency and the left wing Labour MP Eric Heffer, Peter Tatchell[6] as well as an interview with Tony Benn.[12][13] There were also advertisements for Michael Raptis's "Self Management Lectures"[14] and IRMT publications.[15] Keir Starmer wrote articles on the Wapping strike,[16][17] the 1986 TUC conference,[18] criticising labour leader Neil Kinnock's moves towards the market economy,[19] a book review of Eric Heffer's Labour's future,[20] Trade Unions and pluralism,[21] an interview with Tony Benn[12] and left wing approaches to local government.[22]
This call for a purge has got completely out of hand and should be strongly opposed by democratic socialists.