Posts Tagged 'Left'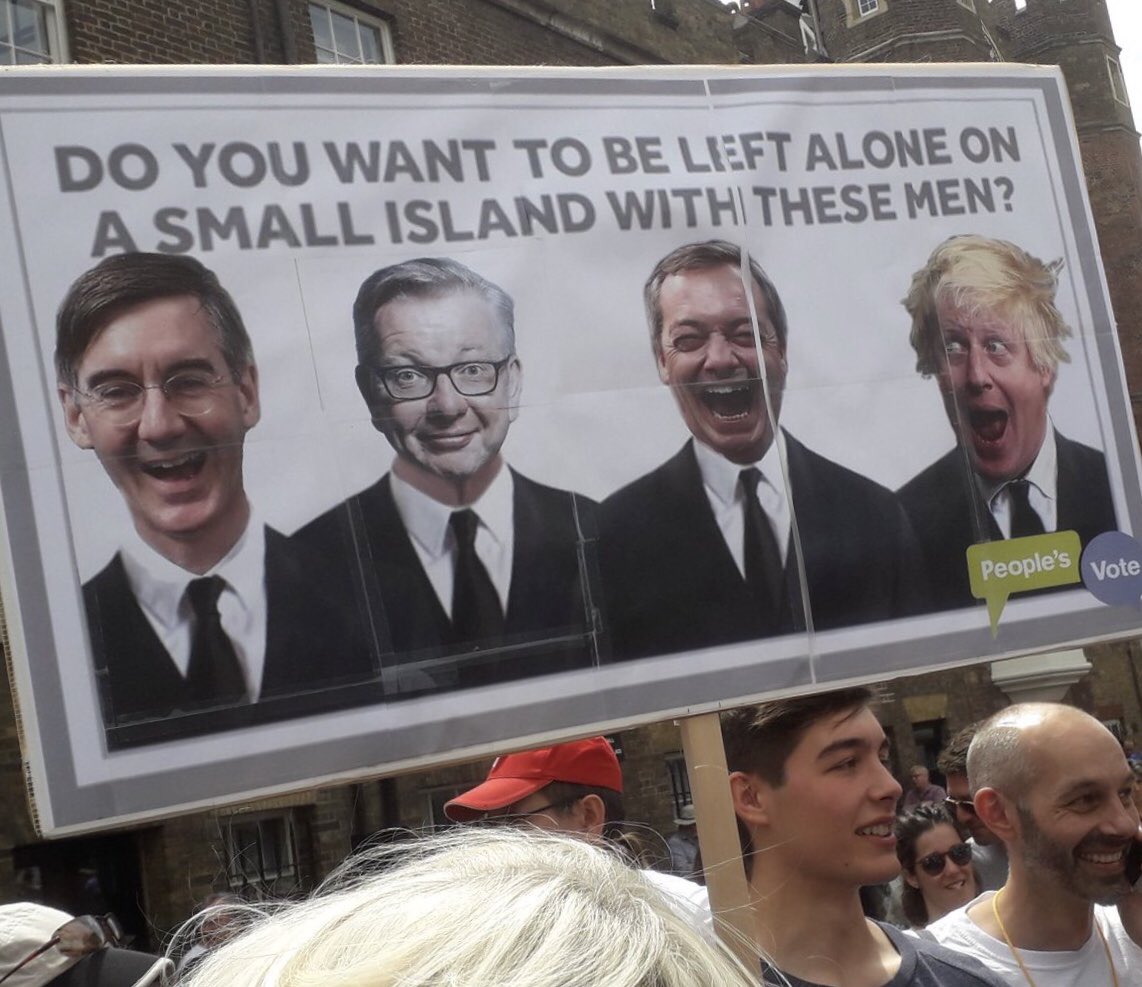 People's Vote demonstration in London culminates with speeches in Parliament Square
The rabble described below held their own Carnival of Reaction.
"The pro-Brexit march attracted a wide range of groups, from Ukip supporters to the "alt-right" White Pendragons and Generation Identity.

The mood among the pro-Brexit marchers was one of anger and defiance as far-right groups such as The White Pendragons and For Britain took their place alongside Veterans' and People's Party and Ukip with the sound of God Save the Queen and "Free Tommy" booming through the streets.

But many melted away as a long succession of speakers took to the platform with just a few thousand supporters left at the rally two hours later.

The Ukip leader Gerard Batten urged people to join the party and fight against what he saw as an imminent loss for Brexit supporters. "There is a real danger we will leave in name only," he said. "MPs don't care how many people go on this march, it doesn't affect them … the only thing that affects them is losing their seats."

Speaker after speaker followed decrying the anti-Brexit MPs and the BBC.

Anne Marie Waters, the leader of the far-right For Britain, said she was appalled that the business secretary Greg Clark was proposing to keep the borders open to keep business leaders happy. "The company's voice is not louder than ours," she said referring to the 17.4 million who voted for Brexit. "Companies, they can adjust," she added.

Waters said the BBC had "taken great pleasure" at reporting the Airbus threat to leave the country because of Brexit. "It is not because of Brexit but because of the incompetence of the government, which two years later can't tell companies what sort of Brexit they want."

Andrew Peck, a pro-Brexit and White Pendragon supporter, came from Nottingham. He described himself as a floating voter who had supported Ukip in the last elections but otherwise "whichever party was best for the NHS". "I don't want anything to do with the EU, it's nice to see lots of people like me here," he said. "
Banner Below says, Note to Police. Stop the Rape of our Kids.
The SWP reports this march without mentioning the pro-EU one…
2,500 racists march through London in a display of far right unity
Around 2,500 racists marched through central London on Saturday in another sign of the growing confidence of the British far right on the streets.

The crowd chanted, "Whose streets, our streets" as they marched from Victoria Station to Parliament. And a big focus on the march was jailed Nazi Tommy Robinson—whose supporters organised a 15,000-strong rally on Whitehall on 9 June. 

Marches broke into spontaneous chants of "Oh, Tommy, Tommy" and "We want our country back". It was a popular chant on mobilisations of the English Defence League (EDL), a group previously led by Tommy Robinson. 

The march was organised by the Democratic Football Lads Alliance (DFLA), Veterans Against Terrorism and a host of other racist groups.

The DFLA is acting as a bridge between the fascists and the racist Ukip party. Flags from Ukip were one of the most visible elements on the demonstration—much more than on previous mobilisations in recent months. 

It confirmed that the party leadership is orientating on the far right in the hope of rebuilding after its wipeout in the local elections last month. 

At the rally Ukip leader Gerrard Batten urged marchers to join the party. "If you want to change things you have to organise politically," he said. "The MPs in the House of Commons don't mind how many join a march. 

"You have to join a political party, help fight elections and win power." 
By contrast this is a good article on the context.
Building the 'Left Against Brexit'
 Michael Chessum
The Left Against Brexit is an initiative that seeks to take back what should be the common-sense left wing position on Brexit, and stand out from the more centrist establishment anti-Brexit campaigns.

David Miliband may believe speaking out with Nicky Morgan and Nick Clegg from a rice factory will do the trick. We don't.

The left has slipped back on its ideas around the EU since the referendum. A lot of the left and not just in the Labour Party, is of the view that is it better to keep your head down and hope for a Labour government to sort it out. I think that is totally misplaced for a number of reasons.

We have 18 locations lined up for the Left Against Brexit speaker tour. We would like to do more. The first are 4 July in Manchester and 11 July in London. We are on course to sell out both venues.

Organisers who were previously involved in AEIP across the UK are excited about it and we are finally getting back to some of what we did during the campaign.

Personally I want there to be a national demonstration against the Brexit bill. That would be broader then just calling for a "People's Vote". It should be based around the idea of "Block the bill". That way it would get people who don't support the "People's Vote" coming onboard.

I hope we can bring organisations including the NUS onboard in backing that.

Brexit is not just a policy. It is a project. That project comes with a narrative as to who is to blame for the crisis. It blames migrants for a crisis caused by the political and economic elite.

That narrative is kryptonite to the left and will damage us very severely in the long run, if we concede to any of it.
We're also dealing here with a process that will wreck the economy. Socialists are rightly sceptical about "doing what is good for the economy"; but here we are in going to be in a position of major austerity, and the only way for Corbyn to get out of that would be a hugely accelerated socialist programme. I would be in favour of this but I am sceptical about the Parliamentary Labour Party being willing.

Chuka Umunna and Chris Leslie are unlikely to walk through the division lobbies in favour of nationalisation and expropriation on the scale that will be needed with a major economic downturn?

The British people voted to leave the EU, and we do respect that. But the multiplicity of what Brexit meant to people means lots of different options were in effect voted for. There is now just one version of Brexit. We ask, does that version of Brexit have a majority?

Will people looking it straight in the eye say that is what they want? Or better than being in the EU?
People are allowed to change their minds.

Below the surface 80% of Labour members agree with us, and think there should be a referendum on the terms of the deal. This tour is about banging a big drum that says "we are on the left and are opposed to Brexit" and getting people to put their heads above the parapet.

There is a lot of pressure to keep your head down and stay in line with the leadership. But the leadership have never brought their policy for Brexit to conference. Corbyn has not run on a programme of supporting Brexit during his leadership elections or in the 2017 General Election.

In fact Labour has a conference position from 2016 that says that there would be a final say on the Brexit deal whether that was via referendum or a general election and that Labour should vote against the deal unless it meets its six tests.

I want to see Conference very proudly restate that and win a majority round to vote against the deal in Parliament and to support a referendum on that deal.

The underlying politics of the issue are about campaigning in favour of free movement.

We combat the idea that social problems are caused by freedom of movement and assert the need to campaign for strong trade unions, abolishing the anti-union laws, a socialist government that creates an irreversible shift in the balance of power that gives people control over their own destiny.

Rhetorically now the Labour Party is the best it has ever been on immigration, but the actual policy is no different to if Ed Miliband was still in charge! We have a triangulation to the right on immigration which must be causing Corbyn, McDonnell and Abbott some problems in their own heads. I think are probably very torn about this.

It isn't that hard for Labour to have a left wing immigration policy, defend and extend free movement, and improve people's lives at the same time. The vast majority of Brexit-supporting Labour voters and indeed Brexit supporters in general do not rank freedom of movement or even immigration as their number one issue. They rank housing, public services, wages and jobs just as much as anti Brexit people. If you give people real solutions on those things then you win time and space to convince them on other things.

Extending freedom of movement will benefit the workers' movement as a whole. If migrant workers win more rights, the levelling up will benefit everyone. The more rights you take from migrants, the more precarious they become and the more difficult it is to organise. Labour should say that it will keep free movement, improve social housing, keep wages above inflation, provide more funding in schools and increase public investment.

That is how Labour should deal with people's "immigration concerns".
My own impression, from UNITE and elsewhere, is that the prospect of damaging UK industry, from Airbus onwards, will weigh more heavily than a March on Labour's need to take an anti-Brexit stand.