Posts Tagged 'Fascists'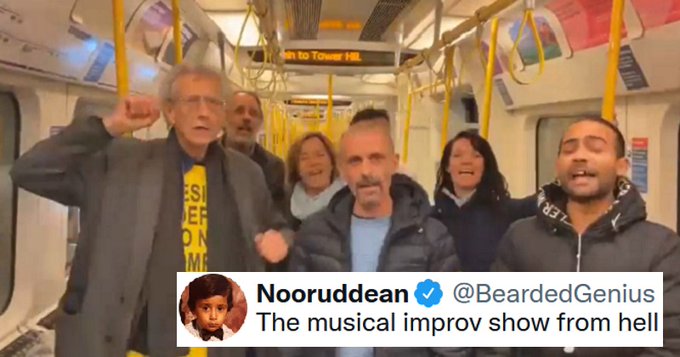 There is an anti-Vaxx sticker on a lamp-post by Bond Street next to the old County Hall in Ipswich near where I live. This year there's been a spate of similar stickers round the centre of town. This one has plumbed the depths: it's a protest against vaccinating school children. In other words, using the youngest to further their own frenzy against public health measures.
Piers Corbyn and his mates have got a reputation recently for targeting schools in their own campaign, "Anti-vaxxers have begun concentrating on kids, with Piers Corbyn yelling at London pupils in an try and scare them off getting the jab"
Is this the latest attempt by Conspiracy Corbyn to attract a youthful audience?
Here is Corbyn's Impresario:
This would be sad were it not more than a joke.
Corbyn is sometimes compared to the 'Protein Man', Stanley Green, who would parade down Oxford Street with placards calling to eat less fish, bird, meat, cheese, egg, bens, peas nuts and sitting and selling Eight Passion Proteins. A man with odd, famously odd, views, that did not harm to anybody.
But Corbyn is not just an eccentric. Nor has his relentless turn as bad penny been without consequences: his lies have helped stir the pot for a whole range of anti-Lockdown types, not just limosine libertarians but the hard far-right.
The former (very former) comrade from the International Marxist Group and brother of Jeremy Corbyn looks like the fascist that he has become.
Like the tasty geezer in the picture above.
Update: in the MSM now:
Experts wade in:
SWP Predicts End of Tories if Brexit Comes. 
In Socialist Worker today Charles Kimber lays into Jeremy Corbyn,
It's probably hard to make a good speech when you're uncomfortable with the message you're communicating.

That's why Jeremy Corbyn made such a dull and uninspiring presentation launching Labour's pro-European Union (EU) campaign last week.
The SWP National Secretary has his own unique theory as to why Corbyn calls for a Remain Vote:
It turned out the way to make Corbyn back the EU was to elect him Labour leader. He compromised to keep at least some of the right vaguely on side.

The reappointment of Pat McFadden as shadow minister for Europe was seen as the first victory for Labour's right under Corbyn's leadership. The announcement that the party would campaign to stay in the EU followed.

McFadden eventually resigned, but was replaced with another strongly pro-EU figure.
Kimber accuses Corbyn of being pivotal in moblising the 'Remain' vote.
If Corbyn backed Leave, it is highly likely that the vote would be to break from the EU. Polls suggest that Corbyn is far more trusted on the issue than Tories on either side.

His support would banish completely the myth that only the right wants to exit. He would particularly appeal to young people who presently see the EU as a left wing project.
In place of any argument about workers' rights, social Europe, or internationalism, or whatever the SWP used to dredge up as 'principled' reasons to stand for Little Britain,  Kimber places this centre stage
Corbyn insists a Leave vote would boost the right. But with the political feeling in Britain at the moment it is more likely it would see Cameron's resignation, turmoil in the Tory party, the loss of their parliamentary majority and an early election. This offers the hope of the end of the Tories before 2020, surely something to be grasped.
In other words, don't vote just against Europe, but to get rid of the Tories….by replacing Cameron by a more right-wing anti-European Tory.
One can imagine the SWP National Committee…..
The comrades are respectfully silent.
Kimber is gazing into the dialectical  crystal ball.
The Leave side has won!
The Organiser sees movement, a hideous Tory party, a gnashing of teeth, resignations, fights,  disarray, messages of international support to Socialist Worker.
A new regime, perhaps of the hardest of hard rights.
Outrage, strikes, divisions: the regime falls.
Kimber continues his divination.  An election, which will….. – here the prophecy grows dark: only the shifting shapes of masses of workers and protesters can be seen.
There's a glimmer….
2,000, perhaps 200,000 thousand copies of Socialist Worker sold!
Lowestoft recruits ten new members!
The comrades smile: the Seer of Socialism has Seen!
In French this is known as la politique du pire: the worse the better.
After the exalted visions the SWP cannot resist a sharp, but more mundane,  attack on Barack Obama.
Chief SWP theoretician Alex Callinicos finely analyses the speech of the Monarch of the global Empire,
Obama's intervention stops anyone pretending any longer that they haven't noticed where global capitalist interests are lining up. The Emperor himself has told them in words of one syllable that Brexit will harm his empire.
Meanwhile the Carnival of Reaction from the Leave camp continues:
'We want our country back' Farage rallies troops ahead of 'Independence Day' Brexit vote
NIGEL Farage has given his most rousing speech to date by declaring that a vote for Brexit will become Britain's Independence Day.
Mehdi Hassan: Died Fighting with Isis Against our Kurdish Sisters and Brothers.
The BBC has just reported.
A fourth man from Portsmouth who went to fight in Syria for Islamic State (IS) is believed to have been killed.

Mehdi Hassan, 19, travelled to the country with a group of four other men in October 2013.

A photo of his body emerged on Twitter on Friday and his family confirmed earlier to their local mosque they had received news of his death.

Iftekar Jaman, Mamunur Roshid and Hamidur Rahman have previously been killed in the fighting.

In a statement, the Foreign Office said it had not received any reports about Mr Hassan's death but was "aware of reports about the death of a British national in Syria".

'Well mannered boy'

Chairman of the Portsmouth Jami Mosque, Abdul Jalil, said: "It has been confirmed with the family that he has died. Right now they are very upset.

"I am saddened and again shocked for the community about this news."

It is thought he died in Kobane.

A family friend, who did not want to be named, told the BBC: "Mehdi Hassan was a polite well mannered boy and always spoke to elders with respect.

"He had a good family upbringing. It's a shame, he would have been a valuable member to Portsmouth society."

On 17 October, a tweet from an account believed to be linked to Mr Hassan said: "Between 20-40 us strikes daily in ayn al arab [the Syrian town of of Kobane]. Alhamdulillah they are spending $10's of billions…against themselves.
The Guardian says,
On Tuesday, it was confirmed that another of the so-called "Pompey lads" Manunur Roshid, 24, was also killed in fighting on the Syrian frontline with reports suggesting he also died in the battle to seize Kobani, which borders Turkey. Reports of their death follows that of two other Portsmouth men, Ifthekar Jaman, 23, last December and Muhammad Hamidur Rahman, 25 in August.

Hassan's death leaves Assad Uzzaman, 25, fighting in Syria with Isis while the other member of the group, Mashadur Choudhury, 31, returned to the UK and is currently in jail.

…..

Hasan was part of a group of five calling themselves the "Britani Brigade Bangladeshi Bad Boys". The fanatics, all from Portsmouth, had been seduced by glamorous tales of martyrdom to join Islamic State – formerly Isis – establishing a Muslim caliphate in the Middle East.

Shiraz Maher, from King's ICSR, said: "Now, of the six men who went from Porstmouth to fight jihad in Syria, four have now died and one is in prison.

"We know that Hassan was fighting for the battle of Kobani, likely alongside Manunur Rohsid who was reported killed a few days ago."

Maher said that this death showed that Brits were being killed in all regions of the sprawling and bloody conflict from Mediterranean coastal provinces in Syria, to the west of Iraq to towns on the Turkish border. "Brits are not there to take a back seat in this conflict, they are full participants in this war," he said.
We take the participation of British Islamists in the genocidal war against our Kurdish sisters and brothers extremely seriously.
Their assault on the beloved people of Kobane is a monstrous  war crime.
Meanwhile the Stop the War Coalition sees fit to publish this in reaction to the attacks in Canada,
The term "terrorism" has become nothing more than a rhetorical weapon for legitimizing all violence by Western countries, and delegitimizing all violence against them, even when the violence called "terrorism" is clearly intended as retaliation for Western violence.
It is hard to think of how they would describe the blood-stained crimes of the "well-mannered" "Pompey lads".