Posts Tagged 'Human Rights'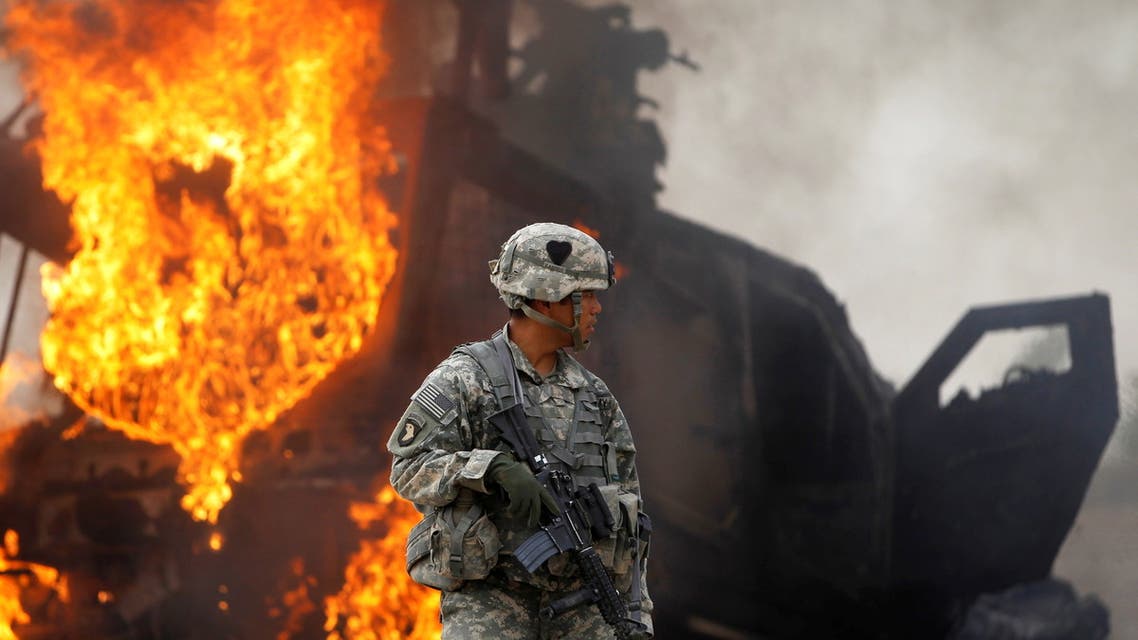 The number of Afghans killed in a suicide bomb attack on Kabul airport on Thursday has risen to 79, a hospital official told Reuters on Friday.
More than 120 people were wounded, some were still in hospital but many had returned home, the official said.
US forces helping to evacuate Afghans desperate to flee new Taliban rule were on alert on Friday after the Islamic State attack, which also killed 13 US. service members.
We condemn the bombings at and near Kabul airport on Thursday which were brutal acts leading to the death of at least 90 people, mainly civilians. ISIS-K, the group responsible, has been active in Afghanistan since 2014 and has been involved in hundreds of bombings and attacks in the country in those years. It is opposed to the Taliban as well as the US occupation.
The humiliating withdrawal of Western troops and the collapse of the Western backed government underline the points that the anti-war movement made before the US-led invasion and throughout the subsequent occupation. Military intervention by foreign powers cannot bring progress, peace or democracy.
It is estimated that 240,000 Afghans have died as a direct result of the invasion and occupation over the last twenty years. The economic and social fabric of the country has been devastated. Western military intervention has had the effect of making Afghanistan a much more dangerous place. Keeping troops in the country or launching more bombing attacks will only make the situation worse. The so-called war on terror has had a similar effect in every region on which it has been visited.
It is high time our leaders learnt the lesson of the last twenty years of chaos and carnage. We need to turn away from foreign wars and military interventions and develop a foreign policy based on co-operation and diplomacy.
*******
The STWC seems unable to accept that the Taliban, and groups such as ISIS-K have any agency of their own. They say, "240,000 deaths, as a result of' the occupation", as a consequence, of… There is nothing about the the record of Taliban dictatorship. It's as if this never existed, "From 1996 to 2001, the Taliban held power over roughly three-quarters of Afghanistan, and enforced a strict interpretation of Sharia, or Islamic law". "During their rule from 1996 to 2001, the Taliban and their allies committed massacres against Afghan civilians, denied UN food supplies to 160,000 starving civilians, and conducted a policy of scorched earth, burning vast areas of fertile land and destroying tens of thousands of homes."
This much is welcome. The StWC seems to have dropped the emphasis, upheld by its many of its leading figures, on 'anti-imperialism' and does not mention in its most recent statement the 'Defeat of US Imperialism'. Much of the thrust of their communiqués recently, on " foreign wars and military interventions". would not be out of place amongst the tradition represented by John Bright in the 19th century during the period when he opposed the Crimean War preferring free trade, co-operation and diplomacy to conflict. It says nothing about solidarity with the people's universal human rights in the countries caught up in these conflicts, above all supporting their rights against dictatorships, from Assad's Syria to theocratic totalitarians, ISIS and the Taliban. In recent times the StWC has done nothing to support those resisting tyrannies, such as the Syrian regime.
The Taliban have deep roots in their own country. But in the case of these atrocities the STWC does not analyse ISIS-K, linked to the international (failed) Islamist state-building of Al-Qaeda and the Genocidal Islamic regime, Daesh which retains universal ambitions.. If there is a problem with interventions there is also a problem with these murdering movements which have emerged from the jihadist wing of Islamism. Or offer analyses as divergent as Gilles Kepel, "Behind the jihadist eruption, lies the entrenchment of Salafism."that is a wider religious upsurge, (Terreur dans l'Hexagone 2015) or Olivier Roy Jihad and Death: The Global Appeal of Islamic State. on the "uprooted militants who strive to establish an imaginary ummah, or Muslim community, not embedded in any particular society or territory."
This gives a basis on which to begin to grasp who is responsible for the deaths in Afghanistan.
Amnesty published this last year.
Despite the peace talks, the armed conflict continued to see civilians injured and killed throughout the year and a rise in the number of people internally displaced. According to the UN Assistance Mission in Afghanistan (UNAMA), 2,177 civilians were killed and 3,822 wounded between 1 January and 30 September. Although the figures represented a 30% reduction in civilian casualties compared with the same period in 2019, the number of civilian deaths remained almost the same.

UNAMA reported that the Taliban was responsible for 45% of the civilian casualties, and the armed group calling itself the Islamic State in Khorasan was responsible for 7% of the civilian casualties between 1 January and 30 September. Armed groups were collectively responsible for the deliberate targeting and killing of civilians, including teachers, health workers, humanitarian workers, judges, tribal and religious leaders, and state employees. The attacks included violations of international humanitarian law, including war crimes, with civilians and civilian objects deliberately targeted. In May, a maternity hospital in the Dasht-e-Barchi neighbourhood in the west of the capital, Kabul, was attacked by gunmen. They killed 24 people, including new-born babies, pregnant women and health workers. No group claimed responsibility for the attack.

Pro-government forces were responsible for more than a quarter of all deaths and injuries between 1 January and 30 September, with 602 people killed and 1,038 injured. These included 83 people killed and 30 injured by international military forces. According to UNAMA, the number of civilian casualties attributed to the Afghan National Army had increased in comparison to the previous year, mainly from airstrikes and ground engagements. UNAMA said violence increased in the lead-up to the peace talks.

Children continued to be recruited for combat, particularly by armed groups and the Afghan security forces – pro-government militias and local police – and faced multiple abuses, including sexual abuse. Afghanistan continued to be, according to UNAMA, "one of the deadliest countries in the world for children", with both pro-government and anti-government forces responsible for more than 700 child casualties each. In October, First Vice-President Amrullah Saleh announced ordering the arrest of an individual who reported civilian casualties in an Afghan government air strike on a school, which had killed 12 children. Later, the Takhar provincial governor's spokesperson reported that he was removed from his position for reporting on child civilian causalities caused by the Afghan security forces.
Those who stand for universal human rights note this.
The peace agreement between the USA and the Taliban made no mention of human rights or of women. Under the agreement, impunity was preserved for serious crimes under international law by all parties. In September, the US administration cemented this position by imposing sanctions, including asset freezes, against the Prosecutor of the ICC, who was poised to lead an investigation into war crimes and crimes against humanity by all parties to the conflict since 2003.
At least the StWC do not make the kind of comments that appear on the confusionniste site Counterpunch.
AUGUST 27, 2021
Jeff Mackler is a staffwriter for Socialist Action.
With the panicked assistance of some 6,000 U.S. troops flown in to oversee the evacuation, imperialism's entourage of U.S. and NATO embassy officials, security forces, Afghan warlords, mafia drug dealers and thousands of Afghan collaborators are desperately awaiting evacuation at the Kabul Airport.
Imperialist "nation building"
Today, the corporate media worldwide is ablaze with headlines characterizing the Taliban victory as a fundamental setback for women's rights and democracy – a tragedy of fleeing defenseless U.S. collaborators and a tragic end to U.S. aspirations to build an Afghan nation in the "democratic" U.S. image. Such "nation building" myths have always been imperialist euphemisms and justifications for wars of bloody conquest and exploitation, if not genocide.
the Afghan masses, at great cost, have won their right to be free from U.S. domination. Winning their freedom from capitalist rule, not to mention from the reactionary and enforced anti-democratic, anti-women and religious fundamentalist dictates of the Taliban, is entirely another matter. This has always required the patient and careful construction of a mass revolutionary socialist party deeply rooted in all the struggles of working people and the poor peasantry. Those who have been in the forefront of these struggles in the past and today will be best prepared as the same masses that defeated the imperialist occupation rise yet gain to challenge their native capitalist exploiters.
Sure….
*****
Then there is this, from the UK Islamists of 5 Pillars,
After its defeat the U.S. will try to tear Afghanistan apart.
Veteran journalist Abdel Bari Atwan – who famously interviewed Osama bin Laden in Afghanistan – says the U.S. will now focus on supplying arms and money to anti-Taliban Afghans and will use ethnic, sectarian and tribal differences to tear Afghanistan apart and turn into a failed state.
But there is a different kind of plan behind this sudden exit. Its aim is to create chaos in Afghanistan and light the fuse of civil war between the victorious Taliban and rival ethnic and sectarian components.

That would lead to the country being turned into a launch-pad for extremist religious and ethnic groups to destabilise Central Asia and cause trouble in neighbouring countries, especially Iran, China and Russia.
Another figure of world statue has emerged to comment,
Prosecutors in Sweden have charged an Iranian with war crimes over the mass execution of prisoners in 1988.
The suspect was not named but has been widely identified as Hamid Nouri, 60.
In 1988, Iran was at war with Iraq. Iran's supreme leader ordered the mass execution of prisoners linked to an armed opposition group allied to Iraq.
The suspect was working in a prison near the Iranian capital Tehran, prosecutors say. His lawyer told news agencies he denied the charges.
Human rights groups have long campaigned for justice over the executions across Iran, in which an estimated 5,000 people were killed.
Today Libération publishes a major investigation including an analysis of the present regime leader's past.
Iranian President Ebrahim Raissi caught up in 1988 massacres
More background: 1988 executions of Iranian political prisoners
The 1988 executions of Iranian political prisoners was a series of state-sponsored execution of political prisoners across Iran, starting on 19 July 1988 and lasting for approximately five months.[1][2][3][4][5][6] The majority of those killed were supporters of the People's Mujahedin of Iran, although supporters of other leftist factions, including the Fedaian and the Tudeh Party of Iran (Communist Party), were executed as well.[7][8]
According to Amnesty International, "thousands of political dissidents were systematically subjected to enforced disappearance in Iranian detention facilities across the country and extrajudicially executed pursuant to an order issued by the Supreme Leader of Iran and implemented across prisons in the country. Many of those killed during this time were subjected to torture and other cruel, inhuman and degrading treatment or punishment in the process."[9] https://en.wikipedia.org/wiki/1988_executions_of_Iranian_political_prisoners
Dealing with leftists
After 27 August, the commission turned its attention to the leftist prisoners, such as members of the Tudeh, Majority Fedayi, Minority Fedayi, other Fedayi, Kumaleh, Rah-e Kargar, Peykar. These were also assured they were in no danger and asked:[citation needed]
"Are you a Muslim?""Do you believe in Allah?""Is the Holy Qur'an the Word of Allah?"

"Do you believe in Heaven and Hell?"

"Do you accept the Holy Muhammad to be the Seal of the Prophets?""Will you publicly recant historical materialism?"

"Will you denounce your former beliefs before the cameras?"

"Do you fast during Ramadan?"

"Do you pray and read the Holy Qur'an?"

"Would you rather share a cell with a Muslim or a non-Muslim?"

"Will you sign an affidavit that you believe in Allah, the Prophet, the Holy Qur'an, and the Resurrection?"

"When you were growing up, did your father pray, fast, and read the Holy Qur'an?"

Prisoners were told that authorities were asking them these questions because they planned to separate practicing Muslims from non-practicing ones. However, the real reason was to determine whether the prisoners qualified as apostates from Islam, in which case they would join the moharebs in the gallows.
Cuban Regime Cracks Down
Cuba protests: One dead and scores missing after rare demonstrations
BBC.
One man has died in Cuba and more than 140 have been arrested or reported as missing during rare demonstrations against its Communist government.
Diubis Laurencio Tejeda, 36, died in a suburb of Havana on Monday during a clash between protesters and police.
Cuba's interior ministry did not say what the cause of death was but alleged he was part of a group that attacked a government facility.
However, witnesses said security forces had attacked the protesters.
…
Posts on social media showed people overturning police cars and looting state-owned shops that price their goods in foreign currencies. For many Cubans, these shops are the only way they can buy basic necessities but prices are high.
'
President Miguel Díaz-Canel has called the demonstrators "counter-revolutionaries".
His government blamed the United States, and its economic sanctions, for both the protests and Cuba's wider problems.
US sanctions have restricted trade with Cuba since 1962. They were tightened under former US President Donald Trump, who also imposed sanctions on Venezuela, which is Cuba's main supplier of oil.
Cuba's foreign minister called it a "policy of economic suffocation to provoke social unrest in the country".
But the White House said that Cubans had suffered "decades of repression".
Speaking on Monday, President Joe Biden said the US "stands firmly with the people of Cuba as they assert their universal rights".
Cuban Socialists Out of Jail but under House Arrest
Left Voice.
Cuban Marxist Frank García Hernández was arrested last Sunday during mass mobilizations against food and vaccine shortages and the government's handling of the pandemic. These conditions have been exacerbated by the imperialist embargo which has been ongoing for six decades. The Trump administration placed 200 additional sanctions on the country — measures which have been continued by the Biden administration.
Police forces violently repressed the demonstrations — the most important since 1994 — with pepper spray and truncheons. According to his friends and comrades, Frank was violently detained together with other socialists.
Frank, a sociologist, historian, and member of Comunistas Blog, was released along with Maikel González Vivero, director of the LGTBQ community magazine, Tremenda Nota, who was also arrested on Sunday.
However, according to their comrades, Frank and Maikel are under house surveillance, and are not permitted to carry out any activity or meeting without prior authorization from the state. This is clearly political persecution, and an attack on their most basic democratic freedoms.
Other socialist activists who were arrested on Sunday, including Marco Antonio Pérez Fernández and Leonardo Romero Negrín, are still being detained. We demand their immediate release, and the termination of all judicial proceedings — including the house arrest — and persecution against Frank and his comrades.
Spanish Socialist PM says Cuba is not a democracy and should be encouraged, without direct external interference, to take a path (implicitly, in that direction) helped by the international community.
Fed-up Cubans are taking to the streets in unprecedented protests — and they're voicing their outrage through a song called Patria y Vida — homeland and life.

The slogan is a spin on the communist regime's decades-old slogan of "patria o muerte" — homeland or death. In strong terms, the song accuses the government of destroying the quality of life in Cuba, a message that quickly found traction with protesters who are demanding change.

"No more lies. My people demand freedom. No more doctrines!" the song says. It calls for people to shout "patria y vida … and start building what we dreamed of/ what they destroyed with their hands."