Archive for the 'Uncategorized' Category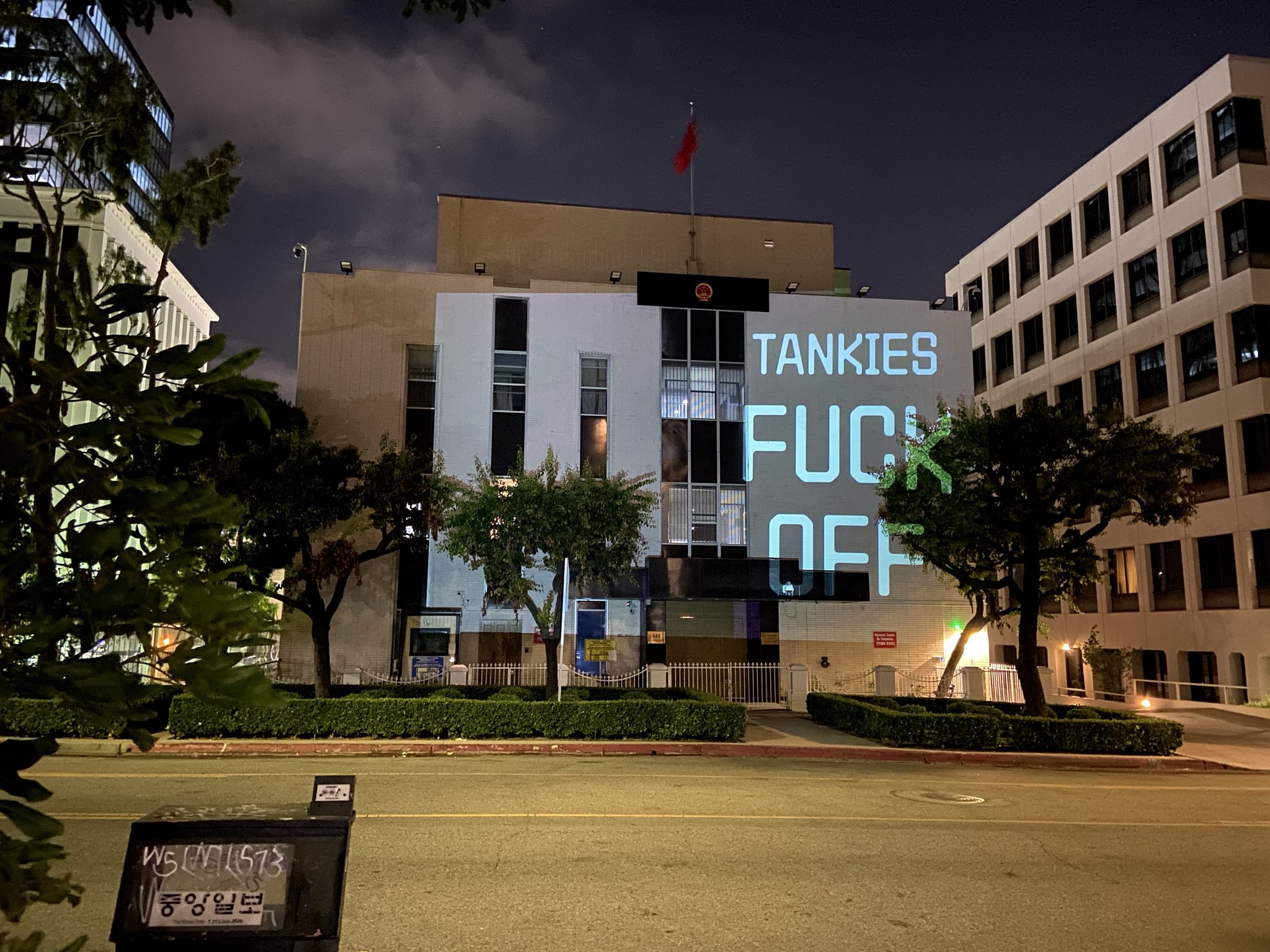 "Vile", Says Alex Rubinstein of the Radical Left  Grayzone.
Always ahead of the curve Spiked magazine carried this story yesterday,
"Why the West must stop bashing China. Phil Mullan.
In words dear to the heart of every sovereigntist and national populist Mullan wrote,
 "….what is illegitimate and should be challenged is other governments' interference in China's own affairs. Just as problems in the US are for American people to resolve, and problems within Britain are for British people to sort out, the same applies with regard to China's national sovereignty.

Repression against Chinese people, the same as the repression meted out by authoritarian regimes anywhere, will not be resolved by other governments or international bodies stepping in with economic or other weaponry. External state intervention in a country's affairs is a repudiation of democracy at the higher nation-state level."

 
As anger grows one can understand the outrage at the pipsqueaks who carried out this action:
They certainly look xenophobic!
The AWL Paper Solidarity gives the latest,
Chen Ying.
The National Security Law would punish acts deemed to constitute secession, subversion, terrorism, collusion and foreign interference in Hong Kong. It bypasses the Basic Law, Hong Kong's mini constitution established in 1997 as the basis of the One Country Two Systems framework. It cuts through the Common Law approach to justice, and undermines a judiciary which is supposed to be independent of the executive branch. The Chief Executive has powers to nominate which judge should preside over specific National Security court cases. Even within the government's inner circle, the Executive Council, opinion is divided whether there will be jury trials for National Security court cases. In special cases, China can take over a case and conduct the trial in the mainland instead of in Hong Kong.
All parties on the democratic camp have already declared their opposition to this National Security law. The next move from Beijing is now expected to be using the National Security Law to disqualify pro-democracy candidates in the forthcoming September Legislative Council elections, unless they swear allegiance to this new law.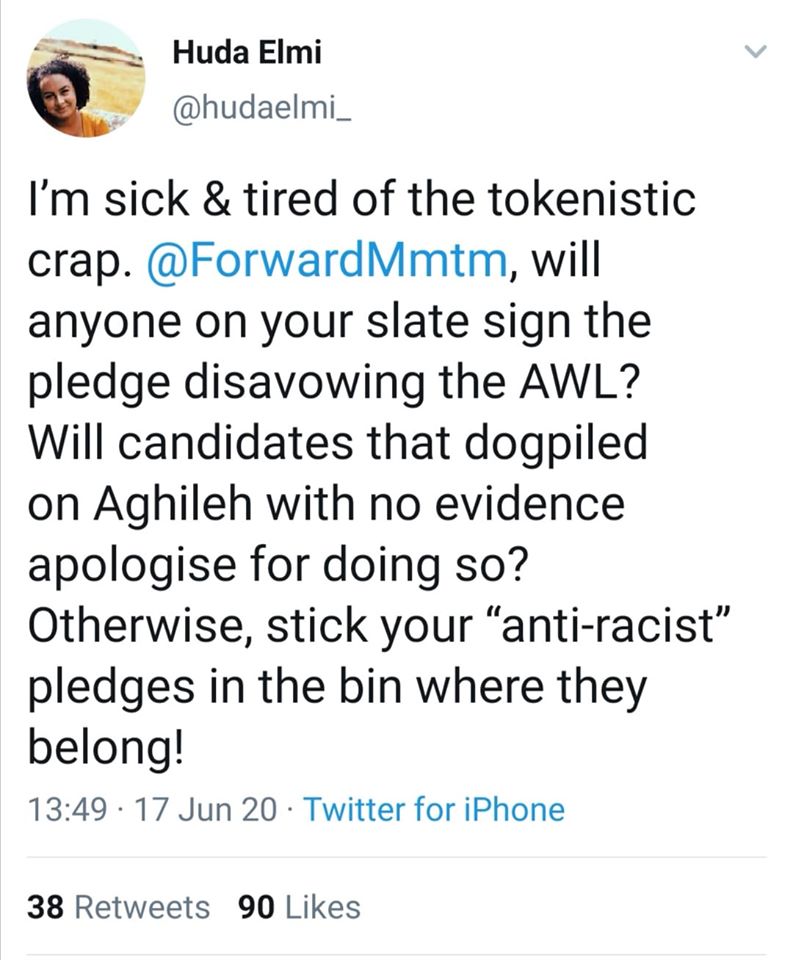 Huda Elmi, a senior elected figure for CLPs on the Labour Party's NEC.
Experienced Leftist Trainspotters, and even a few other Labour Party activists,  have been following with interest developments in the election campaign for  Momentum's National Co-ordinating Group (NCG).
It should be recalled that there are people on the left who did not become involved with Momentum whose stress on the importance of one individual, Jeremy Corbyn, was not universally accepted.
More recently Momentum has been seen as a block on efforts within the Labour Party to oppose Brexit such as the call for a Second Referendum.
In these elections there are serious ideas being debated and this seems a good outline of the two main slates,
One of these factions, Momentum Renewal, is seen as the continuity group, with its candidates broadly aligned with Lansman. Meanwhile its rival, Forward Momentum, is more closely associated with the former Shadow Chancellor John McDonnell, who has given his backing to the group.

…

There are also fundamental policy distinctions between the two factions. Forward Momentum appears to advocate a more member-led structure, with decision-making opened up to ordinary activists.

"Since joining, I have been disappointed by some the decisions of Momentum," says Ana Oppenheim, who is standing as a Forward Momentum candidate in London. "Very often it felt like a mailing list, instead of the movement we were promised, where people can discuss ideas, learn from each other and run independent campaigns. It felt like we were given a line to follow from the top."

As evidence, Oppenheim points to the way Momentum treated its members during the recent Labour leadership contest. The group didn't allow members an open vote on who it should support, instead presenting the Momentum leadership's favoured candidates (Long-Bailey and Angela Rayner for deputy leader), with members merely allowed to say 'yes' or 'no'.
Sam Bright puts his own interpretation on how Momentum has been run,
In late 2016, there was an attempt by the Trotskyist Alliance for Workers' Liberty (AWL) to infiltrate Momentum and seize power. In response, Lansman put in place a constitution to cement his power and prevent a coup. Ever since, control of the group has been tightly guarded by Lansman and his acolytes, even when they were arguing for more participatory democracy in the Labour Party.
There are a lot of reasons for what Lansman did to maintain his own position.
The include attempts by the 'Socialist Party' (fresh from standing candidates against the Labour Party, and support for a virulently anti-EU anti-Labour slate in European elections) to participate in local Momentum meetings, to an attempt to create  its own private own front, "Trade Union Momentum"(January 2016. Steps towards setting up Trade Union Momentum)
For opponents and critics of Lansman the only 'coup' was the one which kept his group's hold on the reins of Momentum. Those disputing this came from a whole raft of non-Lansman activists, and included an attempt to create 'Grassroots Momentum', a group that included people who are very very far from being connected to the AWL –
Momentum Grassroots conference: Against Jon Lansman (2017)
Over 200 Momentum members attended the first gathering of the newly established Momentum Grassroots network. It could have easily been much bigger, had it not been built as a 'delegate' event – a decision which was overturned at the beginning of the meeting by a clear majority of the branch delegates (see interview opposite).

The organised left was there, of course: there were about two dozen members and supporters of the Alliance for Workers' Liberty/The Clarion and a handful of supporters each of Workers Power (Red Flag), Socialist Appeal and Labour Party Marxists. The Labour Representation Committee and Nick Wrack's Labour Party Socialist Network had a few members present, though neither seemed to make a coordinated intervention.
The meeting  elected this body.
Steering committee
The following were elected:
Matt Wrack,137
Sahaya James, 95
Tracy McGuire, 93
Jackie Walker, 93
Nick Wrack, 89
Simon Hannah, 82
Delia Mattis, 82
Kevin McKenna, 80
Jill Mountford, 75
Graham Bash, 71
Rosie Woods, 71
Rida Vaquas, 69
Lee Griffiths, 69
Alec Price, 67
Pete Radcliff, 64
Ed Whitby, 63
Tina Werkmann, 61
Jan Pollock, 58
Richard Gerrard, 56
Joan Twelves, 53
In the present Momentum elections this has caught people's attention:
Responses:
Here, genuine it is claimed, is another intervention.
In an insightful  article On the right to organise, Ed Mustil asks,
Why does any of this matter? After all, who cares who wins elections to the ruling body of an almost-certainly busted flush of an organisation?
Yet this is attention-grabbing:
Candidates standing for positions on Momentum's National Co-ordinating Group (NCG, ostensibly the organisation's leadership body) have been asked by an anonymously-run twitter account to sign a pledge "disavowing" and "pledging not to work with" the Alliance for Workers' Liberty (AWL), a Trotskyist group.

The anonymity of the authors of the pledge makes it impossible to know for certain, but this seems pretty clearly to be a factional manoeuvre by some supporters of the Momentum Renewal (MR) slate in the NCG elections. Momentum Renewal broadly seem to represent continuity with the way Momentum has been run since 2016. They are fighting to retain control of the organisation in the face of a challenge from the Forward Momentum (FM) slate.
Mustil looks at the history of broad political tendencies, currents of thought, and organised factions within the Labour Party.
This is a striking feature which Labour shares with only a few other labour and socialist parties, such as the French Parti socialiste (PS). The PS, which was founded as an organisation (in 1969)  from different groupings, including the old Section française de l'Internationale ouvrière, SFIO. Post the Epinay Congress of 1971 this has continued to be formed through the way they present conference resolutions ("textes d'orientation politique, appelée «motions», déposés par les courants du parti"). Along the election of the Party General Secretary, these are presented, votes tallied, and if possible 'synthesised' (compositing).
In Britain there is not such official recognition, but the same kind of currents of opinion exist.
Organised factions and political groups have always existed in the Labour Party. In fact, the party itself began as a coalition of such groups — you couldn't even, as an individual, be a member of the Labour Party until 1918. Some such groups have maintained more or less their own party structures: the Independent Labour Party (members: Keir Hardie, Ramsay MacDonald), the Socialist League (members: Stafford Cripps, Clem Attlee).

Others have been less formally organised (the Bevanite movement in the 1950s). Some have been based around a publication: Labour Briefing (supporter: Jeremy Corbyn), Tribune (supporter: Michael Foot). Some have been Marxist (Militant, Socialist Appeal, AWL), some Blairite (Progress), some soft left (Open Labour). People of like minds will come together to organise. You can no more prevent this than King Canute could turn back the tide, and there is nothing inherently bad or weird about it. If we are to be the party of the whole labour movement, the right of these groups to organise must be vigorously defended.
On the Right to Organise describes the latest faction in the following terms,
For the sake of brevity, I'm going to refer to this undeclared faction as the Goons, since they on the one hand can be childish and unserious, and on the other hand can behave like thuggish bullies.
The AWL itself publishes support for other Pledges:
Left pledges in Momentum election
There will no doubt be further interventions, tweets and comments made during the Momentum elections.
Our Ace-Reporters are out there now, tracking them down!
See also : The issues in the Momentum election – by Momentum Internationalists
Side-Show Williamson "deserves to lose his seat in Parliament. HOPE not hate will help make that happen."
As Labour's election campaign gets underway lets not exaggerate the difficulties with fringe characters like Ian Austin, or the personal decision of Tom Watson not to stand in the coming poll.
This is good news for internationalists,
Other good news.
Bye Bye Chris Williamson.
Chris Williamson banned from standing as Labour candidate in general election
Chris Williamson has been banned from standing for Labour at the general election.
Or perhaps au revoir.
In the letter Williamson protests against Labour Party efforts to "normalise Zionism",
In a post which covers everything from Zionism, to Zionism, the Vice Chair of Labour Against the Witch-hunt, Tony Greenstein says,
Socialists Should Support the Decision of Chris Williamson to Stand as an Independent Socialist
Chris was the target of a vindictive witchhunt because of his support for democracy in the Labour Party. All socialists should support his standing as an independent socialist candidate and I wish him well in his endeavours and hope to be able to go up and campaign for him personally.
Anti-racists are already mobilising against Williamson:
Hope Not Hate says,
Now that Chris Williamson has indicated that he intends to stand as an independent candidate, HOPE not hate will campaign to ensure that the people of Derby are fully aware of his harmful and dangerous views. We are confident that both he and his gutter politics will be rejected at the ballot box.

It's worth repeating exactly what his track record is.

He has routinely downplayed the seriousness of antisemitism, calling it 'bullshit' and 'a smear'.
He has publicly supported those who have already been removed from the party for antisemitism, such as Ken Livingstone, who falsely claimed that Hitler was a Zionist, and disgraced party activist Jackie Walker. He chose to stand alongside them, most recently at Labour Party Conference in September during the Labour Against the Witchhunt fringe event.
He promoted a petition in support of Gilad Atzmon, a man who has denounced 'the Holocaust religion' and who suggested that there is a Zionist plan for world domination.
Williamson reasserted his support for Pete Willsman after a recording surfaced of Willsman ranting about Rabbis and that antisemitism in the Party has been fabricated by Israel, an antisemitic conspiracy theory. Not only this, he campaigned for the reinstatement of Marc Wadsworth who attacked Ruth Smeeth MP at the launch of the Chakrabarti report for 'working hand in hand with the press'.
He booked a room in parliament to host a screening of the film 'Witch Hunt', an antisemitic conspiracy theorist documentary that downplays and dismisses the issues of antisemitism in the Labour party.
He has continually baited Jewish people, including tweeting in support of disgraced Assadist and antisemite Vanessa Bealey, and tweeting support for Scott Nelson, who was removed from the Labour party for tweeting that Tesco and Marks and Spencers were 'Jewish companies' that had 'Jewish blood'.
In his letter resigning from the Labour Party, he accused the Israeli government of being to blame for accusations of antisemitism, alleging that the Jewish Labour Movement and Britain First were also behind the crisis.
Rumours are emerging that Galloway and Williamson are in talks for an alliance: