Posts Tagged 'Israel'
Greenstein and Comrades.
Tea-leaf Tony has been up before the Beak again.
Tony Greenstein loses appeal over being called a 'notorious antisemite'
A Jewish anti-Zionist activist who was ordered to pay £68,000 after unsuccessfully suing for libel after being called a "notorious antisemite" has now lost an appeal.
Tony Greenstein lost his defamation claim against Campaign Against Antisemitism (CAA) in November last year, after a court ruled they were entitled to call him an antisemite.
Greenstein – who was expelled by Labour – has now lost an appeal meaning he now owes increased costs of a total of £81,854, according to CAA.
"Three Lord and Lady Justices sitting at the Court of Appeal have dismissed an appeal by Tony Greenstein against aspects of a High Court ruling, deciding in favour of Campaign Against Antisemitism," said the group.
"The High Court had struck out Mr Greenstein's libel claims against us, ruling that it was permissible for us to call him a "notorious antisemite" in articles on our website, in an example of litigation humiliatingly backfiring."
Greenstein had appealed on grounds that the CAA's references to his spent convictions was made in malice, a claim which was rejected by the Court of Appeal.
Judges ruled that among other reasons it was acceptable to include the spent convictions because "the law has long recognised that it is only fair for someone to know the character of a person who is attacking the character of another."
Bankruptcy proceedings have been issued against Greenstein by the group, which is seeking permission from the High Court for officials to seize his assets and pay the court costs from them.
A hearing is due on July 14.
Last month, Jewish News reported how a Labour councillor had been forced to fundraise £20,000 to pay costs incurred after successfully defending a libel claim made by Greenstein.

The anti-Zionist activist had accused ex-Cllr Josh Jones of calling him a Holocaust denier, a claim which was struck out because it had no reasonable chance of success.
Talk about taking a bleeding liberty!
The barrack room lawyer loses a case and it's the bloke he lost against who has to pay his expenses!
Those who know the full backstory behind Tea-leaf Tony's career will not be surprised.
…..
The dapper gent's latest scuffle with the law is being widely reported.
Notorious Antisemite Tony Greenstein Facing Bankruptcy. David Lange 
Three Lord and Lady Justices sitting at the Court of Appeal have dismissed an appeal by Tony Greenstein against aspects of a High Court ruling, deciding in favour of Campaign Against Antisemitism.
The High Court had struck out Mr Greenstein's libel claims against us, ruling that it was permissible for us to call him a "notorious antisemite" in articles on our website, in an example of litigation humiliatingly backfiring.
Mr Greenstein's attempt to appeal our successful defence over references to him as a "notorious antisemite" failed earlier this year when the Court of Appeal refused him permission to appeal. They did, however, allow him a hearing to argue that his claim that Campaign Against Antisemitism's reference in one of the articles to his string of spent criminal convictions was made out of malice. That appeal has now been dismissed as well.
The Court of Appeal's decision adds to Mr Greenstein's financial woes. The High Court had ordered Mr Greenstein to pay £67,886 to Campaign Against Antisemitism, of which £10,000 had stayed pending the outcome of the appeal. Now that the appeal has been dismissed, the £10,000 is now payable, along with £13,968 of additional costs relating to the failed appeal, making a total of £81,854.
Mr Greenstein now faces being made bankrupt at a hearing on 14th July after he failed to comply with a court order to send us payment, leading us to petition the High Court to appoint an Official Receiver in Insolvency to take control of Mr Greenstein's assets and pay our costs from them.
Link to the Judgement:
THE COURT OF APPEAL (CIVIL DIVISION)
ON APPEAL FROM THE QUEEN'S BENCH DIVISION
(MEDIA & COMMUNICATIONS LIST)
The Honourable Mrs Justice Tipples
[2020] EWHC 2951 (QB)
Before :
LORD JUSTICE POPPLEWELL
LORD JUSTICE DINGEMANS
and
LADY JUSTICE CARR – – – – – – – – – – – – – – – – – – – – – Between :
TONY GREENSTEIN Appellant
and –
CAMPAIGN AGAINST ANTISEMITISM Respondent
A 'Notorious Anti-Semite' who gets published on these sites.
People might suggest that these 'news' outlets have lost any semblance of authority they have by publishing politically bankrupt Greenstein.
'Casual Anti-Semitism' – Tariq Ali.
Two groups on the left have stood firm for peace, justice and in the Middle East. without any concession to anti-Semitism or backing for attacks and repression against the Palestinian people. The British, Socialists Against Anti-Semitism, and the Réseau d'Actions contre l'Antisémitisme et tous les Racismes:
Yesterday's pro-Palestinian march in London included many groups and heard a broad range of speakers most of whom expressed the justified and right call for violence to end in the Middle East and for Israel to stop attacks on Palestinians.
But Socialists Against Anti Semitism has expressed serious concern at this:
Veteran activist & writer Tariq Ali :"They have learnt nothing from what happened in to them in Europe. Nothing. They talk a lot about saying all those marching for Palestine are anti-Semites. This of course isn't true. But I will tell you something they don't like hearing. Every time they bomb Gaza, every time they attack Jerusalem – that is what creates antisemitism. Stop the occupation, stop the bombing and casual antisemitism will soon disappear."
The group states,
"This is a wholesale transfer of the blame for what Israel has been doing to the Jewish people as a whole. The dead of the Holocaust cannot be blamed for what Israel does today. In a growing list of anti-Semitic statements from Ali, this perhaps is the most blatant yet. We would remind him of two things : 1 ) those died in the Holocaust are not to blame for anything ever done by the state of Israel. 2 ) Antisemitism is caused by anti-Semites, just as all racism is caused by racists. Nothing else creates antisemitism. It's time for those who call themselves anti-racists to stop giving him a platform."
Ali speaks for a tiny band of one, distinguishing himself in recent years by attacks on Charlie Hebdo after our comrades were murdered by Islamists and unbridled enthusiasm for Brexit.
It is indeed time for him to be cancelled.
A protest in support of the people of Palestine was marred by some anti-Semitic protesters who held placards expressing anti-Jewish hate, it has been reported.

Thousands of pro-Palestine supporters marched across London on Saturday, with people holding banners, placards and flags to show their solidarity with Palestine.

However, some protesters allegedly held placards displaying swastikas and references to Nazis.

According to the Times, a woman held a poster that read: "Israel, the new Nazi state" while another placard referred to "Holocaust Part 2".

It comes amid a rise of anti-Semitic incidents over the past week.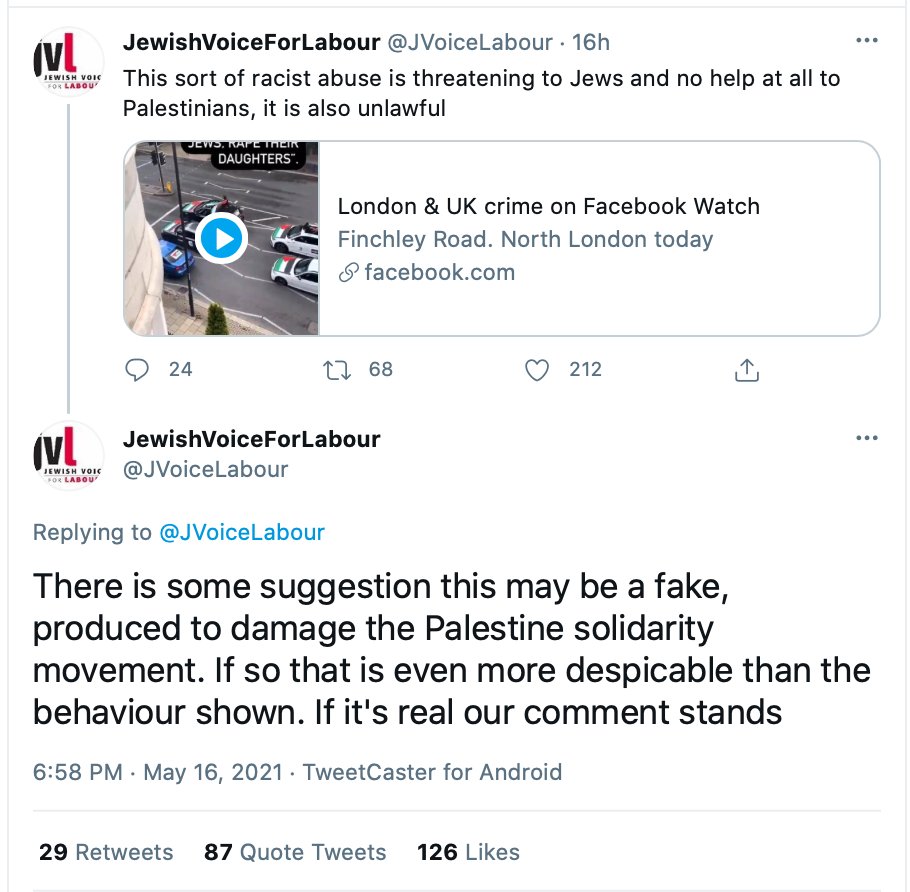 Outrage as Jewish Voice for Labour repeats this "suggestion"'
The BBC reports,
On Sunday, a video was posted on social media appearing to show a convoy of cars with Palestinian flags driving down a street, with a man shouting anti-Semitic abuse from a megaphone.
The person who filmed the video – who wanted to remain anonymous – said they started filming when they heard "excessive hooting" outside their window in north London.
"They happened to stop at a set of traffic lights and I was able to capture what happened.
"I cried. How is this the world we live in today?"
They added: "I felt immediately frightened and appalled that this is happening in this country. What if I was walking alone wearing something that identified me as Jewish? What might have happened?
"I don't feel safe in my own home, and that's what terrifies me.
In a statement, the Metropolitan Police said it deployed one of its helicopters to help trace the vehicle and officers stopped the car at approximately 18:30 BST on Sunday.
Four men were arrested on suspicion of racially aggravated public order offences. They have been taken into custody at a west London police station where they remain.
The police said the video appeared to be filmed in the St John's Wood area. St John's Wood is an area in north London which is home to a Jewish community.
Superintendent Jo Edwards, in charge of the policing operation, said the behaviour was "utterly shocking" and added that extra police patrols will be in place in St John's Wood and Golders Green on Sunday evening.
Officers will be sent to key venues, police said, "to provide maximum reassurance to the local community, and deal robustly with anyone committing racially aggravated offences towards the Jewish community".
The prime minister was among many politicians to condemn the video on social media.
"There is no place for anti-Semitism in our society," Mr Johnson tweeted. "Ahead of Shavuot, I stand with Britain's Jews who should not have to endure the type of shameful racism we have seen today."
Shavuot is a Jewish festival beginning on Sunday that celebrates when the children of Israel received the Ten Commandments.
Sir Keir said: "Utterly disgusting. Anti-Semitism, misogyny and hate have no place on our streets or in our society. There must be consequences."
Mike Freer, the local MP for Finchley and Golders Green, said: "The scenes I've witnessed in my constituency today have left me sick to my stomach."
The Mayor of London Sadiq Khan said the police had his "full backing" for their zero-tolerance approach, and Londoners could expect to see "high visibility police patrols".
"Hate crimes are inexcusable and have no place in our city," he said.
The Palestine Solidarity Campaign – one of the organisers of a protest in London on Saturday in support of the Palestinians – also condemned the incident.
"The vile anti-Semitism shouted today from a convoy of cars has no place in the Palestine solidarity movement," it said in a tweet. "We condemn it and all anti-Semitism, on it's own account and also as it serves to undermine the anti-racist struggle for Palestinian rights."
Thousands of people attended Saturday's protest, which called on the UK government to step in and "stop allowing Israel's brutal violence against and oppression of the Palestinian people to go unpunished"