Archive for the 'Labour Party' Category
Getting Close up to Galloway and pro-Brexit ultras of the Workers Party – aka as the Communist Party of Great Britain (Marxist-Leninist).
Chris Williamson was reported to be organising a 'grass roots' event, the 'Festival of Resistance' on the 20th of June but we learn from his site, "The Resistance" that,
In view of the ongoing Coronavirus calamity, we have decided to postpone the Festival of Resistance that was planned for the weekend of 20 June this year.

The festival has now been rescheduled for the weekend of 17/18 October in Derby, where we will aim to have an array of excellent speakers, workshops and films.
The Campaign Against Antisemitism asserts that speakers are already lined up,
The Resist Festival is due to feature controversial speakers including the rapper Lowkey, the outspoken academic Noam Chomsky, the activist Max Blumenthal and representatives from the 'yellow vest' protests in France.
This is one of his most recent public interventions,
Williamson has some new best friends:
This follows an earlier chum-fest with Galloway in May:
Chris Williamson's views on the opinions of the Deputy Leader of Galloway's Workers Party, Joti Brar, (Anti-imperialist, communist, media worker, truthseeker, mum. Workers of the world, unite; we have a world to win! @CPGBML @WorkersPartyGB )are not known.
Here are some of them, "Joti Brar is an active member of the Stalin Society, the website of which contains articles denying Soviet wrongdoing in the Katyn massacre, the Ukrainian Famine (Holodomor), and the Moscow Trials which they blame on the Nazis, dismiss as propaganda, or describe as fair process, respectively."
Williamson could not stand as the Labour candidate in his Derby North constituency in the 2019 General Election as a result of his active suspension. He resigned from the Labour Party and stood as an independent candidate. He won 635 votes, losing his deposit and coming bottom of the poll.
Stop Sizewell C!
This was reported on June the 30th.
UK regulator receives application for new Sizewell nuclear reactors
Britain's nuclear regulator said on Tuesday it had received an application for a licence to build two nuclear reactors at Sizewell in Suffolk county, north of London, from EDF Energy subsidiary NNB Generation Company.
Yesterday the East Anglian Daily Times (EADT) published this article by Paul Geater.
Will the Suffolk coast fall victim to coronavirus as government splashes the cash?
I've never disguised the fact that I feel that the proposed Sizewell C power station would be a disaster for East Suffolk and would effectively destroy the most important part of the county's Heritage Coast.
Those who have meet Paul Geater, the main political journalist on the regional paper and the Ipswich Star, will know that he must have good reason before expressing himself so strongly.
One of the things that spurred him is, "It's a part of the world that is very important to me – I was born at Eastbridge and lived within five miles of Sizewell for the first 27 years of my life."
The article continues,
Until now I've always been optimistic that the proposals for this plant, which would be built on what is – effectively – part of the Minsmere Nature Reserve, would be scrapped because the economics just don't make sense.

However, I'm now beginning to fear that the Suffolk Coast – with all the jobs it provides in tourism, leisure, and wildlife management – will be fall victim to the coronavirus pandemic as the government looks for projects to throw money at in the hope of creating jobs to get Britain out of the 21st century's Great Depression.

I've always felt that the environmental arguments don't really cut any ice with EDF and the other groups promoting Sizewell C. Yes their promoters will smile and nod earnestly when confronted by genuine concerns from organisations like the RSPB and National Trust as well as local residents – but when push comes to shove they don't seem prepared to make any real compromises or do anything to limit the damage they would cause.
For many people this will be a crucial point.
They still seem hell-bent on destroying the Eastbridge marshes, an integral part of the Minsmere ecosystem, to create their new campus while the station is being built. Villages would be ruined by traffic because there is no proposal to bring in material by sea as they did when Sizewell B was built.

And that ignores the fact that nuclear-generated electricity is much more expensive than that from the sun or wind.
The well-known local figure calls to reject this latest move, which many consider to be on the point of being slipped through while attention is diverted elsewhere.
…by rejecting it, there would be a real boost to the local economy. Jobs in the tourist and leisure sectors would be ensured for years or decades ahead. Villages would be protected and the Suffolk coast (hardly the unemployment blackspot it was when Sizewell B was built in the 1980s) would be able to evolve and retain its wonderful character.

Local people recognise that. I know that many who welcomed Sizewell B have been appalled at the plans for Sizewell C and the way it is being planned with no thought to the local environment.
That is the least you can say.
Those affected have been screaming about the destruction to be wrought by new roads, vast car parks, and the rest, for some time.
The local councils recognise that. Both Suffolk County Council and Suffolk Coastal were broadly supportive of Sizewell B. That isn't what you hear from the planners and councillors at either the county or East Suffolk Council now!
Geater underlines the loss to the local tourism and leisure sectors.
But he finishes saying that "money isn't everything."
It certainly is not.
The areas affected are both environmentally highly significant – the status of Minsmere hardly needs underlining – and very dear to many people's hearts.
The local campaign Together Against Sizewell C notes the plans will,
– devastate the Suffolk Coast and Heaths Area of Outstanding Natural Beauty which provides a rich and varied mosaic of habitats that are a haven for an amazing variety of wildlife including iconic species such as bittern, marsh harrier and otter,

– split the Sizewell Marshes Site of Special Scientific Interest in half with a new permanent elevated road,
– be constructed on the boundary with RSPB Minsmere, with 24/7 light, noise and air pollution being a huge threat to the internationally important nature reserve as well as the wider environment,
– result in the loss of acres of valuable farmland,
– threaten homes, land and businesses with compulsory purchase,
– see road building and alterations for 25 miles around the site, including 7 new roundabouts within an 8-mile radius of Sizewell,
– add hundreds of HGV journeys to and from the Sizewell site every day, causing unacceptable levels of CO2 and NOX emissions,
– harm the flourishing and sustainable tourism industry of East Suffolk affecting businesses around the much visited towns of Aldeburgh and Southwold and many popular villages as well as RSPB Minsmere and the National Trust's Dunwich Heath,
– see up to 2 million litres of mains water consumed each day of nuclear power station operation, in addition to the huge volumes used during construction, in one of the driest parts of the country,
– see tons of fish and other marine life sucked into the cooling pipes along with an estimated 2.5 billion gallons of sea water per day, see article re Hinkley Point C(same design as SZC): https://www.burnham-on-sea.com/news/concern-over-hinkley-point-c/
– require nuclear waste to be stored indefinitely on our crumbling, sinking coast as sea levels rise,
– create a huge upfront carbon footprint during construction and from the mining, milling and fabrication of the uranium fuel together with an unknown carbon footprint at the back end of operation – see why nuclear is not the answer to climate change
This Blogger knows the area well.
I've been walking around there since mid-teens. In my twenties my parents had retired to nearby Firston (one of the places affected by car-park plans), and were active in Leiston Labour Party as Chair and Secretary for some years in the 1980s. An uncle (by marriage) grew up in a hamlet by a local village, Theberton (nearly bordering Eastbridge).
The Eastbridge Eels Foot Inn, by the marshes, is one of the best pubs in Suffolk. The walks around the area, some of which I know like the back of my hand, are outstanding. The reserve called Sizewell Belts, is of special interest, and is free to visit (Minsmere is a RSPB reserve, although you can walk alongside it, including  on the coastline).
On one walk, in the direction of  Weselton I saw my first Adders, one another, my first Mistletoe, and enormous Red Deer. Alas I have never spotted the Otters,who have been encouraged, (and helped by some re-introduction)  since the 1980s.
The Leiston Communist Writer and activist Lee Chadwick (1909 – 2003)  lived in a house on Leiston Common, not far from the Reactors, and in the heart of the sites that will be touched by the new development.
One of her best books, In Search of Heathland (1982), begins with a chapter titled, "Our Vanishing Heathland".
She wrote,
Leiston and Sizewell commons today lie within the Suffolk Coastal Heaths Area of Outstanding Natural Beauty and the 34 miles f the Suffolk Heritage Coast. Notwithstanding this, the building of a second and possibly a third nuclear power station at Sizewell is under discussion and at the time of  writing seems likely to prove the focus for another form of popular struggle concerning the use of one-time open land." (Page 66)
Lee, who participated in the 1980s campaigns – as did my parents –  would surely back Together Against Sizewell C (TASC).
Unfortunately we hear from the organisers that UNITE, which has a strong Branch at Sizewell, is not so inclined. TASC says that the UNITE led organising committee of the annual Burston Rally, a rural labour movement event that claims to support Green causes, "won't even allow us (us being TASC) to have a stall at the Burston rally."
Paul Geater writes that, "The fear is that while locally there is a great deal of disquiet, the further you move away from the Suffolk coast, the attitude changes."
Let's hope he is wrong on that point>
Back TASC!
To: Secretary of State for Business, Energy and Industrial Strategy
STOP SIZEWELL C HUGE NEW NUCLEAR DEVELOPMENT IN SUFFOLK A.O.N.B.
More information on the TASC site:
Together Against Sizewell C.
TASC has been actively campaigning, since 2013, to stop EDF's plans to build two EPR nuclear reactors on Suffolk's fragile Heritage Coast. Sizewell C and all its supporting infrastructure will devastate untold acres of the wildlife-rich Suffolk Coast and Heaths AONB and its SSSI, as well as irreparably damaging RSPB Minsmere. The area, a 30 mile radius around the site, will change from rural tranquillity to brutal industrialisation.
Here is a tweet from their Twitter Feed.
Here is more news: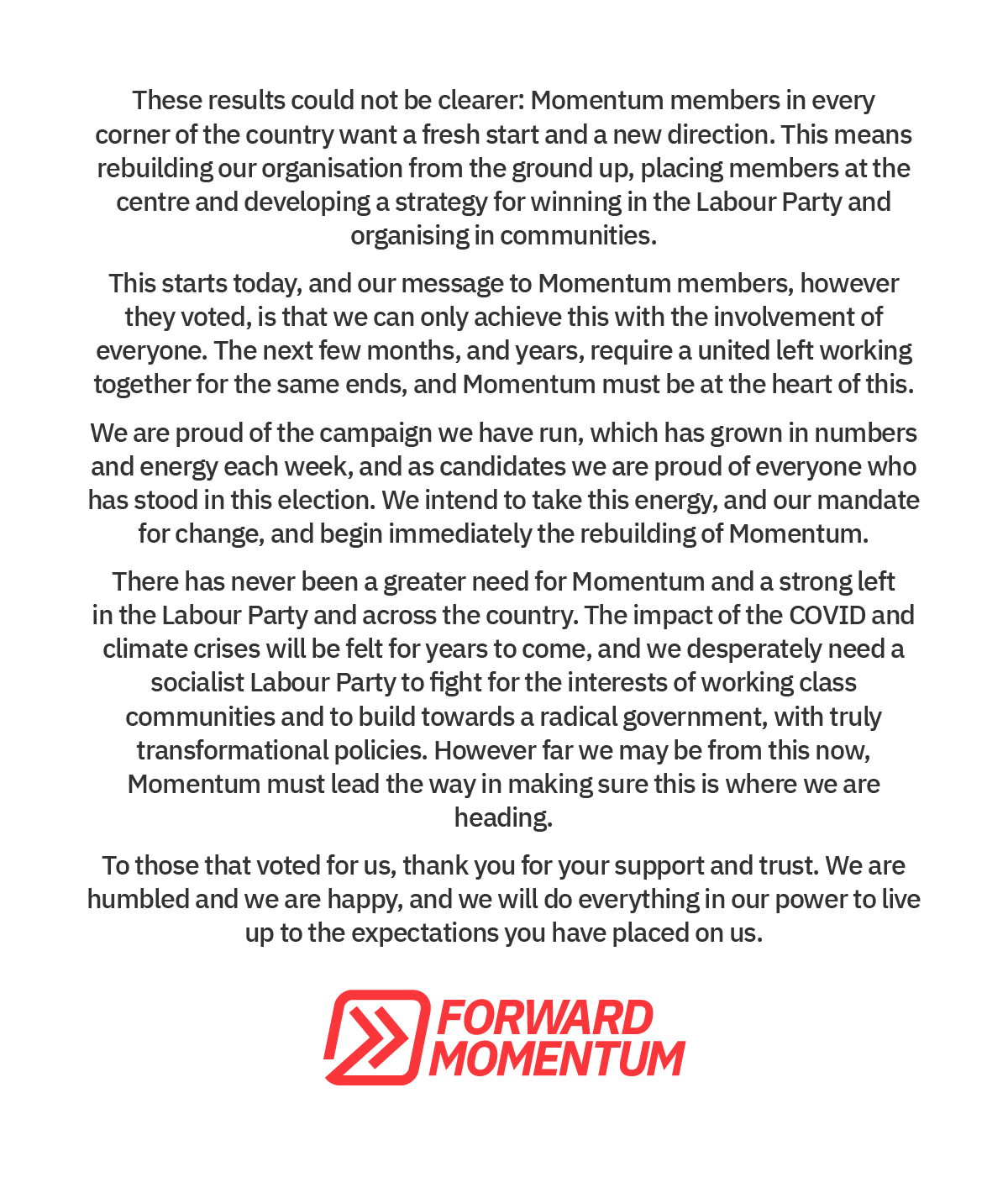 Tears for 'Tribune', Lavery and Bastani as their faction loses..
" Labour MPs such as Ian Lavery, Paula Barker, Sam Tarry and Charlotte Nichols, plus Tribune's Ronan Burtenshaw and Novara Media's Aaron Bastani, had all signed up to back the Renewal initiative."
" the candidates selected by FM – said to include key workers, shop stewards and community organisers – were described by the campaign as "representing a break with the current leadership faction".
It was bitterly contested fight, involving anonymous Twitter feeds attacking some of the Forward Momentum candidates for links with the Alliance for Workers' Liberty.
Described as a less than edifying bun fight this is the result (on a turn out of 8,580, tiny in comparison with Labour's growing membership of over 580,00).
Victory for Forward Momentum candidates as Lansman steps down
Labour List. Sienna Rodgers
Forward Momentum candidates have swept to victory by winning all member representative seats in Momentum internal elections that saw co-founder Jon Lansman step down.

Forward Momentum put forward one of the two main slates in the contest. The group pitched itself as 'anti-continuity' with a focus on democratising the organisation, and held open primaries to select candidates.

Momentum Renewal was the rival platform, more closely associated with Lansman. It stressed the importance of "left unity" within Labour and being "rooted in working-class communities".

FM candidates won all 20 places in the members' section, which gives them a majority on the NCG. Renewal candidates were elected by MPs and councillors to the four office holder posts.
That is, Renewal holds the  "4 representatives of Labour public office holders."
"the candidates selected by FM – said to include key workers, shop stewards and community organisers – were described by the campaign as "representing a break with the current leadership faction".
The Clarion has a report,
Forward Momentum sweeps election for Momentum NCG
Mohan Sen.
Momentum reform group Forward Momentum has won all 20 seats elected by members on the Momentum National Coordinating Group.

The four seats reserved for and elected by public office holders (MPs and councillors) were all won by conservative left / Stalinist slate Momentum Renewal. It remains to be seen if Momentum Renewal will try to use the 'fake seats' on the NCG allotted to various organisations to gain advantage. It will be hard given how comprehensive their defeat is.

(Full results here. Candidates outside the two main slates did poorly.)

This rejection of the conservative, demagogic and witch-hunting campaign Momentum Renewal ran is a good thing for the movement.

It at least opens up possibilities for changing Momentum.

Forward Momentum is a real mixed bag politically, with widely differing perspectives – even on what democratising the organisation means, let alone wider political strategy.

A serious debate about left strategy, demands and campaigning – which didn't get very far during the campaign – is needed.

It is very positive that two candidates who endorsed Momentum Internationalists' socialist platform – Abbie Clark and Ana Oppenheim – were elected on the Forward Momentum slate. We were sorry to see Nadia Whittome MP, who also supported the MI platform, narrowly lose out in the office holders' section.
Poor old Skwawky thinks he has managed to scramble on board the Forward bandwagon:
So far, (written a bare hour after the results were announced) the losers are keeping their chins up.
Keeping the Flag of the Bolivarian Revolution flying Bastani looks to set to continue his work in heralding the latest act of Maduro, and attacking the Labour leader.
It remains hard to see what role Momentum has today.
From its creation, as a group pledged to support Jeremy Corbyn, engaged in some serious election work in 2017, it has struggled to define its role.
Was it to become a "social movement", the yeast in amongst the people that gave substance to a British 'left populism'?
Was it, as it described itself, building socialism "in the community"? A " a people-powered, vibrant movement".
The claim that Momentum has been, "Harnessing people-power, technology and networks, we've won seats for Labour, changed minds about the solutions to the biggest crises of our time and altered the direction of travel for British politics. Our aim is simple: we're creating a society for the many, not the few." looks pretty empty after the 2019 Election Disaster.
Now some of the left seem happier spending their time attacking the popular and respected Labour leader, Keir Starmer.
Flaking away from the Party the self-pitying left seems on the up:
Nobody with morals or self-respect should remain in Labour.

Nobody with any with morals, intellect or self respect should now remain in the Labour Party. Throughout Jeremy Corbyn's leadership, the party was constantly sabotaged from within: the plotters praying that electoral defeat would help restore the hegemony of the right wing careerists – and it has. They have won.
And so it goes..
Many will be happy that Momentum has seen a clear out of the loyalists who used Momentum to ensure factional control of Labour Conferences in the interests of the Corridor Clique  that thwarted, notably, internationalist opposition to Brexit.
Beyond that there is little to indicate that Momentum has found a new positive direction away from its past factionalism.