Archive for the 'Labour Party' Category
Red Brown Front Says Alliance with Farage a Vote Winner.
The Red Brown Campaign took a new turn today with Galloways campaign getting this backing from Skwawkbox:
The increasingly red-brown site Skwawkbox, which has received backing from the Unite union, carries this 'report'
Labour candidate Kim Leadbeater has been criticised as 'disrespectful' by the chair of tonight's Batley and Spen by-election hustings for pulling out at the last minute – after her attendance had earlier been confirmed.
The chair told the audience, which included many Muslim voters, that Leadbeater – and her Tory equivalent – had dropped out with only half an hour before the hustings was scheduled to begin and that when 'every vote counts' in the by-election, he considered this a sign of disrespect:
Keir Starmer – who has described himself as an 'unequivocal' supporter of Israel – has attempted in the last two PMQs to convince Batley and Spen's 20% Muslim population that he is in favour of Palestinian statehood, but without actually calling for it to be recognised.
Now his efforts to appeal to – some might say 'fool' – the constituency's Muslims look to have been undone by a show of disrespect by the candidate, who dropped out rather than turn up to face the one opponent who did attend.
Even Socialist Worker comments,
Galloway is campaigning on his long-term anti-imperialism and support for the Palestinians. He also says that a vote for him will make sure Labour loses and Starmer is forced out.

But this is combined with a poisonous "law and order" and an "anti-woke" agenda, which serves to reinforce divisions and oppression. He provides left wing camouflage for rotten politics.
They continue, "Local Stand Up To Racism activists are organising to warn against the fascists and to protest against Robinson if he appears. The fascists cannot be allowed to gain support and confidence."
When are they going to campaign against Galloway?
No Platform for Fascists!
The Red-Brown Front is a Fascist Front; Smash the Red-Brown Front!
The Future of Left Politics?
Writing in the US Left Populist Magazine Jacobin Dave Broder discusses the aftermath of the Chesham and Amersham by-election.
…the Liberal Democrats' victory could help fuel one narrative touted by some Labour-aligned commentators in recent months — a "progressive alliance" to outflank the Tories and even change the electoral system.
Guardian columnist John Harris argues that the fragmentation of old electoral blocs makes this a necessity: after last night's result, he predicted a future for English politics where Lib Dems and Greens are "parties of the suburbs/commuter towns/hipster enclaves," "Labour the party of cities," with the "Tories a coalition of shires & post-industrial towns."
Precisely the danger of the Progressive Alliance — with Labour forming an enduring or permanent pact with the Lib Dems — is this effect in unbalancing the party toward just one part of its potential electoral coalition, seeing "progressivism" rather than class politics as the unifying force able to mobilize the social majority. Already with the French Socialists and ex-Communists in Italy, we have seen once-mighty parties with sizeable working-class support turn into a mere rump in their failed bid to dissolve their electorate and replace it with the liberal middle classes."
""""
It is far from clear that the French Parti Socialiste and its predecessor the SFIO has its main class base the working class, which saying it has a 'sizeable' worker support obscures. How far this is due to the PS's 2008 declaration which dropped to all reference to class conflict and support for an "économie de marché régulée » et « un secteur privé dynamique » is open to question. The inability to govern as a united force, and a practice which some say made the party strive for power for its own sake, are some more popular explanations. This was already a theme back in 2007 in this key work: Les socialistes français et le pouvoir – L'ambition et le remords. Alain Bergounioux Gérard Grunberg.
Then there is this:
It seems to be a great loss of support amongst voters, amongst constituencies where the socialists used to be very strong, notably the young and people working in the public sector, that's been the case, at least for the past 20 years.

As for the more popular, more working-class support, the socialists have lost a lot of them, that's why, one of the reasons why, it is becoming very difficult for socialists to win an election. At least, that's been the case for the past five years, where they lost all elections, at every echelon: local, regional, national.

It's because there is very, very little support now coming from the lower middle-class, salaried workers and that, of course, some have gone to the right, some have gone a little bit to Le Pen but essentially, and more recently, to Mélenchon, the radical left, but essentially, there's a lot of abstention amongst working-class voters.

Philippe Marlière 2017.
Rather than provide a galvanizing project for society, this approach mirrors existing culture-war divides. Especially glaring, in this regard, is the way in which leftish pundits nearing retirement age today lecture us on young voters' supposed obsession with cultural issues or "identity politics," even though under 40s massively backed Corbyn because of policies on housing and jobs, ignored the siren song of ultra-Remain parties, and then disengaged from Labour under Starmer's leadership."
Broder concludes,
The Progressive Alliance supporters have a point that, in the abstract, proportional representation (PR) is fairer than first past the post. Yet the demand raises skepticism on much of the Labour left — and with good reason. At a time when the party's connection to working-class voters is so precarious and its identity in crisis, PR seems likely to only hasten its unraveling. Worse, the proposed means of arriving at PR (an electoral pact with the Lib Dems, Greens, and others) splits Labour's own electoral coalition in advance. Since Labour has around four times more members than the Lib Dems, it also seems difficult to imagine how it would be decided which seat "belongs" to each party; the Lib Dems are, after all, infamous for distorted bar charts claiming that only they can "beat the Tories" (for other seats, "keep out Labour") in this or that seat.
We not need to go further into this article by one of the world's leading specialists in Amadeo Bordiga see fault in the project In fact the progressive alliance has more obvious problems that the threat of steering Labour away from any form of left politics. The danger of cutting Labour adrift from any form of left politics is much less than the fact that most people with actual political experience are deeply sceptical that such an alliance could possibly work, electorally or or a strategy for operating in government.
Why a progressive alliance is an electoral fantasy Ben Walker. New Statesman.
This idea, however, falls at the first hurdle. Its advocates assume that the voters who opt for Britain's varying progressive forces are enthused enough about this broader, more nebulous cause to obediently line up behind another anti-Tory party. In practice, however, it doesn't work that way.
The notion of the Conservatives being an unambiguously toxic force might ring true for some left-wing readers but for the majority of the voters, such a feeling is not there and has not been for a great many years.
For instance, according to Ipsos MORI, during a period last year in which progressive parties commanded 56 per cent of public support, just 46 per cent of Britons had an unfavourable view of the Conservative Party.
…
For example, in the election for the Durham Police and Crime Commissioner, 45 per cent of Lib Dem votes went Conservative. In Humberside, the share that went Tory was also 45 per cent. In Nottinghamshire, where 81 per cent of Lib Dem votes backed either the Conservatives or Labour, 38 per cent plumped for the Tories.
The net beneficiary in all these instances was Labour, but not by as much as the advocates of a progressive alliance might hope. Lib Dem voter loyalties are not shaped by anti-Tory sentiment but their own, more nuanced views. Simply put, far too many Lib Dems find Labour an unappetising option.
..
Finally, there is a genuine risk that people simply won't turn out to vote if the candidate from their preferred party is removed from the ballot paper. The hope that the electorate would turn out in similar numbers to vote for, in effect, their second preference is predicated on the assumption that the logged-off electorate have the same priorities as the logged-on – and they don't.
Walker puts the case well.
I would add that it is not just the memory of the Liberal Democrat-Conservative Coalition in 2010 that is the only reason for scepticism about a Progressive Alliance. The experience of working with the Greens, and above all, the Liberal Democrats in local government is very mixed. While the Leb-Dems have reached agreements over the years with Labour (running Suffolk County Council in the 1990s) they have also formed their own coalitions with the Tories (running Ipswich Borough Council). You can multiply these cases across the country. Many have us registered more recent deals between the Greens and anti-Labour councillors, from the London Assembly to Lancaster, including self identifying Eco-Socialists.
The same John Harris cited by Broder wrote in 2010,
Ipswich: Face to face with the realities of coalition
What do you get when you cross a Tory with a Lib Dem? Cuts, cuts, cuts
Plenty of Labour people, however, have a more potent argument. They mention Birmingham, where the Lib Dems are in coalition with the Tories. The same, they point out, applies to Leeds. And Warrington, Camden, Southwark, and Newport, Gwent. And the county town I visit for tour stop number eight: Ipswich, where a partnership of Conservatives and Lib Dems (with 19 and seven councillors apiece) has been running the borough council for five years. To hear some people talk, all that stuff about a new progressive wind has been rather drowned out by swingeing cuts and doctrinaire free-marketry.
Apart from this record anybody who thinks that negotiating with the Greens and Liberals is an easy job should talk to political figures on the ground. There is, as the picture heading this post indicates a Norfolk Progressive Alliance.. It is not clear if it has any influence (over 400 likes). While it is said that in Woodbridge, a very middle class town near Ipswich, the Lib-Dems, the Greens and Labour have created an informal 'progressive alliance', It was agreed to let the Greens have a free run for one nearby constituency, Wickham Market, in the May County elections. The Liberals (Labour figures say) reneged on this arrangement under pressure from Ipswich Lib-Dems. They stood a candidate, split the non-Tory vote, and let the Conservatives in.
Wickham, East Suffolk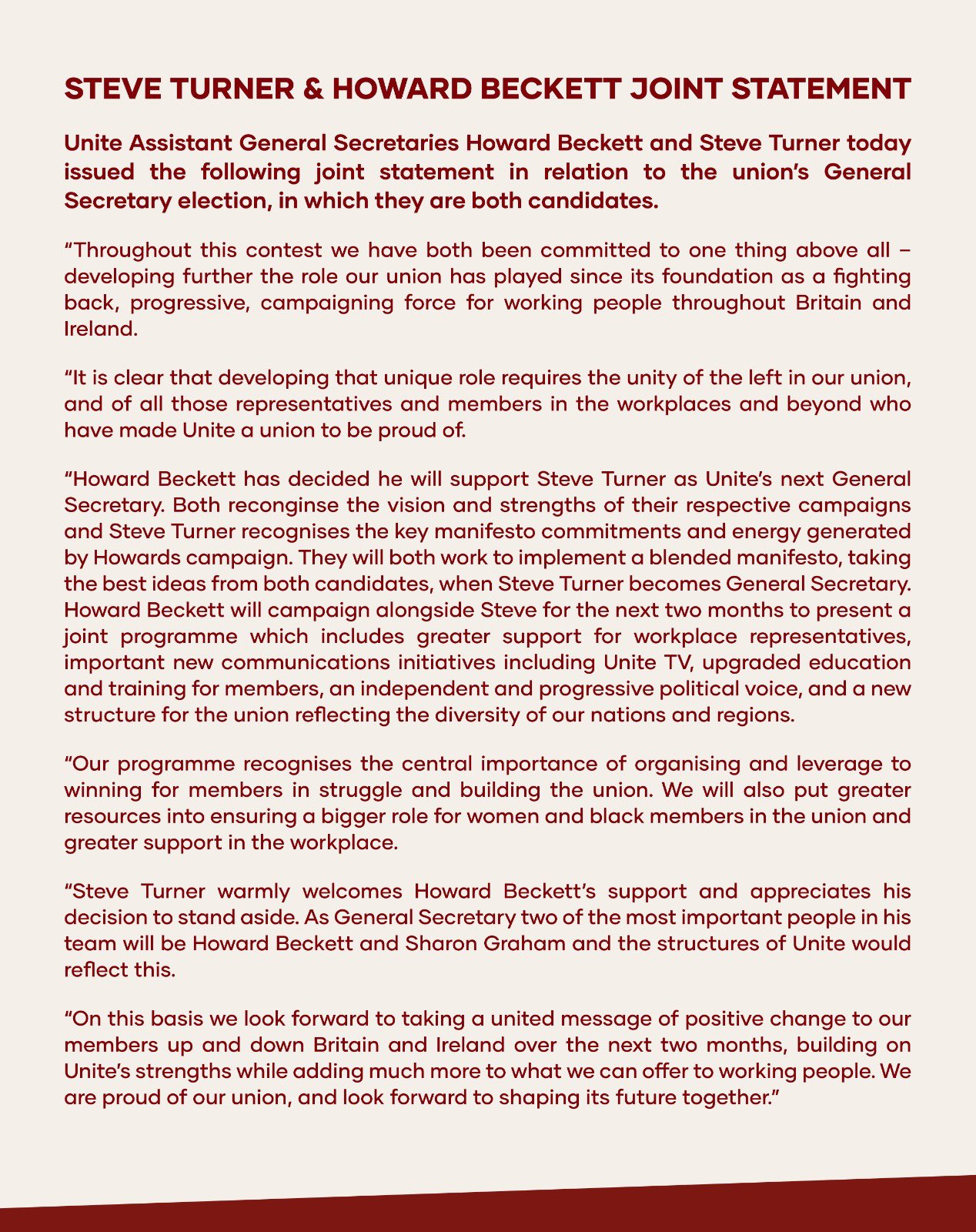 Skwawky sourly notes, after this ambiguous statement,
Howard Beckett has sacrificed himself for the sake of the cause by dropping out of the Unite leadership contest. Skwawkbox thanks him for the hope he brought.
This site is not telling anyone to back any other candidate. Many will simply not vote, now that the candidate they believed in will not be on the ballot paper. Machine politics carries no inspiration and this is a dark day for the movement.
A graceless response from one of those who have tried to pille ordure over Steve Turner.