Posts Tagged 'Imperialism'
Today 'elections in Nicaragua are being held. There are lots of reports on this
Nicaraguan President Daniel Ortega will seek a fourth consecutive term in elections that have been widely condemned by rights groups and international observers.
Ortega, whose Sandinista Front party and allies control the congress and government institutions, will face a field of little-known candidates on Sunday, while opposition figures who represented the most significant challenge to the former revolutionary leader's rule remain in prison.
Nicaragua votes in elections panned as 'parody' by international observers
They've been called "a parody," "a sham," and "the worst possible conditions" for a vote, but Nicaragua's general elections are going ahead on Sunday anyway. After an iron-fisted crackdown on opposition voices this year, Nicaraguan President Daniel Ortega is widely expected to claim a fourth consecutive term at the polls this weekend, alongside his vice president and wife Rosario Murillo.
The vote is the first for Nicaragua since a wave of popular demonstrations in 2018 rattled the country, and the Ortega government is taking no chances, having spent the past months blocking political participation of potential rivals and closely controlling the electoral process.
Ortega has put his opponents in gaol.
A summary:
Breaking the ban on journalists from abroad who are not supporters of the Dictator a reporter for El Pais reports today from the Nicaraguan capital.
There have been protests in a number of countries, including the UK.
But there is the 'alternative' view:
Yes, this is him:
"Steve Sweeney@SweeneySteve Morning Star International Editor. Founder of Media Workers for Palestine. Anti-imperialist. Reports on global liberation movements, press freedom & resistance."
"It is puerile to reduce imperial history to a matter of 'good' and 'bad'; trying to weigh up the positive and negative in this way is like defending the morality of kicking a random old man in the shins one afternoon because you helped an old lady across the road in the morning."
― Sathnam Sanghera, Empireland: How Imperialism Has Shaped Modern Britain
Empireland observes that much of British history happened elsewhere, in the Empire. This is one of the reasons why the land's imperialism is not always at the forefront of everyday historical memory. Many people in the country (including this writer, who like millions is partly of Irish descent) will not consider Ireland as much of an "elsewhere" as the Island, and its brutal colonisation, are not far away. There was also the Hundred Years War (1337- 1453) when the English Plantagenets claimed to the Throne of France. A memorable incident from that conflict is commemorated by a copy of Rodin's statue The Burghers of Calais, which stands in Victoria Gardens next to the Palace of Westminster.
But Sanghera's point is well-made: if this Blogger is old enough to recall Commonwealth Days when we paraded around with flags at Junior school by already traffic-heavy the North Circular the Empire itself is a historical fact with little, if any, emotional weight. That is one reason why "Despite a recent surge of interest in British colonial history […] the effect of British empire upon this country is poorly understood'." It is not entirely true, at least for somebody who did 'O' Level modern history, (GCSE Modern World History) in which the forces which led to decolonialisation figured large. But it is no doubt often the case.
With emotional and historical depth Empireland argues for widening, not "decolonialising" how the British Empire is taught. The author illustrates through his own experience as somebody from a Sikh background not just how the prejudices of some people in this country affected his biography but the way in which the history of the British Raj shaped Britain today. This was a story of callous exploitation, racial hierarchies, kept together by vicious military campaigns.
There were the 'nabobs', familiar to many readers of 19th century novels and those aware of the Impeachment of Warren Hastings, de facto Governor-General of Bengal in 1772–1785. Sanghera looks at the literary trace of those who amassed vast fortunes from their activities to fund lavish lifestyles back in Britain in the form of stately homes, art collections, places and objects the subject of recent battles the 'anti-woke' brigade and inside the National Trust. There was equally, in just about recognisable modern times (this is striking even if you know the outline) the stand-out Younghusband expedition to Tibet (1903 -4) when Buddhist monasteries were pillaged, the booty ending up in private hands and the British Museum and Bodleian. Looting, the mark of the wars of the ancient and medieval world, was carried into the twentieth century.
The subjects covered are vast, from the Transatlantic slave trade to the later 'Scramble for Africa', and explored in a thought-provoking away. 'Home and Away' looks at the life of 'expats' in colonial society, with some portrayed as just as prejudiced and sordid (including sexual exploitation) as one imagines, if they have been thought of.
The British Empire did not have 'progressives' as famous as the centre left republican Prime Minister Jules Ferry who  justified French colonialism as a "mission civilisatrice'. But there were parallels and not only from those who bought into Rudyard Kipling's view of the world and the White Man's Burden. The Fabian Society had members who believed that, "British Empire is a potentially progressive force in the world." and that, "The empire should be fruitfully utilised for greater and noble purpose: the establishment of a socialist "Common­wealth". In the course of disputes over the Boer War Bernard Shaw argued that, "Fabian socialism and Imperialism were both based on the supreme duties of the Community, with State Organisation, Efficient Government, Industrial Civil Service, Regulation of all Private Enterprise in the common interest, and dissolution of Frontiers through international industrial organisation. " – even if he did not agree with "every act of Imperial government." They also discussed the potential difference between "higher" and "lower" civilisations. In general terms they "approved and justified" the division of the world between imperial powers. (Fabian Socialism and British Politics. 1884 – 1918. A.M, Briar, 1962)
Empireland advances the view that "'as British empire grew and peaked in the nineteenth and twentieth centuries, it morphed into nothing less than a wilful, unapologetic exercise in white racial supremacy'."Yet for most of the population systematic views about racial superiority are, unlike prejudices, have not been widely shared on this archipelago for some time, if they ever were.T his, infused with a keen sense of the class as well as racial, ethnic, difference, makes you realise why many people in Britain, the vast majority of whom have no direct personal or family connection with colonial society, neither feel hot nor cold about Empire.
Empireland helps us jolt out of this into awareness of the living legacy of British Imperialism. It is a brilliant thought-provoking book. Read it.
Gardner Thompson makes the point in Chartist Magazine (Selective amnesia)
"At one important level this book is a call to action: to implant the British Empire in the school curriculum. Sanghera has a chapter headed 'Selective amnesia' – but forgetting implies having first known. He observes that his GCSE History left him with "little more than superficial knowledge of the world wars, the Tudors, and Tollund man". He adds, "empire, bewilderingly, remains untaught in most schools: its absence in my education, it transpires, is typical". Generations have indeed been left, in a virtual knowledge vacuum, to adopt any opinion about empire they choose – as admirable and glorious (a view which has in turn nourished a regrettable sense of British 'exceptionalism'), or as wholly deplorable."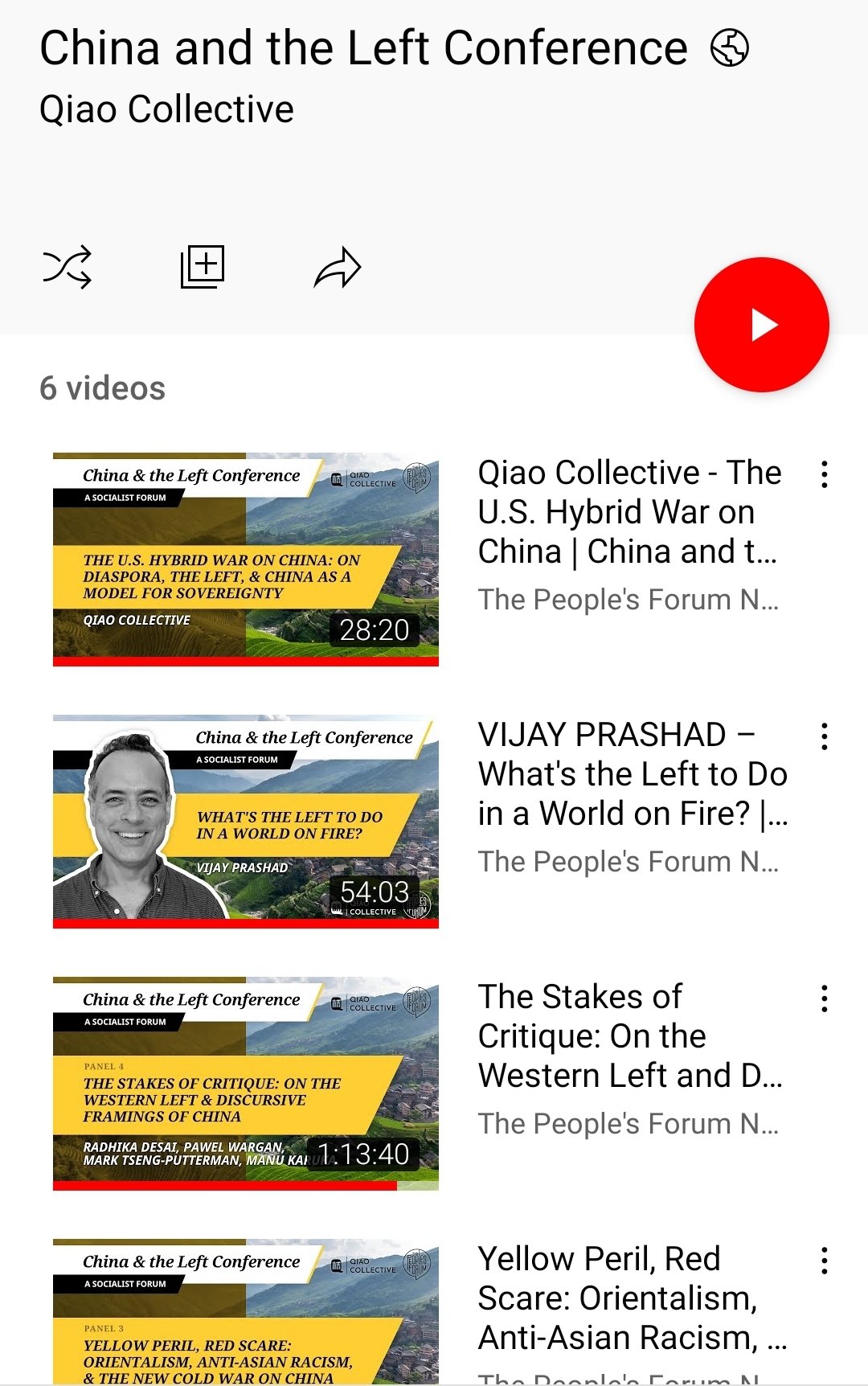 "I once informed leaders of the Progressive International—which rather awkwardly includes New Bloom (Note, Taiwan centred youth and political news) , Lausan (Note: Hong Kong left and labour rights) , and Qiao Collective alike—that as a basic rule of thumb, an international should not include members who wish death and destruction on other members as Qiao Collective does on Hong Kong and Taiwan, and that the Progressive International should consult with its existing members more knowledgeable about regional specificities before admitting new members who may have rather questionable politics. This rather basic suggestion has been completely ignored by the Progressive International leadership, who at the start of the venture did not seem to know of any groups in Asia. A list sent by the author of groups to possibly reach out to was ignored in favor of admitting the Qiao Collective. "
This Blog agrees 100% with the above.
Essential reading for all democratic socialists a careful, restrained, taking apart of the claims of the new pro-Chinese state left.
THE FOLLOWING TALK, which took place after an hour-long break for lunch, was a keynote by Michelle of the Qiao Collective.
Michelle sought to steer this observation toward claims of Chinese superiority, stating "We, in the imperial core, are the unfree ones," claiming that the US's failure to control COVID-19 was a form of genocide. Never mind that "genocide" has a specific meaning and does not simply refer to mass death, one need only note the contemporary ethnic cleansing of Uyghurs in Xinjiang through reeducation camps to wonder how Michelle's moral indictment of US genocide is anything other than a rhetorical diversion tactic. Furthermore, while Michelle claimed that the west was projecting its own boogieman onto China, one need only note that Michelle and other Qiao Collective member's views of China betray a pernicious form of diasporic projection onto China. At the same time, Michelle would not be the only speaker at the conference to cite the US's failures in managing COVID-19 as an example of the superiority of the Chinese system.
MANICHAEISM WITH CHINESE CHARACTERISTICS: A LOOK BACK ON THE "CHINA AND THE LEFT" CONFERENCE
Surprising nobody, the event mostly consisted of uncritical apologia for the Chinese state—however, the mental gymnastics on display are worth remarking on. Ultimately, the depiction of China by the event's speakers will still be persuasive to members of the western Left who know little about China and for whom China is little more than a faraway land to projected one's romanticized hopes onto, something reflected in how little most speakers seemed to know about the world's most populous nation. All this reflects the poverty of much of the western Left's knowledge of anything outside of western contexts and their projection of readymade frameworks onto any and all non-western contexts—in which they seem unable to see beyond their own Euro-American-centric worldview, failing to grasp the rather basic idea that there can be any empire in the world outside of US empire.
The 'Progressive' International:
Members of the 'progressive' international include: (Progressive International Site).
The World Transformed, The Nation, Novara Media, Mediapart, Jacobin, Open Democracy (!) and yes, the Qiao Collective.
Another case, the one-time Trotskyist leader of the International Marxist Group, John Ross:
By contrast: