Posts Tagged 'Ukraine'
Idlib, Syria: Thousands protest peacefully against Assad's war, Friday 14 September.
Louis Proyect has just published this article (in Counterpunch), of significance not only in the US but for the European left, and across the word.
On the Rhetoric of Anti-Imperialism.
Beginning with an overview of "Rohini Hensman's recently published Indefensible: Democracy, Counterrevolution, and the Rhetoric of Anti-Imperialism" it extends to a wider series of reflections.
Project tunes into some of the key ethical and political problems, thrown up by a number of intense conflicts across the world since 2011 and the response of various parts of the left to them.
In each of them the politics of an 'anti-imperialism', limited to opposing the 'West' (and de facto backing, amongst others, Assad's regime, Putin and , though he mentions this to a much lesser degree, Iran) has been called into question.
Rohini Hensman's recently published Indefensible: Democracy, Counterrevolution, and the Rhetoric of Anti-Imperialism is an important contribution to the debate that has divided the left since 2011, the year that Syria became a litmus test. For some, support for Bashar al-Assad became tantamount to backing Franco in the Spanish Civil War while others saw my perspective as lending support to the USA, Israel, Saudi Arabia and other reactionary states carrying out the same neoconservative foreign policy that turned Iraq into a failed state.
In other respects, he observes that on a range of social and economic issues the US left was united ("ranging from defending immigrant rights to opposing fracking),at the start of the decade.
But, "The polarization deepened in 2014 when the Euromaidan protest became litmus test number two."
"As was the case with Syria, the overwhelming majority of the left sided with Yanukovych who was seen as a progressive leader ousted by a coup organized and funded by the CIA. When war broke out in eastern Ukraine, the Kremlin-backed militias were freedom fighters while Kyiv became a tool of NATO and Western banks. Trying to avoid such geopolitical dualities became difficult, if not impossible."
This could equally be seen here. The left (with at least some hope of a wider political influence than the US left, which was increasing after Ed Miliband began his Labour leadership) has in general terms been united on issues such as anti-austerity. This has parallels across Europe, although since that time the EU (UK) or sovereigntism has become dividing lines.
It was during the Ukraine crisis that the same divisions over international issues, as in the US, became serious.
There was (lightly covered) with support for Putin and the Russian Federation's claims from the Morning Star, and the Stop the War Coalition (Counterfire-led) – a position not reflected so widely in the rest of Europe outside of the direct inheritors of the Stalinist parties – but also present.
Here is their activity in sharp focus,
Solidarity with the Antifascist Resistance in Ukraine' launched in London Socialist Appeal. 2014

Lindsey German (Counterfire), Boris Kagarlitsky (Institute for globalization studies and social movements), Andrew Murray (Communist Party of Britain), Alan Woods (International Marxist Tendency) and Sergei Kirichuk (Borotba) discuss the threat of fascism in Ukraine, the role of imperialism in the current situation and the need for a campaign in support of the antifascist resistance in Ukraine to provide a counterweight to the lies and distortions of the Western media.
Then there is the Middle East, where unity over opposition to the Invasion of Iraq began to crack, above all as the Arab Spring brought forth a movement for democracy against the Assad dictatorship.
Proyect talks of Syria, the cause of whose people he has been a consistent champion.
He cites US writers who have sided with Assad (and not, odd as it may seem, the worst of the red-brown Assad apologists….)
For Syrians, the notion put forward by Stephen Gowans et al that Syria was some sort of socialist utopia rivaling if not besting Kurdish Rojava was a cruel joke. Hensman writes:

Finally, it is an irony that people who see themselves as socialists fail to note the class dimension of the uprising. Janine di Giovanni provides a vivid description of the Damascus elite who support Assad: "[In June 2012,] for several weeks running, I watched the fevered hedonism of the Thursday afternoon pool parties at the Dama Rose Hotel … By lunchtime, women were rushing to hairdressers; the roads leading out of the city … were clogged with luxury cars … Restaurants such as Narenj, which … served traditional Arabic food to the elite, were still packed." (di Giovanni 2016, 8). By contrast, in 2007 a third of Syrians were living beneath the poverty line, with nearly another third only slightly above this level. Swiss-Syrian socialist activist and scholar Joseph Daher (2016) writes that "even the regime-controlled Syrian General Federation of Trade Unions deplored in 2009 that "the rich have become richer and the poor poorer … (and) low income earners who make up 80 percent of the Syrian population are looking for additional work to support themselves". He continues, "We must not forget that the popular revolution in Syria began as a result of social economic injustices and widespread poverty, in addition to political issues."
This is the crucial, the crunch point: his summary of what's facing people in Syria now:
We are now in the final hours of the seven-year ordeal in which attempts to restore the democratic values of Hourani's government have been crushed by overwhelming air power and massive intervention by Iran, Hezbollah and Afghan mercenaries. The looming victory against "imperialism" leaves the country in shambles with dismal economic prospects and inescapable environmental disaster.
He continues, looking at the "campists" now backing, more or less openly, Assad.
A certain political myopia exists in such quarters. Despite their anti-fascist pretensions, they cannot fathom how Assad's victory will strengthen reaction throughout the Middle East and Europe. In an interview on Portuguese television, General al-Sisi stated: "The priority is that we support the national armies to impose control over the territory, deal with the extremists, and impose the necessary stability in Libya, Syria and Iraq." When the interviewer followed up with "When you refer to the National Army in Syria, do you mean the Syrian army?", the General replied: "Yes."
In Proyect's conclusion he suggests that capitalists, and those states who wish for Assad's victory, have their own interests at heart.
Hardly a surprising claim but can this be extended to speculation that a bloc is being formed out of "With Assad, al-Sisi, Putin and Haftar" in a "new axis of resistance against Islamists" or, even more speculatively, "would anybody be surprised that Netanyahu would apply for membership?2
One can only note that Louis's belief that Boris Johnson is still UK foreign Secretary is one, amongst many reasons to doubt the emergence of such an alliance. And there is a leap from a certain support for Libya's Hafter to….Assad, and Putin, Israel, Macron….. which is hard to jump. ("In July, Haftar met with an Israeli intelligence officer in Amman, to "deepen security coordination between him and Israel". Not only does Haftar have these considerable forces in his corner, he can also rely on the backing of France's President Emmanuel Macron and the UK Foreign Secretary Boris Johnson, as well as the United Arab Emirates.").
The conclusion is, nevertheless, worth serious reflection:
In all their heartfelt objection to imperialism, Assad's supporters on the left seemed to have forgotten that Lenin wrote a book titled "Imperialism, the Highest Stage of Capitalism". If you forget about the capitalism part of his analysis, you don't get very far.
One cannot imagine that Iran (whose capitalist rather than geopolitical and religious-ideological interest, if there is one, which it far from sure, goes unmentioned) and Putin's Russian Federation, have backed Assad out of a wish to strengthen a multipolar world contesting American dominance purely out of hearty anti-imperialist good will. The extent to which religious ideology as a material force in the conflicts remains unclarified, but who can seriously doubt that it plays a substantial role in these wars.
While one is certain that much of the US left, anxious at all times to distance itself from any hint of support for its own imperialist military machine, has good reason to be wary of its state's involvement.
But today this is of utmost urgence:
Indefensible: Idlib and the left Leila Al-Shami
Red Famine, Anne Applebaum. Stalin's War on Ukraine. Allen Lane 2017.
"I saw one cart, it was stacked with the bodies of children. They looked thin and long – faces like dead birdies, sharp little beaks. Some were still making cheeping noises: their little heads were like ripe ears of grain, bending the thin stalks of their necks…"
Everything Flows. Vasily Grossman. (1)
The catastrophes of the 20th century leave deep traces. The famine in Ukraine, portrayed in Grossman's uncompleted novel ((begun in 1955, and worked on until his death in 1964), rendered his witness to one of the greatest tragedies of history immortal. In the middle of the 1930s the anti-Stalinist leftist Boris Souvarine estimated that more than 5 million died across the USSR in the mass hunger that followed the collectivisation of agriculture of 1932 –3. (2)
Anne Applebaum totals 5 million who perished in the Holodomor (Hunger-extermination in Ukrainian) alone. This mass starvation was a "famine within the famine, a disaster specifically targeted at Ukraine and Ukrainians."(Page 193) In this the author of Red Famine follows Robert Conquest who considered that the deaths were deliberately inflicted for ethnic reasons and constituted genocide (The Harvest of Sorrow. 1986). More recently Timothy Snyder has called it "premeditated mass murder" (Bloodlands. 2010).
In Iron Curtain (2012) Applebaum narrated the post 1945 strangulation of Eastern Europe's politics and civil society in Stalin and his satellites' embrace. But the ordered effort "to control every aspect of society" barely describes what Isaac Deutscher called the "pandemonium" of forced collectivisation at the beginning of the 1930s which precipitated these mass fatalities. (3)
Spurred by the prospect of national, notably urban, food shortages in the late 1920s, Stalin, Applebaum observes, ordered the programme to ensure "internal accumulation" for Soviet industry. The peasants were driven into Kolkhozes, collective farms, and the "liquidation of the Kulaks as a class" met resistance. By the end of March 1930 the secret police, the OGPU recorded 2,000 mass protests in Ukraine alone.
The response was coercion. Teams of 'activists' herded people up, lectured them, poked their noses into their meagre belongings, and confiscated at their whim. Armed Soviet agents surrounded rebellious villages with machine-gun and forced them to surrender. There were mass deportations.
The Marxist Deutscher compared the fate of the peasants to that of "mere factory hands". In the USSR this meant life ruled by party appointed bosses, internal passports, and military discipline. They did not welcome their new lives. In the collective farms, badly supplied, and ramshackle, people worked as little as possible. Vast tracts of land were "left untilled".
But rules began to grip. Recalcitrant districts were blacklisted. "With no grain, no livestock, no tools, no, money and no credit, with no ability to trade or even to leave their places of work, the inhabitants of blacklisted villages could not grow, prepare or purchase anything to eat at all."(Page 200)
The Mass Famine.
The reduction of the independent peasantry to appendages of the state bureaucracy, and the deportation of the slightly better off kulaks, took place against the backdrop of famine.
From exhortations, backed by violence to join the Kolkhozes, the state focus shifted to procuring food. The quest for gain through forcible requisitions became a prime activist task. Bringing back memories of marauding armies in the Civil War, appeared "a man who brandished a gun, spouted slogans and demanded food".
In a haunting description Applebaum outlines the peasants' dilemmas. They were forced "give up their gain reserves and die of starvation, or they could keep some grain reserves hidden and risk arrest, execution or the confiscation of the rest of their food – after which they could also die of starvation."(Page 195)
By the winter of 1932 –3 people in the countryside had exhausted their supplies and started to search for "everything edible". Many were unable to find anything. There were harrowing incidents of cannibalism. The result was that, demographers estimate, 4,5 million people starved to death.
Stalin's Policy Against Ukrainians.
Red Famine states that there was policy behind the disaster in Ukraine. Stalin was hostile to Ukrainian nationalism, from the 1917 Rada onwards, and Ukrainians, including their own Bolsheviks whom he believed favoured the national movement and culture. This had a basis in that millions of Ukrainian peasants had wanted "a socialist revolution, but not a Bolshevik revolution" and distrusted anything that came from Moscow. If those with such views in the villages could be sorted out by direct force, the intelligentsia presented another obstacle to be met with by the same methods. Beginning with Stalin's consolidation of power all signs of national consciousness were repressed; above all, the educated Ukrainian speaking elite were targeted in successive purges.
Stalin, while adept at claiming a certain distance from those "dizzy with success" I applying his decrees never admitted any responsibility for the deaths in the early 30s Apologists such as visiting French Minister Édouard Herriot, concerned to make a treaty with the USSR, and the US reporter Walter Duranty aided his work. The Pulitzer Prize winner replied to evidence of famine from the young journalist, Gareth Jones, with the headline, "Russians Hungry, not Starving." The facts reached only a limited audience. Not only was there no international movement of protest, but the Soviet Union neither appealed for helps from other countries, nor set up its own relief operations. To talk of the wretched conditions of the victims was a crime.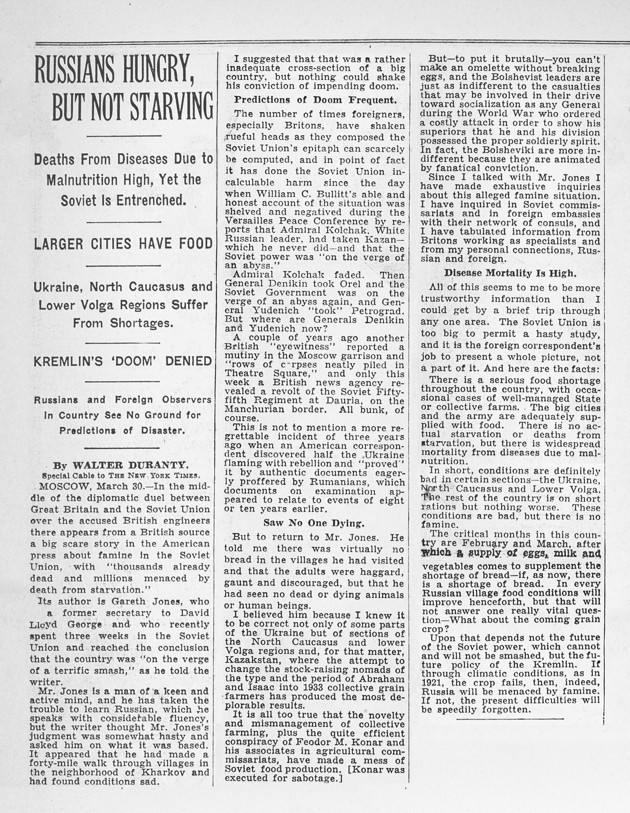 For Applebaum the evidence is clear. Stalin "helped created the conditions that led to the famine". "Starvation was the result, rather, of the forcible removal of food from people's homes; the roadblocks that prevented peasants forms eking work or food, the harsh rules of the blacklists imposed on farms and villages; the restrictions of barter and trade; and the vicious propaganda campaign designed to persuade Ukrainians to watch,unmoved, as their neighbours died of hunger."(Page 354)
If Stalin did not seek to eliminate all Ukrainians, but the "the most active and engaged Ukrainians, in both the countryside and the cities" was this a crime of genocide? It is distressing to broach the issue. The reader, shaken by this book, can only express humility towards those determined to commemorate the Holodomor and a wish to stay clear, very clear from those who still attempt to rehabilitate Stalin's rule in the USSR and slander the martyred Ukrainians.
*******
(1) Page 145. Everything Flows. Vasily Grossman. Translated by Robert & Elizabeth Chandler with Anna Aslanyan. Harvill Secker. 2010. On Stalin's role Grossman notes, "This fusion of party and State found its expression in the person of Stalin. In the mind and will of Stalin, the State expressed its own mind and will." (Page 205) "It was Stalin – who was both a European Marxist and an Asian despot – who gave true expression to the nature of Soviet statehood. What was embodied in Lenin was a Russian national principle; what was embodied in Stalin was a statehood that was both Russian and Soviet."(Page 205)
(2) Le paysan soviétique. Boris Souveraine. In Cauchemar en URSS Paris, Revue de Paris, 1937. 
(3) Pages 324-5. Stalin. Isaac Deutscher. Penguin. 1990 (1949).
Free Oleg Sentsov and Oleksandr Kolchenko!
A court in Russia has jailed Ukrainian film-maker Oleg Sentsov for 20 years for plotting terrorist acts in Crimea.

Sentsov, 39, was arrested in May 2014 during a protest against Russia's annexation of the Ukrainian peninsula two months earlier.

He pleaded not guilty and his family say he will appeal. The trial has been condemned by the US, EU and other film directors.

Russia denies accusations that he is a political prisoner.

Another Crimea activist, Alexander Kolchenko, who was being tried with Sentsov and also denies the charges against him, was sentenced to 10 years.

After the verdict was read out, both defendants sang the Ukrainian national anthem in the military court in the southern Russian city of Rostov-on-Don.

The EU's foreign policy chief, Federica Mogherini, said the case breached international law, while the US ambassador to Ukraine, Geoffrey Pyatt, said the process had been a "farce".

Allegations of torture

Sentsov, best known for his 2011 film Gamer, was accused of setting up a terrorist group. Prosecutors say he was involved in two attempted arson attacks in the city of Simferopol, ordered by extremist Ukrainian group Right Sector.

The Ukrainian government says he is being punished for being a Crimea-based pro-Ukrainian activist.

Russia: Ukrainian film-maker's 20-year jail sentence compared to 'Stalinist-era show trials'.
 Amnesty Statement:
 Long prison sentences handed down to two Ukrainian activists by a Russian military court today are a blatant injustice and are comparable to "Stalinist-era show trials" of dissidents, Amnesty International has said.

The sentences came after a patently unfair trial marred by credible allegations of torture.

The court in the Russian city of Rostov-on-Don sentenced film director Oleg Sentsov to 20 years and ecologist and anti-fascist activist Aleksandr Kolchenko to ten years on "terrorism" charges, charges which they both deny and claim were politically-motivated. The two were accused of arson attacks on pro-Russian groups following Russia's occupation of Crimea last year.

International humanitarian law requires that Russia, as the occupying power in Crimea, prosecute any defendants in civilian courts under Ukrainian law.

Amnesty attended the trial, including today's sentencing hearing in Rostov-on-Don.

Amnesty International's Eurasia Researcher Heather McGill said:

"This whole trial was designed to send a message. It played into Russia's propaganda war against Ukraine and was redolent of Stalinist-era show trials of dissidents.

"This trial was fatally flawed and credible allegations of torture and other ill-treatment have been ignored by the court. Both Oleg Sentsov and one of the main witnesses for the prosecution have alleged that they were tortured.

"Any testimony gained through torture and other ill-treatment must be thrown out, the 'terrorism' charges must be withdrawn, and Oleg Sentsov and Aleksandr Kolchenko should either be released or face a fair trial in a civilian court."
There has been extensive and detailed political coverage in the French language media (the story was headlined on the radio this morning) see:
La Russie condamne le réalisateur ukrainien Oleg Sentsov à vingt ans de prison. Le Monde.
Russie : Oleg Sentsov, réalisateur ukrainien condamné pour «terrorisme»  Le cinéaste et un jeune anarchiste, présents sur les barricades de Maidan à Kiev et contre l'annexion de la Crimée, ont été naturalisés de fait avant d'écoper de 20 ans de prison. Libération.
Update: