Archive for the 'Racism' Category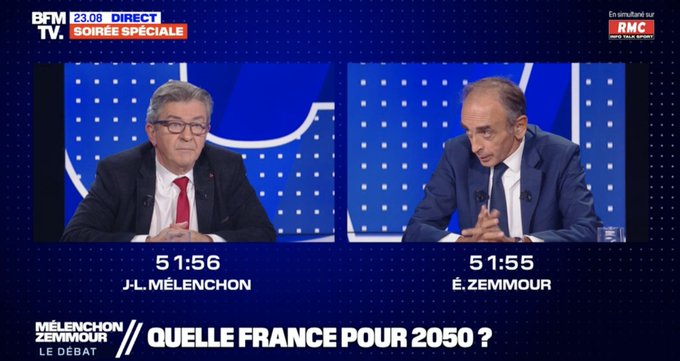 Opinion Polls this week had put a Zemmour Candidacy ahead of Mélenchon.
Last night on BFMT there was a two hour debate between the leader of La France insoumise (LFI) Jean-Luc Mélenchon and the far-right self-proclaimed Presidential candidate Éric Zemmour.
I watched it. Zemmour's hatred for immigration, that is immigrants, in general and Muslims in particular stood out. The theme of the 'great replacement' (grand remplacement) and the end of the French nation was never far from the polemicist's lips, as was crime, social security fraud, and allegations of a brewing civil war. Islam was the opposite of the country, "aux antipodes de la France". C'est une guerre de civilisation qui nous est menée, une guerre de pillages, une guerre de viols, une guerre de meurtres." (A war of civilization which is being waged against us, a war of looting, a war of rape, a war of murder.) said he. The 'polemicist', who is from a Jewish background, generously allowed that possibly some Muslims might be assimilated to the French republic, on the model of his own community's integration. Those who did not fit in should leave.
To British eyes it seemed extraordinary that this unbridled hatred was given an airing. Fact-checks on some of the wilder claims did not diminish that impression. Experienced in communication and media techniques (having seen him on C-News) Zemmour got away with the ravings of a bigot.
Not one to take this claims lying down Mélenchon called his opponent a racist with court convictions for it, "Vous êtes un raciste, condamné pour ça. » On immigration Mélenchon defended "créolisation", that is cultural mixing. On the name issue (Zemmour wants children to have French forenames) he rightly said that a French prénom was a name of a French person. The left populist also cited the claim that Couscous was France's favourite dish – reminding people that not everybody has the British taste for curry.
The LFI leader tried, many times, to get the discussion back to issues that could be rationally, or at least, calmly talked about. His election programme included retirement at 60, blocking the prices of energy and certain food products – as well as increased agricultural 'sovereignty' for France – leaving NATO or increasing the minimum wage to 1,400 euros. Taking up some of his favourite themes Mélenchon vaunted France's maritime role and the potential of space exploration. .
Zemmour attacked Mélenchon for daring to criticise heavy-handed – brutal – policing, for his Trotskyist past, questioned how anybody from a Marxist background could back green energy, and for good measure peppered his speech with attacks on the "obese" welfare state and people living on benefits.
Both figures linked the growth of abstention in French elections to the lack of effective change on offer. Emmanuel Macron, Zemmour said, stifled politics, representing both the liberal right-wing and the liberal-left wing.
Hell, those two hours were dire.
Zemmour, who has still not officially announced his candidacy for President, is eating into Marine Le Pen's electorate.
Before people smile:
"Eric Zemmour would collect 10% of voting intentions in the first round of the presidential election and Jean-Luc Mélenchon 8% if Xavier Bertrand would be the right-wing candidate and Yannick Jadot the EELV Ecologists) candidate. Same score if Xavier Bertrand and is a candidate and Sandrine Rousseau is committed for the Greens. Eric Zemmour would total 10.5% of the vote and Jean-Luc Mélenchon 7.5% if Valérie Pécresse wears the colours of the right and Yannick Jadot defends EELV. Last scenario: Eric Zemmour is credited with 10.5% of voting intentions and Jean-Luc Mélenchon with 8% in the event that Valérie Pécresse and Sandrine Rousseau are candidates."
La Dépêche. 23.9.21.
There has been a debate on the French left as to whether it was wise to debate with Zemmour.
Here is a good introduction to Zemmour's ideology:
Le «zemmourisme», un ultranationalisme intégral.
This is what Britain's ace reporters are interested in today: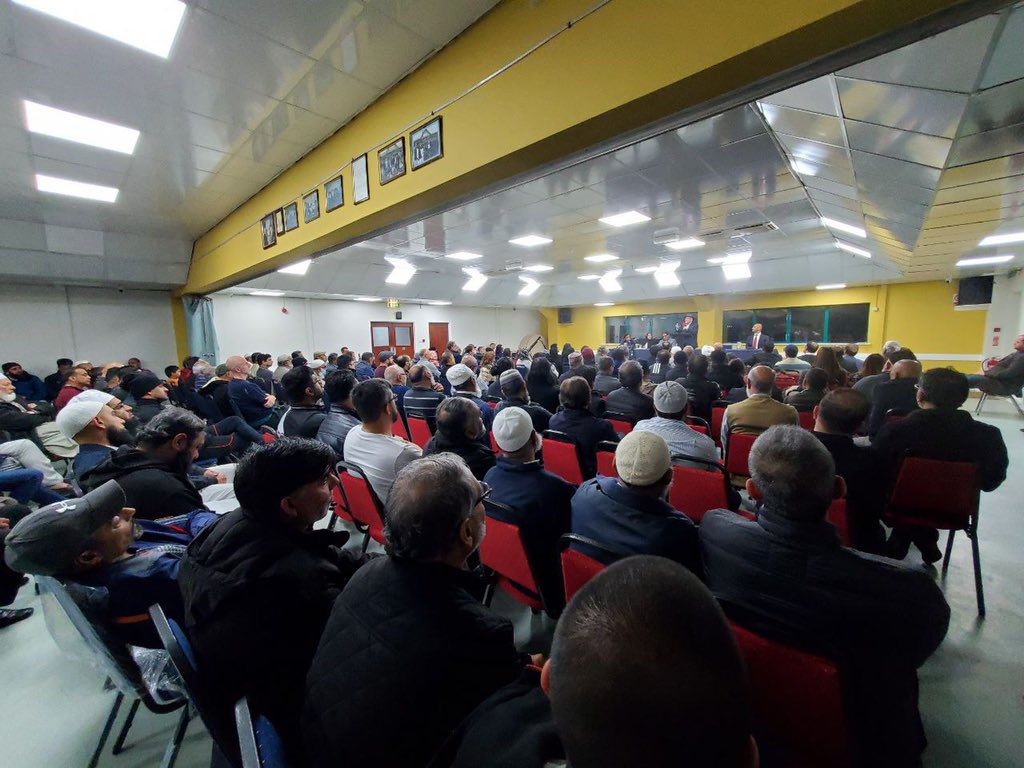 Labour "Spies" Seen Off with "their blood running cold."
Here is more of this little operation.
After the collapse of Respect there were rumours that George Galloway had dusted off an old project and was about to produce "Dusty Springfield, the musical." "It will not be just about her musical talent but her whole journey through life, her sexuality. It won't shirk from any of that."
Instead the talented entertainer turned his hand to writing children's books, writing this much-loved classic, "Red Molucca: The Good Pirate."
The matinee idol has never been far away from his star turns on Celebrity Big Brother. Galloway has kept his hand in with the variety shows Sputnik and The Mother of All Talkies. Word was that an appearance on Desert Island discs was imminent; people were already queuing up to fund a life-long trip to a remote Pacific isle.
Yet the Man in the Fedora has always hankered after the glory days at the centre of national politics, the time as the Green Shirts MP for Bow Bells, and the epic that he led, as charismatic figure-head of the Bradford Spring.
Ally of Nigel Farage and the Brexit Party in the 2019 European Elections, Galloway was the Leader of All for Unity in the 2021 Holyrood Elections in Scotland. That alliance with the progressive British bourgeoisie (er, Tories), in the cause of national sovereignty, was thwarted by jealousy in high places. 2021 Scottish Parliament election George Galloway, South Scotland All for Unity 5,521, 6th, 1,5% of the vote may have played a part
At the Scottish Parliament election, All for Unity failed to win a single seat

Election 2021 23,2990.90 / 560 / 129

7th Not in parliament
Undaunted by his third place in the more recent (2021) Batley and Spen by-election the dapper gent, with his supporters in the Workers Party of Britain, and the Communist Party of Great Britain (Marxist-Leninist) are building a red base in this Yorkshire area.
Latest: you can't keep an old Trouper down,
9th of September.
Mr Galloway is charging £25 per message.
Landmark Book.
Imagine a country where a former extreme left party has recycled itself as a Tribune against Woke and publishes articles defending the national populist ruler of Hungary, Viktor Orbán. Think of a political scene, where this party- become-network, joined with members of a Communist party committed to the fight against globalisation, and a wing of a social democratic party, nostalgic for the 'real' working working class. Imagine these defenders of the 'somewhere people' and the traditional values of family faith and flag, up in arms behind national sovereignty against the European Union. That they came together to fight for the right-wing side, of a Referendum. Think, if you can, of these old revolutionary girls and boys actively supporting a far-right party with a marked hostility to immigration and getting one their number elected as a MEP, and then given a Peerage. (1)
La Grande Confusion is a landmark book. Amongst many things it helps to put the above British twists and turns into a wider European context. The author Philipe Corcuff has a complex background on the French radical left, as he explains in the introductory pages (2). It includes a brief period as a member of micro-party originally left wing Socialists, Le movement des Citoyens. Its leader Jean-Pierre Chevènement would later stand as a Presidential candidate (2002) with the MDC rebranded, 'Mouvement républicain et citoyen) with the slogan " ni de droite, ni de gauche (neither right nor left) winning 5% of the vote in the first round. A paradigm, one could say for some of the book – shifts back and forward from left to right, a pull away from the left to the "real people" and the Nation. Or as the 'Che' put it, above the left and the right stands La République. The former Socialist got the backing of sovereigntists, royalists (!!), former Front National supporters, Régis Debray, one-time Socialists and a small number of people on the far left.
What is then is the confusion, the confusionnisme, referred to? This is, "the current name of a relative disaggregation of political benchmarks previously stabilised around the left-right cleavage and the development of rhetorical bridges between extreme right, right, moderate left and radical left" (Page 31) That is there is, he asserts something more than links, or the old 'Horseshoe' theory of extremes meeting. It is a kind of 'bricolage' of 'anti-system' politics, shifting towards the far right or red-brown fronts.
One of Corcuff's theses is that the idea of 'national sovereignty' is the axis around which a number of themes, from the 'identarian' assertion of French nationhood, a republican patriotism that has shifted towards nationalism. It is boosted by an 'anti-political correctness' that barely masks a defence of traditional prejudice. The cross-overs between French populists of the left and rights, from language – the common use of the word 'caste' to describe the 'oligarchy' opposed to the people – to theme amongst left-populists, such as Jean-Luc Mélenchon, to promote the national 'people' and working class over all others.
This tendency of the leader of La France insoumise to be worried about the menace of "communitarianism" Amongst many example, we can see in Melenchon's comments on the responsibility of the Chechen community when Samuel Patty as murdered by an Islamist racist in 2020. This indicates Corcuff argues, a "national republican" thread in his ideas (Pages 520-1). Some of this had gone further, ending in the «l'étrange trumpisation de gauche à la française»> that is a gloss that comes out with a Gallic version of Make America Great Again – a call to restore the universal mission of France.
For the English anti-woke Tribune Spiked read Front Populaire -a review founded by the one-time libertarian anarchist and atheist Michel Onfray. This brings together Sovereigntists "from all quarters" including, amongst others, Jean-Pierre Chevènement (former Socialist Minister, see above) Philippe de Villiers (classical right and …Alain de Benoist (New Right) (Avec sa nouvelle revue « Front populaire », Michel Onfray séduit les milieux d'extrême droite) One has to say that there is not even much of the Brendan O'Neill's style of residual libertarianism left here.
La Grande Confusion covers many writers and political figures any of whom are not widely known outside of the hexagone. To cite only a few Éric Hazan (who defended in 2019 demonstrating with the far-right violent wing of the Gilets Jaunes, against Macron, " A whole range of intellectuals see violence is evil. For those who do not stick to this position and may sometimes consider it legitimate, the fact that the far right is present in this violence puts them off quite a bit. But it doesn't bother me ) and Houria Bouteldja (notorious with a photo shot of her holding a placard saying Jews to the Gulag, she has been a member of the Indigènes de la République) , on the other hand, between Alain Finkielkraut (extreme cultural conservative) and Christophe Guilluy (the 'geographer' and self-appointed spokesperson for La France périphérique) Jean-Claude Michéa (who talks of 'Capital' as the Enemy, who draws on the late Christopher Lasch and claims an insight into George Orwell and Michel Onfray, on the one Chantal Mouffe (left populist') and Frédéric Lordon (once fashionable theorist whose Les affects de la politique, 2019, talks of the importance of the emotional ties of The People to a Sovereign Power), Alain Soral and Éric Zemmour: two variants of French-style ideological ultraconservatism, Renaud Camus and the conspiratorial fantasy of the "Great Replacement".
One of the few ventures outside the Francophone world is a long section on he German populist a member of Die Linke, Sarah Wagenknecht who has highlighted "immigration's negative impacts on the domestic working class".
"The book is a dizzying Ferris wheel" writes Adrien Mariani in Lignes de Crêtes. At six hundred and seventy two pages, with references to Merleau-Ponty and Foucault's theories of discursive formations, and a lot of detail, La Grande Confusion is perhaps, despite the clarity of the writing, more of a resource, or as it says on the cover, a small Encyclopaedia, than a sit down read.
Corcuffs's meticulous pursuit of his subject, the inevitable comparison with an earlier call to be wary of a slide to the right, the late Daniel Lindenberg's Le Rappel à l'ordre : enquête sur les nouveaux réactionnaires" (2002) That itself echoed a post Great War art movement away from avant-garde experiment back to classicism. Today it is no the classical right but the hyper-nationalist, 'archeo-conservative', conspiratorial, identarian national populist right which has infected some of the left. The book describes how this has happened, it does not tell us why, or explore the deeper reasons for the popularity of national populism and the extended (if ultimately limited) extreme-rights ideas across Europe.
The present work, as Le Monde says, shows " un méticuleux travail d'analyse, nourri par une considérable érudition, le goût de la pluralité des sources et le culte de la nuance." As the opening paragraphs of this review indicate, this take on political 'confusionnisme' has great relevance beyond France. La Grande Confusion is a trail-blazer. Will an emancipatory left emerge to fight the confusion? One can only hope so.
(1) I refer to the RCP/Spiked network and the Full Brexit: one can see the radicalisation of the Blue Labour politics of the common good' and the 'mainstream of the Nation' to the leader of Trade Unionists Against the European Union:
See
(2) It is hard to match this record!: , Jeunes Socialistes (1976), Parti socialiste (1977-1992), Mouvement des citoyens (1993-1994), Les Verts (1994-1997), Ligue communiste révolutionnaire (1999-2009), then NPA (depuis son congrès de fondation en février 2009 jusqu'en février 2013), et enfin, un tournant libertaire, avec son adhésion en février 2013 à la Fédération anarchiste.