Archive for the 'Racism' Category
Labour Against the Witch-hunt (LAW) was dead: to begin with. There is no doubt whatever, about that. The register of its burial was signed by the Weekly Worker undertakers, and the chief mourners, 4 former members of the Steering Committee.
Implacable December politics. As much mud in the hamlet of the divided left as if the waters had but newly retired from the face of the earth, and it would not be wonderful to meet a Megalosaurus, forty feet long or so, named Galloway, waddling like an elephantine lizard to merge up in the cul-de-sac of the amorphous socialist movement. If you can juggle the metaphors.
Friday saw a gathering of saurian socialists: Galloway, Williamson and …TUSC (Trade Union and Socialist Coalition, chief backers, the Socialist Party, ex-Militant, and the RMT – National Union of Rail, Maritime and Transport Workers). (1)
Organised by the group they call, "George Galloway's nationalistic Workers Party and his lieutenants in the Stalin Society" – the pro-Democratic People's Republic of Korea (DPRK), Communist Party of Great Britain (Marxist-Leninist), Vice-Chair Joti Brar. Also Vice-Chair of the Workers Party of Britain.
More news from Birmingham Workers Party of Britain.
Attended by (see above) Chris Williamson, ex-Labour MP, and the newest best friend of the man they say slew LAW, Tony Greenstein.
It was the epoch of belief, it was the epoch of incredulity, it was the season of light, it was the season of darkness, it was the winter of despair.
You can see a bit here.
And here.
Birmingham: "the Workers Party, which has already selected challengers for Brandwood & Kings Heath, Bordesley & Highgate, Balsall Heath West and Alum Rock. Balsall Heath East, Sparkbrook, Shard End, Bordesley Green are all in the process of selection."
(1) Via JR, update.
Socialist Party, 5th of July 2021.
The Socialist Party fights for steps towards such a party by participating in the Trade Unionist and Socialist Coalition (TUSC) which enables trade unionists, community campaigners and socialists from different parties and none, to stand against pro-austerity establishment politicians under a common banner and an agreed platform of core policies.

It was an important first step for the post-Corbyn era that, in the May 2021 elections, TUSC was able to stand over 300 candidates. At the same time we argue for the trade union movement to take steps towards founding a new mass party.
Will George Galloway be able to play a role in the development of such a party? The Socialist Party has in the past criticised Galloway for creating a too narrowly-based appeal aimed specifically at Muslims, rather than the working class as a whole. While this has allowed him to make electoral breakthroughs, winning elections first in Bethnal Green and Bow, and later in Bradford West, he has not consolidated a base or, eighteen years after his expulsion from Labour, built a stable organisation. The lack of a consistent class-based approach, or roots in the trade unions, or a democratic structure, have all been major obstacles to him doing so.
In Batley and Spen his official election propaganda seems to have attempted to appeal to all working-class voters rather than Muslims alone. However, some of his personal statements appear to have been trying to win votes on a reactionary and divisive basis: such as, for example, tweeting that he is a "straight white man with six children", particularly when he was standing against an LGBTQ+ woman. Or tweeting that he would not stand "for the BBC trying to teach our young children that there are 99 genders".
Galloway has a history of these kind of divisive comments, which should be opposed. But the biggest obstacle to him playing a positive role in the formation of a mass workers' party in Britain is his record on crossing class lines and backing pro-capitalist candidates.
He rightly lambasts the Labour right wing for turning Labour into a pro-capitalist party, yet just two months ago, in the Scottish parliamentary elections, the Workers' Party and Galloway stood as part of the "Alliance4Unity" which recommended tactical votes for various pro-austerity politicians, including ten Tory constituency candidates. One of them, Jackson Carlaw, was leader of the Scottish Conservatives from February to July 2020. Plus, in the 2019 European elections, Galloway publicly backed Nigel Farage's Brexit Party.
One of the most burning issues for the workers' movement is the need for the working class to have its own independent voice rather than being politically disenfranchised as it is now. All kinds of debates will take place on how to achieve that, in which the role of fighting trade unionists will be critical. But what is clear is that no public figure can take that process forward by backing candidates of the capitalist Tory party, or Farage and other right-wing populists of his ilk. For George Galloway to play a positive role in the formation of a new party – which his own vote shows the potential for – he would need to adopt a different approach.
"I received yesterday afternoon a letter from the Labour Party expelling me as a member of the party. My offence, that I spoke to Socialist Appeal in May 2020 about why I had applied for the role as General Secretary of the Labour Party. Labour proscribed Socialist Appeal this summer and has retrospectively applied the rule.
The party has been such a huge part of my life for so long I wanted to take time to think about what has happened before I told people. "
*******
The Morning Star reports,
THE latest victims of Labour's alleged witch-hunt against socialists urged the left to continue to speak out against the "oppressive regime" within the party today.
Local councillors Pamela Fitzpatrick and Jo Bird, who were expelled from Labour last week, were guests on the Not the Andrew Marr Show, hosted by Labour Grassroots' Crispin Flintoff.
Ms Fitzpatrick, who represents Harrow and is a former local Labour group chair, accused the right of the party of expelling her to protect the "small group of men" at the heart of the abuse.
She also revealed that her expulsion had been briefed to the media, despite Labour's insistence that those expelled maintain confidentiality.
"We've got to encourage [people to speak up] because keeping your head down is not working," she said.
Ms Fitzpatrick accused those running the party of "abusing our processes," adding: "They have no grounds to expel me, but they've done it anyway."
Ms Bird, a councillor for Bromborough on the Wirral in Merseyside, said that she was "delighted" to have finally been expelled from the party.
"I feel free, I'm free from this ridiculous oppressive regime that the Labour Party has become."
Yesterday Labour national executive (NEC) members Laura Pidcock and Nadia Jama submitted a motion to the NEC pointing out that a ban on "support" for various proscribed organisations had not defined what support meant, and that retrospectively applying it to discipline members for actions prior to the ban contravened natural justice.
Labour witch-hunt victims call on socialists to speak up about 'oppressive regime' in the party.
Comment:
No doubt some people will try to find a way to smear Pamela Fitzpatrick but the fact remains that the charge against her is that she gave an interview to a small circulation paper of the tiny group Socialist Appeal, before it was proscribed. Nobody is suggesting that she is a member of this organisation.
This Blog notes as well that the expulsion of Jo Bird comes at a time when moderate left voices are expressing deep concern at the exclusion of Jewish members.
More:
Perhaps Labour should (also retrospectively) investigate Keir Starmer for writing in Socialist Alternatives, a group aligned to the Tendance marxiste-révolutionnaire internationale (TMRI). The TMRI was considerably to the left of Socialist Appeal. Its leading figure Michel Pablo (Michel Rapitis) had been involved in actively supporting the armed liberation movement in Algeria, the FLN, which successfully overthrew French colonial rule.
(from The Left in Paris)
He was one of the first to make contact with the Algerian National Liberation Front (FLN) and began to organise solidarity action (the so-called "suitcase carriers" who assisted the FLN with publications and transferring funds.

One of the 'bag carriers' was Jakob Moneta (1914-2012), who was a Trotskyist employed as the trade union representative at the West German embassy at 28 Rue Marbeau. He used his 'diplomatic bag' to transport documents for the FLN.

Pablo was personally involved with two more ambitious ventures – setting up an arms factory in Morocco where Trotskyist engineering workers from France and elsewhere worked, and a project for forging currency; for the latter he was arrested and jailed in the Netherlands in 1960.

After Algerian independence in 1962 Pablo became an adviser to Ben Bella until his being overthrown in 1965.
Declaration of Michel Raptis at the Amsterdam Trial
(14 November 1961)
Put on trial for his part in a plot involving the fabrication of counterfeit money, Pablo and his comrades took advantage of the trial and used it as a political forum.
I don't have a strictly private life. For many years the apartments I've lived in with my wife were open to the members of our organization, to our friends and our political sympathizers, to a great number of people. During the war and the Nazi occupation of Europe, Israelites or men of the Resistance of all nationalities hunted by the Nazi services naturally found refuge at our home. When the Algerian revolution began in 1954, and Algerian militants were in turn pitilessly hunted down by the police services and terrorists under the orders of colonialism, my wife and I told the Algerian comrades to do us the honour of considering our home at their entire disposal. It was the same in Amsterdam.
We hope to continue in this way until the end of our days, today aiding our Algerian brothers to the best of our abilities, tomorrow our black brothers of Angola and South Africa, our Indio brothers of Latin America, our brothers from everywhere, oppressed and exploited men fighting for the liberty and dignity of man.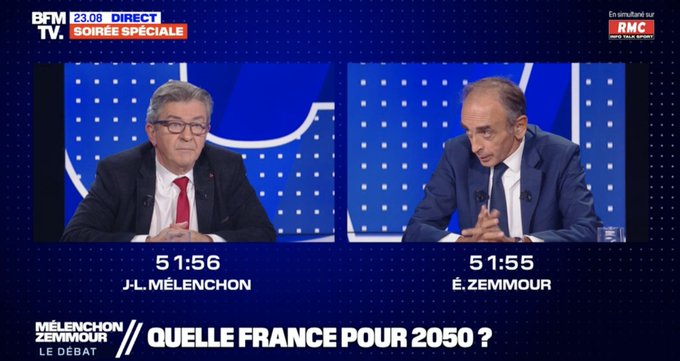 Opinion Polls this week had put a Zemmour Candidacy ahead of Mélenchon.
Last night on BFMT there was a two hour debate between the leader of La France insoumise (LFI) Jean-Luc Mélenchon and the far-right self-proclaimed Presidential candidate Éric Zemmour.
I watched it. Zemmour's hatred for immigration, that is immigrants, in general and Muslims in particular stood out. The theme of the 'great replacement' (grand remplacement) and the end of the French nation was never far from the polemicist's lips, as was crime, social security fraud, and allegations of a brewing civil war. Islam was the opposite of the country, "aux antipodes de la France". C'est une guerre de civilisation qui nous est menée, une guerre de pillages, une guerre de viols, une guerre de meurtres." (A war of civilization which is being waged against us, a war of looting, a war of rape, a war of murder.) said he. The 'polemicist', who is from a Jewish background, generously allowed that possibly some Muslims might be assimilated to the French republic, on the model of his own community's integration. Those who did not fit in should leave.
To British eyes it seemed extraordinary that this unbridled hatred was given an airing. Fact-checks on some of the wilder claims did not diminish that impression. Experienced in communication and media techniques (having seen him on C-News) Zemmour got away with the ravings of a bigot.
Not one to take this claims lying down Mélenchon called his opponent a racist with court convictions for it, "Vous êtes un raciste, condamné pour ça. » On immigration Mélenchon defended "créolisation", that is cultural mixing. On the name issue (Zemmour wants children to have French forenames) he rightly said that a French prénom was a name of a French person. The left populist also cited the claim that Couscous was France's favourite dish – reminding people that not everybody has the British taste for curry.
The LFI leader tried, many times, to get the discussion back to issues that could be rationally, or at least, calmly talked about. His election programme included retirement at 60, blocking the prices of energy and certain food products – as well as increased agricultural 'sovereignty' for France – leaving NATO or increasing the minimum wage to 1,400 euros. Taking up some of his favourite themes Mélenchon vaunted France's maritime role and the potential of space exploration. .
Zemmour attacked Mélenchon for daring to criticise heavy-handed – brutal – policing, for his Trotskyist past, questioned how anybody from a Marxist background could back green energy, and for good measure peppered his speech with attacks on the "obese" welfare state and people living on benefits.
Both figures linked the growth of abstention in French elections to the lack of effective change on offer. Emmanuel Macron, Zemmour said, stifled politics, representing both the liberal right-wing and the liberal-left wing.
Hell, those two hours were dire.
Zemmour, who has still not officially announced his candidacy for President, is eating into Marine Le Pen's electorate.
Before people smile:
"Eric Zemmour would collect 10% of voting intentions in the first round of the presidential election and Jean-Luc Mélenchon 8% if Xavier Bertrand would be the right-wing candidate and Yannick Jadot the EELV Ecologists) candidate. Same score if Xavier Bertrand and is a candidate and Sandrine Rousseau is committed for the Greens. Eric Zemmour would total 10.5% of the vote and Jean-Luc Mélenchon 7.5% if Valérie Pécresse wears the colours of the right and Yannick Jadot defends EELV. Last scenario: Eric Zemmour is credited with 10.5% of voting intentions and Jean-Luc Mélenchon with 8% in the event that Valérie Pécresse and Sandrine Rousseau are candidates."
La Dépêche. 23.9.21.
There has been a debate on the French left as to whether it was wise to debate with Zemmour.
Here is a good introduction to Zemmour's ideology:
Le «zemmourisme», un ultranationalisme intégral.
This is what Britain's ace reporters are interested in today: