Archive for the 'Racism' Category
Above: George Galloway and friend (picture: Twitter/@VirendraSharma) Apparently undaunted by his recent humiliation in Scotland, the loathsome Red-Brown poseur George Galloway, friend of dictators everywhere, is standing in Batley and Spen, and making no secret of his objective: to help ensure a Tory victory. In an enthusiastic pro-Galloway puff-piece, today's Sunday Times reports: Galloway, who […]

Galloway: the despicable record of a Red-Brown poseur — Shiraz Socialist (Second Run)
Essential reading.
Gut wrenching…..
Stalinist Egocrat Filth.
From Trusted Newshound Jim
BEIJING, May 27 (Xinhua) — Chinese President Xi Jinping sent a congratulatory letter on Thursday to the World Symposium for Marxist Political Parties, saying that the Communist Party of China (CPC) stands ready to jointly promote the cause of human progress and the building of a community with a shared future for mankind with Marxist political parties worldwide.
Marxist science, which is a powerful weapon of thought to know and transform the world, reveals the law of human society's development, points out the road for humanity to seek liberation, and has facilitated the process of human civilization, said Xi, who is also general secretary of the CPC Central Committee.
Noting that this year marks the 100 anniversary of the founding of the CPC, Xi said Marxism was established as a guiding ideology since the day the CPC was founded.
Since then, the CPC has been combining Marxism with China's reality and promoting the development of Marxism in accordance with China's reality, time, and public, Xi said.
Xi said Marxism is radiating new vigor and vitality in the 21st century of China, socialism with Chinese characteristics has entered a new era, and China has initiated the new journey towards great national rejuvenation.
Noting the common challenges humanity faces, Xi called on world Marxist political parties to enhance dialogue and communication.
He expressed the hope that participants of the symposium can pool wisdom, spark ideas, and strive for new development of Marxism in the 21st century.
The symposium was sponsored by the International Department of the CPC Central Committee. EnditemEXPLORE XINHUAN.
Xi Jinping Thought on Socialism with Chinese Characteristics for a New Era, commonly abbreviated as Xi Jinping Thought,[note 1][4][5] is a set of policies and ideas derived from the writings and speeches of Chinese Communist Party General SecretaryXi Jinping. It was first officially mentioned at the 19th National Congress of the Chinese Communist Party in 2017, in which it was incorporated into Constitution of the Chinese Communist Party. At the First Session of the Thirteenth National People's Congress on 11 March 2018, the preamble of the Constitution of the People's Republic of China was amended to mention Xi Jinping Thought.
It is hard to know whether to laugh or cry at these creatures…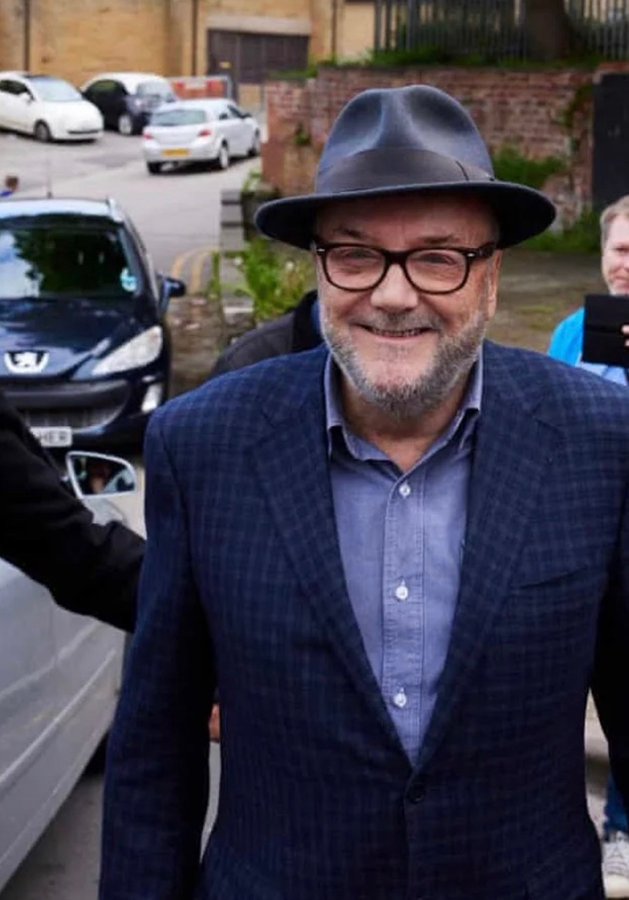 Get #StarmerOut #BatleyAndSpenByElection. Skwawky Helps Galloway by Spreading Claims about Kim Leadbeater,
Former MP George Galloway has announced his intention to stand in the forthcoming Batley and Spen by-election.
Mr Galloway, who was expelled from Labour in 2003, said he is standing as a candidate for his Workers Party of Britain in the poll on 1 July.
Posting on social media, the politician said he was "standing against" [Labour leader] Sir Keir Starmer.
"If [he] loses this by-election, it's curtains," he added.
The by-election was triggered after the previous MP Tracy Brabin had to stand down when she was elected as West Yorkshire's mayor.
Labour has selected Kim Leadbeater, sister of Jo Cox, who represented the seat before her murder by a right-wing extremist, as the party's candidate.
In a move designed to help– objectively which can be seen as support – Galloway, Skwawky posts,
Keir Starmer is under pressure to suspend Labour's new candidate for the Batley and Spen by-election, after pro-Israel groups took exception to a tweet by Kim Leadbeater.

Leadbeater, the sister of the constituency's murdered former MP Jo Cox, tweeted about a visit to a local shop for an Indian Muslim Welfare Society fundraiser for Palestine – but was accused of posing with 'antisemitic' t-shirts portraying the erasure of Israel.
More Red-Brown Backing for Galloway: