Archive for the 'Racism' Category
Carnival of Reaction: Leave EU has become an openly racist far-right campaign.
They are based around Foxhole: an alt-right 'news' site.
Welcome to the Foxhole, a news website that goes against the grain of our media elites and speaks to the concerns of normal people.

Dissatisfied with the glaring flaws of the mainstream media – the skewed perspective, the partisan selection of stories, the ruthless suppression of anything that goes against their chosen narratives – we hope the Foxhole will serve to bring more attention to stories that ordinary people care about.

With the internet coming under stricter control, as Big Tech companies impose restrictive limits on what information you are permitted to share and consume, we're keen to cultivate a new avenue to spread awareness of the essential stories that the establishment media and Silicon Valley would rather push from view.

We see this site as a digital foxhole – a defensive position on the battlefield of information warfare, protecting us from an onslaught of corporate censorship and allowing us to better represent the views and concerns of millions of ordinary people who are badly served by the established press.

The site is run by a small team of young news hounds, looking to keep alive the grassroots ethos of the 2016 referendum.

We're powered by the support of the public. If you want to help this project continue to grow and reach more people, please follow us on Facebook and Twitter, read and share our content, and consider becoming a Foxhole Member for just £3 a month to enjoy the site without ads.
This is how they began.
The campaign was co founded by Bristol based businessman and UKIP donor Arron Banks, with property entrepreneur Richard Tice and early financial backing from Jim Mellon"
Leave UK was marked by its hardline anti-immigration stand, "an anti-immigration viral video produced by Leave.EU during the campaign was faked, and that the group appeared to have staged photos of immigrants attacking women in the United Kingdom."
Arron Banks was involved in dodgy funding scandals.
One that caught people's attention was this:
1.9m was donated to Grassroots Out, with smaller sums going to Trade Unionists Against the EU, Ukip, Veterans for Britain, and the TV station Wag TV, which made a pro-Brexit documentary
Trade Unionists Against the EU, headed by anti-rootless cosmopolitan campaigner Paul Embery, was promoted by the Trade Union and Socialist Coalition TUSC: The socialist case against the EU: TUSC tour continues. The Socialist. 2016.
Paul Embery, London secretary of the Fire Brigades Union and national organiser of Trade Unionists Against the EU, pointed out: "The EU is rampantly pro-austerity and that approach has caused suffering throughout Europe, a collapse in living standards, the rise of the far-right and the decimation of public services."
There also a link to Labour Leave:
Labour Leave fined over donation from Arron Banks' company Left Foot Forward.2019
The Electoral Commission has now fined Labour Leave after finding that the group failed to declare two donations, each worth £10,000. These were non-cash donations of office space and services (including PCs) by Better for the Country Limited and Labour Leave leader's John Mills Limited.

Labour Leave was fined a total of £9,000 by the Commission for failing to properly declare donations before and after the referendum. Labour Leave say the lapses were due to 'administrative errors'.

The donation from Better for the Country Limited is notable as Arron Banks is a Director of the company. Banks founded the controversial, unofficial Leave.EU campaign, and donated large sums to UKIP ahead of the 2016 referendum.

As the Guardian reported in February: "Leave.EU was fined £15,000 [by the Information Commissioner's Office] for using Eldon Insurance customers' details unlawfully to send almost 300,000 political marketing messages, and a further £45,000 for its part in sending an Eldon marketing campaign to political subscribers. Eldon was fined £60,000 for the latter violation."
Leave EU still exists though what the relation with ket player Banks is these days is not clear.
Leave.EU has left the UK, as Brexit forced the Eurosceptic campaign group to choose between its name and its country.
Guardian January 2021.
-According to domain name registration records, the organisation, founded by businessman and activist Arron Banks, picked the former. The website is now registered in the name of Sean Power, the chief executive of the Ireland-based professional services company BSG.

When asked, however, Power, who is based in Waterford, insisted that he had no involvement with the organisation. When informed that his name and contact details were present on the registration, he said he would be "looking into the matter".

Leave.EU has had some time to consider its move. The organisation is named after its web address, but .EU domain names can only be held by businesses or individuals based in the EU or wider European Economic Area.
This is how they are now: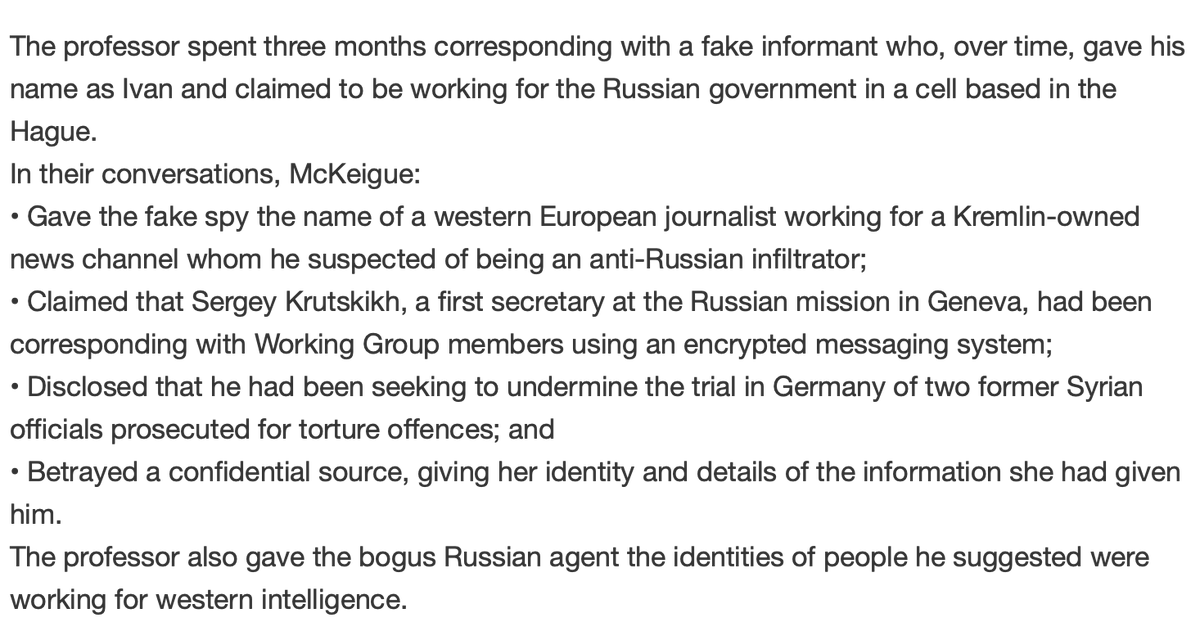 Assad Apologist and Close Comrade of David Miller
Observer : The UK professor, a fake Russian spy and the undercover Syria sting
This story is the depths. One of the leading members of David Miller's red-brown "Working Group on Syria, Propaganda and Media" was prepared to inform on people, with potentially life-threatening consequences, to the Putin regime. There is little doubt, had the agent been real that the Assad regime would have heard as well.
Who is this creature?
A more sceptical academic than Paul McKeigue might perhaps have wondered if the emails flooding into his inbox from "Ivan", a purported Russian spy, were too good to be true.

The Edinburgh genetics professor – who devotes large quantities of his private time to pursuing fringe theories claiming that attacks on civilians are staged to smear the government of Bashar al-Assad – dived eagerly into his new correspondence.

Over three months he filled hundreds of pages with speculation, including accusing journalists, researchers and diplomats of working as conduits for western intelligence agencies. He revealed the identity of a confidential source, and shared information she gave him.

Ivan appeared to share many of McKeigue's own personal obsessions, particularly his desire to discredit investigators who compile evidence of war crimes committed in Syria. And he claimed access to both ready cash and secret intelligence.

But McKeigue was not writing to a Russian spy, or even a man called Ivan. The email account was controlled by a group of staff at one of the organisations he hoped to discredit, who say they went undercover because of concerns over the tactics McKeigue and his allies were prepared to deploy in an effort to defend the Syrian government and its Russian allies.
diplomat at the Geneva embassy, first secretary Sergey Krutskikh, was corresponding with fellow members of the "Working Group on Syria, Propaganda and Media" on encrypted systems.

This is an alliance of far-left academics and researchers who claim western journalists, NGOs and others act on behalf of the CIA and MI6 to undermine the Syrian government, including faking evidence of civilian deaths and chemical attacks.

It includes the controversial Bristol University professor David Miller, who has been accused of antisemitism by his own students, a claim he denies, and the blogger Vanessa Beeley, who has frequently visited Syria on government-sponsored trips.

Group members have questioned the veracity of chemical weapons attacks in Syria and claimed Russia was framed for the poisoning of Sergei Skripal in Salisbury in 2018.

They were also part of a years-long public campaign against the White Helmets, a civilian rescue organisation that enraged pro-Syrian and Russian factions by recording atrocities as they tried to save lives, then sharing the footage.
Shiraz has an excellent report on the story, which began with a report in the Times and then the BBC and is still unfolding: Pro-Assad academic tried to grass up human rights activists to Putin.
Meanwhile fellow Red-Browner Chris Williamson retweets another pro-Assad tout; (Chris Williamson Retweeted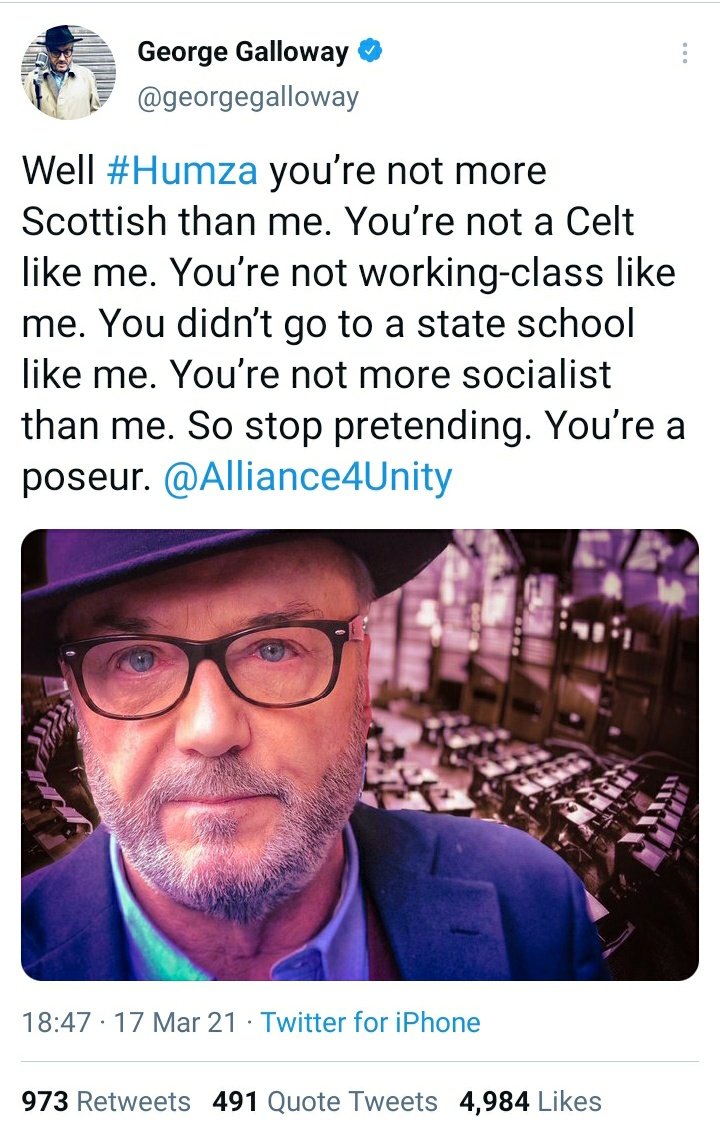 Celt.
Some people on the left have "gone on a journey" in recent times, from backing Brexit to defending China's human rights record.
There are some who have gone even further on a voyage into the twilight.
The dapper gent in the fedora is back in the news today:
Humza Yousaf hits back at George Galloway's 'race-baiting' comments
Evening Standard.
Mr Galloway tweeted 'You're not a Celt like me'.
Scotland's justice secretary Humza Yousaf has said voters will show George Galloway the cat flap in May after the former MP posted a "race-baiting" tweet.

Mr Yousaf thanked people for their solidarity after Mr Galloway tweeted: "You're not a Celt like me."

Mr Galloway drew criticism on social media after he  posted a message on Twitter which appeared to be directed at Mr Yousaf.
He has adopted the strategy of stout denial.
Mr Galloway later tweeted: "As the father of five mixed-race children I treat #Humza's accusation that I'm a racist with contempt."
One day the SWP, Counterfire and all Galloway's other allies in Respect will tell the inside details of what happened i their Party. For the moment, it seems, they think the world is not prepared for the full story of the Giant Kitty of Dundee.