Archive for the 'Racism' Category
Ian Paisley MP, "Supporting our Jewish People."
The below is a deeply offensive and wrong-headed statement made into a headline,
Jeremy Corbyn is 'figurehead' for antisemitism, says Jewish group ahead of Westminster protest
Independent.
'The reality is there are no safe spaces online, or in meetings, for Jewish people within the Labour party'.
This, by contrast, probably sums up the feelings of many people., and not just those with a Jewish background.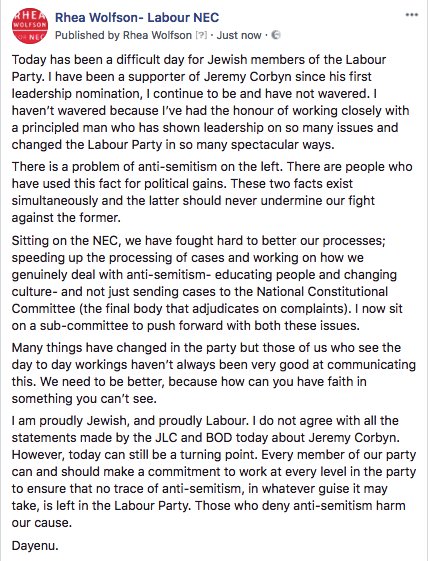 This is also good.
Jeremy Corbyn told to act on 'stain' of anti-Semitism in party.
Labour has taken too long to stamp out antisemitism in the party, a key ally of Jeremy Corbyn has said.

The shadow business secretary, Rebecca Long-Bailey, said it was imperative for the party to urgently address the problem to ensure that the Jewish community felt welcome.

In an interview for BBC Radio 4's Today programme, she said: "Jeremy has always been a militant opponent of antisemitism, but too often the issue has been dismissed as a few bad apples when we need to take very serious root and branch action, to root out the cause of the problem."

….

Long-Bailey insisted Labour did take a zero-tolerance approach to antisemitism but this had not been "enforced as effectively as it should have been".

She also called for faster implementation of recommendations made by Shami Chakrabarti in a report for Labour on allegations of antisemitism.

She said: "There will be clear efforts now to roll out a political education programme specifically to make sure that every single person in the Labour party is aware of all forms of antisemitism … to make sure nobody suffers in the way that they have done."

Long-Bailey said she hoped Jewish leaders would help Labour to tackle the issue. "I would really welcome a meeting as urgently as possible between Jeremy and the Board of Deputies and the Jewish Leadership Council because we have to work collaboratively on this," she said.

On Corbyn's comments about the mural, she said: "It was clearly an antisemitic mural, and Jeremy has apologised for not looking at it. We are all human unfortunately and it's a lesson to us all to look clearly at the things we are supporting or commenting on on Facebook."
See picture above…
Our reaction to the following is more mixed.
Corbyn's words on Labour antisemitism are welcome – now we need action
Mike Katz is vice-chair of Jewish Labour Movement and was Labour's candidate in Hendon in 2017.
For me, this is not about undermining the fact that Jeremy Corbyn is Labour's leader. His mandate is clear. But with great power comes great responsibility.

No, this is a challenge to him to lead the Labour party – and the wider movement – out of this toxic situation and make all parts of Labour safe for Jews.
This is vastly over-exaggerated and wrong headed.
There is a  problem with a certain strain of 'anti-imperialism' which too easily makes excuses for racialist reactions to 'Jews' on the grounds that the Palestinians are oppressed by Israel. This  stand, in various forms has seeped through to a host of paranoid views about 'Zionism',and various conspi themes. It is reactionary, deeply so.
It is the 'anti-imperialism of fools', which, in its efforts to back anybody opposing the 'West' the 'Global order' and to understand Jihadists and various forms of violent Islamism in this light, is not reducible to antisemitism.
It is very very notifiable that at the moment there are mass murders taking place in the Middle East, not just committed by the genociders of  Daesh, but by Assad's forces, and…the Turkish assault on Afrin.
The organisations which owe a debt to the anti-imperialism of fools are at present standing by in the conflicts, always anxious to find the US at work with little concern for the people's suffering.
In this context, are we are seriously to take some comments about a Mural and the existence of a number of anti-Semitic nutters in the Labour Party? That is, as we mourn the death of beloved comrade Anna Campbell who gave her life for the cause of the Kurdish people and internationalism?
From the calmer backwaters of New York Ross Wolfe makes a long, reasoned, and important commentary on the controversy in Britain,
Antisemitism as a "blindspot" for the Left
Let me lay my cards on the table: I don't think that Corbyn is a hardened antisemite or anything like that. Efforts to portray him as such are in my opinion transparently opportunistic. One can make casually antisemitic, racist, or sexist comments without necessarily being an ideologically committed antisemite, racist, or sexist. This is the crucial takeaway from theories of structuralantisemitism, racism, or sexism — that is, they don't rely on self-consciously antisemitic, racist, or sexist agents or individuals in order to be reproduced societally at an unconscious level.
"Hillel Ticktin, the South African Trotskyist, followed a similar line of reasoning in his synopsis of an issue of the journal Critique. "No Marxist can support nationalism," writes Ticktin, "whether that of the Zionists or of Hezbollah. That does not remove the real oppression of Palestinians, but it does imply that no religious or nationalist solution is possible… At the same time, there can also be no question that antisemitism is rising, particularly in areas where it has been endemic for the past half-century: Eastern Europe and the Middle East. Bebel's dictum that antisemitism is the socialism of fools is partly correct in that the role of antisemitism is different from that of racism; it provides an alternative populist ideology to the appeal of socialism.
Rejecting both widespread calls for Boycotts, Divestments, and Sanctions (or BDS, a strategy he also opposed as misguided vis-à-vis the apartheid regime during the 1980s) as well as opportunistic alliances with groups like Hezbollah, which ostensibly leftist organizations like the SWP-UK and ISO-US condone, Ticktin nevertheless affirmed that antisemitism is an irreducibly right-wing phenomenon:
The representative of the Israeli Embassy on the BBC1 10 AM program on Religion 1 May 2016 argued that, although the left had fought antisemitism, there were examples of left-wing antisemites like Proudhon, Bakunin, and Stalin. This is stretching the concept of the Left. If one includes anyone who is critical of the status quo in capitalism to be left-wing then the Israeli representative is correct. There is no doubt that Stalin and Stalinism were not just antisemitic but among the worst perpetrators of acts of antisemitism that the world has seen. This journal has made that clear. Can one call Stalinism left-wing? It was a reaction to the Russian Revolution of 1917 from the right. It introduced and maintained high levels of inequality in all respects. It was brutal in form and totally opposed to the forms of civil liberties accepted by the left. Bakunin attacked Marx in antisemitic terms and Proudhon was no better. They were both anarchists of a kind that would fall outside the left as we understand it today. The people accused of antisemitism do not fall into a Stalinist or anarchist category. There are of course left-wing anarchists but that is another matter. However, it can of course happen that the left sees antisemitism as a form of discrimination employed to divide the population in order to maintain capitalism at the present time, whatever the age of the practice. The left stands for the abolition of all forms of social inequality. Hence it is automatically and inherently opposed to antisemitism, unlike Conservatives and the Labour Right, who accept the market and its forms of subjection and inequality, since they accept the market.