Posts Tagged 'War'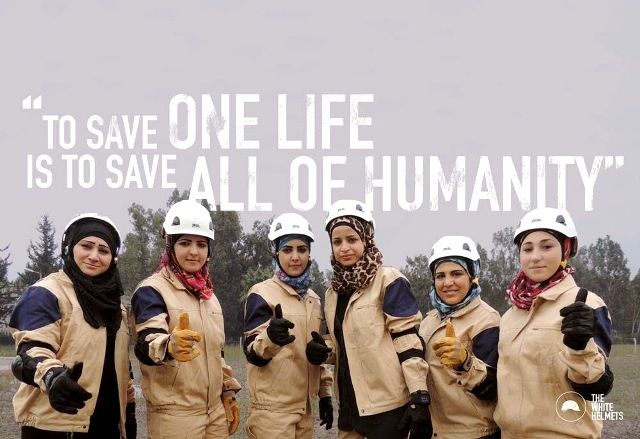 "Leadership of the White Helmets is some of the most hardline terrorist groups in Syria" says Morning Star.

There has been a lot of very distasteful material circulated about the White Helmets in Syria.
This began to be widely noticed last year.
Amongst others former leftist Tariq Ali joined in the smears against the humanitarian organisation just after the murder of comrade Jo Cox,
Yesterday the Guardian published a robust defence of the White Helmets.
Olivia Solan reported in great detail on the continuing efforts to besmirch them.
The main charge is that they are "a fraudulent terrorist organisation".
Before reading some of the article we should recall that the "Daily paper of the Left", the Morning Star,  recently published this:
Is BBC Panorama just a useful propaganda tool?  Alison Banville. Morning Star, 14th December 2017.
Two days before the episode was aired, independent investigative journalist Vanessa Beeley published a deep expose of the entire affair based on her own on-the-ground, investigations inside Syria.

"During my time in East Aleppo in 2016/17 with Syrian journalist Khaled Iskef, we translated documents (in Arabic) found by Iskef that referred to two British organisations, Adam Smith International (ASI) and Integrity Global in connection with the funding of Syrian 'opposition' structures in East Aleppo," she recalls.

The next thing Beeley says is crucial to understanding what this story is really about. "These documents were found among the debris of the various Nusra Front (al-Qaida in Syria) centres, East Aleppo Council buildings and White Helmet centres. It is noteworthy that these three entities operating in what was terrorist-occupied East Aleppo until December 2016, always worked alongside one another, either sharing facilities and buildings or next door to one another in the various districts of East Aleppo where they centred their activities."

Now, let me first point out that you may not be used to the phrase "terrorist-occupied East Aleppo" if your only sources of news are western corporate ones which routinely and reflexively describe the exact same place at that time as "rebel-held East Aleppo" in line with the official government narrative..

But if, like myself and my travelling companion, fellow independent journalist Mike Raddie, you had walked the streets of East Aleppo in April this year and listened to the people there who came out to meet us, you would have heard them talk not of "rebels," but only of "terrorists."

Because that's what you call people who terrorise you. And when a man stands in front of you and tells you that these occupiers killed his six children, you simply do not have the right to call them anything else. If you're in any doubt about the correct nomenclature here then more first-hand testimony from East Aleppo residents gathered by Beeley can be found at 21stcenturywire.com, and you might ask yourself as you read why it wasn't brought to you by Channel 4 News, ITV News or the BBC?

……

This brings us to my second point regarding Beeley's quote. "Nusra Front (al-Qaida in Syria) centres, East Aleppo Council buildings, and White Helmet centres," where the documents confirming the Adam Smith Institute's involvement were found, represent entities which "always worked alongside one another."

Oh dear. This would be difficult to explain to the public wouldn't it?

The White Helmets are eulogised by the entire western establishment and its duteous media. How could Panorama have accommodated the affiliation of these civil defence "heroes" with Nusra Front terrorists without undermining the entire edifice of propaganda propping up the White Helmets' mythology? And without exposing them as what John Pilger has described as "a complete propaganda construct in Syria"?

Again, Beeley has done the on-the-ground work that so-called journalists in the "mainstream" media should have done and compiled "categorical" evidence that "the leadership of the White Helmets is some of the most hardline terrorist groups in Syria," all the while being funded to the tune of £200 million by the British government.

White Helmets have been filmed standing on the dead bodies of Syrian Arab Army soldiers, celebrating executions, staging fake rescues and sawing the head off a 12-year-old child.

White Helmet members have been photographed in their "civil defence" uniforms and then the same individuals pictured holding guns as they pose with their terrorist factions.

The White Helmets are not recognised by the Switzerland-based International Civil Defence Organisation (ICDO) but the REAL Syrian civil defence is.

Oh yes, they do exist and, unlike the White Helmets, this genuine group works in all areas, saving civilians without discrimination, not just in the areas controlled by terrorist groups. They even have an emergency phone number that citizens can call for aid. it's 113, in case you were wondering.

Panorama could have made their programme about this and included the evidence that the Free Syrian Police — that's the Orwellian use of "free" by the way — and the local councils being funded by the British taxpayer through the secretive and unaccountable Conflict, Stability and Security Fund (CSSF) and doled out by the Adam Smith Institute and Integrity Global are, along with the White Helmets, working alongside Nusra Front.

That is the real story, but they didn't tell it.

No corporate media outlet is going to expose this huge propaganda exercise that is designed to destabilise Syria rather than, as the Foreign Office's claims, "make communities in Syria safer by providing basic civilian policing services."
This is not the first time they have used this 'source' as Paul tweeted earlier this year.
Yesterday the Guardian published this:
How Syria's White Helmets became victims of an online propaganda machine

The Syrian volunteer rescue workers known as the White Helmets have become the target of an extraordinary disinformation campaign that positions them as an al-Qaida-linked terrorist organisation.

The Guardian has uncovered how this counter-narrative is propagated online by a network of anti-imperialist activists, conspiracy theorists and trolls with the support of the Russian government (which provides military support to the Syrian regime).

The White Helmets, officially known as the Syria Civil Defence, is a humanitarian organisation made up of 3,400 volunteers – former teachers, engineers, tailors and firefighters – who rush to pull people from the rubble when bombs rain down on Syrian civilians. They've been credited with saving thousands of civilians during the country's continuing civil war.

They have also exposed, through first-hand video footage, war crimes including a chemical attack in April. Their work was the subject of an Oscar-winning Netflix documentary and the recipient of two Nobel peace prize nominations.

In spite of this positive international recognition, there's a counter-narrative pushed by a vocal network of individuals who write for alternative news sites countering the "MSM agenda". Their views align with the positions of Syria and Russia and attract an enormous online audience, amplified by high-profile alt-right personalities, appearances on Russian state TV and an army of Twitter bots.
The full article is long and can be read through the above link.
But one point should be underlined.
The source the Morning Star relies on, Vanessa Beely, and her 21stcenturywire.com, stink to high heaven.
Some of the most vocal skeptics of the UN's investigation include the blogger Vanessa Beeley, the daughter of a former British diplomat who visited Syria for the first time in July 2016; a University of Sydney senior lecturer, Timothy Anderson, who described the April chemical attack as a "hoax"; and Eva Bartlett, a Canadian writer and activist who said the White Helmets staged rescues using recycled victims – a claim that's been debunked by Snopes and Channel 4 News.
It continues,
Beeley frequently criticises the White Helmets in her role as editor of the website 21st Century Wire, set up by Patrick Henningsen, who is also an editor at Infowars.com.

In 2016, Beeley had a two-hour meeting with Assad in Damascus as part of a US Peace Council delegation, which she described on Facebook as her "proudest moment". She also was invited to Moscow to report on the "dirty war in Syria"; there, she met with senior Russian officials including the deputy foreign minister Mikhail Bogdanov and Maria Zakharova, director of information and press at Russia's foreign affairs ministry.
RT duly responded,
Question less: The Guardian whitewashes all criticism of Syria's foreign-funded White Helmets

The Guardian has cast aside self-awareness, seized the moral high ground (its self-proclaimed permanent base), and jumped to the defense of Syria's 'White Helmets,' painting the group as victims of an "online propaganda machine."

Journalist Olivia Solon, in an article headlined 'White Helmets became victims of an online propaganda machine,' is keen to make sure that any questions about the motives of the group are dismissed as a 'counter-narrative.' That's what others might call the 'other side of the story.' In full effect is the journalistic trope of our times… RUSSIAN INTERFERENCE!

"The White Helmets, officially known as the Syria Civil Defense, is a humanitarian organization made up of 3,400 volunteers – former teachers, engineers, tailors and firefighters – who rush to pull people from the rubble when bombs rain down on Syrian civilians. They've been credited with saving thousands of civilians during the country's continuing civil war."

Even someone who eats lentils for every meal would have to admit that the passage above lacks a certain journalistic cynicism. Whether you like it or not, there are very definite questions hanging over the White Helmets – some of them are raised by Solon, but only in a mumbly, out-of-the-corner-of-the-mouth, staring-at-the-floor kind of way, before being roundly dismissed.

How can they be bad? the White Helmets starred in a movie that won an Oscar for heaven's sake. (Of course it's not relevant, but so did Kevin Spacey).

These guys wear white helmets and surely only good guys wear white! They've reportedly fallen victim to the worst villain there is, Darth Vad… erm… Russian Social Media!!

"The way the Russian propaganda machine has targeted the White Helmets is a neat case study in the prevailing information wars," Solon writes.

Indeed! Just as this article is itself a case study in lacking self-awareness, strategically balancing non-sequiturs and omissions and displaying a complete unwillingness to engage with the complexity of life, geopolitics and Syria.
The UAE based National describes those joining with the above,  "Alongside these channels there have been online attacks by a loose coalition of vocal activists and trolls, including anti-Western bloggers and far-right conspiracy theorists railing against the MSM [mainstream media], as well as evidence of Twitter bots furthering the reach of the smears."
And the Morning Star.
I will conclude with one of the latest Tweets from the, no doubt also lentil-eating,  'terrorists" themselves.