Posts Tagged 'Populism'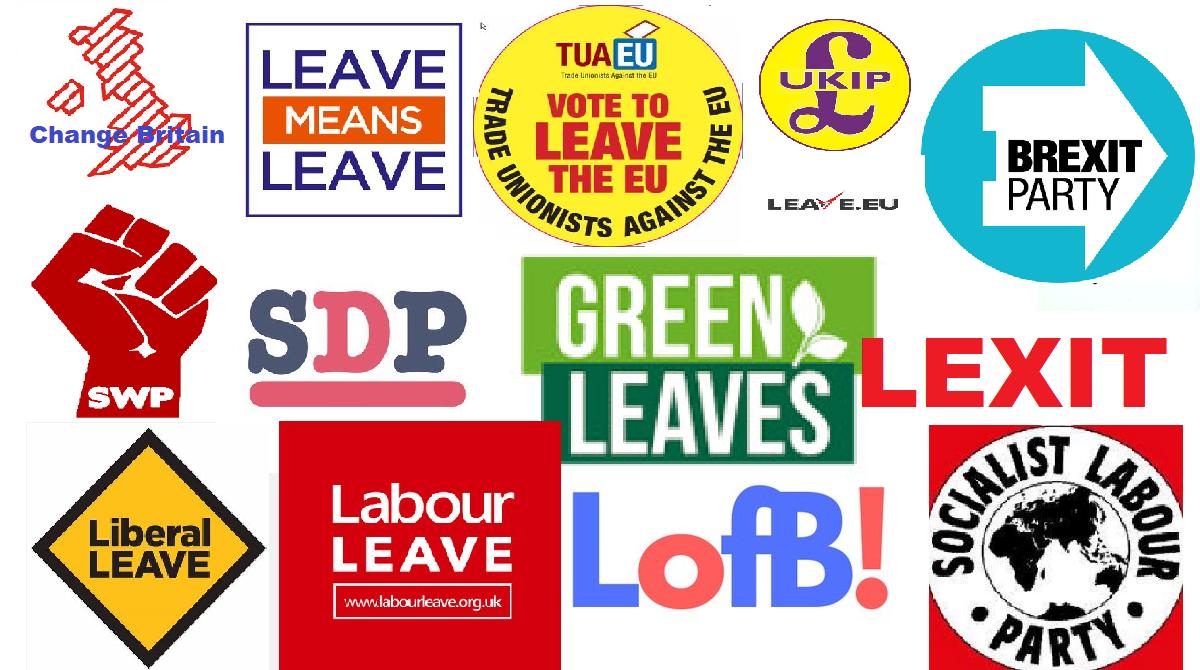 The Shower that helped Boris Johnson into Power.
Back in the happy days of January the Morning Star carried this story,
Brexit victory is opportunity to end neoliberalism, Lexiteers say.
Trade Unionists Against the EU chairman Doug Nicholls called Brexit the "starting gun to reshape our future" and a "seminal point in the history of Britain."

He said: "January 31 is a seminal moment for trade unions and the TUC as well.

"It resets the movement to its default position: fighting for the interest of workers not in Brussels, but on the shop floor."

Communist Party of Britain general secretary Robert Griffiths said Brexit would offer the opportunity to challenge neoliberalism and to rescue key industries.
On the 31st of that month, Brexit Day, Leave, Fight, Transform, a Communist Party of Britain, plus satellites and allies, declared,
Now Fight for Socialist Transformation

The fact that Britain is at last leaving the EU on 31 January 2020 some three and a half years since we voted to do so, is a victory for popular democracy and the real People's vote over Britain's political establishment and the corporate-sponsored Remain campaign.

Now we are leaving the EU, the real political struggle begins:

To end austerity policies (mandatory for member states under the EU's Stability and Growth Pact)
For investment in manufacturing jobs and public services (severely restricted under EU State Aid rules)
To bring our railways and utilities back into public ownership (which EU Single market rules were designed to prevent)
Come February and the prospect of Brexit remained sunny for the "daily of the left".
Workers must seize this new sovereignty
DOUG NICHOLLS argues that the working class as a whole ensured the country can govern itself again thanks to Brexit – but it must now start setting the agenda
NIcholls was a leading member of Trade Unionists Against the EU.
Alas, not much has been seen of this body, once promoted by the Socialist Party, and the recipient of Arron Banks' donations.
Many stalwarts of the Red-Brown Front of the Full Brexit have moved to other pastures.
Britain's leading Campaigner against "rootless cosmopolitans", another leader of Trade Unionists Against the EU haa other issues on his mind,
Leave, Fight, Transform has, in the absence of much else to say on the democratic victory they are no doubt still celebrating,  taken to re-tweeting.
This is a one of their (sparse) re-tweets,
The fact is that this crowd, having encouraged support for Brexit, played a role in legitimising the Tory call to 'get Brexit Done', and there are grounds to consider that at least some of those influenced by them voted for Johnson. The French monthly Le Monde Diplomatique, which its own dodgy sovereigntist/populist line on Brexit, carried this in March 2020, "« Je suis travailliste, j'ai voté conservateur ».Dans un article publié sur le site The Full Brexit, le comédien Chris McGlade…
This week, Brexit has returned as an issue.
Boris Johnson's Brexit nightmare is back at the worst possible moment
CNN.
June 2020 is set to be one of the most important months in Boris Johnson's somewhat tumultuous first year as Prime Minister.

June is also a make or break month in the 

UK's post-Brexit negotiations

 with the European Union. Johnson, the architect of 

Brexit

, has made such firm commitments to not extend the transition period that he simply cannot afford any capitulation — especially with his mounting domestic issues. Weakness is not an option.
This is the crucial point,
Johnson must now spend June with one eye on complicated and fraught negotiations with the largest trading bloc in the world, while also overseeing the response to the country's worst public health crisis in decades.

…

So if Boris Johnson is serious about wanting to avoid no deal, the combination of the talks being frozen, both sides being distracted by a pandemic and this pressing June deadline makes for a hellish start to the summer.
The British government looks as if it is prepared to hitch itself to the gibbering Bible Thumping President of the USA, 'Mr Brexit' rather than negotiate.
To further this aim they plan to steamroller Parliament to accept their diktat.
So much for the 'sovereignty' the Brexit left promoted:
Will we hear the bleats of the Brexit Bolsheviks and their red-brown allies at this response?
Sadiq Khan breaks Labour ranks to call for Brexit transition extension after coronavirus disruption
Mayor of London calls for delay beyond the end of the year so businesses and public services will not have to face 'another cliff edge in six months' time'
Left internationalists should back Khan's demand.
There is of course this entirely manufactured "poll"of Brexit supporters to consider: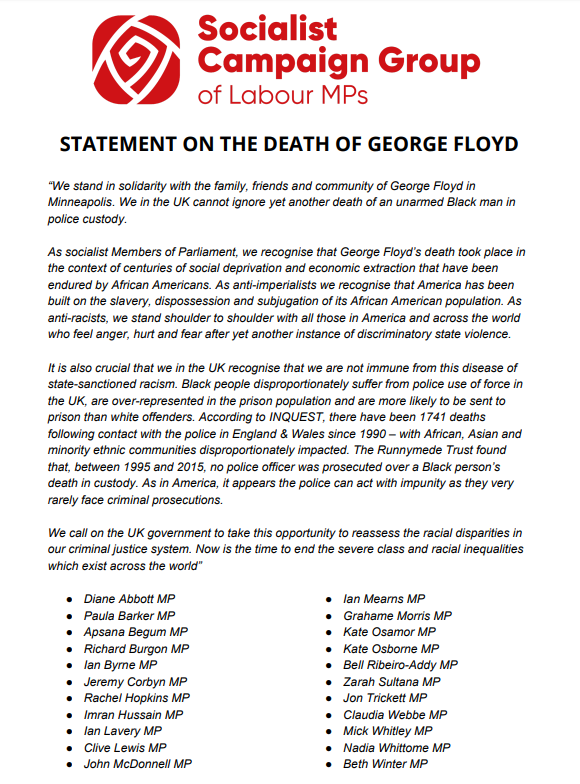 Beyond this – largely – excellent statement how should the left react to the US protests?
The populist Jacobin carries this article.
We live in an Orwellian era, in which working-class people pilfering convenience store goods is called "looting." Rich people stealing hundreds of billions of dollars, on the other hand, is just well-functioning "public policy."
Headlines this morning are all about looting — specifically, looting in Minneapolis, after the police killing of an unarmed African-American man was caught on video. In the modern vernacular, that word "looting" is loaded — it comes with all sorts of race and class connotations. And we have to understand that terms like "looting" are an example of the way our media often imperceptibly trains us to think about economics, crime, and punishment in specific and skewed ways.

Working-class people pilfering convenience-store goods is deemed "looting." By contrast, rich folk and corporations stealing billions of dollars during their class war is considered good and necessary "public policy" — aided and abetted by arsonist politicians in Washington lighting the crime scene on fire to try to cover everything up.

To really understand the deep programming at work here, consider how the word "looting" is almost never used to describe the plundering that has become the routine policy of our government at a grand scale that is far larger than a vandalized Target store.
It is far from clear that this offers much of a way forward.
What exactly is gained by saying, well they loot a lot more than the poor?
I doubt if those running, or using, the corner shops round here like the idea of people pillaging their shops.
Nobody, however, can doubt the depth of the crisis in the US which this piece in Jacobin trivialises.
These are just some thoughts on what is happening.
From the US Louis Proyect offers a wider perspective on the protests – to trying to locate them as agents of social change –  and the potential direction of the unrest across the country.
"…..the left has to grapple with the problem of riots from now on since the capitalist class and its cops are now calculating that its goals can be met by sacrificing a few buildings. A Target store can always be reconstructed but once socialist ideas are implanted in person's mind and he or she begins acting on them, there's no turning back."
The shape of the double riot is clear enough. One riot arises from youth discovering that the routes that once promised a minimally secure formal integration into the economy are now foreclosed. The other arises from racialized surplus populations and the violent state management thereof. The holders of empty promissory notes, and the holders of nothing at all.

While Clover acknowledges the difficulties of bringing these two elements together, that isn't the major problem. The major problem is that while both participants in the "double riot" may disrupt society for a time in one or more places and play a role in broader movements for social change, neither group has much social power, or indeed staying power, over the long haul. Their very separation from production underlines their relative social weakness.

Furthermore, youth are divided by class with different aspirations and possibilities even today. Are frustrated graduate students with diminishing prospects for university tenure, or those seeking their MBA, in the same position as the less-educated youths trapped at McDonald's or worse?

More importantly, even together youths and those in the active reserve army are a minority of the broader proletariat, even of the racialized proletariat, and even insofar as young people as a generalization are part of the proletariat at all or share its experience.

Is Clover looking at revolution won or a commune realized by and for a minority? Is this a First World urban version of Regis Debray's 1960s guerrilla "foco," albeit writ large and minus the central discipline? What about the democratic majoritarian political vision of socialism from below, the political form of which was suggested to Marx by the place-specific Paris Commune?
These are considerations relevant to the protests in the US. though the idea that class struggle now takes place in the street, against the forces of law and order, and can take direct action beyond – outside – work (that is, avoiding trade unions), was one of the strands of thought  in Britain's 1980s Class War Federation.
Nobody, except a gibbering Trump and his friends can see any active intervention on the left in promoting the violence around these protests.
Or can detect this,
Attorney General William Barr said that peaceful protests over the killing of George Floyd are being "hijacked" by "anarchic and left extremist groups" that are using antifa-like tactics to promote violence.
This is just one example of a hallucinatory picture of the protests:
But as Proyect notes, some on the left, in the US and elsewhere,  do have a strategy that of the Black Blocs and 'autonomists'- small and marginalised that they may be.
Cheerleaders rather than actors who are they?
The terms cover a big range of groups and splinters of groups. One has come to some prominence in recent years. Disruption of capitalism through riots and sabotage as a political strategy has a lot in common with the ideas set out by  the French comité invisible (Invisible Committee).
Information and energy circulate via wire networks, fibres and channels, and these can be attacked. Nowadays sabotaging the social machine with any real effect involves reappropriating and reinventing the ways of interrupting its networks. How can a TGV line or an electrical network be rendered useless? How does one find the weak points in computer networks, or scramble radio waves and fill screens with white noise?

— The Invisible Committee, The Coming Insurrection,
The French site Lundi Matin is the present vehicle of this tendency (which has undergone considerable intellectual development since the above was published, some harking back to situationism, some to Italian 1970s autonomism, and many 'post situationist' ideas, about ecology and aesthetics. The journal has attracted writing from Jean-Luc Nancy, Frédéric Lordon, Giorgio Agamben, and Agustín García Calvo as well as the 'controversial'(for his past support for the right to question the Holocaust) Serge Quadruppani.
The review's revolutionary rhetorical style evokes Guy Debord, and, the virulence of French essayists like the 19th century polemicist  Léon Bloy
Those associated with Lundi Matin are said to have accompanied the Gilets Jaunes demonstrations, and, ignoring the often right-wing character, not to say conspirationalist even anti-Semitic, of a minority (often loud) of marchers, have tried to promote "insurrectionist" acts during them. The name 'black bloc', in this way, has become associated in the French media with some fairly serious acts of violent vandalism and attacks on shops by 'casseurs' (Literally, smashers).
As the leftist magazine Les Inkoruptibles indicated in 2016
Nous sommes les passants des rues, les mal-allants. Nous faisons pression en cortège, incontrôlés, déterminés. Nous sommes la Marge de la manifestation.
This year they published (January):  LES GILETS JAUNES ET LA CRISE DE LÉGITIMITÉ DE L'ÉTAT.
The article notably celebrated the "refusal of forms of legal protest", "systematic confrontation with the police."a " surge of insubordination". The piece states, "The Gilets Jaunes" have courageously and determinedly carried out their acts of insubordination, including those considered to be the most violent by the authorities  
There is a lot more in the same vein: gilets jaunes.
In France there have been at most a few hundred, maybe a thousand or so on occasion, inspired by these ideas out on the streets. They may be visible but they are not able to do more than smash windows and fight a bit with the police.
It is more than doubtful that even these numbers exist in the US.
Just as important is to demolish the ideological claims of this current.
Looking at the way the second round of France's local elections is going ahead this month, and the various quarrels and re-alignments taking place in French politics, it is hard to find any undermining of the state's legitimacy at all.  Te only political beneficiaries of the Gilets Jaunes are right-wing forces, like Marine Le Pen's Rassemblement National, who manage simultaneously to deplore acts of violence, and to voice demands for lower taxation and looking after "our people", the Gilets Jaunes.
It is predictable that Lundi Matin will have none of Proyect's considerations and reservations about the effectiveness and future political impact of  those protesting against police repression.
They will celebrate, as will others in other marginal sections of the left, confrontation for confrontation's sake.
But there are no longer any "primitive rebels" as described by Eric Hobsbawm. You have to have a lot of imagination to see fighting riot police, and the over-spill into ransacking shops as "social banditry" as a precursor of a serious revolutionary uprising (Bandits. E.J. Hobsbawm. 1971.)
What is the sense of saluting looting or violence – violence against violence?
You feel the anger, but what else can be brought to this by the kind of Lundi Matin approach, or Jacobin whataboutery ? Does it prefigure a Paris Commune?
We can cheer-on as much as we like. Protests against police brutality and racism, against the US social system, are clearly heartfelt. But there is very little 'socialist' in clearing out shops and burning out buildings. They do not prefigure  a self-organised society. These acts, carried out by the young and fit do nothing that can draw in those unable, or unwilling to get the adrenaline buzz they create, or to gather  into a common endeavour for a better future won by a majority.
From this distance we should support progressive Americans and those fighting for African American rights – who no doubt also do not need lessons (as the Campaign group gratuitously  offers) in "anti-imperialism". It is noteworthy that the same anti-imperialists who state that black lives matter, seem to think that (to give an obvious example) Syrian lives do not matter.
It is unlikely that the wider public, and popular masses, welcome smashing up local stores or breaking social distancing rules in potentially lethal close gatherings. Fighting the police is not the same as protesting against police actions.
Some may suggest that US national populism will whip up a wave of fear to bolster their own support.
Tonight
France today will reach a new stage in relaxing some of its stricter lockdown rules- a move, which started on the 11th of May,  described as "Déconfinement".
France Inter reports this morning that there are calls today, Saturday, in Paris, Toulouse and elsewhere, for the Gilets Jaunes to begin their demonstrations again.
The right to protest, in large groups (note no social distancing in picture), against "Macron's" rule, is seen by some as a democratic demand.
Some marches, such as one in Rouen, have already been banned. For the moment reports indicate they will not defy this decision. For the moment.
British supporters of the 'Yellow Jackets' will perhaps find themselves in a quandary: will the back breaking social distancing ("distanciation sociale"),  in France (even the rule which now stands at 1 metre) while calling for it in the UK?
To many people these protests, whatever their justified dislike of Macron, look more like the actions of the rabble backing Donald Trump than left wing activities.
Seine-Maritime : une trentaine de « gilets jaunes » délogés par les forces de l'ordre près de Rouen 
Some are asking if they will return to there little folklorique camps on roundabouts.
Here