Posts Tagged 'Racism'
Evan Smith (see, Toppled statues and the free speech culture war) asks:
Yesterday's clashes in London centred on the antics of a few thousand far-right piss-heads.
London protests: More than 100 arrests after violent clashes with police
They behaved true to type.
For those reading this Blog who are not familiar with the name Keith Palmer, the man was a true hero in every sense of the word.
Keith Palmer, GM (1968 or 1969 – 22 March 2017) was a British police officer who was posthumously awarded the George Medal, the second highest award for gallantry "not in the face of the enemy". Though unarmed, he stopped a knife-wielding terrorist from entering the Palace of Westminster during the 2017 Westminster attack; he died from wounds he received in this attack
The BBC states,
MP Tobias Ellwood, who gave first aid to PC Palmer as he lay dying after being stabbed in the grounds of Parliament by Khalid Masood in 2017, said the image of the man urinating next to the memorial was "abhorrent".

He told the BBC: "He was fully aware of what he was doing, he should step forward and apologise."
For many people, beginning with leading figures involved in the Black Lives protests, and extending to the left and  independent anti-fascists, it was not a good idea to engage in confrontations with the far right rabble.
PM Boris Johnson had been inciting opinion against BLM protests and the left.
It seems as if the Tories are more than willing to engage in a US style "culture war" – at a time when a massive recession looms .
The Guardian headlined on its front page yesterday, "Boris Johnson 'stoking fear and division' ahead of BLM protests
Critics say PM's claim that George Floyd protests 'hijacked by extremists' is dangerous".
In the same daily, Johnathan Freedland offered an account of how these cultural clashes work in the very different political culture of the US, and how they might develop in the UK,
The right loves a culture war, because such a battle changes the subject – almost always shifting from ground on which they would lose to ground on which they can win.

Let's imagine the initial focus had remained instead on a demand to tackle discrimination in policing and criminal justice, expanding to include the higher death rates from Covid-19 among black Britons. Johnson and others in power would now be on the defensive, forced to promise action.

But once the focus shifted, they could exhale with relief. Not only is a debate about statues or faulty TV shows a handy distraction from the specific injustices at the heart of all this, it also splits the coalition, even the consensus, that had, remarkably, formed in revulsion at Floyd's killing. Once statues of Gandhi and Mandela are also boarded up for their own protection, as they now are, it means precious unity has been lost.
In France the Comité Adama has taken up issues of discrimination in policing and the legal system, focusing on justice against the police (Death of Adama Traoré) See also, yesterday: Comment le comité Adama est devenu le fer de lance de la lutte contre les violences policières. BFMTV.
ITN carries the story:
Assa Traoré wears a t-shirt which says "Justice for Adama, without justice you will never have peace."

She knows the price of peace – Adama is her brother.

He died four years ago detained by French police after running away from them because he wasn't carrying his identity documents.

She has been campaigning ever since.

All these years on, the officers involved in his detention have just been cleared of any involvement in Adama's death.

That decision has triggered protests across France and led to her brother being dubbed the 'French George Floyd'.
Yesterday they also demonstrated.
Not without difficulties, as this self-policing against would-be 'casseurs' (those who attack and smash after marches)  illustrates.
Far right 'identitaries' tried to disrupt the protest.
David Lammy has taken up one of the issues  Feedland highlights:
Lammy takes an approach to the statue issues which many will agree with:
After the scuffling and fighting it is unlikely that anybody is going to want to side with yesterday's would-be defenders of Churchill.
Yet there are those who not only wish to fight the culture wars but to oppose the far-right (on this issue) in the streets,
Weyman Bennett, co convenor Stand Up To Racism said
"It is right to take a presence on the streets – we should not let the fascists go unopposed. For the past two decades we have been told when Nazis march 'ignore them and they will go away'. This simply is not true.

"Without the encouragement of Boris Johnson pretending that the issue of Bkack Lives Matter is reduced down to statues. He has not engaged on the key point about racism and its systemic nature in this society.

"Johnson's callous disregard for black people's lives in the current Coronavirus crisis and also for the mistreatment by the police and the court system, is an other attempt to reinforce racism and we must reject reject this and demand justice. No justice no peace".
Weymann Beynett is a leading member of the SWP.
Here is his plea during the EU referendum, when the SWP and the 'Lexit' left stood on the side of the hard-right and backed the Johnson, Cummings and Farage Brexit project and opposed internationalists.
Stand up to Racism: Keep racism out of the EU Referendum – Weyman Bennett
His party paper reports today:
Around 5,000 Nazis and racists gathered in Parliament Square, central London, on Saturday. Hundreds of the thugs tried to carry out a violent attack on Black Lives Matter (BLM) protesters.

It's a warning of how the British far right is hoping to initiate a right wing backlash against the BLM movement.

But they can be humbled. That was underlined late in the day on Saturday when several thousand people who had seen the pictures of the far right answered calls from musician Megaman and others to come to central London to oppose them.

…

Up to 300 supporters of Stand Up To Racism (SUTR) joined a counter-protest in Hyde Park where they faced abuse and intimidation from the far right.

..

The fascists' 5,000 was small compared to the 50,000 that came out last Saturday and the monster march last Sunday.

BLM organisers had planned another central London demonstration for this Saturday. But called it off out of fears of clashes with the far right and coronavirus concerns.

The far right may feel confident after their protest. But seeing tens of thousands of people—black, white, overwhelmingly young, and militant—on the streets is the best way to demoralise them and make sure they cannot regroup.
There are others who take an even more forthright position.
These responses do not look like calls for unity:
And there is this:
The Malcolm X Movement has a web site.
Its last pubic event was in 2017.
Here is one in 2016,
The Malcolm X Movement proudly hosts the premier of a hard-hitting, informative and inspiring look at African and Libyan popular anti-imperialist resistance entitled Nato War on Libya (53mins). We are also hosting at the same event a book launch of a collection of writings about the martyrdom of Muammar Gaddafi entitled On the Martyrdom of Muammar Gaddafi: 21st Century Fascism and Resistance. One of our MXM coordinators – Sukant Chandan is the editor of the book and the filmmaker of the doc.

The event takes place this Sat 29th Oct at 6pm at Marx Memorial Library,  EC1R 0DU (£5 suggested entry). The Libyan community are kindly and generously providing free Libyan snacks and refreshments at this event.
Leading figures of Labour Against the Witch-hunt, Jackie Walker and Tony Greenstein have caused controversy with this meme.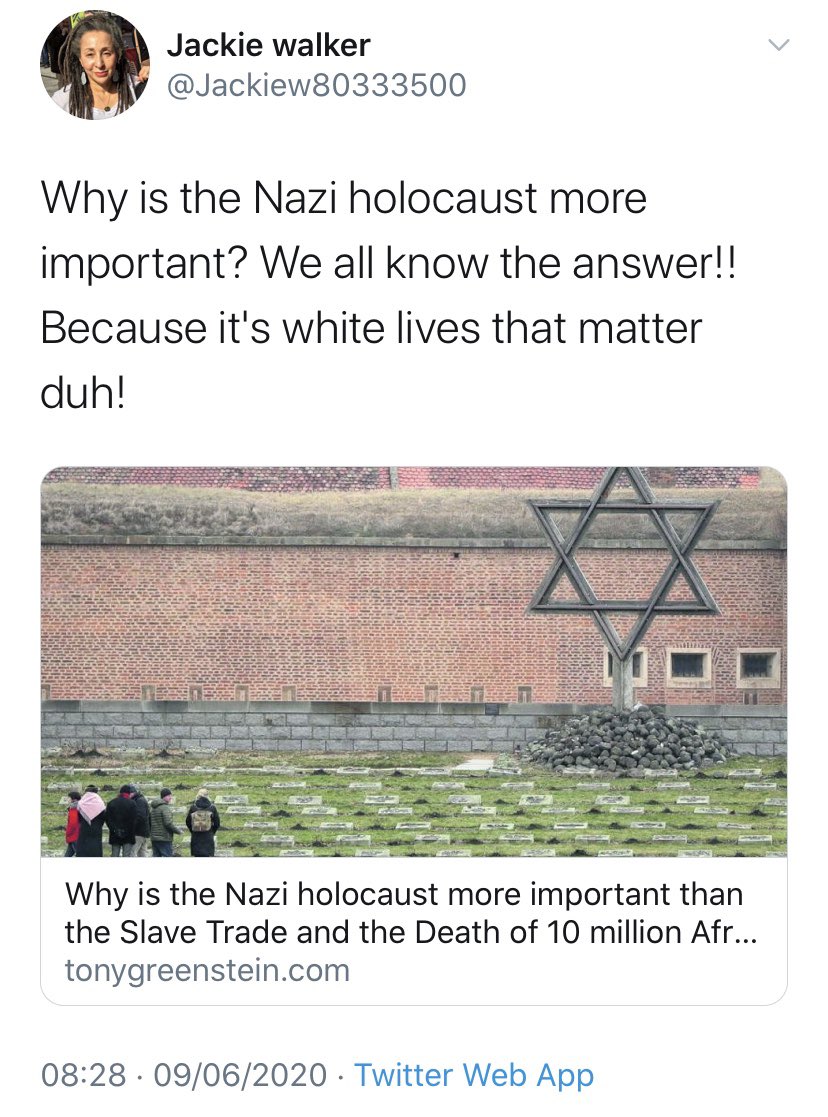 Greenstein's Blog can be read here;
Why is the Nazi holocaust more important than the Slave Trade and the Death of 10 million Africans in the Belgian Congo?
Greenstein does some calculations and comes up with an answer:
In these days of 
Black Lives Matter
 there is one, obvious, answer. White lives matter more. Yet this is not the whole answer, indeed it is not even half an answer. The Irish Famine is also not top of the book lists. Admittedly the British killed 'only' one million but the accepted figure of Jewish dead in the Holocaust is 6 million. The estimated number of dead in the Belgian Congo is 10 million. The estimated death from the Slave Trade is about 14 million.
It would be interesting to hear US and British activists from Black Lives Matter take up the issue of the the vicious rule of the Belgium Congo – a private domain of King Leopold ll (somebody whose name Greenstein does not bother to mention).
It is a live issue in Belgium, and has been for some time.
This, Greenstein fails to mention.
If this pair are interested in the history, which they show few signs of familiarity with, the best known English language study is King Leopold's Ghost (1998) by Adam Hochschild.
One can read an account of one of the principal sources of information about these horrific abuses (set up following the harrowing investigations by the Irishman Roger Casement in 1903, here: Commission d'enquête sur les exactions commises dans l'État indépendant du Congo `1904.
Not that Walker or Greenstein are interested in this history.
The point is simple "white lives matter more" – Jewish lives.
Jackie Walker is a member of the Board of the Labour Representation Committee. *
Both are office holders in Labour Against the Witch-hunt,
Ken Livingstone
Alexei Sayle, comedian
Professor Moshé Machover, Israeli socialist and founder of Matzpen
Ian Hodson, president of the Bakers Union
Ken Loach, film director
Noam Chomsky, author and activist
*
Election of Officers
Equalities Seats. BME: Jackie Walker
Update on the LRC 
Stan Keable from labour Party Marxists and Secretary of Labour Against the Witch-hunt,  writes in the Weekly Worker(28.5.20),
The Labour Representation Committee's executive has decided to 'postpone' the planned June 27 online conference till some time in September. Why?

…….

we suspect that the real reason for the 'postponement' is political. Indeed, it is very likely that the real reason goes by the name of John McDonnell, the LRC's president. The fear is surely that, if the conference went ahead, it would have been attended by many victims of the 'Anti-Zionism equals anti-Semitism' witch-hunt. To address such a conference could end McDonnell's glorious political career in the Labour Party with his expulsion. After seeing what happened to fellow MPs Diane Abbott and Bell Ribeiro-Addy, he knows that is a real prospect.
He comments,
John McDonnell has undergone a sickening political decay. He, like Momentum owner Jon Lansman, helped lever the Labour Party into adopting the International Holocaust Remembrance Alliance's so-called 'definition' of anti-Semitism: a definition which equates anti-Zionism with anti-Semitism. Not only that: McDonnell supported the reactionary "zero tolerance" doctrine in the face of the blatantly dishonest witch-hunt against socialist and leftwing activists. Such treachery, such a failure to stand in solidarity with wrongly accused comrades, whose innocence he cannot have doubted, should not be passed over in silence. He certainly should have been stripped of his position as LRC president.
Further update:
We are reliably informed that Walker left the LRC Committee because they withdraw from the Labour Left Alliance (LLA).
She is listed as a supporter of the LLA.
" Tosh McDonald, former president Aslef, Doncaster councillor
Asa Winstanley, journalist
Jackie Walker
Graham Bash
Chris Williamson
Professor Moshe Machover
John Dunn, Orgreave Truth and Justice Campaign."
The toppling of the Edward Colston statue in Bristol is welcome.
This Blog also notes with sympathy these protests:
Today we hear more and more calls to topple the statues of the Beligum King who brutally ruled vast tracts of Central Africa as his private kingdom.
En Belgique, des protestataires réclament le déboulonnage des statues de Léopold II, tortionnaire du Congo
In the UK:
Here is the Johnson response to the latest protests,  (BBC)
Prime Minister Boris Johnson has said anti-racism protests at the weekend were "subverted by thuggery" after some demonstrators clashed with police.

Mr Johnson said people had the right to protest but engaging in violence was a "betrayal" to the protesters' cause.

Thousands of people attended largely peaceful demonstrations in cities across the UK at the weekend.

But unrest in London on Sunday led to eight officers being injured and 12 people being arrested.

In Bristol, police confirmed there would be an investigation into "criminal damage" of a statue of Edward Colston – a prominent 17th Century slave trader – which was ripped down by protesters in a move Home Secretary Priti Patel condemned as "utterly disgraceful".

While the Metropolitan Police's Supt Jo Edwards said following a "predominantly peaceful protest" in the capital, officers were faced with "scenes of violence and disorder" which were "entirely unacceptable".
People will rightly ignore the Prime Minister's bluster.
Yet some problems cannot be wished away.
On Shiraz Socialist, Jim Denham writes.
The dilemma: should you protest in a coronavirus pandemic? And if so, how?
 Under 'normal' circumstances there's be no question that all socialists (indeed, all decent people) should be joining these protests.

The problem (at least in the UK) is the continuing prevalence of Covid-19 and the continuing need to socially distance. Many of the protesters (especially young people) have taken the conscious decision to risk breaking social distancing (which is virtually impossible to adhere to on a demo or at a rally) because they regard the anti-racist cause as more important. Fair enough, perhaps: but those making that choice are not just risking their own health, but also the health of everyone else they come into contact with.

For trade unionists demanding the highest health and safety standards at work, this presents a real dilemma – and it also makes it impossible to argue for trade union support for the UK demos.
One reaction is whataboutery.
Lindsey German of Counterfire  leads the charge, referring solely and exclusively to the issue as follows,
Here in Britain, we have had Priti Patel warning that the demos will help spread the virus – something that worried her not in the slightest when she welcomed VE day parties, the opening of garden centres and crowds on beaches. The government has, however, avoided major confrontation so far – a sign of its overall weakness. However, it is prepared to use force to crack down if it feels that it can.
Some are already claiming that nobody who is not a "person of colour" should comment critically on these protests.
Socialist Worker offers justifications for ignoring social distancing.
Most people are wearing masks," he said. "The necessity of the movement overrides the virus."

Several placards read, "Racism is a pandemic." There was a sense that the threat posed to black people by police violence and racism was at least as significant as the threat posed by the virus.

"We are in the midst of a pandemic, but racism is a pandemic too," recruitment worker Yvonne told Socialist Worker. "Everyone needs to fight it. It's not something black people can get rid of by ourselves."

Sunday's march was made up of young black and white.
Racism may have spread across the country, with deep roots.
It is a threat.
But what justification is there for providing conditions in which they virus can spread?
The labour movement is trying to help those engaged in fighting it.
How anybody override that effort?
This is a TUC statement (2nd of June) on that aspect of the Covid-19 pandemic,
Commenting on the announcement today (Tuesday) by Matt Hancock that Kemi Badenoch will lead a further enquiry into why black and minority ethic (BME) people are more at risk of coronavirus, TUC General Secretary Frances O'Grady said:

"The government has known for months that the virus has hit black and ethnic minority people hardest – in their health, jobs and wallets.

"Rather than just warm words, the government must now show that Black Lives Matter with urgent action to protect BME people at work and to give all key workers the pay rise they have earned.

"BME communities must have confidence that their health is being taken seriously.

"The government needs to put in place a funded action plan to tackle the egregious inequality BME people still face, and must be fully transparent about how it is considering BME communities in its policy decisions."
TUC guidance for Health and Safety reps on social distancing at work
1. Eliminate
Can the risk of breaking social distancing be eliminated using alternate working methods like home working? If not:

2. Reduce
Can the risk of breaking social distancing be reduced by limiting the number of workers in any given area or supply more welfare facilities? If not:

3. Isolate
Can the risk of breaking social distancing be isolated by separating areas of the workplace? If not:

4. Control
Can the risk of breaking social distancing be controlled through supervision, clearly marked areas of access and two metre markings similar to supermarkets? If not – or if the risk still can't be sufficiently avoided – then issue PPE.

5. Personal Protective Equipment
Following the risk assessment, clear and identified PPE should be issued free of charge. Regulation 4 of the PPE states:

Every employer shall ensure that suitable personal protective equipment is provided to his employees who may be exposed to a risk to their health or safety while at work except where and to the extent that such risk has been adequately controlled by other means which are equally or more effective.

This means that PPE should not be the first means of controlling the risk of contracting Covid-19 in the workplace

6. Discipline
Through proper training, advice and clear understandable policies and notices including posters.
The issue of the social distancing the TUC backs has come to the fore in these protests.
In Spiked Michael Cook crows at the reaction to US protests.
If you can remember that long ago, there was a time when the only protesters defying the Covid-19 lockdowns in the United States were small crowds of roughnecks from flyover country, waving flags and brandishing placards at state capitals.

…

Now, crowds of tens of thousands have gathered to protest the appalling killing of George Floyd in cities across the country. Most of them are ignoring social distancing. If the public-health advice is correct, hospitals could expect a spike in coronavirus cases.

So are these protesters freeloaders? According to an open letter signed by hundreds of health workers, they are heroes. Lockdown critics may deserve to die without ventilators, but protesters against racism should be encouraged, praised and supported. The public-health response 'must be wholly different from the response to white protesters resisting stay-home orders', says the letter. 'White supremacy is a lethal public-health issue that predates and contributes to Covid-19', it continues.
In Belgium the leading francophone daily, Le Soir, reports that the absence of social distancing at protests has been less than well received.
Polémique sanitaire après la manifestation anti-raciste à Bruxelles
And the world:
But the issues Shiraz raises remain.
Take the national populist right, and its cheerleaders in the Red-Brown Spiked web site.
Spiked writers backed the far-right Vox protests in Spain against social distancing (Spain is in revolt against the lockdown, and other national protests against lockdown measures across Europe (The mass arrest of anti-lockdown protesters in Berlin shows we have given up our freedoms far too easily.)
The Italian extreme right, and ;pandemic deniers, have demonstrated in recent weeks.
In Brazil the national populist President Jair Bolsanaro has joined in.
Bolsonaro greets anti-lockdown protesters as coronavirus cases rise in Brazil – video
In effect those flaunting social distancing rules are not just putting people's heath at risk, they are playing the game of the far-right opponents of lockdown.
How can we criticise them when we excuse the same behaviour?
No cause or group can over-ride the need to protect lives.
Coronavirus is a physical reality that cannot be wished away.
Clashes
The clashes in London and elsewhere are also a live issue.
A respected local councillor in Ipswich, one of those who led the call to get local Tory councillor suspended for his racism tweets,
(This is the Tory)
How can we answer the views of people like Alisadair, people who form the backbone of our movement?
Now we have Keir Starmer.
Those who reject this approach need some serious responses.
Lawlessness is perhaps easier to excuse than spreading the pandemic.