Posts Tagged 'Racism'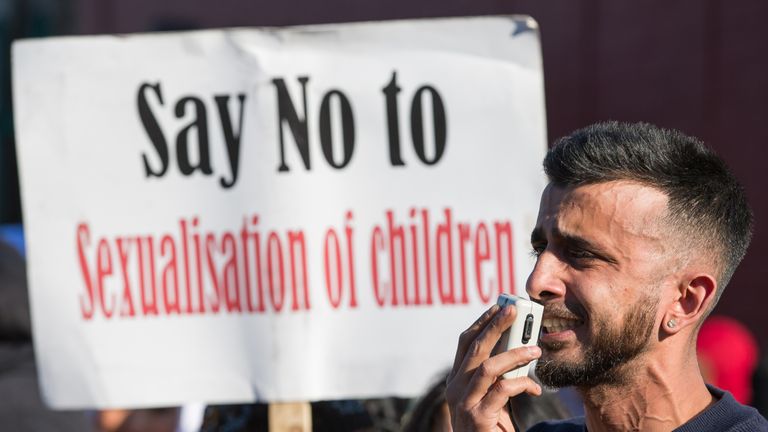 Religious Bullies Try to Stop Equality.
This was on Sky News this morning:
Teachers 'in tears' at school gates as row over LGBT classes worsens
The former chief prosecutor for North West England tells Sky News that "outside agents" are responsible for inflamed tension
Sally Lockwood, North of England correspondent.
Mediation between parents and staff over the issue of relationships education at a Birmingham primary school has stalled.

Nazir Afzal who is in charge of steering talks between the council, parents and teachers, told Sky News that six weeks of discussions have been unsuccessful.

He claimed staff at Anderton Park Primary School are at risk and frequently break down in tears because of hostility at the school gates – with protests taking place against teaching children about same-sex relationships.

Mr Afzal, a former chief prosecutor for North West England, said: "I can't think of any other way to get people round a table again than to speak to you and Sky.

"I've looked at the curriculum, there is nothing in the curriculum that is LGBT specific. There is nothing about gay sex.

I've seen people walking around outside of that school with stuff that they have downloaded from the internet suggesting this is on the curriculum.

"This is what's being taught to their children. It's a lie. And this is what I'm dealing with."
It is important to note that the movement, called Stop RSE (relationships and sex education)  is not confined to Islamist bigots.
It an equal opportunity bigots' campaign.
The Stop RSE campaign explains,
There are widespread concerns that the mandatory introduction of RE/RSE into all schools across England, from September 2020, and Wales from 2022, will be used by sex education organisations and LGBTQ+ activists to promote their controversial beliefs to the youngest of children.

There is an international move, backed by international bodies such as the United Nations and by organisations such as the International Planned Parenthood Foundation, to get compulsory sexuality education into all schools worldwide. Their agenda is not to educate children in the biological aspects of reproduction but to teach children that they are sexual beings and have the right on act on their sexual urges with who, what and when they like. There is a concerted effort to undermine parental and religious authority by making school teachers the primary educator of children in all matters of sexuality education, as it has been redefined.

The philosophy behind this new compulsory sex education agenda can be traced back to the sexual revolution, which had its heyday in the 1960s, and is influenced by various social and political movements. Ideologies from Marxism, radical feminism and gender theory have all contributed to this new sexual ideology. They have intertwined with the thought of various protagonists, the most notable being Alfred Kinsey, who is seen as the master architect of sexuality education as it is now being taught.
Their Facebook page promotes this (28th of May), which links paedophilia to RSE education.
Comprehensive Sex Education and the Sexualisation of our Children
"Our children are being assaulted and groomed in the classroom …. according to an FBI definition of grooming*
This lecture at Liberty University Law School makes a connection between traits pedophiles have and early childhood sexuality education is designed to teach in classrooms.
The National Secular Society gave  some background in February,
The National Secular Society has said the government should "not give ground" on relationships and sex education (RSE) in England's schools after highlighting the bigoted messages of religious anti-RSE campaigners.

An NSS investigation has exclusively revealed that an academic who secured a debate on RSE in parliament has encouraged Muslims to adopt a "psychological" or "mental health" response to same-sex attraction.

In a speech promoting her anti-RSE campaign Dr Kate Godfrey-Faussett also said homosexuality results from a lack of "guidance".

Godfrey-Faussett is playing a key role in the primarily Islam-based Stop RSE campaign, which opposes plans to make RSE teaching compulsory. She also created a petition on the parliament.uk website which demands a parental opt-out from RSE classes.

…

In her speech about the campaign broadcast online Godfrey-Faussett said many young Muslims were "turning to same sex relationships because they haven't had the guidance". She bemoaned the "queering" of the "Muslim community" and said Muslims should "work psychologically or in a mental health capacity" with those experiencing same-sex attraction.

She claimed the government's move was part of a "totalitarian endeavour to indoctrinate our children in secular ideologies" and criticised "the promotion of the homosexual agenda".

She also called for "unity" among Muslims, approvingly quoting an imam who said: "While we're arguing about whether we pray with our hands crossed or our hands by our side, our enemy is actually plotting to cut our hands off."

Her petition says: "We believe it is the parent's fundamental right to teach their child RSE topics or to at least decide who teaches them and when and how they are taught. We want the right to opt our children out of RSE when it becomes mandatory."
Islam though does feature heavily in this campaign,
Downloadable resources which were available on its website until earlier this week included the book Marriage and Morals in Islam. This says: "In the Islamic legal system, homosexuality is a punishable crime against the laws of God. In the case of homosexuality between two males, the active partner is to be lashed a hundred times if he is unmarried and killed if he is married; whereas the passive partner is to be killed regardless of his marital status.

"In the case of two females (i.e. lesbianism), the sinners are to be lashed a hundred times if they are unmarried and stoned to death if they are married."

he book goes on to say Islam "is not prepared to tolerate any perverted behaviour" and high rates of AIDS show "nature has not accepted" homosexuality "as a normal sexual behaviour".

It also decries "the moral bankruptcy of the West", based on some Christian churches' acceptance of gay relationships.
Dr Kate Godfrey-Faussett  is now being investigated.
The Islamist site, 5 Pillars, has come to her support.
Commenting on the letter sent to the council by the NSS, Dr Godfrey-Faussett told the Observer: "I have simply tried to warn people of the underlying liberal secular agenda of RSE and the harm that it may cause children – and is, in fact, already causing based on reports I am receiving from parents.

"It is well known that if you speak out against the secular narrative they will silence you through smear campaigns and getting you struck off professionally."
More on this individual:
It does not take much effort to find worse, like this American cheerleader, Muslim Skeptic (sic).
Keep It Up! UK Muslims Shut Down LGBT Propaganda at Four Schools
There is no equivalence between sodomite fetishism and healthy sexuality between husband and wife after nikah. The former is a depraved act that debases a human being in every way, spreads moral decay, transforms society into a cesspool of degeneracy and base lust (as the Quran describes with Qawm Lut). The latter is the basis of love and mercy between two halves, man and woman, committed to each other, being fruitful with each other in nourishing a family that becomes the building block of a flourishing society as God Almighty intended.

Teaching Muslims LGBT and promoting "LGBT-friendly Islam" is a well known counter-radicalization tactic. These anti-Islam government agencies know that when a Muslim accepts LGBT, he is just a hop, skip, and a jump away from abandoning Islam entirely. This is one of the main reasons they are so insistent that Muslim children get anal sex lessons in elementary school.
By contrast:
Credit where credit is due, even Socialist Worker has this week taken a principled stand on the issue:
Resist the campaign to stop LGBT+ education
The Parkfield protest organisers, such as Ahmed, flaunt their homophobic bigotry whenever they are interviewed. "We do not accept homosexuality as a valid sexual relationship to have," he said.

"This is about proselytising homosexuality to young children."

The protests have been joined by conservative Christian and Jewish figures who oppose sex education.

Ahmed always claims that he isn't homophobic and organisers say they don't oppose teaching under the Equality Act.

But the Equality Act is weak. It calls only for the curriculum to be "designed to encourage respect for other people" and it does not apply to independent schools, including faith schools.

The Parkfield protesters stress that they call for "dialogue" and "consultation", but for them that means getting rid of the No Outsiders programme for good.

At best it means watering down the lessons—to teach tolerance of LGBT+ people, but not that it's possible to be both LGBT+ and Muslim.

Ezra from LGBT+ Muslim organisation Hidayah said, "The protesters at Parkfield talk about consultation. But I don't think any consultation would make the parents have the lessons.

"There is no way that they would be happy with it because they view any teaching about different relationships or homosexuality as promoting it."

The lessons should be reinstated.
Latest news:
In France in 2014 a similar movement of bigots united Islamists, 'Conservative' Muslims, and hard-line 'traditionalist' Catholics and the French far-right:
"Théorie" du genre : quand extrême droite et musulmans conservateurs font alliance.
Théorie du genre : est-on conscient de la mainmise de l'extrême droite ?
Vendredi 24 janvier et lundi 26 janvier 2014… quelques centaines de familles, parmi lesquelles de nombreuses familles musulmanes, n'envoient pas leurs enfants à l'école. Ils protestent contre des cours d'éducation sexuelle donnés à leurs enfants en bas âge.

Une autre lecture des événements devrait être celles-ci : les 24 et 26 janvier 2014, de nombreux musulmans, en retirant leurs enfants de l'école, en apportant du crédit aux rumeurs propagées par les initiateurs des Journées de retrait de l'école (JRE) apportent leurs soutiens aux mouvements d'extrême droite.