Posts Tagged 'Racism'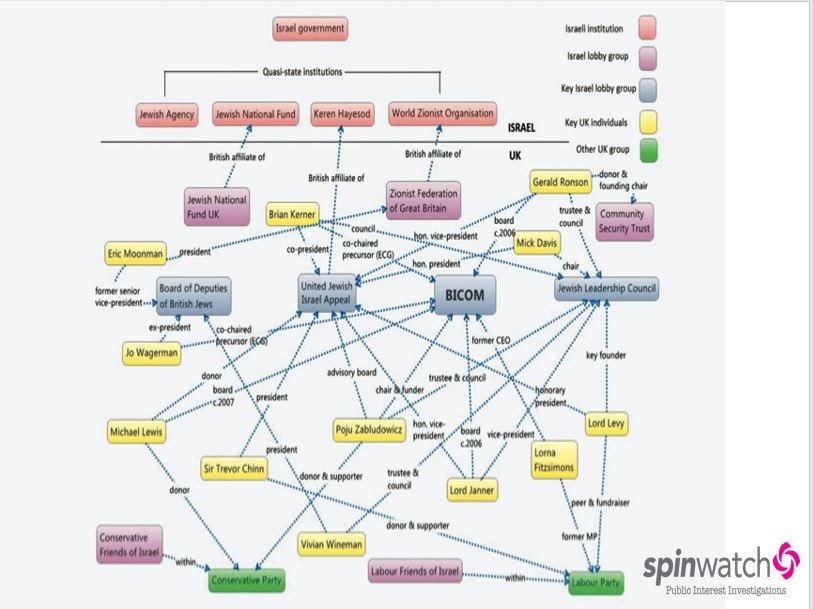 David Miller's 'Research'.
1 October 2021
Following a full investigation, we can confirm that from today (Friday 1 October) Professor David Miller is no longer employed by the University of Bristol.
We have a duty of care to all students and the wider University community, in addition to a need to apply our own codes of conduct consistently and with integrity. Balancing those important considerations, and after careful deliberation, a disciplinary hearing found Professor Miller did not meet the standards of behaviour we expect from our staff and the University has concluded that Professor Miller's employment should be terminated with immediate effect.
The University regards the principle of academic freedom as fundamental and would like to reiterate that we take any risk to stifle that freedom seriously. The investigation included an independent report from a leading Queen's Counsel who considered the important issue of academic freedom of expression and found that Professor Miller's comments did not constitute unlawful speech.
We recognise that these matters have caused deep concern for people on all sides of the debate, and that members of our community hold very different views from one another.
Given the degree of public interest in this matter we hope our community will appreciate the care and attention with which the University must approach it. We cannot provide any further update on this process; in line with ACAS guidance, such internal processes should remain confidential. Professor Miller has a right of internal appeal which he may choose to exercise and nothing in this statement should be taken to prejudge that prospective process. On that basis, the University does not intend to make any further public comment at this time.
The University remains committed to fostering a positive working and learning environment that enriches lives and where the essential principles of academic freedom are preserved.
Response from Miller:
Prof Miller said: "The University of Bristol has embarrassed itself and the entire British academic sector by capitulating to a pressure campaign against me overseen and directed by a hostile foreign government. It has run a shambolic process that seems to have been vetted by external actors.
"Israel's assets in the UK have been emboldened by the university collaborating with them to shut down teaching about Islamophobia. The University of Bristol is no longer safe for Muslim, Arab or Palestinian students.
"I stand by my evidence-based comments and I will be challenging this decision, all the way to an employment tribunal if necessary."
Neither the above nor the below is going to win Miller many friends outside of the narrow circles who back his 'research'.
We should draw a distinction between the issues of academic freedom involved in this sacking and that of the academic credibility of David Miller.
.
Miller is the co-founder and co-director of the non-profit company Public Interest Investigations, which has two main projects, Spinwatch, a website]which says it is "devoted to public interest reporting on spin lobbying and political corruption",
Even the Spikey ones, and one of the most virulent ones, recoil from Miller:
You wonder where former Revolutionary Communist Party cadre, Heartfield (original name James Hughes), now Spiked national populist and sovereigntist, did his 'warning' of something as well known as the above.
Rater then rehearse all the arguments, this is a good summary of the issues the case raises.
Dr Dave Rich.
Miller's conflicts with Jewish students flow from the same analysis of "Zionist" power that he teaches in class.
Professor Miller has said that there is "an all-out onslaught by the Israeli government" to "impose their will all over the world", and that all university Jewish societies (including Bristol's), plus the Union of Jewish Students, are "directed by Israel" as part of this effort. More broadly, he says that Bristol Jewish Society belongs to a "Zionist movement" that he has characterised as "the enemy of the left, the enemy of world peace, and they must be directly targeted". Miller says the goal is to "defeat the ideology of Zionism in practice" and "to end Zionism… as a functioning ideology of the world". While many consider Miller's comments to be so inflammatory as to endanger Jewish students, he claims it is university Jewish societies that render Muslim and Arab students unsafe.
At the heart of all this is Miller's belief that Islamophobia is generated and encouraged by "parts of the Zionist movement", and that it is "fundamental to Zionism to encourage Islamophobia and anti-Arab racism". In February 2019 he taught this theory to undergraduates at Bristol using a PowerPoint slide with a network map of Jewish, Israeli and pro-Israel organisations and individuals that he had first drawn up in 2013 under the title of "the British Zionist scene". As the sociologist Keith Kahn-Harris has pointed out, this map was a meaningless mass of names and arrows with no real academic or analytical value. Even worse, by the time Miller taught it to students in 2019, most of the individuals named on the map had either left their posts or died. Jewish students in Miller's lecture complained and the slide has come to represent, for Miller's critics, the anti-Semitic nature of his work.
Bristol University was familiar with this aspect of Miller's research, and even with this specific image, when it hired him in 2018, because Miller had used this same PowerPoint slide in a talk at an academic seminar held by the university's Centre for the Study of Ethnicity and Citizenship three years earlier. Speaking to an audience of Bristol academics, Miller described it as showing "the transnational Zionist movement", which he said connected Israeli state institutions and UK Jewish organisations such as the Board of Deputies of British Jews and the Jewish Leadership Council. "It's important to see this as a transnational affair", he told his academic audience, which is not limited to supporting Israel but is also a "social movement" that engages in "domestic politics", including "ultra-Zionist funders" who are "active in Islamophobia"; while the Israeli government, he claimed, "is directly involved in trying to sabotage and undermine the role of Muslims in public life".
Miller calls himself "an investigative researcher interested in concentrations of power in society", and his Spinwatch website describes these networks as using "spin and deception" to "distort public debate and undermine democracy." His work claims to uncover something hidden and malign, and his purpose is not to describe in a neutral sense but to expose and weaken his targets. The picture of a transnational Jewish or "Zionist" network using finance and lobbying to subvert public life that Miller paints is in keeping with his view of how power operates, but the way it echoes certain facets of anti-Semitic conspiracism should have set off alarm bells for anyone attending that 2015 seminar. This is who Bristol hired; as well as investigating Miller's comments, the university would benefit from investigating its own recruitment process.
No doubt we shall hear more than the quarter that initiated the below.
Educators and researchers in support of Professor Miller
Dear Professor Brady,
We wish to express our serious concerns about the unrelenting and concerted efforts to publicly vilify our colleague Professor David Miller.
Professor Miller is an eminent scholar. He is known internationally for exposing the role that powerful actors and well-resourced, co-ordinated networks play in manipulating and stage-managing public debates, including on racism. The impact of his research on the manipulation of narratives by lobby groups has been crucial to deepening public knowledge and discourse in this area.
The attacks on Professor Miller stem from a lecture on Islamophobia that he gave to students at the University of Bristol two years ago. In the most recent instance of this harassment, Professor Miller was approached to provide a statement on Israel-Palestine. When he responded honestly to the query, well-orchestrated efforts were made to misrepresent these responses as evidence of anti-Semitism. A call was then made to the University of Bristol to deprive him of his employment.
We oppose anti-Semitism, Islamophobia and all forms of racism. We also oppose false allegations and the weaponisation of the positive impulses of anti-racism so as to silence anti-racist debate. We do so because such vilification has little to do with defeating the harms caused by racism. Instead, efforts to target, isolate and purge individuals in this manner are aimed at deterring evidence-based research, teaching and debate.
Prolonged harassment of a highly-regarded scholar and attempts to denigrate a lifetime's scholarship cause significant distress to the individual. Such treatment also has a broader pernicious effect on scholarship and well-informed public discourse. It creates a culture of self-censorship and fear in the wider academic community. Instead of free and open debate, an intimidatory context is created and this can be particularly worrying for those who do not hold positions of seniority, influence or stable employment, particularly in times of job uncertainty and in a sector with high levels of casualised employment. As a result, important scholarship is omitted, and this curtails the public's and students' right to learn and to engage in thoughtful debate.
At a time when the Black Lives Matter movement has reinvigorated public consciousness about the structural factors entrenching racism, attempts to stifle discourse on Islamophobia and anti-Palestinian racism are particularly regressive and inconsistent with the values the University of Bristol espouses.
As public intellectuals and academics, we feel duty-bound to express our solidarity with Professor Miller and to oppose such efforts to crush academic freedom. Given your roles within the University and your responsibilities to the wider academic community, we urge you to vigorously defend the principle of academic freedom and the rights to free speech and to evidence-based & research-informed public discourse. We hope that you will uphold the integrity of academic debate.
Professor Noam Chomsky, University of Arizona, Linguistics
Dr Ahdaf Soueif, Writer and Retired Professor in English at Cairo University
Professor Sami Al-Arian, Istanbul Zaim University, Director, Center for Islam and Global Affairs
Professor Ilan Pappé, University of Exeter, Institute of Arab and Islamic Studies
Mr John Pilger, Journalist, Author and Filmmaker
Dr Norman G Finkelstein, Political Scientist and Author
Mr Ronnie Kasrils, Author and Former South African Government Minister (1994-2008)
Dr François Burgat, Emeritus Senior Research Fellow at French National Centre for Scientific Research
Full List on Link.
The crew pictured below have been also leading the campaign to defend Miller…

Condamner l'antisémitisme et combattre tous les racismes !
RAAR press release The RAAR is pleased with the success of the gathering it organised today in Paris on the Place Baudoyer (Town Hall of the 4th district).Several hundred people there demonstrated their strong determination to combat anti-Semitic propaganda. …..
The presence of Jean-Luc Mélenchon and his party La France insoumise made the news:
Libération published this 'Tribune' on Saturday.
It begins….
"The Covid pandemic has given rise to a surge in anti-Semitism and conspiracy-mongering. It has taken the form of the comparison between vaccination and the health pass (Vaccination 'passport') to the Shoah. Yellow stars have been brandished . There have been talk of the 'Nazi Pass' and analogies to the words written on the gates of Auschwitz.
Anti-Semitic words and acts have multiplied during and outside of recent demonstrations. There have been those who have not hesitated to blame Jewish figures for the health situation, in direct and explicit form, or through the use of the coded anti-Semitic meme Qui? "Who?" (a call on marches, as in 'Who is to blame?" – not far off QAnon thinking).
The open letter underlines the leading of the far-right in the recent anti-Macron, anti-Health Pass demonstrations.
The supporters of the far right are at the forefront of this campaign. But tolerance of anti-Semitic words and speeches goes well beyond that.
This is a longer list of those backing the rally:
Liste des organisations signataires de l'appel au rassemblement du 19 septembre :
Juifves VNR ; Juives et juifs révolutionnaires (JJR) Mémorial 98 ; Mémorial des nomades et forains de France ; Union des juifs pour la résistance et l'entraide (Ujre) ; Une autre voix juive (UAJV) ; Ligue des droits de l'homme (LDH) ; Mouvement contre le racisme et pour l'amitié entre les peuples (Mrap one of the oldest anti-racist groups in France) ; Mouvement de la paix ; Fédération syndicale unitaire (FSU) (teachers' trade union); Mouvement national lycéen (MNL) ; Union syndicale Solidaires ; Cedetim ; Collectif Collages judéités queer ; Collectif Agitations ; Collectif Cases rebelles ; Collectif Nta rajel ? ; Collectif national pour les droits des femmes (CNDF) ; Comité Vérité pour Adama (anti-fascists and anti-racists from the banlieue) ; Lallab ; Debunkers de hoax et rumeurs d'extrême droite ; Dijon antifa ; Droit au logement (DAL) ; Fédération nationale des maisons des potes ; Attac-France (linked to Le Monde Diplomatique and 'alter-globalisation' movements) ; Fondation Copernic (left think-tank) ; Assemblée citoyenne des originaires de Turquie (Acort) ; IBUKA-France ; SOS Racisme (known for its big anti-racist demos in the 1980s); La Horde ; La Jeune Garde ; 1 001 Lesbiennes et Queers ; Mouvement du christianisme social ; Pour une écologie populaire et sociale (Peps) ; Editions syndicalistes ;
From the radical left and the Communist Party:
Revue «Révolution prolétarienne» ; Vigilance et initiatives syndicales antifascistes (Visa) ; Gauche démocratique et sociale (GDS) ; Les jeunes écologistes ; Ensemble ! ; Fédération anarchiste ; Parti communiste français (PCF) ; Union communiste libertaire (UCL).
More backing:
Background:
By: John Barzman New Politics. September 16, 2021
Extract:
What is the role of the right in these demonstrations? Who makes up these rightwing groups?
John Barzman – Beyond the broad social and semi-political layers described above, two organized categories should be distinguished: issue-oriented groups and clearly identified ideologies and organizations.
The first category is best represented by Reinfocovid. It has appeared at various moments as denying the gravity of the pandemic, opposed to masks, or vaccinations, and now to the «pass» and to any «vaccinal obligation». It includes dissident embittered nurses, medical doctors, researchers, whose scientific credentials are often unclear. There are also parents concerned with the ability of their children to flirt. And internet influencers too. They tend to support Didier Raoult and his various proposals for alternatives to the best-known remedies, as well as guru Louis Fouché. After July 12, these networks encouraged the formation of Facebook pages titled «Anti pass sanitaire» followed by the name of a city or region, which immediately recruited hundreds of thousands of subscribers. They have equipment : sound systems, musical instruments, disguises (all-white uniforms), speakers and a hierarchy of influencers. They often admire the Trumpist movements of various kinds in the US and imitate their tactics.
The second category encompasses organized far-right groups, generally acting undercover or combining open interventions and quiet infiltration. The context is the decision of the main far right leader, Marine Le Pen, to present her party, Rassemblement national, as conventional republicans («banalisation») uninvolved in violence, and capable of uniting the French people («apaisement», «union nationale»). Her acceptance of the euro caused a split. Her number two leader, Florian Philippot, split and formed the Parti des patriotes with a more «sovereigniste» (nationalist) message. As Philipot was stagnating, he seized the opportunity of widespread social discontent, police demonstrations and the anti-pass moment to organize demonstrations in his own name, or in alliance with sections of the Gilets Jaunes. Other far-right groups known as «identitaires» have engaged in similar work. They combine this with infiltration of the broader movement promoting the actions called by their leaders, as well as the slogan «Freedom», and a ban on «corrupt» political organizations and trade unions. All of this is quite compatible with a future sudden call for unity behind the far right candidate, be it Marine Le Pen, Eric Zemmour, François Asselineau, or Nicolas Dupont Aignan, in exchange for prominent positions on the Marine Le Pen team. Or a far-right and right coalition, as advocated by Marion Maréchal Le Pen (Marine Le Pen's niece).
Another strong far right current is the Catholic fundamentalist («intégrisme catholique») group Civitas. Most recently, this organization acquired a mass audience and experience with organizing demonstrations and tactical relations with middle-of-the-road allies, in demonstrations against the law extending the rights of homosexual couples to marry (the «Mariage pour tous» law) in 2012-2013, actions which were dubbed «Manif pour tous» (the demonstration for everybody). There has been a constant resistance since then to each new measure going in that direction, in the name of protecting children, a theme which reemerges today as «protect our children against the evil vaccine»."
Libération reports that week after week there have been clashes between the far left and the violent wing of this far-right, "Semaine après semaine, les affrontements opposant militants d'extrême droite et antifascistes se multiplient dans les cortèges. "
It would be a step forward in Britain if a similar united front could be shown against the anti-vaxx and their far-right allies here.
Like this lot:
This is a very, very, serious problem: a cult which claims to be 'revolutionary' and anti-colonialist. Or as they say, "Black Hammer is a revolutionary organization whose ultimate goal is to achieve freedom for Colonized people under the leadership of the international colonized poor and working class. Their mission statement says that "Under the leadership of the Colonized proletariat, our mission is to use our collective building power to strengthen all sectors of the Colonized Nation." Their symbol, the Black Hammer, represents breaking the chains of oppression and building a sustainable future for all colonized people worldwide.
This Blog only posts because it is claimed that Black Hammer is "Black Hammer has since grown to become an international organization with Chapters (note, that is, Branches, or…Sections?) in Nigeria, Puerto Rico, The Philippines and the United Kingdom."Black Hammer Organization. And, this, deeply wounding, activity by Black Hammer,
Anne Frank trending on Twitter is rarely a good thing. From January to May this year, Black Hammer, which calls itself a "revolutionary organization" working for "all colonized people worldwide," tweeted monthly statements condemning the most famous victim of the Holocaust as a "colonizer" and a "bleach demon." In one video, Gazi Kodzo, the founder of the organization, says "Anne Frank is white, and white equals colonizer." He later calls her a "parasite." Another post features a photo of "The Diary of a Young Girl" next to a fire, implying it will be burned.
The following post links to their critics, who make charges of enormous seriousness. Let those who have direct experience of Black Hammer speak for themselves, with no added comments.
September the 13th.
The demagogic YouTuber known as Gazi Kodzo wanted to be "the leader of the anti-white revolution." Instead they may go down as one of the more repulsive cult leaders in recent Black history
Communist Group 'Black Hammer' Is Building Ethnostate On 200 Acres: 7 Things To Know.
Mugoldon Nation.
A Black communist organization known as Black Hammer wants to create a separate state or ethnostate on 200 acres in Colorado and the project is already in development.
An ethnostate is a sovereign state whose citizens are restricted to members of a particular racial or ethnic group.
Black Hammer has named its ethnostate Hammer City. On its website, its says Hammer City will create a "city for all people of color to be free" with no "discrimination of nationality, gender, age or mental/physical differences."

Hammer City will exclude all white people based on their race and the ethnostate says it will provide residents with "jobs, housing, food, and healthcare" while retaining a "no cops, no rent, no coronavirus" and "no white people" policy, Opindia reported.
This the Leader, a real Tasty Geezer...
Gazi might be a tough mama, but they're also a revolutionary mama—they got the people's pum-pum!

And a revolutionary mama doesn't just make revolutionaries, they take care of them so that they can live long enough to see freedom.

On top of everything else, Gazi makes time for each comrade personally, to know each of us and what our needs are. Their compassion is larger than a subjective, personal relationship. It's large enough to unite with all poor and working class Colonized people.

His compassion stretches its arms backwards and forwards, for the comrades who have laid down their life for the movement, and for the comrades who haven't yet found their home in the revolution. Every time one of us falls, he doesn't just make sure we get up, he creates a program in place so that we don't fall down again.

What other organization has a physical trainer, a self-defense instructor, and an on-call therapist to keep it's membership healthy, physically and mentally? An organization birthed by the people's pum-pum!