Archive for the 'Conservative Party' Category
One Britain One Nation Day at your school. Free copies of I-Spy: Unpatriotic Classmates will be given to all pupils so that they can keep a record of any schoolfriends who do not sing the #OBONDAY21 anthem loudly enough.
This, the holiest of Days, has been soiled by this revelation.
Well established rumour has it that Matt Hancock has a supply of portraits of the Queen he is willing to give away to constituents.
Allegations shareholders have funded Tory party and Hancock leadership bid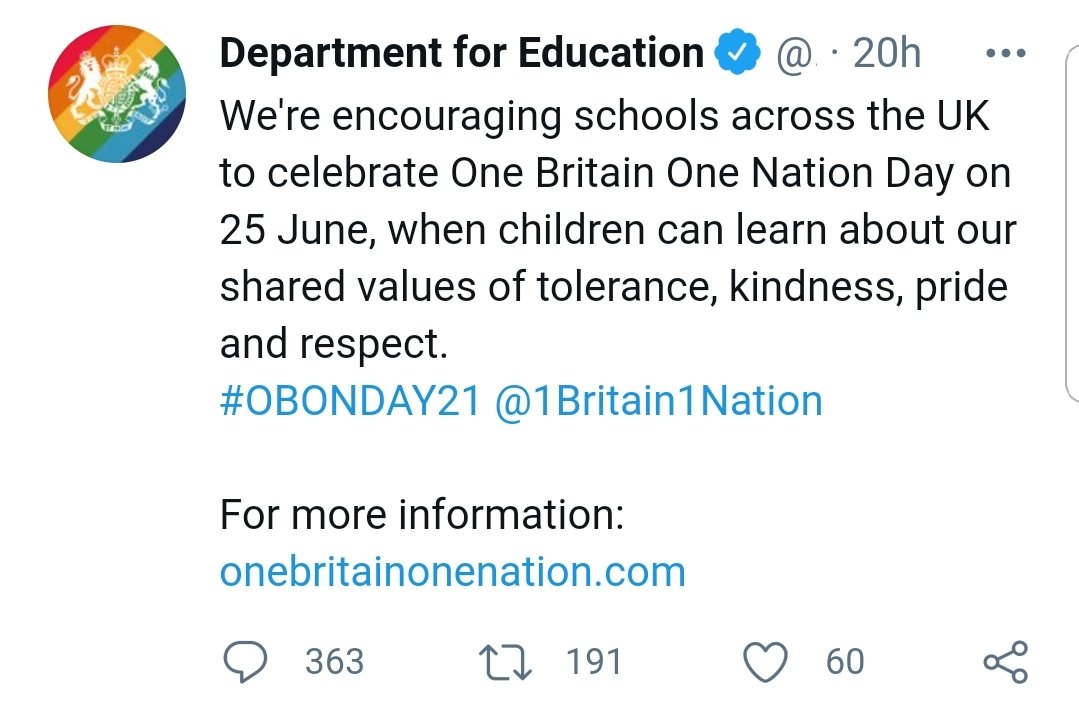 Today is the anniversary of the vote for Brexit led by national populists, believers in the 'anglo-sphere'. nationalists and openly extreme right and the red-brown front. They were backed by a section of the left, from sovereigntists to self-identifying socialists including one section of the 'revolutionary left'.
The Leave vote was opposed by liberals, social democrats, Greens, Labour supporters and by a large swathe of the internationalist radical left.
It is a grim day.
The UK marks five years since the Brexit referendum on Wednesday amid an ongoing row over trade with Northern Ireland.
Independent.
Boris Johnson acknowledged the fifth anniversary of the vote by claiming it was his "mission" to use the UK's new position in the world to deliver a better future for the British people.
The decision to leave the EU may now be part of our history, but our clear mission is to utilise the freedoms it brings to shape a better future for our people," he said.
However, in a sharply contrasting message, the veteran pro-European Lord Heseltine said the outlook was "ominous", with the Northern Ireland peace process under real threat.
The day is made grimmer by this coming event.
"the government is facing criticism after it emerged schoolchildren were being asked to sing a patriotic song in between classes."
We are Britain and we have one dream, to unite all people in one great team (x2)
Our nation survived through many storms and many wars
We've opened our doors, and widened our island shores
We celebrate our differences with love in our hearts, united forever, never apart

We are Britain and we have one dream, to unite all people in one great team (x2)
So many different races, standing in the same place
So many different faces, moving at the same pace
We all stand together with pride in our hearts, united forever never apart
We are Britain and we have one dream, to unite all people in one great team (x2)
Strong Britain, great nation (x4)Great Britain
Attempt to enlist schoolchildren in day celebrating British values criticised and ridiculed on social media

A tweet from the Department for Education said it was encouraging schools across the UK to celebrate the day and featured a link to onebritainonenation.com website.

The campaign, led by former policeman Kash Singh who is chief executive and founder of One Britain One Nation (OBON), says it needs the support of schools to "celebrate the day in the spirit it is intended". The site says "OBON is devoted to galvanising the efforts of people from all backgrounds to rejoice in their pride in Great Britain." The campaign's supporters include actor Joanna Lumley, MP Brandon Lewis, and former MPs David Steel and Norman Tebbit.

The site says that schools should encourage children to clap for a minute to "pay tribute to all those people who helped during the Covid 19 pandemic crisis" and give a rendition of the OBON Day 2021 anthem.

The song, which included the lyrics "We are Britain and we have one dream to unite all people in one great team", has provoked particular ridicule on social media.
Lord Voldemort Backs Galloway.
Britain's Most Famous Vegan and Socialist Party Ally Backs Galloway
Did you ever in your puff see such a Blighter as Chris Williamson?
The Red Brown Front is a Fascist Front: Smash the Red Brown Front!