Search Results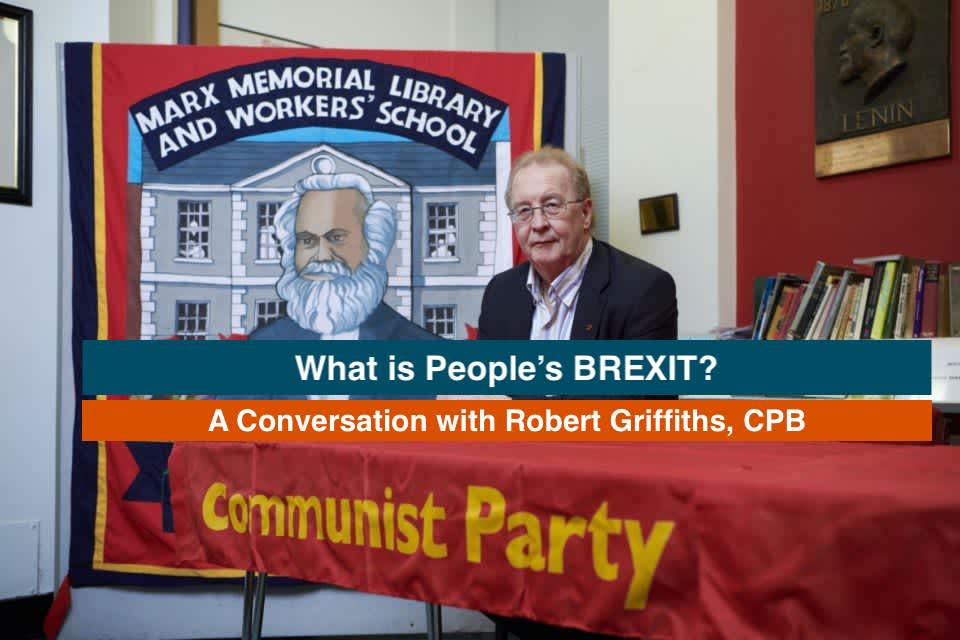 Be Vigilant! Communists Warn of Labour MPs' "sabotage" against Brexit on April the 12th on World Trade Organisation terms.
Communists condemn 'saboteur' MPs and demand April 12 EU exit
3rd of April.
Monday evening's votes in the House of Commons confirm that a substantial number of MPs remain determined to bind Britain as closely as possible to the EU and its rules and institutions if they cannot stop Brexit altogether.

These MPs show utter contempt for the EU referendum result – the biggest democratic vote in our history – and make a mockery of their past pledges to 'honour' the decision made by a clear majority of voters.

A majority of MPs have no genuine disagreement with the Prime Minister's Withdrawal Agreement which ties Britain to the EU Single Market in most goods, keeps us permanently aligned with the EU Customs Union through the unnecessary Irish 'backstop', maintains EU Court of Justice sovereignty in large areas of economic and social policy and pledges to pay the EU at least £39bn in a bogus divorce settlement.

However, a substantial number of these are also holding out in the hope of locking Britain permanently into a customs union or overthrowing Brexit altogether in a second referendum that would exclude a real exit from the ballot paper.

Tragically, many of these would-be saboteurs are Labour MPs who put their loyalty to the EU above any loyalty to democracy, popular sovereignty and the Labour Party.

Many are opposed to the leadership of Jeremy Corbyn and have no concern that by painting Labour as an anti-Brexit party they are jeopardising the prospects of a left-led Labour government. Some openly support the possibility of an all-party 'national government'.

The priority now must be to allow Britain to exit the EU on April 12 on The priority now must be to allow Britain to exit the EU on April 12 on World Trade Organisation terms and secure an early General Election and a Labour victory.and secure an early General Election and a Labour victory.

That government would then be free to carry out Labour's left and progressive policies, which include aid for manufacturing industry and mutually beneficial trade agreements with European and developing countries.
What, some wreckers and saboteurs might dare to ask, is a Brexit on WTO terms?
Brexit: What is the 'no deal' WTO option?
One of the terms that keeps cropping up in the Brexit debate is "the WTO option".

If the UK left the European Union without a deal, it would automatically fall back on World Trade Organisation (WTO) rules.

So what would that mean?

First, the basics. What is the WTO?

The WTO is the place where countries negotiate the rules of international trade – there are 164 members and, if they don't have free trade agreements with each other, they trade under "WTO rules".

Which are?

Every WTO member has a list of tariffs (taxes on imports of goods) and quotas (limits on the number of goods) that they apply to other countries. These are known as their WTO schedules.

The average EU tariff is pretty low (about 2.8% for non-agricultural products) – but, in some sectors, tariffs can be quite high.

Under WTO rules, after Brexit, cars would be taxed at 10% when they crossed the UK-EU border. And agricultural tariffs would be significantly higher, rising to an average of more than 35% for dairy products.

The government has set out its plans for tariffs in the case of a no-deal Brexit.

Its temporary schedule would mean that 87% of imports by value will be tariff-free, compared with 80% before Brexit.

There will be some protection for companies producing cars in the UK, farmers producing meat and the UK ceramics industry. The government has attempted to balance the benefits of free trade in getting cheaper products for consumers, with protecting the livelihoods of some UK producers.
Some groups, which claim to be on the left, still cling to the idea of a "People's Brexit".
The Full-Brexit supporting Counterfire publishes today this;
Neoliberalism and Brexit: why Brexit is about more than just Brexit
"Brexit is about more than just Brexit" says Dragan Plavšić, "it's about the wider crisis of neoliberalism and the long-diminishing authority and standing of the British state and ruling class."
However, if Corbynism is indeed to be true to the discontented mood shift of which it is the most authentic expression, then it has to advocate a Brexit – a People's Brexit – that provides a future Labour Government with the necessary freedom to undo the destructive and devastating effects of forty years of neoliberalism. A People's Brexit is therefore the only real alternative to the neoliberals who wish to leave the EU or remain in it. A general election is feared by them all; the sooner we have one the better.
Most people will have forgotten what a 'People's Brexit' was ever meant to be – and Plavšić does not enlighten us in this reheated rhetoric.
But Counterfire has published articles arguing that WTO rules are better than the EU's,
"The WTO Red Herring

WTO anti-subsidy provisions are a completely different kettle of fish from EU state aid rules – being far narrower in their scope, far less stringent in their implementation and fundamentally different in how they operate.

The radical case against the single market is no myth February 2019. Reuben Bard-Rosenberg.
So the 'left' Brexit or People's Brexit camp has adopted versions of the Tory 'Hard Brexit' position, with the UK negotiating free trade deals with other states through the World Trade Organisation.
There is the minor problem that not only does this prospect go against present Parliamentary votes,  Labour policy, and the views of nearly all but the fringe of the fringe of the Party, but that it runs up against this prospect:
UK cannot simply trade on WTO terms after no-deal Brexit, say experts
The UK will be unable to have frictionless, tariff-free trade under World Trade Organization rules for up to seven years in the event of a no-deal Brexit, according to two leading European Union law specialists.

The ensuing chaos could double food prices and plunge Britain into a recession that could last up to 30 years, claim the lawyers who acted for Gina Miller in the historic case that forced the government to seek parliament's approval to leave the EU.

It has been claimed that the UK could simply move to WTO terms if there is no deal with the EU. But Anneli Howard, a specialist in EU and competition law at Monckton Chambers and a member of the bar's Brexit working group, believes this isn't true.
No St George's Cross on this banner.
The Red Gyms of England — a new front for anti-fascism
A new movement of socialist fight-sports clubs is smashing misconceptions that the left is a muddle of middle-class milquetoasts, writes JAMES CROSSLEY
"English identity is a ready-made collective identity that can help develop a movement for the many not the few."
"James Crossley is Professor of Bible, Society and Politics at St Mary's University, Twickenham. He writes mainly on religion and politics in the twentieth and twenty-first century and the historical Jesus in the first century."
I have no idea of what kind of toast is milque but this indicates something:
The story of why this happened is well known. Attacks on trade unions by Conservative and New Labour governments, and New Labour's obsession with middle-class swing voters, alienated working classes from socialist movements…

..

Enter a socialist culture from below.

..

161 are part of a countrywide re-emergence of "red gyms." One of the most prominent is women-led Solstar Sports Association, based at the Refugee and Workers Cultural Association, a Turkish and Kurdish socialist community centre in Tottenham, North London. Solstar run boxing, martial arts and self-defence classes for adults and kids. It is based on socialist principles and is always run by three experienced female trainers, presently Ella Gilbert, Paula Lamont and Anna Zucchelli: they argue one of the simplest ways to fight sexism is to have women in charge, especially in what are traditionally male-gendered roles.

Like all their politics, this is a subtle, rather than headbanging approach — and the gym is free of the trite and self-congratulatory sloganeering of liberal feminism: the gym is women-led but decidedly open to all. (Including liberal feminists?)

….

Last month I went to a new gym run by the Cambridge Socialist Club (CSC). The design and socialist aesthetics of the club banner (pictured) might even rival the rightly praised posters produced by Manchester Momentum. Not only is CSC grounded in socialist values, it promotes its links to the trade unions—and if you are a GMB member then you'll get to train for free.

CSC is based at East Barnwell Community Centre and located well away from the world of Cambridge academics and assorted intellectual posers. Like Solstar, the participants come from a range of abilities and backgrounds—including people from Romanian, Lebanese, Portuguese, and Turkish families.
But Crossley then says,
GMB rep Gordy Cullum was the inspiration behind starting this new red gym in 2018. After seeing a return of far-right violence on the streets in London last year, he decided to take his gloves back off the hook and start a club for the local community. I sparred with Gordy as he trained for his upcoming fight, when CSC met up with 0161 and Solstar for an interclub boxing card in Manchester.

….

I  spoke with Gordy about the role of the St George's Cross on the club banner—something 0161 have also used unashamedly. Isn't a national flag and its tainted history something that makes leftists and liberals queasy?

Gordy's response was that the England flag should not be confused with the Union Jack—the flag of British imperialism. What's more, his take on the flag is that it does not represent the Queen and all the associated pomp and ceremony. Nor is this the England of the far right, no matter how hard they try to hijack the flag as the far right try to hijack national flags everywhere else.

Instead, the English flag points to something else that has an obvious popular appeal, and this includes a shared, ongoing and ever-changing history. Underlying his point is something important: if socialism is alien to everyday interests of local communities, who do take the English flag seriously, then how can socialism expect to win? Indeed, is it even socialism if a movement remains dominated by academia and middle-class intellectuals uninterested or even opposed to the English flag?

…

English identity is a ready-made collective identity that can help develop a movement for the many not the few. To succeed, this needs to be a wider cultural socialism that doesn't just tolerate an English heritage but makes it clear that this is English heritage.
Whatever the merits of the red gyms it does not seem appropriate to tack on these claims about "English identity" to the word red.
If England has no link to the history of imperialism, then, what is this?
"This royal throne of kings, this scepter'd isle, This earth of majesty, this seat of Mars … This blessed plot, this earth, this realm, this England".
The "popular appeal" of the St George's Flag includes its use by the far-right English Defence League, UKIP, and other National Populists.
Saying that any one of these groups "hijacks" the banner is to claim that its rightful owner is somebody else.
Really?
The flag of the St George Cross, is a royal symbol used because St George was considered a "warrior saint" .
A moment's thought tells you that this, a counterpart to the failed 'left populist' attempt by La France insoumise to appropriate the Tricolore, is riddled with problems.
Some people are not too fond of Saints, national symbols, nor, for that matter, boxing.
Taking the "the English flag seriously" as part of a socialist project…….you're having a laugh.
Unless of course this is a further sign of the pro-Brexit Morning Star's further descent into the identitarian Blue Labour politics of  Family, faith and flag.
Full Brexit supporter Eddie Dempsey also has a poetic bent.
The fall out from last Monday's Full Brexit meeting continues.
This event was organised by an alliance of the "family, faith and flag Blue Labour,", the Arron Banks funded Labour Leave and Trade Unionists Against the EU, The Communist Party of Britain, Counterfire, Spiked contributors, and a wide range of odd-balls and sovereigntists.
As in this:
This was the event:
It became notorious when this chap spoke, Eddie Dempsey, RMT rail union national executive member.
Dempsey said the following.
The one thing that unites [the people who turn out for Tommy Robinson]…. is their hatred of the liberal left. And they are right to hate them.
This was met by strong criticism.
Paul Mason wrote in the New Statesman,
If there is one thing people who go on the Tommy Robinson marches have in common, Dempsey told the audience, "it's that they hate the liberal left – and they are right to hate them, they are correct." When called out by a fellow Labour member who works for Another Europe is Possible, Dempsey replied that his critic was "flush with money from Soros".

This goes a lot further than the 1970s-style economic nationalism of the Morning Star and the RMT union, of which Dempsey is a member. The entire argument – that the "working class" has been robbed of a voice in their own movement by liberals – echoes precisely the drivel against political correctness, "luvvies" and "citizens of nowhere" that is pumped out daily by papers like the Sun and the Daily Express.

It relies, as I've argued here before, on a definition of the British working class as white, manual, unskilled, culturally dispossessed and possessing citizenship of this country. In fact 44 per cent of people in work are managers, professionals or "associate professionals" like nurses; when it comes to education 47 per cent have a degree or above. Just 10 per cent of the workforce are in manufacturing. Of the 32 million people employed, nearly four million are from ethnic minorities, while two million are EU nationals without a vote.

Once you understand that this is the real working class, and that the one Dempsey is talking about is an ideological construct of the far right, the next thing he said was even more shocking. He claimed there are "too many in the Labour Party who have made a calculation, that there's a certain section at the top end of the working class, in alliance with people – they calculate – from ethnic minorities, and the liberals: that's enough to get them into power" – and that they can disregard "all the working class people that have been driven away by the neoliberals".
Dempsey persisted,
He got defended, from a dependable ally.
The reference to fishing was not the end of it.
The Morning Star used to controversy to mount a campaign against the Labour Party's Clive Lewis.
Clive Lewis branded 'out of order' by RMT's Mick Cash
CLIVE LEWIS was branded "out of order" by RMT general secretary Mick Cash today after the Labour MP promoted an article calling a leading trade unionist a "Tommy Robinson apologist."

Mr Cash demanded the Norwich South MP apologise for sharing an article that labelled RMT activist Eddie Dempsey a supporter of the far-right, anti-Muslim activist.

The article, which was written by Jim Denham, a member of the Trotskyite organisation Alliance for Workers' Liberty (AWL), accused Mr Dempsey of being "far right" over comments he made criticising "liberal" Labour members at a left-wing anti-EU rally on Monday.

It also called on co-panellists, School of Oriental and African Studies economics professor Costas Lapavitsas and Institute for Public Policy Research economist and journalist Grace Blakeley, to condemn him.

Mr Dempsey insinuated (!!!) that this was an attack on him by the AWL and Mr Lewis, who are both anti-Brexit.

..
For the moment I leave out the following section (see below), said to be reproduced from the Weekly Worker, or Tony Greenstein's Blog, attacking the AWL, Alliance for Workers' Liberty of which Comrade Jim Denham is a longstanding member.
The article continues,
More than 100 trade unionists have publicly criticised Mr Lewis.

Norwich Labour county councillor Jess Barnard said she was "shocked" Mr Lewis would share an AWL member's article, claiming that she had already raised concerns with him about the organisation.

Mr Cash added: "Clive Lewis should apologise and retract his comment."

Mr Lapavitsas told the Star: "I consider Eddie Dempsey to be one of the most reliable socialists, trade unionists and anti-fascists in this country.

"I'm proud to share panels with him."

Mr Lewis responded: "When a white trades unionist stands up at a Brexit rally and tells an audience he feels the same hatred for parts of the 'liberal left' as Stephen Yaxley's supporters; and that ethnic minorities are being used by the same liberal left to enable 'the working class' to be 'disregarded' – as a black person, that sets alarm bells ringing.

"I've heard this language before and it's the language of the far right. You don't beat the far right by parroting their tropes. You beat them by standing in solidarity with all working-class people – whatever their colour, wherever they're from."
The first reaction must be that not a single one of the Morning Star's comments criticises the speech Dempsey made.
Next, is that Clive Lewis was singled out for sharing an article, in fact a Blog Post taken from the (widely shared) Labour for a Socialist Europe statement which Jim reposted. (Sharing platforms with social-conservatives, reactionaries and nationalists: Open Letter to comrades Lapavitsas and Blakeley)
Finally, on what basis did Cash, whose union the RMT organised the anti-Labour No2EU electoral slate for the European elections in 2014, (153,236 votes, or 1%)  with the support of the Communist Party of Britain and the Socialist Party  have to "demand" an apology from an MP of the Party they stood against on the issue of Europe?
The AWL have replied,
A recent article in the Morning Star defended remarks made by Eddie Dempsey at a recent "Full Brexit" rally by way of inaccuracies and misleading remarks including about Workers' Liberty. A copy of the response we are sending to them.

To the Morning Star,

Your article of 29 March ("Clive Lewis branded 'out of order' by RMT's Mick Cash) contains a number of inaccuracies and misleading statements which are an affront to basic journalistic rigour, as well as the standards of democratic debate which the labour movement should set for itself.

The article reports on debate surrounding comments made by RMT activist Eddie Dempsey at a rally organised by "The Full Brexit": "The one thing that unites [the people who turn out for Tommy Robinson demos] beyond whatever other bigotry that's going on… is their hatred of the liberal left. And they are right to hate them." At the same rally Dempsey also says: "too many in the Labour Party have made a calculation that there's a certain section at the top end of the working class, in alliance with people, they calculate, from ethnic minorities and liberals, that's enough to get them into power". However, the Morning Star article refers to the substance of that debate only tangentially, and instead proceeds by deflection and "whataboutery".

You refer to an article shared by Clive Lewis MP which criticised Dempsey's remarks, but without linking to it to give your online readers the opportunity of reaching their own conclusions about its content. You inaccurately attribute it to AWL supporter Jim Denham; in fact, Jim had no part in writing it. It a collective statement agreed by the steering committee of the Labour for a Socialist Europe campaign, on whose website it was originally posted on 27 March. Jim, who does not sit on the Labour for a Socialist Europe committee, reposted the article on his own blog a day later, providing a link to the original.

The Morning Star refers to AWL's position on the Jyllands Posten cartoons of Mohammed from 2007. What this has to do with the rights and wrongs of Dempsey's remarks it does not explain.

In any case, our view on those cartoons is a matter of public record. While not endorsing their content, we viewed calls by ultra-conservative political-religious forces for their suppression and censorship as reactionary. Those "calls" came accompanied by death threats against the cartoonists, court cases against editors who republished the cartoons, sacking or jailing of several editors, especially those brave editors in the mainly-Muslim countries who took a stand for freedom of expression, and closings-down of newspapers. We said: "We protest against the suppression of these cartoons on the same grounds as we protested against the suppression of the play Bezhti (written by a Sikh, but offensive to conservative Sikh authorities) or the attempts of some Christians to suppress 'Jerry Springer – the Opera'." Readers are welcome to read our statement from the time, which, again, the Morning Star did not link to, and judge it for themselves.

The article goes on to say that "More than 100 trade unionists have publicly criticised Mr Lewis", a seemingly arbitrary figure for which it provides no evidence. A large number of trade unionists have also supported Clive Lewis in the online debate, and condemned Eddie Dempsey's remarks.

More seriously, the article says: "Many drew attention to the fact that last year, it emerged that a child AWL member had been sexually assaulted by an older member, and the organisation's full-time officials did nothing to help the victim. The organisation admitted severe wrongdoing, but no members faced any repercussions or disciplinary measures."

It is disappointing that the Morning Star would exploit a serious incident to intervene in a political debate, not by means of engaging with the arguments, but by deflection, distortion, and smear-by-association.

The allegation to which the Morning Star refers, and AWL's subsequent investigation into it, is a matter of public record. In early 2018 a claim was made in an anonymous public blog post in which the blog-poster said he had been sexually assaulted in 2005 (when he was 16) by someone else who was then a member of AWL. Both the people involved parted ways with AWL (for different reasons) in 2008. We instituted an investigation independent of our leading committees and communicated with the blog-poster to offer help if he wanted to take the matter further.

Our investigation showed that in the years following 2005 the blog-poster had talked about the incident with other young members of AWL, but they had followed his expressed wish that they not report it to the committees. But it also concluded that this failure to bring the case to the committees showed an inadequacy of procedures. All the documents pertaining to the matter are available online. We had the investigation scrutinised by independent individuals, not members of the AWL, one with a professional background in safeguarding. The discussions we have had and the measures we have taken to mend the failings are likewise publicly documented on our website.

Throughout the process of investigation we remained as open and transparent as possible, with publicly accessible contact addresses for anyone to raise issues with the working group leading the process. We continue that openness and transparency. The working group remains available for contact at workinggroup@workersliberty.org.

How we respond to allegations of abuse within our organisations are an extremely serious matter for the entire left and labour movement. The issue should not be exploited in a misleading fashion as part of an intervention into a political debate. At no point has any journalist from the Morning Star contacted AWL for comment on these matters, as journalistic rigour and ethics should have compelled them to do.

The issues which are actually at the centre of the debate around Dempsey's remarks – how the left responds to nationalism; how to relate to far-right movements; the issue of "identity politics" and the relationship of struggles against oppression to economic struggle against capitalism; and more – are issues of vital and current importance that the entire left must debate openly. The Communist Party of Britain has its own views in those debates, and is entitled to use its organ, the Morning Star, to express them. But it should do so openly, and by engaging in the debate on political terms, not by deflection, slander, and insinuation against its political opponents.

Yours, the Executive Committee of the Alliance for Workers' Liberty
Today there is this from Another Europe is Possible:
More on Dempsey's politics and political allies,