Archive for the 'Fascism' Category
Red Brown 'Popular Front' Debate.
Before beginning we should shed some light on who and what Éric Zemmour is and what he has been doing in recent months.
Éric Zemmour, the will-he-or-won't-he-run far Right French Presidential candidate has been scoring up to 15% in opinion polls, just behind the candidate of the Rassemblement National, Marine le Pen, at 16%. Both the principal possible candidates of the main right-wing party (they will only choose a Presidential runner at their Conference at the start of December) Les Républicains – Xavier Bertrand (14%) and Valérie Pécresse (12%) are behind the far-right polemicist in the most recent surveys. Emmanuel Macron remains at 24 to 25%. According to a recent poll no French left wing candidate has got above 10%.
As Le Monde pointed out on Saturday, this is a drop of 10 points for the leader of the "de-diabolised" far right party. Keen to rub this in her father, Jean-Marie Le Pen (kicked out of the predecessor the RN, the Front National in 2015), commented in an interview with the French daily of record, ""If Eric is the candidate of the national camp in the best position, of course, I will. support him".
One of Zemmour's most notorious claims is that the Vichy regime kept French Jews safe from the German occupiers. Le Pen did not lose the opportunity to remark that. It was not Pétain who was the boss, he defended the French Jews and gave up foreigners (to the camps…..) . The French police carried out a procedure in a more humane way. It is easy to say sixty years later "they should have……" He added, "The only difference between Eric and me is that he is Jewish," Jean-Marie Le Pen bluntly. concluded, "It's hard to call him a Nazi or a fascist. This gives him greater freedom. "
Now for yesterday…
Yesterday an audience of 3,700 (tickets were at 24 or 44 euros) came to the Palais des congrès in Paris for a meeting of "sovereigntists from two different sides. " Michel Onfray once a self-styled libertarian anarchist is the founder of the journal Le Front Populaire, which brings together the extreme right and nationalist 'anti-woke' left. He helped organise this friendly conversation-spectacle, billed as a 'debate'. Most came, reports say, to see and listen to Zemmour.
This meeting illustrates what sociologist Philippe Corcuff describes as "blurring of political boundaries" . "Onfray's confusionism, cobbled together from the far right to the radical left, endorses the ultraconservatism of Zemmour, which mixes xenophobia, sexism and homophobia in a nationalist framework", judged the author of La Grande Confusion. How the far right wins the battle of ideas (2021). One could add that both share an anti-European Union position.
The Nouvel Obs estimates that the pair share 92,7% of the same opinions.
Both mourn the decadence of our civilisation, our lost sovereignty and the Machiavellianism of Pope Francis. They do not agree on Voltaire and fridges.
Slate magazine has gathered together what they call "the worst" of Zemmour's statements.
Le pire des citations d'Éric Zemmour.
Were he the French President, "a Frenchman will not have the right to call his son Mohamed" .
Employers "have the right to refuse Arabs or blacks".
"All Muslims, whether they say it or not," regard jihadists as "good Muslims".
Unaccompanied minors (that is, those who come as refugees) "like the rest of immigration […] have no place here: they are thieves, they are murderers, they are rapists, that's all they are".
"I think rap is an illiterate subculture."
"When General Bugeaud arrived in Algeria, he began to massacre Muslims, and even some Jews. Well, today I am on the side of General Bugeaud. That's it, being French! "
"-Shouldn't power remain in the hands of men?
– Of course it should, otherwise it will be wasted. "
His "humour": The green of the Greens (ecologists) corresponds, as if by chance, to the green of Islam."
The death penalty: " I am philosophically in favour of it."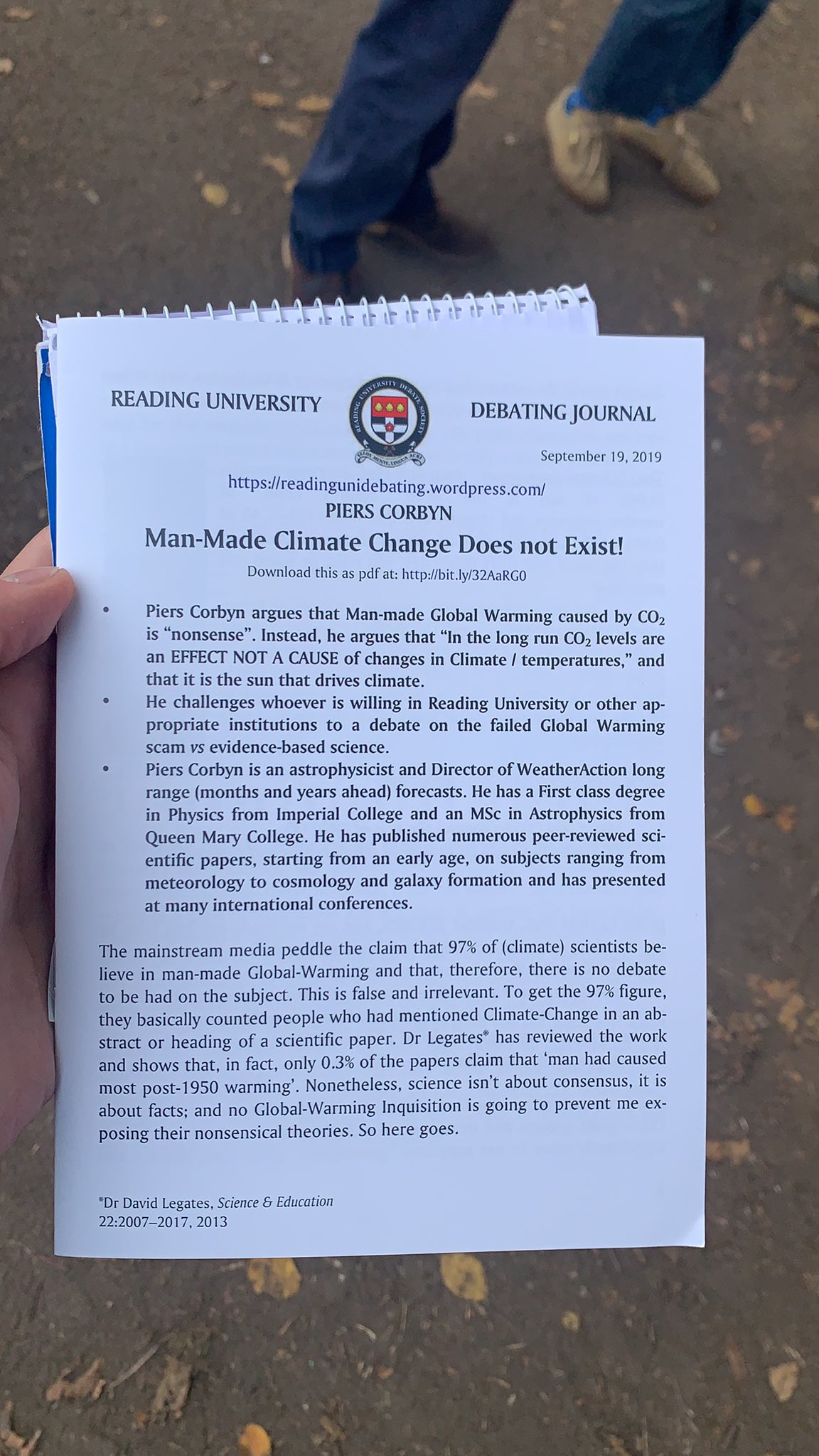 Our hard working family of gumshoes, newshounds, and citizen journalists, give the low-down on the story that even the Squawking one dare not run.
BREAKING: EXCLUSIVE TO TWITTER, THE MSM AND ALL BRIGHTON PUBS.
Family reunions like one sees everyday:
Now hitting the MSM.
Those at the event said the request prompted shouting from a man in the audience, who was then removed, and Piers Corbyn then accused the event organisers of assault.
READ MORE
Our chapter on Piers in Confusionism in the UK is getting bigger and bigger.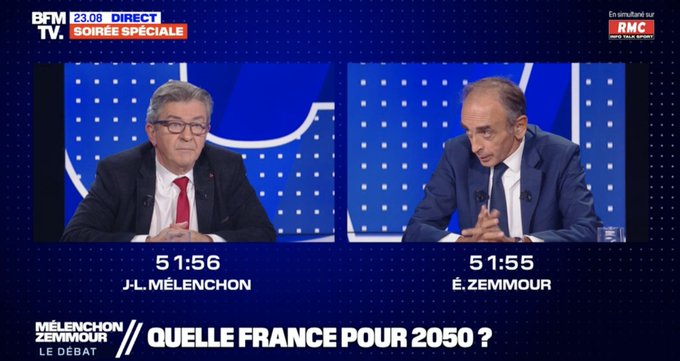 Opinion Polls this week had put a Zemmour Candidacy ahead of Mélenchon.
Last night on BFMT there was a two hour debate between the leader of La France insoumise (LFI) Jean-Luc Mélenchon and the far-right self-proclaimed Presidential candidate Éric Zemmour.
I watched it. Zemmour's hatred for immigration, that is immigrants, in general and Muslims in particular stood out. The theme of the 'great replacement' (grand remplacement) and the end of the French nation was never far from the polemicist's lips, as was crime, social security fraud, and allegations of a brewing civil war. Islam was the opposite of the country, "aux antipodes de la France". C'est une guerre de civilisation qui nous est menée, une guerre de pillages, une guerre de viols, une guerre de meurtres." (A war of civilization which is being waged against us, a war of looting, a war of rape, a war of murder.) said he. The 'polemicist', who is from a Jewish background, generously allowed that possibly some Muslims might be assimilated to the French republic, on the model of his own community's integration. Those who did not fit in should leave.
To British eyes it seemed extraordinary that this unbridled hatred was given an airing. Fact-checks on some of the wilder claims did not diminish that impression. Experienced in communication and media techniques (having seen him on C-News) Zemmour got away with the ravings of a bigot.
Not one to take this claims lying down Mélenchon called his opponent a racist with court convictions for it, "Vous êtes un raciste, condamné pour ça. » On immigration Mélenchon defended "créolisation", that is cultural mixing. On the name issue (Zemmour wants children to have French forenames) he rightly said that a French prénom was a name of a French person. The left populist also cited the claim that Couscous was France's favourite dish – reminding people that not everybody has the British taste for curry.
The LFI leader tried, many times, to get the discussion back to issues that could be rationally, or at least, calmly talked about. His election programme included retirement at 60, blocking the prices of energy and certain food products – as well as increased agricultural 'sovereignty' for France – leaving NATO or increasing the minimum wage to 1,400 euros. Taking up some of his favourite themes Mélenchon vaunted France's maritime role and the potential of space exploration. .
Zemmour attacked Mélenchon for daring to criticise heavy-handed – brutal – policing, for his Trotskyist past, questioned how anybody from a Marxist background could back green energy, and for good measure peppered his speech with attacks on the "obese" welfare state and people living on benefits.
Both figures linked the growth of abstention in French elections to the lack of effective change on offer. Emmanuel Macron, Zemmour said, stifled politics, representing both the liberal right-wing and the liberal-left wing.
Hell, those two hours were dire.
Zemmour, who has still not officially announced his candidacy for President, is eating into Marine Le Pen's electorate.
Before people smile:
"Eric Zemmour would collect 10% of voting intentions in the first round of the presidential election and Jean-Luc Mélenchon 8% if Xavier Bertrand would be the right-wing candidate and Yannick Jadot the EELV Ecologists) candidate. Same score if Xavier Bertrand and is a candidate and Sandrine Rousseau is committed for the Greens. Eric Zemmour would total 10.5% of the vote and Jean-Luc Mélenchon 7.5% if Valérie Pécresse wears the colours of the right and Yannick Jadot defends EELV. Last scenario: Eric Zemmour is credited with 10.5% of voting intentions and Jean-Luc Mélenchon with 8% in the event that Valérie Pécresse and Sandrine Rousseau are candidates."
La Dépêche. 23.9.21.
There has been a debate on the French left as to whether it was wise to debate with Zemmour.
Here is a good introduction to Zemmour's ideology:
Le «zemmourisme», un ultranationalisme intégral.
This is what Britain's ace reporters are interested in today: