Archive for the 'Communism' Category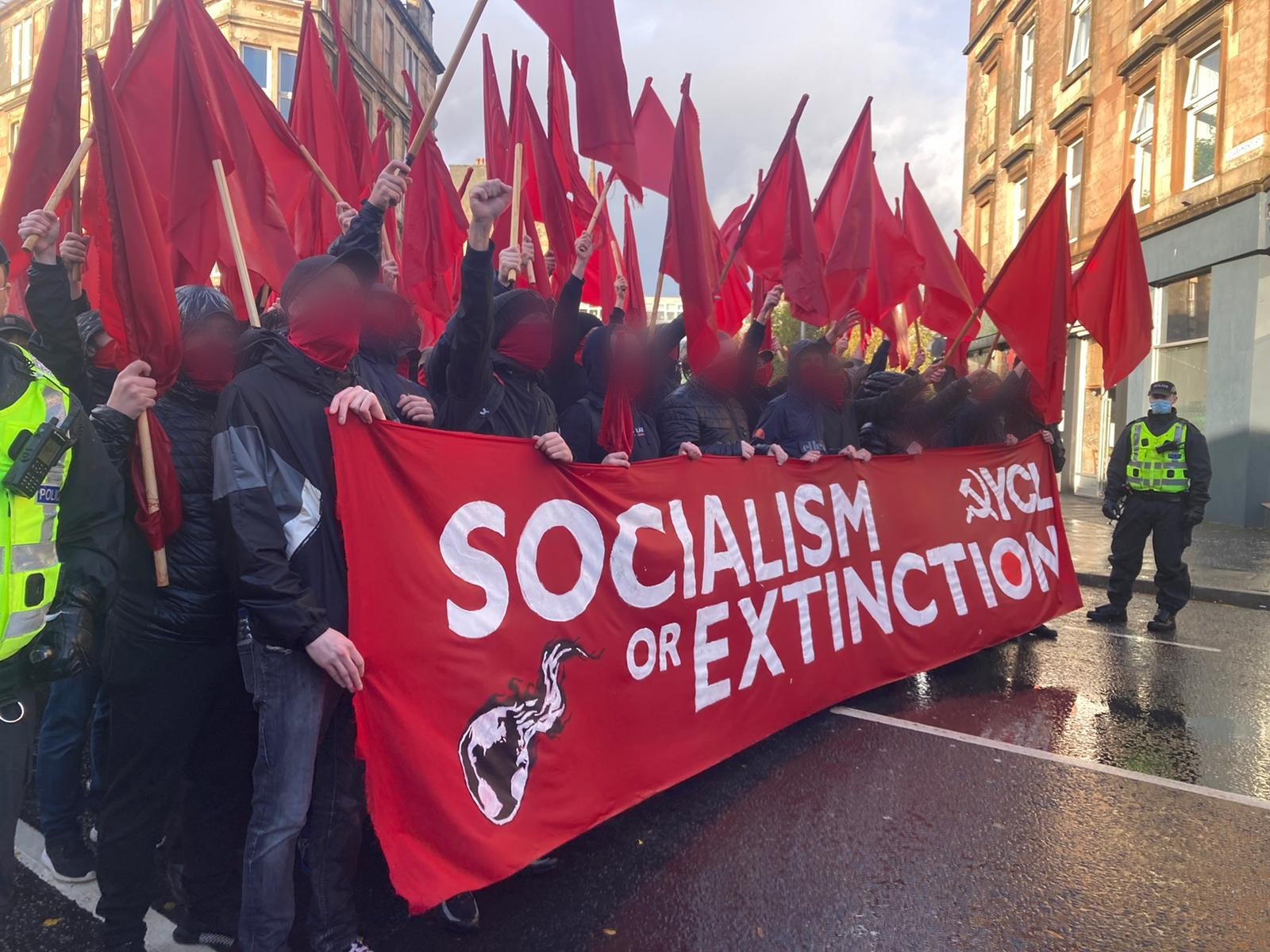 "Visually striking assertions of communist identity".
Lawrence Parker is probably best known on the left as the gumshoe who uncovered the funding of the CPGB (Provisional Central Committee). It turned out to be that they owned the copyright on the much-loved Wurzels' hit,  'I've Got a Brand New Combine Harvester'. (The CPGB-PCC, The Wurzels and me). (1)
in recent times, that is October, there was this spat this year with Gerry Downing in the pages of the Weekly Worker,
Gerry writes: "Comrade Parker is clearly nostalgic for Uncle Joe, as the title in his piece of October 16 – 'The Communist Party of Britain disappears comrade Stalin' – shows. In challenging the view of former CPB member Andrew Murray that 'violations of socialist democracy during the Stalin period', which were 'a shameful blot on the proud history of the communist movement', he points out that this 'existed alongside a contradiction: the Soviet Union, despite these abuses of democracy, was still adjudged to be a socialist society and one where the 'positive features of the socialist experience would far outweigh the negative ones'."
There a longer intervention, of sufficient importance to get even more widely noticed than what they are already calling the Downing-Parker debate, was this, part of a series of interesting articles:
Young Communist League general secretary denounces critics as 'saboteurs' (November the 17th).
Correspondence – the Communist Party of Britain, the YCL and Stalin (October the 11th).
Now Cde Parker returns to the fray with a post that may succeed in its intention, to piss off other groups, largely the AWL, though also the (back to its birth name) Workers' Power (WP).
British Trotskyists take notice of the Young Communist League
The British Trotskyist left has been forced to sit up and take notice of the Communist Party of Britain (CPB) and its associated Young Communist League (YCL). I guessed this would happen sooner or later because the sight of hundreds of young people marching under red banners, shouting revolutionary slogans and being sympathetic to the historical legacy of Stalin strikes at the existential heart of Trotskyism's current crisis. If Trotskyists think about this then, surely, in their eyes, they should have won such forces after the collapse of the Soviet Union and the concurrent, although incomplete, disintegration of the 'official' communist movement? Who can forget Peter Taaffe of the Socialist Party and his truly gormless idea of the 'red '90s'? But much of the Trotskyist left shared versions of this 'us next' mentality and I have documented such matters on this blog in relation to the Revolutionary Communist Party (RCP). The whole idea of a revitalised YCL, which most Trotskyists understand under a pejorative and simplistic rubric of 'Stalinism', will be sending shivers of horror through various factional centres in relation to what such happenings reveal about the attractiveness, or otherwise, of various Trot sects and groupuscules.
I shall leave it to Cdes Sacha and Jim to respond, if they see fit, to the measured criticisms made in this, long, aesthetical post, "all the residual appeal of Jim Davidson reciting Macbeth. "social-imperialist AWL", "such hysteria".
But this, on Workers' Power (WP), part of the League for a Fifth International is intriguing:
While the YCL comrades refer to their 'party of a new type', WP has historically referred to itself as a 'fighting propaganda group', which has a set of, ahem, remarkable similarities with the CPB/YCL variant. In both organisations, open factions are banned, public debates between comrades are rare and the membership is generally expected to parrot the group's line. The rider here is that the CPB has a slightly better culture of open debate between its members than WP in that it at least publishes its low-level congress discussion every couple of years; unlike in WP where any attempt by members to debate publicly would be treated as an act of treason. If the "splits between Stalinists usually lead nowhere" where have recent splits from WP led other than to weaken and demoralise a much-diminished mothership, form a useless and defunct group such as Permanent Revolution and fritter away other cadres into 'good causes'? This then is the depressing balance sheet of the bureaucratic centralism that has infected both Trotskyists and 'official' communists in brutal contradiction to the democratic and open traditions of our movement.
The Weekly Worker, for which Cde Parker used to write, is again behind the curve: there is nothing on this row in the latest issue.
The YCL claims a massive 450 members.
**
(1) "there has been much discussion on the left about the financing of the CPGB, with many dubious explanations being advanced. In order to scotch these rumours I can reveal that, many years ago, Mark Fischer bought out all the copyright on songs by The Wurzels. This has been a constant source of finance for the CPGB over the years, and cider is indeed now obligatory at their many social gatherings. So the next time you're reading some tedious diatribe from Jack Conrad, think about "I've Got a Brand New Combine Harvester" and raise your glass with me. I hope that clears it up."
British Sovereigntist 'Left'.
Sovereigntist politics have made a big mark in French politics. Issues relating to claims about the importance of political, economic, and cultural independence of France are not only more explicitly discussed but make the political headlines beyond controversies as important as, say, Brexit is in the UK.
The news from France today is that Arnaud Montebourg, a former Socialist Minister and pessimistic reformer inspired by nation-state based versions of "anti-globalisation" (démondialisation) centred upon protectionist ideas, has not given up his Presidential bid. A sovereigntist, who sometimes still claims to be on the left, Montebourg got into trouble over this:
The quondam 'left wing firebrand' and one-time Minister of the Economy, Industrial Renewal and Digital Affairs (2012 – 2014) , announced his candidacy at the start of September. Better known these days for his Honey – he markets it under the highly amusing label of Bleu, Blanc Ruche (Bee-Hive) – this venture has got the backing of ultra-sovereigntist and another one-time Socialist, Jean-Pierre Chevènement and the remnants of the 'Che's Citizen and Republican Movement (MRC), the anti-Charlie Hebdo essayist and protectionist Emmanuel Todd, and (somebody of whom one would have hoped better Thomas Guénolé, whose unhappy experience of working at close quarters with Jean-Luc Mélenchon, La Chute de la Maison Mélenchon : Une machine dictatoriale vue de l'intérieur (2019) has been referred to on the present site. The objective was to gather together "sovereigntists", that is those from all political backgrounds, who put French national sovereign power first, foremost, and at the top of priorities. Made in France has become the axis of his economic policy.
By no coincidence whatsoever that was the Chevènement Presidential programme (the MRC was then called the Mouvement des citoyens (MDC) in 2002 (5,3% of the vote). His approach was to appeal beyond left and right, to the Republic ("au-dessus de la droite et de la gauche, il y a la République") . The campaign got the backing of, amongst others, this unenviable list,  Régis Debray, Max Gallo,  Emmanuel Macron and  Florian Philippot (later to be Marine le Pen's henchman, now leader of his own far-right outfit, Les Patriotes).
L'Engagement is the name of the outfit working for Montebourg. It addresses those who want to "take back control of our lives" (reprendre le contrôle de nos vies) wrest the state from the hands of a minority and get it to work for the general interest ( le retour d'un État au service de l'intérêt général, libéré de l'emprise d'une minorité). A New France based on "la souveraineté populaire et l'indépendance économique."
An important part of the campaign is a robust approach to immigrants and integration. Those living in France, he has said, must "learn French, respect the laws, accept the values ​​of French society, like secularism, and should work, and have their own resources ".
Monty, as nobody calls him, got in a mess a couple of days ago with this call ", he proposed to block "all transfers" of money from immigrants , and evoked "the 11 billion that goes through Western Union" , to put pressure on countries that refuse to take back their nationals expelled from France. Wokists all all sides did not hesitate to point out that Marine Le Pen had already had that idea. It also looks as if preventing immigrants in France from sending money to family or friends, was not only illiberal but most certainty illegal under French and European law. Montebourg has back-peddled, " C'était une erreur, cette mesure ne sera pas dans mon programme. » An error, a measure which will not be in his programme.
0,2 % of those surveyed have expressed a favourable opinion of the candidate's 'robust' views on immigration. But it is said that they have expanded his audience on Twitter, (Présidentielle 2022 : avec ses propos sur l'immigration, Montebourg élargit son audience… sur Twitter)
Beyond Left and Right Sovereigntist politics, with patriotism, protectionism and lots of state control, looks as if it's found an expression in the UK….
LEADER: George Galloway :: Deputy leader: Joti Brar
Our country needs the state to guide the economic life of the country in such a way as to promote work, to respect the dignity of labour, and to serve the working people. All adults have a duty to work in a useful fashion, according to their talents and abilities, and society has an equal duty to ensure that useful employment is available to all, part-time or full-time according to the domestic, health and life constraints of the worker.
The Workers Party positively embraces Britain's withdrawal from the EU. Britain needs to be free of the EU regulations that would restrict our fiscal and monetary policy and prevent Britain from taking public ownership of key utilities and transport infrastructure.
If we are to be free to direct the affairs of our country to meet the needs of working-class people, we must be able to have something to say on the free movement of capital out of our country as well as the free movement of labour into it. Under a socialist system, the control of our borders, both physical and financial, will be a guarantee not only of the rights of our workers to good labour rights and rates of pay, but will restrict the ability of capital to pack up and leave for greener pastures, abandoning our workers and decimating British industry.
We reject a future of parasitism where the British people, through the operation of the City of London, degenerate into an unemployed feckless rump living off cheap imported food and the plastic-electronic consumables of global capitalist anarchy.
One has to admit that the Workers Party of Britain does have some rather 'specific' views on national independence:
Workers Party Britain-Kent Retweeted
"Top People" got Labour to Oppose Brexit and back a People's Vote – Morning Star.
The Morning Star describes itself as the Daily Paper of the left. It embraces many lefts that agree with its editorial line. In recent eulogy Andrew Murray writes warmly of a new book, The Forty-Year War in Afghanistan by his old mucker, Tariq Ali, a member of New Left Review's Editorial Committee, a much-liked sage, a doughty fighter for Brexit, and a stellar figure in the international left. "Erudite and committed writings of Tariq Ali on Afghanistan, published at every stage of the calamity, are a illuminating read." writes the one-time member of the Communist Party of Britain, scion of the Slains Pursuivant of Arms, and former top adviser to Jeremy Corbyn.
Murray expresses some reservations about Ali's criticism of the Soviet Union's direct military intervention to help the Afghan regime. The future leading aide to the Labour leader backed the move:
.
Our view was not informed by any particular knowledge of Afghan affairs, but by the supervening requirement, as it seemed to us, to support the Soviet government as a principle of international class struggle, the more so when it was under attack by the imperialists.

We were also concerned to support a regime in Kabul that seemed to have progressive achievements, although we understood little about it
But all's well that ends well.
Looking back, I do not regret supporting the Soviet endeavour in Afghanistan, for the same reasons that I had at the time. However, on the substance of the matter — the wisdom of the intervention and its baleful consequences for both Afghanistan and the USSR itself — it should be acknowledged that, here too, Tariq Ali was right and has been vindicated.
Speculation is growing that Tel's nipper, Oliver Eagleton, of New Left Review's Sidecar and the popular TikTock broadcasts of Novara Media, is set to have his own column in the worker's organ. He will explore his latest marotte, "After Brexit, the partnership with France unravelled, as Barnier and Macron pushed to inflict maximal damage on Britain to deter future experiments in popular sovereignty."
Another one-time radical leftist who writes for the paper is Solomon Hughes. He was a member of the SWP and before Comrade Delta crisis wrote for Socialist Review, Tribune says that he has been "writing about corporate influence in politics for twenty years, mostly for Private Eye."
Hughes also has a weekly column in the Morning Star. In that outlet he has been delving into the forces who opposed the Vote Leave camp, the 'Left Brexit' forces.
These campaigners called for a Second Referendum to thwart Brexit. The success of Britain's departure from the EU, the burgeoning upsurge of a people's movement to assert real popular sovereignty, "real independence", was stopped in its tracks. Labour refused to support a People's Brexit. "Unconstrained by EU treaties, single market rules and directives, a left-led Labour government could develop a worker-led industrial strategy; aid industry, invest in training, youth and jobs, social welfare, housing, education and health services; and take the transport, energy and postal service profiteers back into public ownership. " Was this listened to? No. The result, as foreseen by leading CPB member Nick Wright, was the Labour Defeat in 2019.
How did this happen? Hughes has been piling on the evidence, or what he considers to be proof, of a damming trail of centrist plots and underhand deals, that show what happened in Labour behind the scenes ever since.
The latest, hot off the press:
How Labour got lumbered with its disastrous Brexit policy
SOLOMON HUGHES picks apart some revealing comments by the head of comms at the People's Vote campaign
The writer asserts that he has found "confirmation that the whole reverse-Brexit People's Vote campaign was, for some top people, "a stick with which to beat the Labour Party" and "an anti-Corbyn thing" comes from one of the top figures in the People's Vote campaign itself."
This is the smoking pistol:
"UK In A Changing Europe, a research institute based at King's College London focusing on Britain-EU relations, is building an archive of interviews of major players in the various Remain and Leave campaigns: the interviews are invaluable and revealing on the People's Vote."
Tom Baldwin, who was head of communications at the People's Vote campaign, told them: "There was always an issue about how much the People's Vote campaign should be a stick with which to beat the Labour Party rather than a neutral instrument for just winning a people's vote."
Here it is…
"I was trying to maintain some strategic discipline around the latter but there were constantly people who wanted it to be an anti-Labour thing, an anti-Corbyn thing, a realignment thing, a Liberal Democrat thing, a proportional vote thing.

"I think those were all distractions and the more we did it the more we just confirmed some people in their view that we were a liberal elitist, metropolitan organisation that was playing at politics."
Hughes continues in this vein,
Baldwin was particularly drawing attention to Roland Rudd: he is a City lobbyist and the brother of top Tory Amber Rudd.

The "People's Vote" was not a typical grassroots campaign, and was instead built from the top, by lobbyists and multimillionaire donors.

Roland Rudd effectively controlled one of the main organisations in the People's Vote campaign, an organisation called Open Britain.

Baldwin also pointed to Rudd's ally, Hugo Dixon: he says these two figures wanted to use the People's Vote campaign to "realign" politics.

At that time Labour's leader was the very left-wing Jeremy Corbyn, supported by a large number of members and a surprisingly good "second-place" result in the 2017 election.
Then….
Baldwin suggests people like Rudd and Dixon wanted to use the campaign to "realign" politics away from the left back to the centre.

Baldwin said the "big strategic difference was over the extent to which we wanted to win a People's Vote and then win a referendum, or whether we wanted to use this extraordinary energy that we had built up to realign politics.

"I was in the former group. I understand why, but The Independent Group (TIG) and the Liberal Democrats, and indeed the SNP in a different way, sometimes saw the instability we were helping to cause in a political system and within Parliament as an opportunity for them."
Baldwin says: "That sort of strategic tension was very clear by the end, because I think people like Roland Rudd and Hugo Dixon were of the view that we should be part of a realignment process."
It is pretty much an open secret that many central figures in the People's Vote campaign saw the whole business as more about rebuilding "centrist" politics, which was in a weak position in a polarised politics of the time."
This may well be true, and given the long-standing views of 'centrists' hardly news. The issue is, what effect did it have on the Labour leadership? Unfortunately for gumshoe Hughes this is what Baldwin said of their efforts to get Labour to back a People's Vote,
I think that was very difficult for Jeremy Corbyn and difficult for the Labour leadership. There was huge resistance from the Labour leadership to us, because we were seen as some sort of New Labour plot or new party plot. I think there was that element there. It certainly wasn't an element which I wanted to encourage or have any part in, and I remember having some terrible meeting with Karie Murphy in the Leader's Office where she is sort of jabbing her finger into my chest and saying, 'Who the fuck are you and what are you doing?

…

When we didn't back the TIGs and we didn't take those opportunities to back early votes in the House of Commons on having a People's Vote, which were merely designed to embarrass Corbyn, we made a lot of headway with the Labour leadership – and people like John McDonnell in particular- in persuading them that we really were what we said we were. We were a campaign for a People's Vote and not anything else. But it took a big effort.'.

Brexit Witness Archive – Tom Baldwin – UK in a changing Europehttps://ukandeu.ac.uk › Brexit Interviews
We shall leave others to delve further.
But Hughes goes further. He insinuates that the Labour Policy was led into a snare as part of a deliberate plan.
When Labour was finally persuaded to adopt a "second referendum" policy, Rudd used his control to end the campaign, sacking key staff, so the People's Vote would not actually campaign in the 2019 election.

It looked like a crude trap: Labour was persuaded to adopt an electorally disastrous policy, then left to crash without support by the people who did the persuading.
Labour's policy was not exactly the same as the Morning Star newshound asserts, "Labour will give the people the final say on Brexit. Within three months of coming to power, a Labour government will secure a sensible deal. And within six months, we will put that deal to a public vote alongside the option to remain. A Labour government will implement whatever the people decide.".
Most people think that Labour sounded neither fish nor fowl, a marriage between a carp and a rabbit. Nobody was satisfied. Nobody felt enthusiastic. The stand was tolerated, at best.
Hughes claimed that the whole People's Vote campaign was an operation to divide Labour, firstly to win the leadership, and then and to pave the way for a centrist re-alignment. Few would underestimate the capacity of, say, the Liberal Democrats and micro-party Change UK to dream of an Emmanuel Macron style shake down of British politics. But it was just that, a voyage to the dream-time followed by tiny numbers of people, a handful of the 'target' MPs, and even smaller numbers of Labour members.
Labour took the policy stand it did as a result of pressure from the membership, overwhelmingly anti-Brexit, and a majority of Labour voters, also opposed to Leave. There were Labour Conference debates. During them internationalists from groups such as the radical left led Another Europe is Possible – who were amongst the leading forces opposed to tearing the country from the EU – met the brick wall of people aligned with figures like Kate Murphy, Andrew Murray and the Leader's Office (LOTO) – from which the above compromise position emerged.
For Hughes, who is absorbed in his own nightmare, there was one result. Standing against the Bosses' Brexit was a harmful diversion:
It diverted Labour from it's "Corbynite" left-wing, populist themes. And it lumbered Labour with a policy that ensured the party would be defeated in the face of Boris Johnson's "Get Brexit Done" election campaign.
A few more nudges at the beginning of this piece and one could believe that Starmer was in on the cabal behind it all….
You can follow Ace-Reporter Hughes' footsteps and read the full inside dope here:
Brexit Witness Archive – UK in a changing Europe