Keir Starmer's 'Contribution Society': a step backwards from Social Democracy.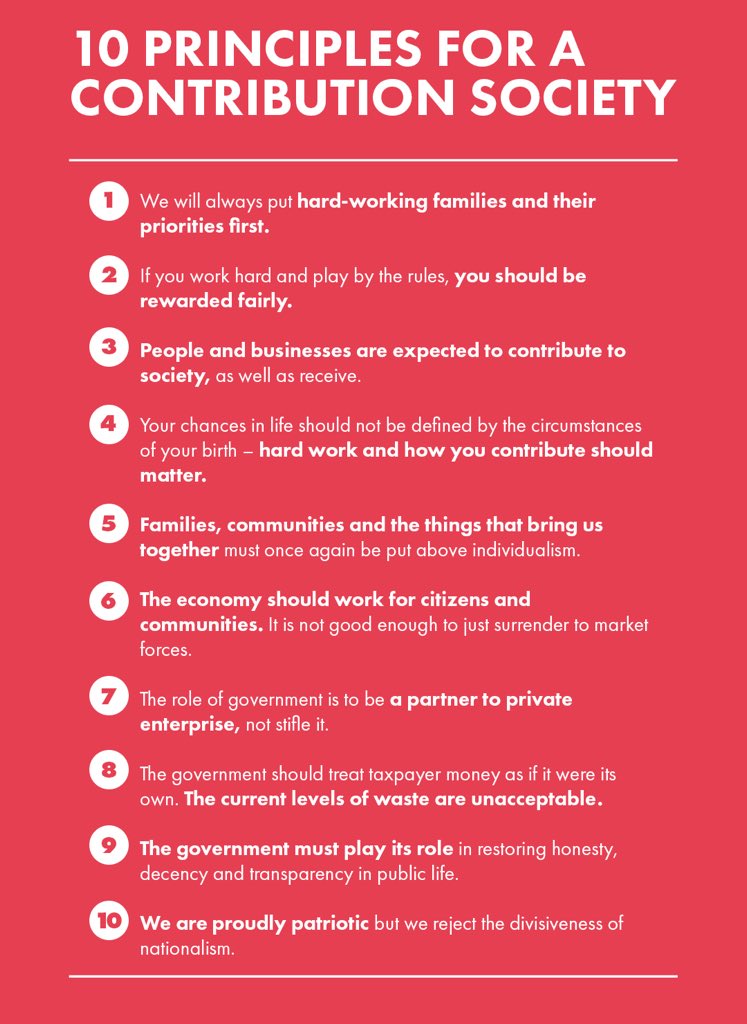 Family, Hard Work, Communities, and Patriotic Pride.
Since the years when Tony Blair's Third Way flourished demands for equality of opportunity have dominated centre-left politics. Stronger demands for equality, the hallmark of many different kinds of socialism, were shelved.
The 1950s 'revisionist' current inside the Labour Party, which remained influential until the 1980s, had believed that a society of abundance had arrived, that issues of public ownership were echoes of the past, still held to the principle. Anthony Crosland wrote The Future of Socialism, (1956) He believed that a broad sweep of progressive legislation could be achieved because, "the absolute rule of private property, the subjection of all life to market influences" and other features of classical capitalism had been reformed by post-war governments. They had created a consensus around the mixed economy and the welfare state. With this backdrop, socialism was not a matter of doctrine about ownership of industry or class struggle, but concern for the "bottom dog" and a vision of a "just, co-operative, classless society."
How, here and now, could the cause of the downtrodden be promoted? For the academic and Labour politician the case for equality rested on the objectives of a "better society", ethical goals of social justice, and ending the tragedies of wasted lives. To further these goals, Egalitarian changes were needed in education, the "distribution of property, the distribution of resources, in periods of need, social manners and style of life, and the location of power within industry. and. but certainly a smaller changes in respect of incomes from work." (Page 148). In Britain, equality of opportunity and social mobility […] are not enough. They need to be combined with measures […] to equalise the distribution of rewards and privileges so as to diminish the degree of class stratification, the injustices of large inequalities and the collective discontents." (Page 169) The "revisionists" considered that reforms to achieve these aims could be achieved in a society in which ownership is "mixed up", nationalised, private, co-operative, mutual, in a pluralist society promoting "liberty and gaiety".
Crosland believed a whole-scale conservative "counter-revolution " to restore full-bloodied capitalism unlikely.
That happened. Thatcherism came to set down a new consensus, based on free-market mechanisms privatising nationalised industries, and making the state serve the market.
Labour in the 1990s adapted and accepted much of the outline of what would come to be known as neo-liberalism (1)
The emergence of the Third Way: Giddens and Blair (David Morrison New Labour, citizenship and the discourse of the Third Way).
(Giddens) argues that '[a] democratic society that generates large-scale inequality is likely to produce widespread disaffection and conflict'.12Giddens argues that promoting equality means more than merely promoting equality of opportunity13 and that equality should be seen as inclusiveness.14 He explains: 'Inclusion in its broadest sense refers to citizenship, to the civil and political rights and obligations that all members of a society should have not just formally but as a reality of their lives.'15 It is notable that Giddens does not mention the social rights that were once seen as integral to post-war social democracy. In contrast, Blair's account of the Third Way barely mentions equality. Instead it offers 'opportunity', with but a single reference to 'equal worth'.16 Gordon Brown, who argued that in the context of the 1990s equality meant equality of opportunity and not equality of outcome, made clear the meaning of equality for New Labour.17
How does this relate to Labour today?
The Road Ahead begins uncontroversially enough,
"The next Labour government will be focused on creating jobs people are proud of, reimagining our public services for those who use them, creating a new and better relationship with business and delivering world-class health and education. And we will build his on solid foundations, with security at home, in the workplace, on the streets and from those who would do us harm."
But lets go straight to the many problems about the pamphlet:
Kier Starmer's 'Contribution Society' does not make many, if any, steps forward from that period, Its emphasis is "on "hard-working families", the need to be "rewarded fairly" if you "work hard and play by the rules", government being a "partner to private enterprise", a rejection of "waste" in public spending, and the importance of being "proudly patriotic" but not engaging in "the divisiveness of nationalism".
The Guardian cites Starmer,
Highlighting the challenges facing children from low-income backgrounds, he says Labour would help provide the "soft skills" that allow private school pupils to emerge with "enviable self-confidence, self-worth and belief,"

That would mean ensuring that by the age of ten they have the opportunity to "play an instrument, join a competitive sports team, visit the seaside, the countryside, or the city, go to cultural institutions, ride a bike and learn how to debate their ideas."

"From my days at university, through my legal career and as a politician, I've seen supremely talented, hard-working people from ordinary backgrounds held back, not just by material circumstances but by self-doubt or a sense they don't quite 'belong,'" he says.
In other words, this is a programme for equality of opportunity starting from the school. It is also dosed through and through with a kind of family-centred, patriotic Blue Labour lite. That is, the need to be "once again be Britain's bricks and mortar – a symbol of solidity, reliability, shelter and the prospect of building something new and better".
Ideological dressing up can be quickly tossed aside, less masonry than puffery. Nevertheless, this is praise beyond the needs of product placement. Starmer will get the "resources of the state and the innovative brilliance of the private sector to work together rather than against each other". Dusting off the memories of the Blair years it implies continuing the Conservative pioneered, "partnership" with the private sector" which seems like an excuse not to rid the public sector of private parasitical companies 'delivering services' from 'training' on the dole, 'outsourcing', to provision that should be in-house in the NHS. Not to mention the removal from democratic control of public goods like transport, trains and buses, and the hiving out of local government work.
And yet….The real problem is the premises, the kind of fairness and equality, such as it is, advocated. That is "fair pay for fair work".
Starmer offers no step forward on a central issue of socialism, equality.
This can be seen not only by comparing his words with Crossland's call for a push for egalitarian reform, progressive taxation onwards. You can also see it by looking at critics of meritocracy.
Interviewed about his book The Tyranny of Merit: What's Become of the Common Good? (2020) the 'Communitarian' US political philosopher Michael Sanders, observes,
"The solution to problems of globalisation and inequality – and we heard this on both sides of the Atlantic – was that those who work hard and play by the rules should be able to rise as far as their effort and talents will take them. This is what I call in the book the 'rhetoric of rising'. It became an article of faith, a seemingly uncontroversial trope. We will make a truly level playing field, it was said by the centre-left, so that everyone has an equal chance. And if we do, and so far as we do, then those who rise by dint of effort, talent, hard work will deserve their place, will have earned it."
The article, Michael Sandel: 'The populist backlash has been a revolt against the tyranny of merit' (Guardian. 2020) continues,
Sandel has two fundamental objections to this approach. First, and most obvious, the fabled "level playing field" remains a chimera. Although he says more and more of his own Harvard students are now convinced that their success is a result of their own effort, two-thirds of them come from the top fifth of the income scale. It is a pattern replicated across the Ivy League universities. The relationship between social class and SAT scores – which grade high school students ahead of college – is well attested. More generally, he notes, social mobility has been stalled for decades. "Americans born to poor parents tend to stay poor as adults."

But the main point of The Tyranny of Merit is a different one: Sandel is determined to aim a broadside squarely at a left-liberal consensus that has reigned for 30 years. Even a perfect meritocracy, he says, would be a bad thing. "The book tries to show that there is a dark side, a demoralising side to that," he says. "The implication is that those who do not rise will have no one to blame but themselves." Centre-left elites abandoned old class loyalties and took on a new role as moralising life-coaches, dedicated to helping working-class individuals shape up to a world in which they were on their own. "On globalisation," says Sandel, "these parties said the choice was no longer between left and right, but between 'open' and 'closed'. Open meant free flow of capital, goods and people across borders." Not only was this state of affairs seen as irreversible, it was also presented as laudable. "To object in any way to that was to be closed-minded, prejudiced and hostile to cosmopolitan identities."
There have been books that have made this point from a more explicitly left wing standpoint. Pierre Rosenvallon's La société des égaux (2011). The influential French writer (like many I have read many many of his books and followed his public lectures on-line) traced out the British debate about revisionism, Crosland, equality and 'meritocracy'. He underlined, as Starmer does not, he massive increase in inequality over the last decades. Rosanvallon offered acid criticisms of equality of opportunity ('égalité des chances') and proposed his own substantive egalitarianism as part of broader social relations, "relation sociale". These themes, taking account of the complexity of equality and inequality, have been developed in his more recent books and articles.
Une brève histoire de l'égalité, Thomas Piketty (2021) has just been published. The author of the internationally debated Capital in the Twenty-First Century (2014) and Capital and Ideology (2020) advocates restoring levels of progressive taxation on high incomes – as was the case between 1930 and 1970 -, a capital endowment paid to everyone at the age of 25 equal to "60% of the average wealth per adult (ie 120,000 euros) "in the case of France, a carbon tax proportional to income, the "de-commodification" of sectors of common interest (education, health, culture, transport, energy) entrusted to "public, municipal, associative or non-profit structures" .
That is the kind of social democratic reformism, or ""democratic, Green socialism." you could warm to. A lot more than putting " contribution and community at the centre of our efforts" and the prospect of a "nation remade".
Or indeed this,
"Self-managing socialism aims at reducing the role of the state to its coordinating functions whereby various self-managing initiatives can be brought together, just as they might be at local, regional, national and international level. What is important is that any state-level 'coordination' must, by very definition, come and be controlled from the 'bottom up'."
"..the emergence of new social movements mens that we mus rethink 'socialism' in such as way that their emancipatory demands blend into an alliance with the demands of the fighting sections of the working class."
Keir Starmer. 'Wapping: End of the Street?', Socialist Alternatives, vol. 2 no. 1, April/May 1987
*****
(1) A convenient list:
Britain was now in a globalised market and needed to improve the education and skills of the workforce and remove many labour regulations to help firms compete against those in other countries.
Wealth creation by business and particularly entrepreneurs was to be encouraged and would provide the resources to pay for public services. This would also raise incomes overall so that there was no need to redistribute wealth by taxation of the rich.
The trade union reforms of the 1980s would remain in place. Blair distanced himself from the trade unions that were affiliated to the Labour Party and did not involve them in developing policy.
There would be no reversal of the privatisations carried out by the Conservative Government. The provision of public services could be contracted out to the private sector if they were cheaper and more efficient. Private finance could be used to build major public projects such as hospitals by means of the Private Finance Initiative.
Consumer choice was important in all areas. People should be able to choose between schools and where to have a hospital operation. Public service reform would be carried out through league tables and performance measures so that local authorities and hospital trusts worked efficiently.
People should be encouraged into work and off benefits by programmes to help them do this but with sanctions, if they did not participate.
Written by Andrew Coates
September 23, 2021 at 12:24 pm
14 Responses
Subscribe to comments with RSS.