Posts Tagged 'Keir Starmer'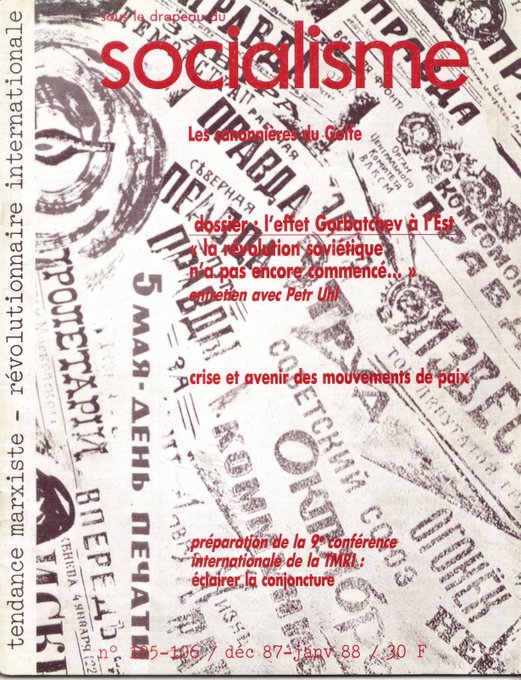 The Real Pabloites, issue contains interview with Ben Bella.
It is said that Pabloism, that is the Tendance Marxiste Révolutionnaire Internationale (TMRI), an international revolutionary network which Labour Leader Keir Starmer was very close to, dropped Trotskyism in the 1970s
According to "International Trotskyism, 1929–85: A Documented Analysis of the Movement" the IRMT had a conference in 1972 where they dropped the pretence to being the World Party of Socialist Revolution and any allegiance to Trotskyism.
This is true in the sense that the TMRI put the self-managed republic and a broadly libertarian version of Marxism at the heart of its politics during that decade – during which their French activists in the Alliance Marxist Révolutionnaire, (AMR) were active in groups like the Parti Socialiste Unifié. (L'Alliance marxiste révolutionnaire rejoint le P.S.U. Le Monde. 1974)
Nevertheless the TMRI always considered Trotsky a 'reference', even if they did not wish to confine Marxism to one historical experience (the Russian Revolution) or one figure, Trotsky as the founder of the original Fourth International. In this was the group remained "loyal to the achievements and method of Marx, Rosa Luxemburg, Trotsky and Lenin" which meant, above all, being capable of developing in a critical and creative way" Marxism in the present day.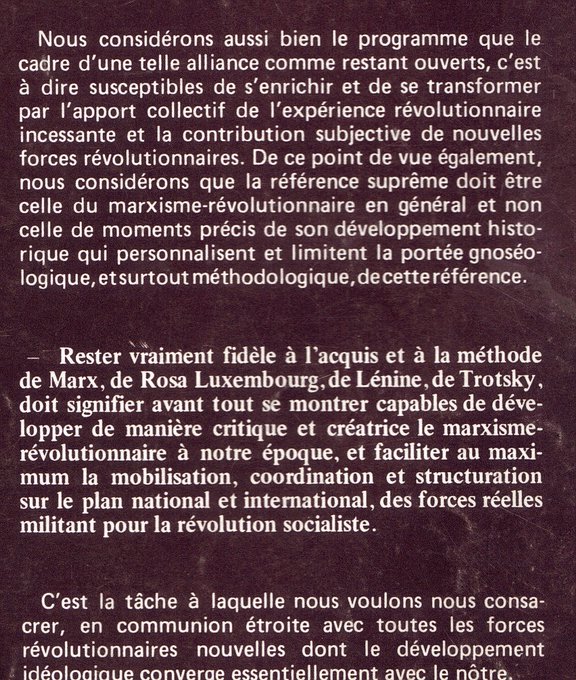 In 1987 one can see in this edition of Sous le Drapeau du socialisme (the theoretical journal of the TMRI) they advocated a form of "transitional programme" for the new conditions on that decade.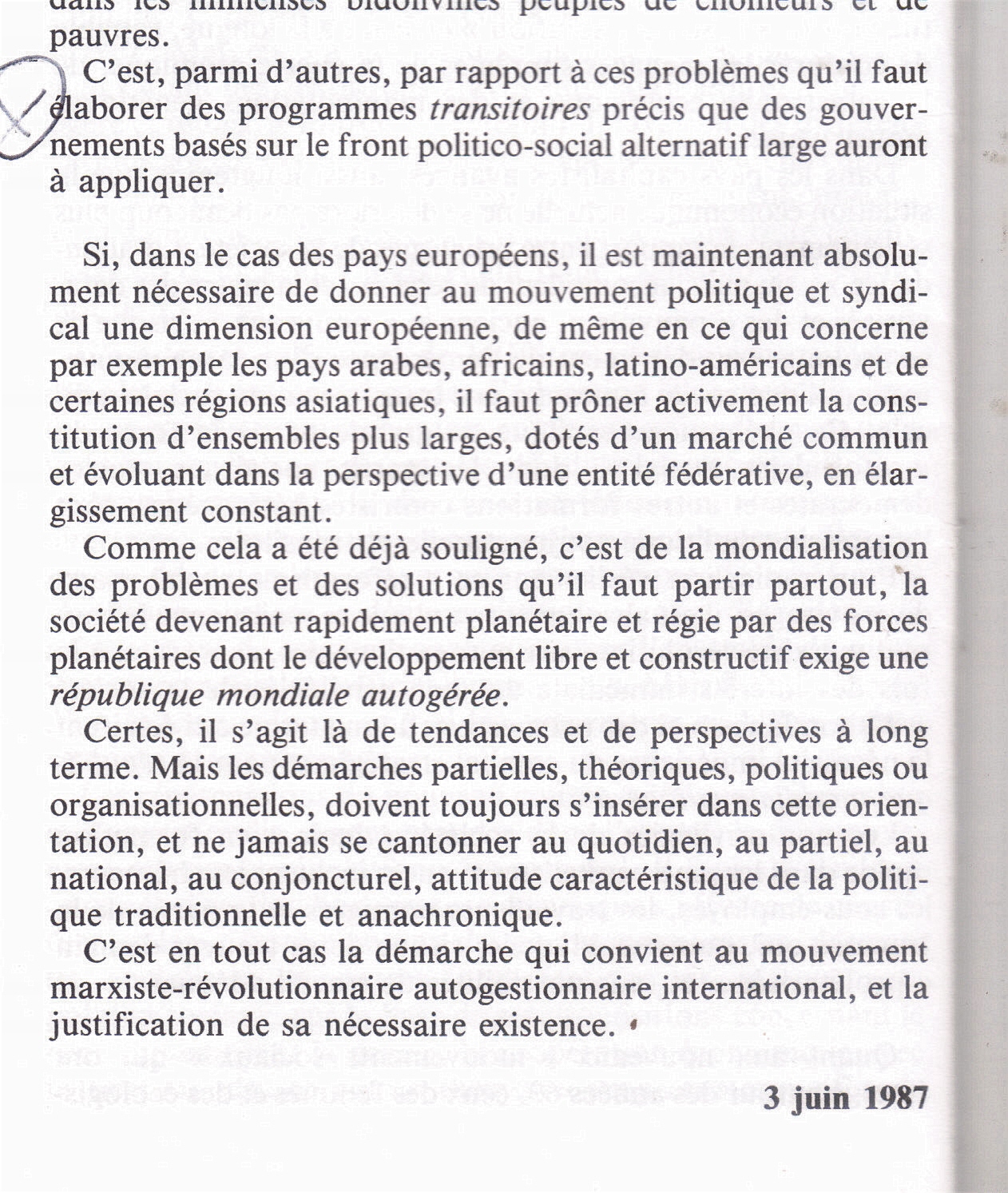 This declaration included support for developing a European dimension, and the creation of state groupement that were still broader "ensembles plus large" with a "common market. One could read that as backing for the European Union, as a step towards a world wide self-managed republic.
This is a good overview of the French 'Pablistes': Bref aperçu de l'histoire du courant "pabliste" ses suites et ses périphéries en France 1965-1996
Has he made Labour "a serious party again"?
This Blog's general impression of the Keir Starmer Speech was first of all this:
extract from Stephen Bush's take for the New Statesman.
This was a speech that showed both Starmer's familiar strengths (that big political argument, whatever you think of its merits, is coherent, while his efforts to demonstrate change from the Corbyn era are likewise, coherent whatever you make of their merits). He did a good job of dispelling doubts about his ability to deliver a big conference speech and the address did a good job of casting his steadiness and lack of flash as strengths, not shortcomings. But the speech also showed his familiar weaknesses: too many announcements, denied their moment to shine, announced with seemingly no thought as to how they fit into the party's big political dividing lines.
The Tendance adds, the speech began well, "
Rent up, especially for those on the lowest incomes. Yet at this very moment, the government is putting up tax on working people. Putting up tax on small businesses and slashing Universal Credit. We have a fuel crisis, a pay crisis, a goods crisis and a cost of living crisis – all at the same time." His family histiry ahd the ring of the genuine about it. The call for a plan to "Make Brexit" had no details, probably because Brexit is not going to 'work' for most people.
You wonder who will remember this, however well intentioned it is,
Leadership founded on the principles that have informed my life and with which I honour where I have come from.

Work.

Care.

Equality.

Security.

I think of these values as British values. I think of them as the values that take you right to the heart of the British public. That is where this party must always be.

And I think of these values as my heirloom. The word loom, from which that idea comes, is another word for tool.

Work.

Care.

Equality,

Security.

These are the tools of my trade.

And with them I will go to work.
Attacking Boris Johnson was a high point,
"Sir Keir Starmer has described Boris Johnson as a "trivial man" and "a trickster who's played his one trick", during his closing Labour conference speech.

Attacking Mr Johnson's government as "lost in the woods", Sir Keir added: "Once he'd said the words, 'get Brexit done', his plan ran out. There is no plan."
Not to mention, ""my dad was a toolmaker, but in a way so was Boris Johnson's".
So,
This is where is began to go downhill:
Or as Owen Jones puts it:
This was being briefed pre-speech and will no doubt be hyped up now.
Sir Keir Starmer has indicated he is ready to see Labour's far-left split from the party, declaring that winning the next general election is more important to him than maintaining internal unity.
Will those who do not feel much empathy for whatever the left-wing Campaign Group, or the majority of Momentum have got up to, rejoice at these voices? They are highly unwelcome.
"A hard rain is going to fall on the Corbynistas," said one ally of party leader Sir Keir Starmer, referring to supporters of "hard-left" .
Starmer's pro-business stance, emphasis on fiscal discipline and embrace of patriotism is reminiscent of Tony Blair – Labour's thrice-elected former prime minister. But his poll ratings are far behind Blair's at the same point in his leadership.
These pearls, learnt by young factionalists at the feet of Baron Peter Mandelson it is said, keep on coming…
"Another shadow cabinet member told The Times: "We have nailed the hard left into their coffin and there's a lot of screaming because they know they're not coming back to life. We've banished the monster. People can have the confidence to vote Labour knowing they're not going to wake up and find Jeremy Corbyn is prime minister.""
In a more restrained mode this is the same basic story.
Shadow cabinet member Andy McDonald quit Labour's front bench amid a contentious attack on Sir Keir.

In his resignation letter, he said Sir Keir had made Labour "more divided than ever".

Mr McDonald also accused the Labour leader of not honouring his pledges to members.

Source
Then there was this embarrassing and counter-productive presence.
Here is the Hard_left (Outside Labour) in person….
Then there was this reaction inside Labour's conference – you felt a cringe every minute.
Sir Keir Starmer was disrupted by repeated heckling from left-wing Labour members waving red cards in the air during his first in-person conference speech to the party faithful.

"Normally this time on a Wednesday it's the Tories who are heckling me. It doesn't bother me then – and it doesn't bother me now," he joked as other members of the audience told the hecklers to "shut up".

A small group of Sir Keir's critics held up red cards and shouted "£15" at various points during the speech — a reference to the Labour leader's refusal to back a £15 minimum wage earlier this week.
Another heckler chose to direct their anger at Sir Keir's Brexit policy during his tenure in Jeremy Corbyn's shadow cabinet, while others opted to shout "boring", or ask the Labour leader: "Where's Peter Mandelson?".

Forced to raise his voice over the hecklers, Sir Keir told members: "Shouting slogans or changing lives, conference?".

He also told his detractors in the hall "you can chant all day," before going on to claim he had used the conference to "get our own house in order".
Paul Mason, "patience is running thin with Starmer."
In the last weeks Starmer has lost a lot of good will from different sections of the Labour Party without any clear objectives of his own. This runs across many parts of the left, and centre-left, affecting those who had voted for him as Leader and had given the MPs for Holborn and St Pancras support during discouraging opinion polls and media comment. He has alienated the non-Corbyn left with the plan to go back to the days of the Electoral College run by the Aldermen of the Party and the embarrassing Contribution Society. He lost a lot of the soft left not backing PR. He has no clear line of the continuing disaster that is Brexit, nor has he demarcated himself from the 'left' and traditional Labour nationalist wing that backed leaving the EU.
Policies and debates at the Brighton Conference have yet to inspire. While some claim to see firm leadership in the proscription of marginal groupuscules and the peremptory expulsion of a wider swathe of critics, for good and, very often, much less clear reasons, other see a diversion. Starmer is only 'in charge' by virtue of office.
It would be a mistake, in these conditions, to call left critics of Starmer's policies 'Corbynistas'. They come from a variety of backgrounds. People on the centre and right of the party can be heard making comments about a lack of 'oomph', and a lack of direction. If a small number of factionalisiers, said to be friends of Peter Mandelson, are active, with friends in Apparat, and even, the CLPs, they have not the roots or depth to replace what was, not that long ago, Corbynism.
Is Corbyn still a living political presence. At present we can see many different lefts emerging, and different centres and rights. In any case Corbynism without Corbyn in charge never made much sense. Those mourning their loss were never going to be a force to change the world. Others, one doubted their long-term sincerity at the time. Now, you wonder what kind of left they were in the first place.
Look at the puff of the some of the 'alt-media' pro-Corbyn left these days..
Let us hope Bastani stays as long away from Labour politics as possible and goes into the family luxury ice-cream business.
This about a milliard times more important:
Keir Starmer would not have been elected as Labour leader if he had suggested publicly or privately that he intended to re-establish weighted votes for MPs in leadership elections, taking power away from regular members and ensuring future leadership contests would be less inclusive than the one he himself won. Labour party members would not have voted to abrogate their own rights. The triumphalism of some on the party's right following the changes to the party's rulebook will be greeted with resentment by thousands of party members.
One of the chroniclers of the disillusion of Starmer's supporters is Paul Mason.
He is now explaining his evolving positon:
I find this prospect very unlikely.
This Blog stands with the weighed criticisms made by Paul Mason. Others are saying the same thing.
Corbyn can make, sometimes, relevant, critical statements on Labour's present policies (the minimum wage for example). But Corbynism is dead. Two millennia there was one inspiring figure who is said to have returned from the dead. But while there were witnesses their testimony remains disputed. The MP for Islington North does not look a candidate to follow in his footsteps.