Posts Tagged 'Marxism'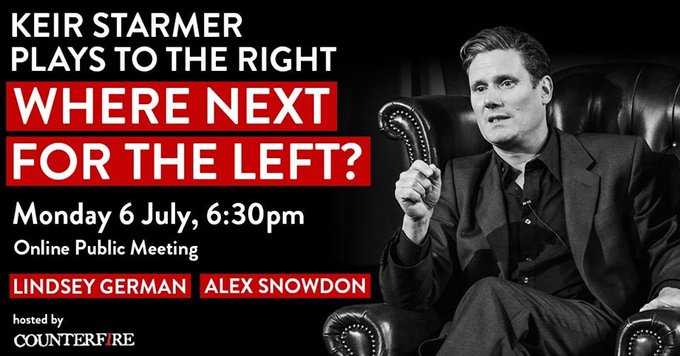 Fighting "Starmer's rightward shift" "in the workplaces, the communities and on the streets".
Last week the Convenor of the Stop the War Coalition (StWC), Lindsey German, asserted,
…there is no road to success for the left inside Labour.
The battle is on: and the left can't win in Labour – weekly briefing
She observes,
Perhaps the most important reason for the failure of Corbynism was that there was none of the ruthlessness towards the right that we now see being used against the left.
We are informed that
Many Labour lefts backed Starmer despite the fairly obvious writing on the wall. This was for a variety of reasons: the shock and demoralisation of defeat and the call for 'electability'; the continuing Brexit debate (where the People's Vote campaign did real damage to the Corbyn left); the promises of Starmer that he would unite the party; the continuing rows over antisemitism.
These look pretty convincing reasons to have backed Starmer.
Most socialist internationalists (unlike Counterfire) opposed Brexit and saw no reason to go along with the pro-Brexit supporters around Corbyn.
Is anti-semitism within Labour, a hysterical 'anti-Zionism' with plenty of complotism around it that shades and indeed is, full of prejudice, an imaginary problem?
Most people think it is neither manufactured nor dreamt up.
The issue remains open as to what role the left can find within the Labour Party
But those who intend to make a hobby of "fighting" in the party have lost before starting.
Few wish to listen to them and their loud-mouthed insults.
So perhaps German is right to say that,
the fight is going to be outside of Labour, and organising inside will be an extremely pale shadow of that, with very high likelihood of failure on every major front.
The future is to go back to the left strategies of the early years of the new millenium,
We desperately need a mass socialist party in Britain, but Labour is not going to be it. At present there is no such party on the horizon, however there are hundreds of thousands who would identify with it. There are also major struggles ahead as we face unemployment, pandemic and attacks on workers. The building of such a party will most likely come from working in those campaigns and perhaps with an organised split from Labour (although this is unlikely to contain MPs). It has to be centred on those struggles and not on electoralism.
German has learnt a lesson from the massive electoral failures of previous efforts to create a "mass socialist party" outside of Labour: its inability to do well through "electoralism" – the ballot box.
Her comrades have plenty of experience in this area, one thinks of  the prominent role Lindsey German and John Rees played in George Galloway's Respect Party….
The piece ends, "whether you stay or go, the key thing is to fight."
How many battalions do these people have?
Counterfire runs what remains of the People's Assembly, and has an influential position within the Stop the War Coalition, now comments on the actuality of the Revolution.
It has now launched an appeal on the lines sketched by German.
Starmer takes Labour right: It's time for an extra-parliamentary left
In a statement the groupuscule (around 100 members) states,
Counterfire energetically supported the Corbyn project while always pointing out the pitfalls and the limitations of a purely parliamentary strategy for change. It's very important now that we are clear about the new situation. Starmer's witch-hunting of the left, his positioning as a reasonable and loyal opponent of this calamitous government shows that the attempt to transform Labour has been defeated. But this doesn't mean that the phase of popular opposition is over.
Pausing to note the Tories' "arrogance and incompetence" and the Black Lives Matter protests, they state,
..the fight is on. But it's not going to be fought in the Labour Party, it is going to take place in the workplaces, the communities and on the streets.
This leads them to assert,
We urge everyone who is sickened by Starmer's rightward shift to get involved in this kind of mass politics – building workplace organisation, supporting the People's Assembly, fighting every cutback and closure on the ground.
Counterfire urges the creation of  working class movement.
Counterfire has been at the heart of the resistance since we launched just ten years ago. Our online support is growing daily, our website is read by tens of thousands every week, but we need active, participatory socialist organisation everywhere to create the kind of working-class movement that can win.
Counterfire is now committed to organising  "a dynamic extra-parliamentary left in every part of the country."
Extra-Parliamentary, that is, as an alternative to the Parliamentary Road to Socialism, the Labour Party.
Some might suggest that a major factor in this turn is that Lindsey German and John Rees – and their ex-(and present) Communist Party of Britain mates – no longer have the ear of a friendly Labour leader who put up with their enthusiasms, rages, and belief that politics is decided by street theatre.
Memoirs of a Critical Communist. Towards a History of the Fourth International. Livio Maitan. Resistance Books/Merlin Press. 2019.
(This review appears in the latest, March-April, Chartist Magazine.).
Livio Maitan (1923 – 2004) was a leading figure in the international Trotskyist Movement who won respect and had an influence, on the wider left. Memoirs of a Critical Communist, published in Italian in 2006, his last book, is a "contribution" to the history of the Fourth International. The Italian was, with Pierre Frank, (France) and the influential economist Ernest Mandel (Belgium), a leading figure in the main branch of Trotskyism. Maitan had, the late French Marxist philosopher Daniel Bensaïd, writes in the Preface, "a sense of humour and self-irony", a warmth and intellectual breadth, which is far from the general picture of a Trotskyist leader.
Maitan's book  Party, Army and Masses in China (published in Italian in 1969), appeared in English in 1976. Written with an audience sympathetic to the Cultural Revolution in mind it was critical of the Chinese bureaucracy but falls far short of the robust demolition of Mao's "sterilising totalitarianism," by Simon Leys.
The present volume ranges much wider. It is a "history of the activities of the activities of the international leadership" of his current until his passing. Pages cover the disputes within Trotskyism during the Cold War, the anti-colonial revolutions, the 68 upheavals, the Portuguese Carnation Revolution of 1974, up to what Franco Turigliatto has called "the congress of "disillusionment" of 1995. This tried to come to terms with the fall of Communism and world-wide setbacks for the whole the left (Livio Maitan's last book). This saw an end of hopes for democratic left-wing developments in what Trotskyists considered to be "bureaucratised transitional societies".
Latin American Left.
Memoirs recounts Maitan's extensive involvement with the Latin American left. The faction run by Posadas, best known today for its belief in flying saucers, but in the 'sixties for asserting that the world revolution was now led from Latin America and Africa, was one of many to stress the importance of these countries. The guerrilla strategy of Che Guevara, who had "read, and liked Mandel's Marxist Economic Theory", attracted support in Bolivia, where Trotskyism had influence in the workers' movement.
The practice of armed struggle led to intense debates across the continent, and the creation of "political-military" groups committed to armed struggle. Disputes in Argentina, where Trotskyism, continues to have an influence, took place against the background of extreme state repression, and calls for militaristic responses. The niceties of Maitan's account, which also covers Chile and Mexico, including the row with the 'Moreno' tendency that continued till the 1980s, will interest specialists.
Maitan has an eye for detail. He describes the Militant leader Ted Grant carting around Marxist relics in his briefcase to quote Trotsky "chapter and verse". Talented Rally Speaker Tariq Ali is cited as returning from a visit to  North Korea in 1971 with "fairly positive opinion" about its economic development.
The American Socialist Workers Party (no relation to the UK SWP), the oldest Trotskyist party in the world, and an influence on the celebrated list of 1930s New York Intellectuals under the impact of Jack Barnes today subordinates its politics to the Cuban state. Maitan charges them with their leader's "authoritarian behaviour" and purging their group by accusations of "disloyalty". He does not explore allegations of 'cultism' and  being "Trotskyist missionaries" common to those who have had contact with them in Europe.
Memoirs of a Critical Communist is far from the work of a cultist. If not always an easy read, even for those familiar with the personalities involved and the movements. From optimism in 1968 "during the heat of the action", to criticism of one of Trotskyism most abiding traits, leaders "wedded to centralising tendencies and charismatic methods" Maitan emerges as a keen observer.
The willingness to engage with other radical movements, to rethink ideas in the light of experience, to try to build "a global anticapitalist movement" on a socialist basis, has been helped by activists of his calibre. For those prepared to plunge into the difficulties the left faces this book is an important reference point.
**********
See also: Book Review: Heroism of reason – On Livio Maitan's "Memoirs".  LÖWY Michael
This is of particular relevance to the Chartist article:
I confess that I don't agree with my friend Daniel Bensaid's criticism of Livio's discussion of Latin America: "The comments about the controversies regarding the armed struggle in Latin America may appear incomplete and partial to many of us". On the contrary, I find these pages among the most lively and interesting of the Memoirs. Livio's draft on armed struggle, presented at the 9h World Congress provoked as he writes, "moment of highest tension and passionate interest", both among the Latin American delegates and the others. [4] He recognizes that prioritizing rural guerrilla was a mistake, but explains that these were the views of our main organizations in the continent, in Bolivia and Argentina. There are a few very moving pages about Roberto Santucho, the main leader of the the PRT (Revolutionary Workers Party), the Argentinian section of the FI until 1973, both criticizing his wrong views – the illusion that, by leaving the FI, he would get weapons from the "Soviet comrades" – and paying homage to an intransigent revolutionary who gave his life for the cause.

…..

Taking stock of four decades since the foundation of the FI, Livio raises the difficult question: why has our movement failed to play a leading role anywhere ? Among the reasons: the destructive splits, the negative role of authoritarian, centralist, even "Bonapartist" leaders (the list of names is too long), propagandist and voluntarist attitudes, and, for some, a dogmatic approach, exclusively based on the Russian experience of 1917, and on quotes from Leon Trotsky. But the main factor was objective: the force of attraction of the USSR, China, Cuba. Castroism had a special power of attraction for the radical left, and this led to the last split, when the SWP (under the leadership of Jack Barnes) broke with the FI (in 1990), gave up Trotskyism and uncritically adopted the line of the Cuban government.
The Madness of Crowds. Gender, Race and Identity. Douglas Murray. Bloomsbury Continuum. 2019.
Last week on Question Time  "Rachel Boyle, a woman of colour, audience member and academic, said: "Let's be really clear about what this is, let's call it by its name, it's racism." Fox responded that discussions of racism in Britain were "really starting to get boring now," and accused Boyle of reverse racism for pointing out that he is a "white, privileged male". Since then, the actor has been busy making an apparent campaign to become the new poster boy for the populist right."(Independent)  For Douglas Murray the other, largely critical, reaction has shown the face of the " new totalitarians. " "ox, again perfectly reasonably, pointed out that he has had no more say than anyone else in choosing the colour of his skin and that in such circumstances the person who imagined she was being anti-racist was in fact being perfectly racist herself." It was the "identitarians" who were at fault in this "terrifying parable" (The terrifying parable of Laurence Fox's Question Time appearance)
There is a serious critical debate on identity politics or 'identitarianism". On the left responses began in the late 1980s in the pages of Race and Class with articles by Ambalavaner Sivanandan channelling the idea that leaders of pre-formed 'communities' should be represented and integrated into the state through Community Relations Councils. In No Logo (1999) Naomi Klein observed the emergence in North American student circles of what is now called 'intersectional' cultural battles, at the expense of fights about the increasing domination of globalised corporate power over everyday life. (1)
In the 1990s and the first decade of the new millennium Kenan Malik attacked responses to Islam and the rise of people identifying themselves in "narrower ethnic terms". He wrote, liberal indulgence, "helped build a culture of grievance, in which ebbing offended is a badge of identity, cleared a space for radical Islamists to flourish and made secular and progressive arguments less sayable, particularly within Muslim communities." In 2010 Rumy Hasan observed that "A profound consequence of silence in regard to oppressive practices within religious-ethnic minority communities has been the abandonment, or the downplaying of key universalist egalitarian principles." Chief amongst those, he stated, was secularism. (2)
In France Nedjib Sidi Moussa has taken apart the "ethnodiffértialisme" the "racialisation of the social question" primarily through Muslim identity – and the pretension to engage in "race struggle" by anti-Semitic 'anti-white' groups like the Indigènes de la République. From an Algerian family he does not shrink from addressing the failure of the radical left to address Islamist violence and the hatred of Jews La Fabrique du Musulman (2017) suggests that the so-called radical supporters of identity politics have a lot in common with right-wing identitarians like Alain Soral. Yves Coleman of Ni Patrie Ni Frontières and Nadia Meziane provide essential critical commentary on these issues in French. (3)
Douglas Murray's The Madness of Crowds avoids developing the views on the threat of migration. The idea that "the mass movement of peoples into Europe" is happening as Europe has "lost faith in its beliefs, traditions and legitimacy." (The Strange Death of Europe. 2017). An authority on this, Yves Camus, and his theory of the Great Replacement, cited in that work, does not pop up in the present volume. It is not the suicide of a Continent that preoccupies The Madness, but '"a great crowd derangement". This new Tulip Mania is 'Identity politics'. "It atomises society into different interest groups according to sex (or gender), race, sexual preferences and more." (Page 3) These "rights issues have moved from being a product of a system to being the foundations of a new one." (Page 7). These "destabilising foundation of liberalism" lead to "ugliness" to "believe things that are unbelievable". This "crowd madness" needs, like a minefield, to be "cleared".
One could be forgiven for thinking that Murray was a contributor to Spiked, and an acolyte of Frank Furedi. Yet the former Revolutionary Communist Party guru is absent from his pages; his warnings about the post-68 left's turn to a "bitter conflict between competing lifestyles – symbolic struggles", the "culture wars", are unmentioned. (4)
Post-Marxism.
Murray does however have a smattering of knowledge about the left and 'post-modernism'. Citing Ernesto Laclau and Chantal Mouffe's Hegemony and Socialist Strategy (1985) and an article on the same theme in Marxism Today, he outlines a shift from class polities to "new political subjects', "women, students, young people, racial and regional minorities, as well as the various anti-institutional and ecological struggles" (Page 57). Skirting clear of these "post Marxists" fascination with the left potentials of populism, he observes that their "ideological children in identity politics and intersectionality seem to be content to inhabit an ideological space littered with contradiction, absurdity and hypocrisy." (Page 58)
These new classes of "exploited" persons are explored, we learn, in the hard to read prose of Judith Butler, and produce "social justice theories". The gobbledegook around social constructs and gender and race offers the gently e amusement of the "conceptual Penis as a Social Construct" and doubtless more opportunities for spoofs than Murray could cut and paste into his book.
The Madness of Crowds is determined to expose these absurdities. There is something deeply distasteful in the way that the Associate Editor of the Spectator rummages through the Web to find them. Gay demonstration, apparently, (Murray is openly gay himself) include fetishists with their leathers, sadomasochists flogging each other in the street…."(Page 39) Murray is fascinated with women singers' wiggling bums, which is perhaps understandable, though the demand that they should be "sexy but not sexualised" will have passed most people by. Misandry – a new one on my spell checker – "Man are trash", is a rubbish example of when put alongside this jumble of terms, "concepts like 'male privilege', 'the patriarchy; 'mansplaining or "toxic masculinity". " (Page 103) Is Murray suggesting that patriarchal structures do not exist, that women are often not oppressed by men, or that the unpleasant, violent, side of masculinity is something even a gentleman scrivener has never seen?
Unfamiliar with American campus politics one is still unable to take on trust Murray's description of racial incidents and university slanging matches about people's rival experiences. It would strike many people that in a country that elected Donald Trump, and which has a substantial, networked, far right, that racialism remains an issue beyond verbal jousts. Black Lives matter, most seem to agree, is a call that reflects a justified angry response to an unpleasant reality.
Tansexuality.
Murray reaches his lowest moment is the chapter on Transexuals. He insinuates that many trans people may be largely motivated by being "sexually around by the idea of presenting as, or actually becoming a woman" (J. Michael Bailey). This casts doubt on whether that "tans is a hardware issue", that is against the claim that "trans are born this way. (Page 199) Digging deeper into the pit of controversy around transexuality The Madness of Crowds cites the hostility to those who assert that surgery cannot "make you a woman". Greatly respected feminists who have taken this, or a more moderate critical view, and have been violently hounded for their opinions. "Transphobic", Murray is not familiar enough with the subject to talk of the details of the rows about 'TERFs', feminists do have a legitimate point of view. So do transsexuals. But this book, with its prurient interest, casts little light on this "unbelievable unclear issue".
Attempting a weighty conclusion The Madness of Crowds reminds us that in 73 countries it is illegal to be gay, and 8 in which being gay is punishable with death. Women are denied basic rights in countries in the Middle East and East Africa. Inter-racial violence happens across the world. "But there is a paradox here: that the countries which are the most advanced in all" in promoting laws and a culture of rights "are the ones now presented as among the worst". (Page 232) He has no doubt that the agenda, "the last part of a Marxist subculture" is to "policies absolutely everything and turn people against the society they were brought up in. That the left believes that, "when intersectionality has done is job and he matrix of competing hierarchies has finally been nixed, then an era of universal brotherhood will ensue." (Page 252)
Hidden from this present book are the countless Middle Eastern, Maghrebin, African, Asian Iranian gay and feminist activists. It is their "religion of social justice", which many on the left support. Are we "using" their fight too? It is one very far from identical to what Mark Lilla calls North American "liberal identity politics". It involves political action, and politics means joining people together, not separating them. The courage to join together for human, universal rights is our struggle. Feminist, gay and other movements are part – one part – of this, all over the world. This is a more substantial than limiting our "source of meaning" amongst our kith and kin, important as the "love of people and places" is. Or wallowing in snippets about the wilder side of American and British cultural politics. Or boosting an opposing right wing identity politics.
To top it Murray,"….has been described by French philosopher Bernard-Henri Lévy as "one of the most important public intellectuals today".[8]
Communities of Resistance. Writings on Black Struggles for Socialism.

 by A. Sivanandan Verso 1990.

P 210.

From Fatwa to Jihad. The Rushdie Affair and its Legacy. Kenan Malik

. Atlantic Books. 2009. Page 224.

Rumy Hasan, Multiculturalism, Some Inconvenient Truths

. Politico's. 2010

La Fabrique du Musulman. Nedjib Sidi Moussa

Libertalia. 2017.

First World War. Still no End in Sight. Frank Furedi

.

Bloomsbury 2014

.

The Once and Future Liberal. After Identity Politics. Mark Lilla

. Hurst and Company. 2018.