Archive for the 'Free Speech' Category
"Witch Hunt" Chief Reason for Labour Defeat.
There's been time for people to digest the report on Labour's election defeat,General Election Review
Cross factional, evidenced-based, from the ground up, their conclusions have been discussed by some very cross factions have now responded..
'Labour Together' Report: It was the witch-hunt, stupid!
(Thanks to Newshound David Walsh)
On the reasons for the defeat….
"But the report manages to spectacularly miss the key reason. The 15 Labour grandees (including Lucy Powell who took part in the 2016 chicken coup) appointed to run the review focus on platitudes like "Jeremy Corbyn was deeply unpopular" – but the authors seem to chiefly blame Corbyn's character for that, rather than make any attempt to get to the bottom of what happened in the last five years.

We are happy to help: It was the witch-hunt, stupid (to paraphrase the Clinton adviser James Carville).
These masterminds of the new grassroots left continue,
 Instead of calling out the lie that the Labour Party was overrun by antisemites, the Corbyn leadership sought to appease right-wing saboteurs, pro-Zionist groups and the self-appointed leadership of "the Jewish community" who set out to obstruct the new members and the move towards socialist ideas. The Corbyn leadership behaved as though they believed this lie. The 'leaked report' shows that in the process they displayed an inability to recognise real antisemitism, while eagerly trying to get rid of prominent activists like Marc Wadsworth, Jackie Walker, Tony Greenstein, Ken Livingstone and Chris Williamson, none of whom can be accused of even a trace of antisemitism.
Indeed!
Corbyn's decision to try to appease the witch-hunters made him into a sitting duck for the right inside and outside the party. The establishment media gleefully got in on the action. And if a lie is repeated often enough, it becomes the truth. This is, in our view, the chief reason why many working class voters turned away from the Labour Party at the general election of 2019.
Stand firm Cdes!
The Labour Left Alliance believes it is therefore of utmost importance that we learn the lessons from this massive defeat. Appeasement never works.
Here is their latest event:
Counterfire, creating the kind of surprise you get when you find out that the Pope celebrates Mass, believes that Labour should have backed Brexit.
Labour's election result: drawing the wrong conclusions – CounterBlast
Alex Snowdon.
Labour's failure last December really was a result of one dominant factor. It killed its electoral chances by capitulating over Brexit. It did terrible damage by supporting a second referendum and disregarding the result of the 2016 referendum which, however narrowly, clearly provided a mandate for leaving the European Union.
What Labour should have done is to support Counterfire and the Morning Star's idea of a "People's Brexit".
Labour lost the election by dropping its sensible position of 2017 – to respect the referendum result and outline a version of Brexit relatively favourable to working class people – in favour of an incoherent fudge that satisfied nobody and looked weak.
The Policy 'imposed' on Labour, which included offering a new Brexit as outlined above dreamt up by the Four Ms, Karie Murphy, Seumas Milne, Andrew Murray and Len McCluskey was fudge. We should have presented to the electorate  only one option: a better Brexit.
…progress was subsequently reversed due to a major political error on Brexit. As the new leader, Keir Starmer, was in the vanguard of those demanding support for a second referendum, it seems unlikely that Labour will now learn the correct lessons.
Well, that's that.
Two very different takes on the report.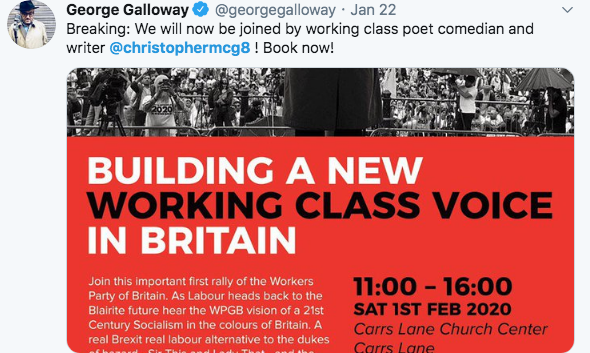 Chris McGlade, "kicking back at the metropolitan liberal elite."
"To defend the value of our votes, working-class communities had no choice but to vote Conservative, thanks to their betrayal by the Labour Party, writes Chris McGlade" – now supporter of George Galloway.
Le Monde Diplomatique is one of the world's best known political publications.
"Worldwide there were 71 editions in 26 other languages (including 38 in print for a total of about 2.2 million copies and 33 electronic editions)."
It has claims to be on the left.
In the February issue (French edition, I have a Sub.) the monthly published a lengthy account of the British Labour's electoral defeat by a Chris Bickerton, Pourquoi le Labour a perdu. Chris Bickerton. Bickerton is a supporter of the 'Full Brexit' initiative.
This is a pro-Brexit alliance between members of the Communist Party of Britain, the socially conservative "anti-immigration and pro-family' Blue Labour  current, including anti-rootless cosmopolitan campaigner Paul Embery the Communist Party of Britain, the British representative of the 'Lambertist' Trotskyist movement, Labour Party and other left sovereigntists,  and supporters (when it existed) of Nigel Farage's Brexit Party. The Full Brexit also includes a number of hard to classify anti-EU figures, from the Greens, 'red-Tories', and individuals who could be generously called 'eccentric'.
Many of the Full Brexit  are part of the Spiked 'network', whose origins lie in the Revolutionary Communist Party, such as former RCP cadre, James Heartfield, (born, James Hughes) who initially was going to stand as a Brexit Party candidate in the General Election in Jeremy Corbyn's constituency.
Spiked's present day campaigns include fighting "woke culture", environmentalism, and censorship. It is now engaged in sustained attacks on the Black Lives Matter movement (today, "The tidal wave of woke sentiment, unleashed in the name of anti-racism, threatens the very foundations of liberal democracy.")
Chris Bickerton has contributed to the Spiked site, the last time in 2017. More recently, immediately after the UK General Election,  he has written for the Guardian, Labour's lost working-class voters have gone for good. The Guardian notes that, he " teaches politics at Cambridge University and is a founding member of The Full Brexit."
While the British daily does not explain what the Full Brexit is, the paper at least it signals the affiliation.
Le Monde Diplomatique contents itself with listing that Bickerton is "Politiste, université de Cambridge."
Next to this article (in the print edition) is the following which does flag out the Full Brexit (without explaining the nature of this alliance of left sovereigntists and the far-right populist Brexit Party).
This is what McGlade says,
I've been a member of the Labour Party. I flirted with Militant when I was 18. I was in three trades unions. All my family are working-class, Irish immigrant stock and Labour supporters for decades. We're not brainwashed, but we all voted Conservative.

The Labour Party no longer represents working-class people in the northeast. It no longer speaks to us. It doesn't think like us. It's not us anymore. We have no voice. And, so, we voted for the only party who were offering to respect what we voted for in 2016. Yesterday, we voted in Redcar for democracy and the worth of our vote. If we'd lost that through a pack of middle-class progressive liberals getting elected and holding a second referendum, we'd have lost everything. They've taken everything off us up here, even our party. Our vote, our only protection against them, couldn't be taken away from us as well.
In  recent post Tendance Coatesy  expressed scepticism about the credentials of this type.
As political activists are all too well aware, it's something of a boastful excuse for people to claim to have been Labour supporters, "for decades"  when they are about to justify their right-wing views and vote for the Tories or the extreme Right, UKIP or British National Party.
A justified reservation, though it turns out a lot more than a pinch of salt is needed to take McGlade seriously.
On Tendance Coatesy David Walsh comments,
Chris McGlade ? The new working class hero of Le Monde Diplomatique is well known to many of us on Teesside. He is a clown (both professionally as a self-styled stand up comedian) and as a….well….clown. He is an obsessive conspiracist. In the 1990's / early 2000′ I was the leader of the local unitary council. In that period he was obsessed by what he saw as huge conspiracies involving developers, local councils and secretive quasi masonic bodies.

He first battened on to me with a series of comments that I was in receipt of huge back handers from industry and builders – all handed to me in the time honoured fashion of A4 sized brown envelopes. (I did point out that if I was getting such bungs, I'd want it done electronically, and (b) if it had to be brown envelopes, then the passing on of the goodies must not, as he alleged, be done in the lounge of the largest pub in the town………)

He dwells on his past as a steelworker, although I have no memory of him putting in any shifts anywhere on South Tees, and being a fervent leftie and working class Labour supporter. Again, if he was, I, and others, would remember all those leafleting sessions and canvassing that was the lot of us all then……. but memory in a funny thing. Still, he now neatly fits the needed narrative for our times if you are from the Lexit, Brexit Spiked / Red Brown Front, so the working class hero is made flesh and blood. BTW Welcome Back.
Comrade David Walsh is clearly on to something.
Here is some of life-long  'Labour' supporter McGlade's past,
(Northern Echo. 2005),
CAMPAIGNING comedian and a former London policeman have joined the race for the Redcar seat at the next General Election.

Jonathan Lehrle, chief of staff to Shadow Foreign Secretary Michael Ancram, has been unanimously selected as Tory candidate by Redcar Conservative Association.
Chris McGlade, who made his name as a stand-up comic before leading a campaign against Redcar's Coatham Enclosure plans, will stand as an Independent."
Here is some of his present.
In February the Communist Party of Great Britain (Marxist-Leninist) had this account of  Chris McGlade speaking at George Galloways 'Workers' Party' meeting,
Comrade Galloway closed the morning session by introducing a working-class poet and comedian from Teesside (northeast England), Chris McGlade, whose heartfelt and moving contribution received another standing ovation.
Welcome to Le Monde Diplomatique's new political pundits.
"Either McDonnell must be removed as president or the LRC will be forced to throw out victims of the witch-hunt from its ranks" Labour Party Marxist.
Labour Against the WItch-hunt is effectively a bloc between the Communist Party of Great Britain (Provisional Central Committe), better known as the Weekly Worker group, and prominent (that is, 2 prominent people) of the Labour Left Alliance (LLA). Also included is the Tony Greenstein Party.
Greenstein has been barred from Twitter but is famous for, amongst many other things in the same vein, this Tweet: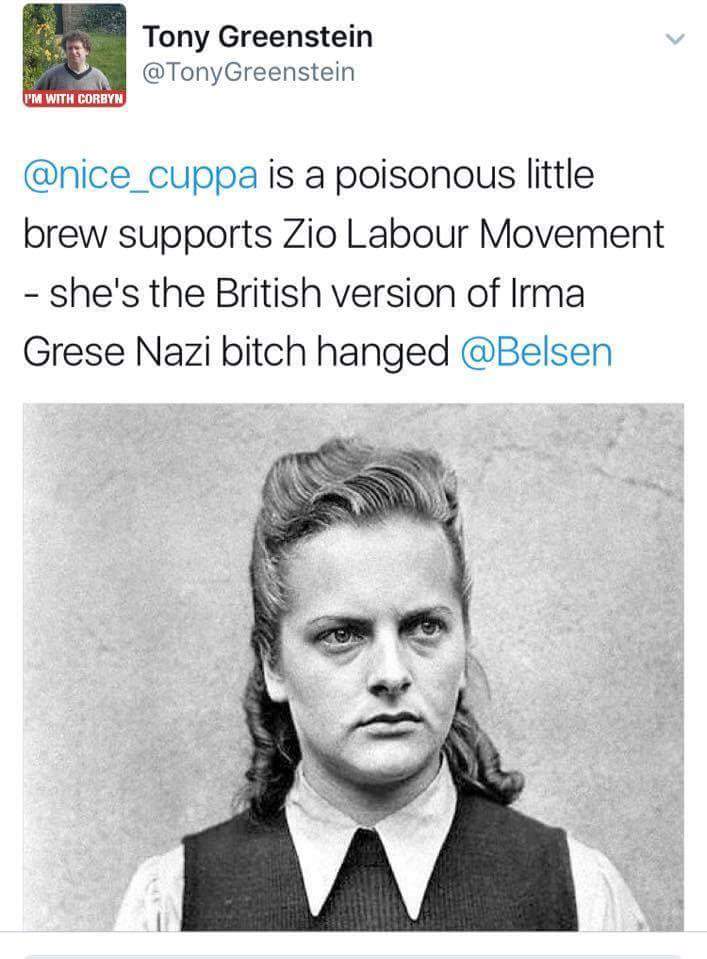 The LLA's supporters include,
Tosh McDonald, former president Aslef, Doncaster councillor
Asa Winstanley, journalist
Jackie Walker
Graham Bash
Chris Williamson
Professor Moshe Machover
Have they gone to ground during the pandemic?
No.
Labour Against the Witch-hunt informs the world today
We are pleased to announce that Labour Against the Witchhunt, in cooperation with the Labour Left Alliance, is planning a counter-conference on the 'leaked' report. Confirmed participants so far include Chris Williamson, Jackie Walker, Prof David Miller, Asa Winstanley, Moshe Machover, Greg Hadfield and Tony Greenstein.

LAW's sponsors include:

Alexei Sayle, comedian
Ken Livingstone
Professor Moshé Machover, Israeli socialist and founder of Matzpen
Ian Hodson, president of the Bakers Union
Ken Loach, film director
Noam Chomsky, author and activist

LAW's honorary presidents are Ken Livingstone and Moshé Machover
The Labour Left Alliance reproduces LAW's attack on Jeremy Corbyn,
…the conference will also look at the many mistakes made by the Corbyn leadership: The report shows that they decided to support the lie that the Labour Party is overrun by antisemites. They sought to appease the Israel advocacy groups and the self-appointed leadership of "the Jewish community" and behaved as though they believed this lie. In the process they displayed an inability to recognise real antisemitism, while eagerly trying to get rid of activists like Jackie Walker, Tony Greenstein, Ken Livingstone, Marc Wadsworth and Chris Williamson, none of whom can be accused of even a trace of antisemitism.
In preparation for the conference the Weekly Worker has this Friday published an attack on John McDonnell and the Labour Representation Committee (LRC) by the Labour Party Marxist, Stan Keable.
Keable is also the Secretary of LAW.
"Stan Keable of Labour Party Marxists fears that technical reasons are being used to hide rotten politics
The Labour Representation Committee's executive has decided to 'postpone' the planned June 27 online conference till some time in September. Why?"
These are the key sections of the article,
…t is very likely that the real reason goes by the name of John McDonnell, the LRC's president. The fear is surely that, if the conference went ahead, it would have been attended by many victims of the 'Anti-Zionism equals anti-Semitism' witch-hunt. To address such a conference could end McDonnell's glorious political career in the Labour Party with his expulsion. After seeing what happened to fellow MPs Diane Abbott and Bell Ribeiro-Addy, he knows that is a real prospect.

…..

John McDonnell has undergone a sickening political decay. He, like Momentum owner Jon Lansman, helped lever the Labour Party into adopting the International Holocaust Remembrance Alliance's so-called 'definition' of anti-Semitism: a definition which equates anti-Zionism with anti-Semitism. Not only that: McDonnell supported the reactionary "zero tolerance" doctrine in the face of the blatantly dishonest witch-hunt against socialist and leftwing activists. Such treachery, such a failure to stand in solidarity with wrongly accused comrades, whose innocence he cannot have doubted, should not be passed over in silence. He certainly should have been stripped of his position as LRC president.
Keable concludes,
Keeping McDonnell as LRC president, as its figurehead, is like allowing Ramsay MacDonald to remain Labour Party leader after he had defected to lead the national (Tory) government in 1931. It will guarantee the LRC's inability to struggle effectively for socialism (which does not appear amongst the LRC's 'Aims and objectives', by the way4) or even for a "fully democratic" Labour Party (which does appear, in rule 2). As Keir Starmer's new Blairite witch-finder general, David Evans, gears up as general secretary for a purge of the left likely to dwarf what the Labour right was able to get away with during the Corbyn period, either McDonnell must be removed as president or the LRC will be forced to throw out victims of the witch-hunt from its ranks.

Dodging this choice is impossible. It is either him or us.
For many people who know at least some of those involved this is sad more than anything else.
Some activists we still have respect for have got caught up in the eternal games of the Weekly Worker: the cycle of provocation/repression/recruitment.
In the meantime these tweets indicate continuing cause for concern about anti-semitism on the left.
The conference promises to interest many people with these views together.