Posts Tagged 'Podemos'
" The symbolic unification of the group around an individual – and here I agree with Freud – is inherent in the formation of the formation of a 'people'."
Ernesto Laclau.
"..a collective will cannot be constructed without some form of crystallisation of common affects, and affective bonds with a charismatic leader can play an important role in this process."
Chantal Mouffe. (1)
"The big story of the election was not that the Conservatives imploded, but that Labour pulled off the most stunning surge in British political history". Alex Nunns concluded The Candidate (2018 edition) by saying, "Inside the Labour Party the election result destroyed the three pretexts used by Corbyn's opponents to justify their recalcitrance: that he was unelectable, incompetent and not a leader….As for leadership, Corbyn not only inspired millions of new voters, he had changed the political weather. "(2)
Hailing the "ascendancy of the socialist left in Britain" Corbyn adviser Andrew Murray warned of the threat of a "culture war" on the left, "rancid identity politics", and "Brexit derangement syndrome" from those opposed to Boris Johnson's hard right Brexit. He took comfort, "polling figures aside" – Labour's 2019 European election disaster – at "establishment panic at the prospect of a Corbyn-led Labour government". It is said that the Leader's office, LOTO, believed that a last minute surge, replicating the rallies and enthusiasm of 2017, would push the Party forward. (3)
Labour Saints and Heroes.
In the Observer yesterday Andrew Rawnsley suggested otherwise (A keep-it-dull campaign is a risky way to win the Labour leadership). . In the Labour leadership campaign none of the contenders have the courage to say it was madness for Labour to fight the election with the most unpopular leader in the history of polling. This is the truth they dare not utter for fear of offending those party members who still worship of the shrine of St Jeremy."  While Rebecca Long-Bailey and others are said to have expressed some doubts over the holy relics, it has been left to Alan Simpson to express the view that the "corridor cabal" around Corbyn, the cadres and structure running the leadership operation, was deeply flawed.
It would be unkind to dismiss the hopes placed by large numbers of people in Jeremy Corbyn. A better way of looking at this would be to question whether left politics needs "charismatic leaders", not as symbols, but as power-points dominating politics. Thomas Carlyle considered Hero Worship the opposite of the Sceptical World, and the Hero, "a son of Order" who recognises the "necessity of authority". Left-wing Heroes in the Twentieth century included one "strong daring man", who bridled in a revolution more radical than the one placed under halter by Carlyle's hero, Napoleon. Even Saints have not fared well, as Latin America and decolonised societies indicate. The "gift of grace" is not widely seen as a quality that helps left governments achieve their goals. (4)
Political Logic of Populism.
What Laclau called the "political logic" of populism appears to favour those who appeal to the authority of the sovereign nation. If the British Conservatives' dabbling in populist rhetoric has dampened down after their victory the rise of national populism in Europe continues. Left political adventures in "constructing the people" against the Oligarchy have reached an impasse in France. Jean-Luc Mélenchon's La France insoumise (LFI), a "point de rassemblement", that is a rally, not a party with a democratic internal structure, looks set to remain on the margins. Appeals to patriotism, a revolutionary trait we are instructed by Jacobin's European Editor, have fallen on deaf ears. As in 6,3% of the vote last year in the European elections. The uncontested leader of LFI's humble adoption of Chantal Mouffe's lessons on charismatic leadership, tempered by virtue,  continues regardless. By contrast the evolution of Spain's Podemos into a democratic, collegiate, radical left party, standing as Unidas Podemos and prepared to compromise with their rivals in the Spanish Socialists, the PSOE has borne fruit – if a reduced electoral score at 12,9%, after a split with Mouffe's friend,  Íñigo Errejón whose Más País got 2,4% (Podemos had 21,2% in 2016). (5)
In the era of the people it is perhaps better to deal with real individuals than with the forces of destiny. Labour leaders need popularity, they need radical fire, and they have to have a platform than can inspire the membership, from elected officials, activists, to card-carriers. They have to reach out to the public. In the era of the people they should, perhaps, like Podemos, appeal to individuals. That is, with reasonable not charismatic, appeals. If Keir Starmer is the front-runner in this contest for Labour leader one can say that all the candidates have taken this approach. This Blog backs Starmer but…No more heroes…..
*****
Page 100

Ernesto Laclau. On Populist Reaso

n. Verso. 2005. Page 70.

For a Left Populism. Chantal Mouffe.

Verso. 2018.

Pages 376 and 382.

The Candidate. Jeremy's Improbable Path to Power

. Alex Nunns

. O R Books. 2018 Edition.

Postscript.

The Fall and Rise of the British Left. Andrew Murray

.

2019.

On Heroes, Hero-Worship, and the Heroic in History. Thomas Carlyle

. J.M Dent. 1926.

De La Vertu

. Jean-Luc Mélenchon.

L'Observatoire. 2017.

L'ère du peuple. Jean-Luc Mélenchon.

Pluriel. 2017.
Saints have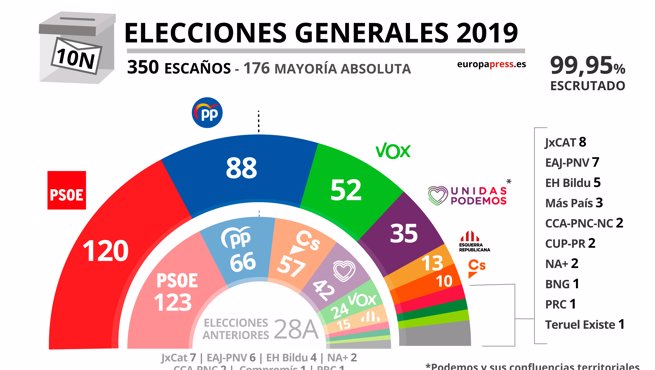 Vox is now the 3rd Largest party in Spanish elections.
Socialists win repeat Spanish election, Vox becomes third-biggest force in Congress
A poll that was meant to unblock the political situation in Spain has only served to complicate it, with losses for the left, a recovery for the PP and a huge boost for the far-right.
El País
The Socialist Party (PSOE) of caretaker Prime Minister Pedro Sánchez won the highest number of seats but fell short of an absolute majority at the repeat general election in Spain on Sunday.
With around 99% of the vote counted, the PSOE had taken 120 seats – three fewer than the result it managed at the April 28 general election. The conservative Popular Party (PP) won 87 seats – a major gain from the 66 seats it secured in April, its worst result ever. But far-right group Vox saw the most significant rise, jumping from 24 to 52 seats, to become the third-largest party in Spain's lower house, the Congress of Deputies.

Unidas Podemos – a coalition of United Left and anti-austerity group Podemos – retained 35 of the 42 seats it won at the last election, while the centre-right party Ciudadanos (Citizens) suffered a crushing defeat, losing more than 40 seats to be left with just 10.

For decades the PSOE and PP had taken turns in power, but the economic crisis spawned protest parties and Spanish politics have lately been defined by a lack of parliamentary majorities and the inability of politicians to reach governing deals. Sunday's vote was the fourth general election Spain has held in as many years.
The leader of Cuidamos has now resigned: Albert Rivera abandona la política tras la debacle electoral de Ciudadanos
Vox, (Vox, stylised),  the voice of popular hatred, is a national populist far right party. Apart from expressing dislike against immigrants and specifically Muslims, and the 'elites' of the European Union, they are marked by virulent opposition to Catalan nationalism,  and express a strong strain of anti-feminism and claims to defend "the family"  not found in much of the electorally successful Western European populist right. With this social conservatism the party of Santiago Abascal has sometimes been compared to  Poland's Law and Justice (PiS) admired in Britain by some figures from Blue Labour.
The left populists of Podemos continue to decline. As Unidas Podemos (supported by other left organisations such as Izquierda Unida) they are down from the highpoint of 21,6% in 2016 and now stand at 9, 80% with 26 seats. The splinter from the party of Pablo Iglesias  led by his former comrade, Íñigo Errejón,  Más País, best known for its Green New Deal platform, won 3 seats (577,018 or 2,40%.)
Left populism now looks unlikely to ever make the expected breakthrough in Spain.
When he was a member of Podemos Errejón outlined his line of march in a widely read book,  Podemos: In the Name of the People, Chantal Mouffe in Conversation with Íñigo Errejón  2016.
We have taken steps to build  – culturally, affectively, symbolically – that new political identity, and to form the nucleus of a national-popular will that is capable of turning the turning the hopes and fears of those below into the hopes and fear of a new country, the foundations of a new historical bloc."(Page  158)
There was a grand strategy  behind this, "We need to recover a sense of politics, and a passion for a democratic revolution, which we always born from 'we the people' – that is always the originatory (sic)  statement – construction of a people that demands sovereignty and a new social contract."(Page 159) The "people" have yet to speak through the voices of Podemos and Más País let alone be "constructed" around their Charismatic leadership.
Chantal Mouffe, the theorist of left populism, claimed the task was the  "To turn heterogeneous demands into a  collective will it's necessary to have a figure that can represent that unity."(Page  109). Welding all kinds of aspirations, feelings and people in a country as complex as Spain, into a united wish to do something, through the vehicle of a diverse political party however 'new' struck many as the time, and since, as an almost theological hope.
Spanish left populism has, to few outsiders' surprise,  failed to do this. Its weakness was in focusing attention on the faults of the 'casts' the political elite, the kind of thieving and manoeuvering seen in the 2018 Spanish film El reino (The Candidate). That this could be recuperated by forces like Voz is plain to see. Whatever either the Iglesias side or the Errejón one   had to offer in the way of countering their rise, above all in Andalusian politics, has been conspicuous by its lack of impact. The left populists in Podemos itself has strengths, such adopting a 'pluri-national' democratic approach to the issue of Catalonia and its national demands, without making concessions to the Barcelona bourgeoisie nationalists and their self-styled leftist allies. But that has not brought electoral success either.
Neither the Podemos brand of left populism, nor the Más País  more 'open' progressive stance, rooted in the (not unqualified successful) Más Madrid experience, had brought electoral benefits.
The response by Errejón's party is particularity irksome, blaming abstention for their feeble performance:
It is left to the centre left  Spanish Socialist Party of the PSOE to work out how to proceed faced with a reinvigorated right.
¿Y ahora qué? ¿Le salen las cuentas al PSOE para formar Gobierno?
Meanwhile French Left populism faces virulent criticism from a former leading member in a new book juts out. The Fall of the house of Mélenchon Thomas Guénolé. La Chute de la maison Mélenchon. 
Entre la France insoumise et Thomas Guénolé, la guerre est déclarée
Latest Opinion Poll Gives Más País 19 seats.
The Guardian carried a short article on this a few days ago,
Podemos co-founder Íñigo Errejón says he hopes to attract disillusioned leftwing voters.
Íñigo Errejón, a co-founder of Podemos, which he left in January after disagreements with its leader, Pablo Iglesias, said he was launching the party, Más País (More Country), because he wanted to help form a government and encourage disillusioned leftwing voters to turn up at the polling stations.

"I understand the widespread anger of the Spanish people with the current leaders and with the political stalemate," he said in front of a crowd cheering "president".

Errejón's party could further fragment the vote and either help the right get a majority or make it harder for any bloc to do so. There was already no guarantee the new election would make it any easier to strike a deal to form a government, and there will now be three main parties on the left and the right, after the far-right Vox made a breakthrough in the April election.
Íñigo Errejón split from Podemos at the beginning of the year and stood, under the label Mas Madrid  with a list led by Mayor of Madrid, Manuela Carmena.
The reasons are said to be both personal, differences with Pablo Iglesias of long date, and political. Errejón is the advocate of a "broad" populist line that rises above traditional left-right divisions.
They got 14,68% of the vote regionally (coming fourth) and 30,9% on the City council (first). They lost the Mayoralty to the right-wing  José Luis Martínez-Almeida.
Más País is the name of the new bloc, which brings together Errejón and his immediate allies with the green party-alliance, Equo. This is a bloc of very diverse green currents, regional parties,  and pressure groups, which refused to ally with the old Izquierda Unida and finally reached agreements with Podemos in 2015 and 2016. The agreement with Errejón resulted in a number of resignations from the party of key activists who had worked with Podemos. The new party has other allies in the regionalist and centre-left green, Valencian Coalició Compromís, and Arrognese green-pacifist Chunta Aragonesista.
There is an outline of the new party in Wikipedia (English): Más País.
If readers will excuse the use of Wikipedia the French entry has a useful summary of the ideologies of this new alliance (most the words are too similar to the English version to need translating);:
Más Madrid Gauche (left) 
Progressisme, écosocialismeCoalition Compromís Gauche
Écosocialisme, féminisme, nationalisme valencienEquo Gauche
Écologie politique, écosocialismeChunta Aragonesista Gauche
Écosocialisme, socialisme démocratique, nationalisme aragonais
Podemos (electorally known as Unidos Podemos)  continues to receive the backing of the left wing Izquierda Unida.
La Asamblea Político y Social de IU ratifica la coalición de Unidas Podemos y constata que aún hay tiempo para sumar a más actores políticos de la izquierda
There is a vast amount of material on Más País in the Spanish media.
In an interview today in El País Errejón claims to be the "el pegamento," the glue, of the Spanish left, sticking it together…..
Asked if he would enter a government led by the Spanish Socialists, the PSOE, Errejón replied,
Quiere entrar en un Gobierno socialista?

R. No es el objetivo. Es lo de menos. Lo primero, los intereses de nuestro país. Y después, los cálculos de nuestras siglas.

That is not the aim, it's the least of them. Our first aim is the interests of our country, and after that, the objectives of those in our alliance (i.e. the list of acronyms that made it up).
Asked if he wished to surpass Podemos the leader of  Más País responded,
P. ¿Aspira a un sorpasso a Unidas Podemos?

R. No compito contra Podemos ni contra el PSOE. Uno no viene a política para derrotar a un partido, sino a derrotar la precariedad o la violencia machista.

I'm not competing against Podemos nor the PSOE. One has not come into politics to destroy a party, but to eliminate social insecurity and macho violence.

Íñigo Errejón: "Nuestros escaños no serán gratis, pero servirán a un objetivo político
Errejón has been described as a 'post-Marxist' and "anti-essentialist", a reference to views he holds in common with 'left populist theorist Chantal Mouffe. The book, Podemos: In the Name of the People (Íñigo Errejón  Chantal Mouffe and the Introduction by Owen Jones, 2016)  which imagines a unifying left-populism emerging in Spain, has never looked more outdated. 
Fashions die young. 
Errejón defended a degree of federalism within Podemos, and the view that the new politics should be "neither right nor left". With an emphasis on patriotism and the nation, against the elites, "la casta". All that looks clear at the moment is that the politics of Más País have a green inflection,  taking up the Climate Strike.
Here