Archive for the 'European Elections' Category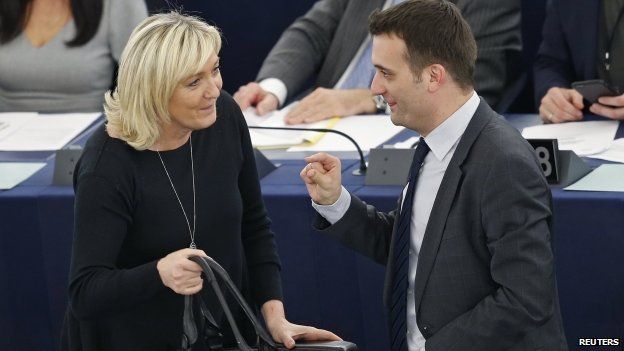 Marine Le Pen and her Ideologue: Florian Philippot.
France's far-right National Front (FN) said Saturday it would maintain its goal of seeing the nation out of the euro common currency, despite urging by some in the party to ditch the stance as a vote-loser. France 24.
The decision came after a two-day, closed-door meeting at the group's headquarters west of Paris, to learn the lessons of May's presidential election that saw its candidate Marine Le Pen lose by double digits.

But while the policy position remains, a statement said it had been pushed back to the end of the five-year term of any future FN government, in what appeared to be a concession to critics.

Some inside the party — and many commentators outside — think this issue helped sink Le Pen's campaign.

And according to some of those present at the meeting, several of the group's leading members abstained in a vote on the final text.

Le Pen, campaigning on an anti-EU and anti-immigration platform, lost with 34 percent of the vote to centrist Emmanuel Macron's 66 percent in the May 7 runoff.

In parliamentary elections just weeks later, the FN won a mere eight seats in the 577-member National Assembly, missing its target of 15, as Macron's centrist party captured a comfortable majority.

As late as Friday, FN secretary general Nicolas Bay told FranceInfo radio he thought the party could reverse its stance on the question of an exit from the euro.

"I think we need to listen to what the French people said," he told the broadcaster. "We did not convince people with this idea."

But the party's deputy leader Florian Philippot, a strong supporter of the euro withdrawal policy, had warned against abandoning it.

He insists the party needs to speak to French voters "on issues beyond the traditional subjects of the National Front, such as immigration and crime".

Le Pen herself has said the FN will hold a "wide consultation" with party members, probably in September.
Le Monde talks of the FN "Tearing itself apart" over the issue and over whether to keep its line based on triple themes of "security-immigration and identity", advocated by the hard-line Florian Philippot and his opponents whoa rgue that modifying their programme on these issues is a condition for a new "union of the (nationalist) Rights.
Le FN se déchire entre la ligne de son vice-président, Florian Philippot, qui place l'hostilité à l'euro au-dessus de tout, et celle de ses adversaires internes, pour qui le parti ne gagnera qu'à la condition de revenir à son triptyque fondamental « sécurité-immigration-identité » et de réaliser l'union des droites.
As yet there seems no indication that Marine le Pen and her leadership intends to go ahead with the idea, floated earlier, of a name change, Front national : une « transformation » qui pourrait passer par un changement de nom.
Just before this meeting a report indicated that apart from the Euro, the far-right party had put this, the issue of alliances with other forces, and making the organisation more "open" to its voters, would be on the table, Alliances, nom du parti, sortie de l'euro… Le Front national à l'heure de la « refondation .
Such disputes are rare inside the Front National.
The last one ended in a split and the formation of the Mouvement National Républicain by Bruno Mégret in 1998.
We await the "grande consultation" in September. 
Background on the FN: see Yves,  A propos de quelques livres récents sur le Front national.