Archive for the 'Animal Liberation' Category
Stan Keable LAW Secretary at this week's NEC Protest.
Also Stan was for many years the Labour Party Marxist and some say still it.
Also:
The CPGB-PCC (Note – the Weekly Worker group) stood Stan Keable against New Labour's Ken Livingstone in Brent East in the 1997 general election; Keable stood on the CPGB's programme but was listed as an SLP candidate after Scargill had disowned the contest. The CPGB-PCC kept a token presence inside the SLP right up until the early 2000s, essentially to report the internal goings on. 

The far left inside Scargill's Socialist Labour Party Lawrence Parker July 2021.
General election 1997: Brent East[Votes
Labour Ken Livingstone23,74867.3+14.5 Conservative Mark Francois 7,86622.3−14.3 Liberal Democrats Ian M.C. Hunter2,7517.8−1.1 Socialist Labour Stan E. Keable4661.3 New ProLife Alliance Andrew J. Shanks 2180.6 New Rainbow Dream Ticket Claire M. Warrilow1200.3 New Natural Law Dean Jenkins1030.3 NewMajority 15,88245.0+28.8 Labour hold Swing+14.4
Labour Against the Witch-hunt.
July 24, 6pm:
Emergency LAW members' meeting
All members of Labour Against the Witchhunt will receive a Zoom invite in the next few days – if you join LAW before July 24 here, you may attend. If you are unsure if you're a member, you can check your status here – login with your usual email address, then make sure to select 'Labour Against the Witchhunt' from the drop down list (a few groups use membersmojo and your email address gives you access to all your memberships managed by that system). You can of course also email us and we'll check if you are a member.

We totally understand if you wish to attend the meeting with your camera switched off or by using a false name (but please email us if you do so: info@labouragainstthewitchhunt.org).

Please be assured that the Labour Party has of course no access to our membership lists.

Please send any motions or proposals in writing asap to info@labouragainstthewitchhunt.org)
LAW's sponsors include:Alexei Sayle, comedian Ken Livingstone Professor Moshé Machover, Israeli socialist and founder of MatzpenIan Hodson, president of the Bakers Union Ken Loach, film director Noam Chomsky, author and activist LAW's honorary president is Moshé Machover
Weekly Worker.
22.07.2021
Sir Keir's road to Brighton
This latest attack is just part of Starmer's strategy to prove that his Socialist Alternatives past as a Pabloite deep entryist is truly dead and buried.
……..
It is not enough to simply defend the left and oppose bans and proscriptions. We also need to pose an alternative to these anti-democratic restrictions that raise the wider issues of building a militant working class movement to transform society. It means that we have to take the Labour Party seriously and not play with lowest-common-denominator projects of left regroupment outside the party – the only worthwhile project here is one that has the potential to become a mass Communist Party, not a micro version of the Labour Party.
LPM comrades are countering Starmer's bans and proscriptions with the demand that Labour be refounded as a united front of all socialist and working class organisations. All should be able to affiliate and take part in the battle of ideas.
The Labour Party remains an important site of struggle for a Marxist programme, and we should not easily abandon it. Comrades should take elementary security measures to guard their membership. Making oneself an easy target for the witch-hunters is pointless. Inevitably secretaries and editors will be fingered. But we have a very wide rank and file and, of course, organisations such as LPM can recruit, recruit and recruit again. More than that, we can fight the battle of ideas, whatever the Starmer leadership says and does. They can ban organisations, but they cannot ban ideas – crucially the ideas of Marxism.
Thus, we urge the militant left not only to stay and fight back against Starmer's latest attacks, but also to use the opportunity he has given us to deepen the struggle to win the working class movement to the Marxist programme of republican democracy, ecological sustainability and universal human liberation.
Comment.
, ideas of republican democracy .ecological sustainability. and human liberation do not need a 'mass communist party' one which in any conditions, is not going to be created by the Labour Party Marxists of the CPGB (Provisional Central Committee -aka the Weekly Worker) and factionalists, amiable though they may be. like Stan Keable.
The party backs Starmer's plans as groups protest.
Labour's NEC backed the proscription of four groups at just before 7pm on Tuesday after a marathon session.
While the meeting took place, a protest outside Labour headquarters organised by groups opposing the expulsion of hundreds of members who denied claims of antisemitism in the party included a speech by Covid-denier Piers Corbyn and "notorious antisemite" Tony Greenstein.
The protest took place as the National Executive Committee was voting on whether to proscribe four Jeremy Corbyn-supporting groups which have denied the extent of Labour's antisemitism problem and which are said to promote communism.
..
Comment.
This, much as many of us on the left dislike the politics of and in some cases personally, the people involved, is a blanket ban. It is anti-democratic, and should be strongly opposed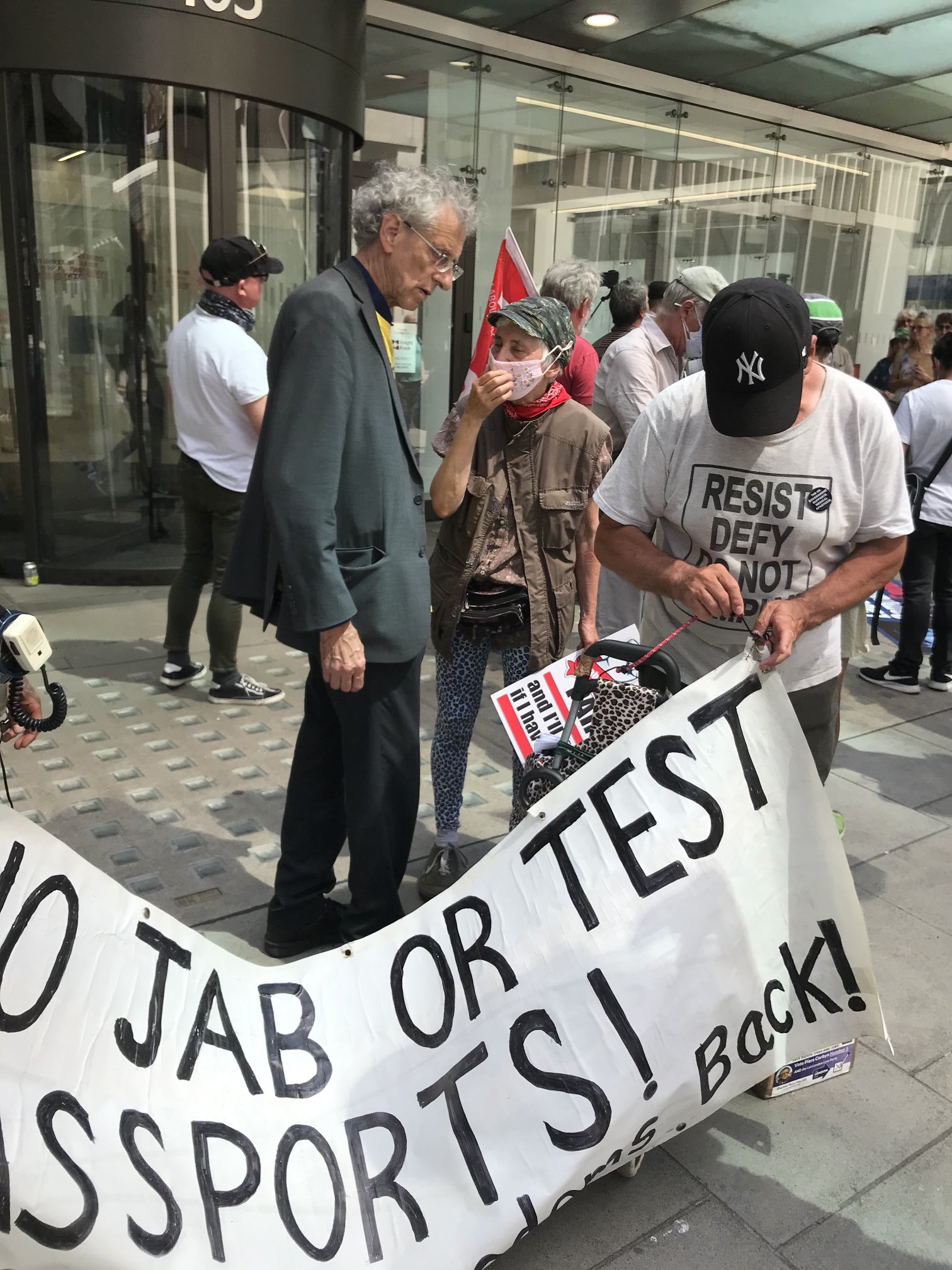 Piers Corbyn Joins Protest against Labour Plans to some Proscribe Left Groups.
While we are waiting for the NEC's decisions…..
Heiko Khoo above. This is the noted Red-Browner's background (standing for the confusionniste Let London Live anti-Lockdown slate in the London elections, led by Piers Corbyn, "Stop All Lockdowns and Covid Rules". He claims to have been in Socialist Appeal.
Heiko Khoo Let London Live candidate Central West-London
Dr. Heiko Khoo is a researcher, a journalist, and a radio producer. He organizes the highly acclaimed Karl Marx in London Walking tour (Marxwalks.com). But he is best known for his oratory at Speakers' Corner, Hyde Park, where he has spoken since 1985. Heiko 57 was born in London and lives in Ladbroke Grove.
We have spent a year under a regime of petty diktats that robbed us of our dignity and our basic rights and freedoms.
The coronavirus crisis concealed a global power grab by finance, tech and Pharma giants. It is time for the people of London to stand up to the global capitalist elites and their governments and stop this descent into dystopian madness.
Heiko is standing for the London Assembly to give voice to the anger and discontent of the people at the disaster that has befallen our city and the world. This means empowering the people to challenge state and corporate power. London has played a decisive role in world history for centuries. Now we need to stand up the powers that be and create London anew out of the wasteland.
Heiko has prepared a comprehensive document explaining the events of the last year, which you can find on www.unmask.org.uk
Here is how it began:
Jewish News.
Brother of ex Labour leader spoke alongside Tony Greenstein at demo opposing the party's actions against far-left groups whose members are accused of antisemitism
Speaking outside the Southside building in Victoria, central London, Piers initially heaped praise on Tony Greenstein – the "notorious antisemite" who was among the 100-odd activists present.

he ex Labour leader's brother then said he was present to give "100 percent support" to those he said were "being purged from the Labour Party."

He then added:"It's not just for my brother – I support his right to go back into the PLP fully, and everybody who is being purged."
As Piers continued to speak he then openly linked current attempts to tackle the pandemic with the climate under the Nazis in 1930s Germany.

At one stage he appeared to suggest compliance with the vaccine was a replica of submission to Hilter's Nazis.

"You know what happened in Germany.. they believed in Hitler, " he said.
You know what happened, the rest is history. "

Corbyn then attended that "the Jews" were "locked up" and that "the rest is ..what they were told to stay safe."
The article says, "When Piers Corbyn spoke some of the activists present attempted to distance themselves from a "Covid denier."
In the anti-vaxx/conspiracy/mad Pier's gang a speaker Heiko (above) said he, like Corbyn, was on the left.
This is the kind of the 'left' they are: 11th of July.
Laurence Fox and Piers Corbyn lead anti-lockdown and vaccine passport protests outside Wimbledon