Posts Tagged 'Zionism'
Canary Chief  Kerry-Anne Mendoza.
Report: Corbynite sites feature far-right tropes
Lee Harpin Jewish Chronicle
EXCLUSIVE: Study for the government analyses The Canary and Skwawkbox next to other extremist outlets
The Canary and Skwawkbox, two of the websites most closely linked to Jeremy Corbyn's Labour, have been found to promote "heavily negative coverage of Jewish issues" to audiences that are "associated with antisemitism", a damning new government report has found.

An analysis of content published online by the websites revealed alarming parallels between editorial lines taken by the two sites and that of the extreme far-right online outlet Radio Albion, when it came to the reporting of stories involving Jews.
The above article is not going to be friendly to the Canary nor to Skwawkbox.
The author of the study, carried out by King's College London for the Government's Independent Adviser on Antisemitism is Lord John Mann, He is, amongst other things, a man who ditched Labour for the hard right and a fanatical supporter of Brexit. He is not somebody we hold in any esteem whatsoever.* Many in the labour movement consider him a turncoat.
Nevertheless there are some worrying indications from the JC article. They show serious reasons to be concerned about these two alt-left alt-news sites and their  content.
The present Blog post here is just, as Wikipedia would put it, a stub for future analysis.
The 77-page document, Antisemitism and the alternative media, which will be sent to government ministers next week, set out to explore four online websites – two that have been associated with the Labour left and two with far-right associations — in unprecedented depth in order to better understand the ideologies they promote and the audiences they were reaching.
This stands out,
The report gives further detail on the way it believes Skwawkbox, which is edited by hard-left activist Steven Walker, has promoted the viewpoint that British Jews who support the state of Israel — along with members of organisations such the Jewish Labour Movement (JLM)  and Labour Friends of Israel  (LFI) — are a corrupting influence on politics in this country.
We await an Exclusive from Skwawky in asp on the issues.
No doubt with this template (yesterday)
Exclusive: BoD and JLM given veto to exclude expert nominees from Labour's 'independent' antisemitism 'advisory board'
#
"Mann was one of only three Labour MPs, along with Ian Austin and Kevin Barron, to defy a three-line whip and to vote for Theresa May's Brexit deal in the 15 January 2019 Meaningful vote. On 29 January 2019, Mann was one of seven Labour MPs to vote with the Conservative Government supporting Graham Brady's amendment mandating Theresa May to renegotiate the Irish backstop in the Withdrawal Agreement. The other six MPs were Austin, Barron, Jim Fitzpatrick, Roger Godsiff, Kate Hoey and Graham Stringer.[47] On 3 April 2019, Mann was one of twelve Labour and ex-Labour MPs to vote alongside the Conservatives against the Cooper Bill, which had been supported by the Labour Party. Nonetheless, the bill passed the House of Commons with a difference of one vote. On 3 September 2019, Mann and Hoey were the only Labour MPs to vote with the Government in an attempt to prevent MPs from taking control of the house to block a potential no-deal Brexit, saying "I didn't vote with the government. I voted against an amendment that is deliberately calculated to block Brexit"
Chaired by Tina Werkmann of Labour Against the Witchhunt and the Communist Party of Great Britain (Provisional Central Committee, CPGB-PCC), Labour Party Marxists,  who "works at Labour Left Alliance".
This important event will discuss how we can fight back against McCarthyite attempts to stifle debate on the issue of Israel/Palestine – and label those unjustly expelled and suspended as 'unpersons' who we are not allowed to share platforms with.

No to (self-) censorship! Discuss how we can fight back and mobilise for free speech in the Labour movement and beyond.

Speakers include Norman Finkelstein, Chris Williamson, Jackie Walker, Marc Wadsworth, David Miller, Tariq Ali and Tony Greenstein.
Many of the speakers are too well known to need further introduction.
But note this: 
David Miller, (2020)
a report in The Times detailed how Prof Miller is a director of a group known as the Organisation for Propaganda Studies (OPS), which has promoted theories about the September 11 terrorist attacks, the shooting down of an airliner over Ukraine in 2014, the White Helmets humanitarian rescue group in Syria, the anti-vax movement and the origins of coronavirus.

Ahead of a probe into his conduct, Bristol professor resigns from Labour blaming 'the Zionist movement'
Norman Finkelstein, Verso Blog 2018:
The chimera of British anti-Semitism (and how not to fight it if it were real)
In hard to read, adjective strewn prose,  Finkelstein continues,
 Is it anti-Semitism to believe that "Jews have too much power in Britain"—or is it just plain common sense? (It is, to be sure, a question apart and not one amenable to simple solution how to rectify this power inequity while not impinging on anyone's democratic rights.) Still, isn't it anti-Semitic to generalize that "Jews" have abused their power? But even granting that a portion have been manipulated or duped, it certainly appears as if British Jews in general support the anti-Corbyn juggernaut. If this indeed is a misapprehension, whose fault is it? The tacit message of the unprecedented joint editorial on the front page of the major Jewish periodicals was: British Jews are united—Corbyn must go! Is it anti-Semitic to take these Jewish organizations at their word?
Then there is Tony Greenstein…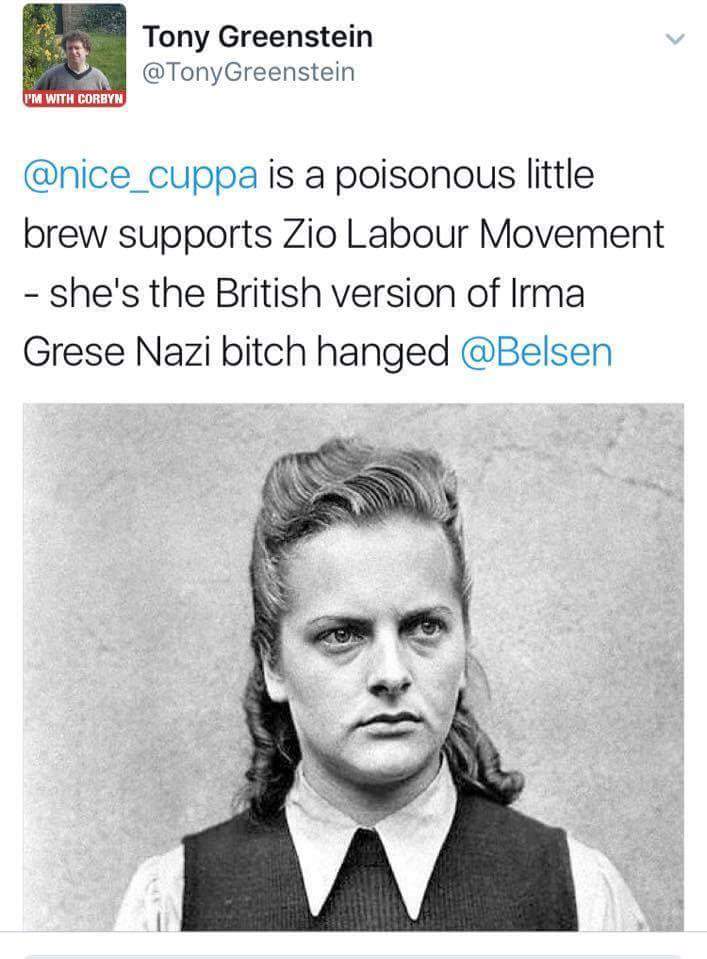 At least a couple of these people (including Tariq Ali)  are members of the Labour Party.
Reports that the Editor of the Canary Kerry-Anne Mendoza may be watching this event and could intervene have not been confirmed.