Posts Tagged 'Workers' Party of Britain'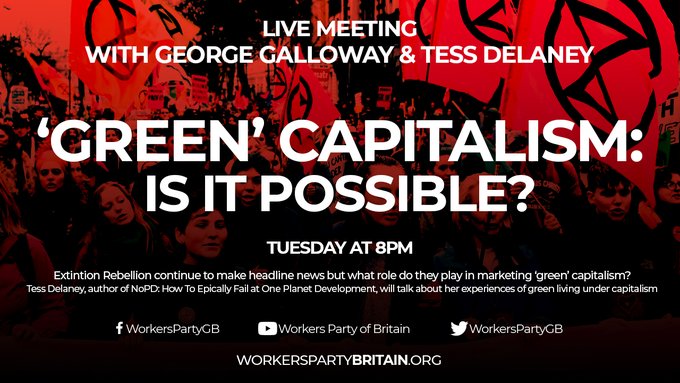 Galloway Warns Against Greens, "Across Europe, Green parties invariably collude with the ruling class against workers' interests. "
Old friends of George Galloway, like this Blog, have been concerned about the dapper gent these last months.
An unbecoming obsession with Zoe Ball and remarks that many consider beneath a man of Galloway's stature, mark his Tweets today.
Jealousy, the Green-eyed monster, they suggest, is behind his new support for Defund the BBC.
But there's still some hard politics, hard talking from the former leader of Respect, close friend of left-wing bigwigs like Lindsey German and John Rees, and, more recently a comrade in arms of Nigel Farage.
Everybody's favourite man in Fedora re-tweets the Chinese Embassy in NIgeria and  China studies  wiz-kid John Ross on the achievements of a world beating human rights pioneer state.
Galloway has allies on the issue all over the place.
He even finds the time  for some advice to Muslim protesters so outraged at Salman Rushdie's Satanic Verses that they called for his murder.
But, apart from his sideshow work in Scotland-Alliance for Unity, it's Galloway's leadership of the newest star on the left, the Workers Party of Britain that has brought the
He and his comrades ae now advising the world on the danger represented by Extinction Rebellion and Green Parties.
Workers Party member Tess Delaney on how XR is diverting the energy and enthusiasm of its activists into ultimately futile actions.
The clue is in the fact that to run this set-up takes lots of dolla. The big businesses and corporations are the ones with all the dolla, so they'll be the ones setting this up and becoming the heroes, with green versions of their logos stretching as far as the eye can see.

However, in this late stage capitalist society in which we find ourselves, everything that is done will be to provide a smokescreen to make us all be quiet and ignore all the other stuff.

..

The ONLY way to solve this is for the people to be in charge. You are many; they are few. What you gonna do? There is only one big fight worth having. Stop wasting time.
More:
Now..
The Alliance 4 Unity, led by G.Galloway, by contrast operates in the interests of the workers.
Indeed: The Alliance for Unity party was formed in July by George Galloway and Conservative Jamie Blackett.
Cllr Linda Holt – who left the Conservative party and went independent last year – announced that she will be standing for a list seat representing Mid Scotland and Fife.
And,
George Galloway says he'll work with Tories at Holyrood election to stop SNP breaking up Britain
These are the kind of people they attract:
George Galloway's Alliance 4 Unity candidate outed as vile racist who loved tweet calling George Floyd 'black lowlife pile of s**t'
Here is Galloway struggling with the workers against the Ruling Class:
h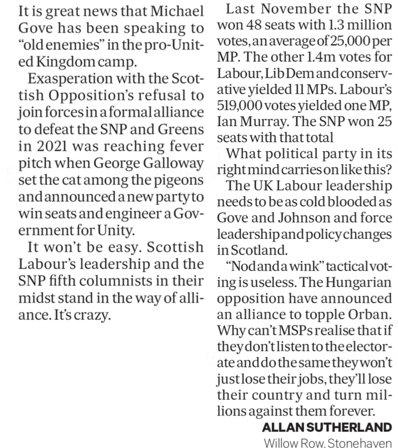 Marxist-Leninist Cadre of Workers Party of Britain Back Alliance 4 Unity.
This has indeed set the cat amongst the pigeons.
Michael Gove in talks with George Galloway to discuss protecting the United Kingdom against Scottish independence
Nationalists have reacted to the dapper Gent's latest proposal on who should vote in an Independence Referendum.
George Galloway sparked outrage today after he spoke out about the Scottish referendum.

The controversial political figure – who advocated for Leave during the Brexit vote – said if a second IndyRef does take place then the 795,000 Scots living elsewhere in the UK must have a vote.

In 2014 those who considered themselves Scottish living outside of the country were not able to have their say. Regardless, Scotland voted 55 per cent to remain as part of the union.
In a shock move the Workers Party of Britain (leader George Galloway) – Scotland – has backed George Galloway's Tory-Unionist-Marxist-Leninist Front, the  Alliance 4 Unity.
The Party, whose deputy is  Joti Brar from the Communist Party of Great Britain (M-L) and an active member of the Stalin Society,  has not lost its Marxist-Leninist principles. Playing a leading role in the Gallowayite bloc with the patriotic  advanced bourgeoisie they can spot anti-national pro-imperialist forces rearing their heads in Belarus.
Jodi Brar says,
Support is mushrooming for the new Galloway front:
Soon-to-be-new Father Galloway Appeals to Those Disillusioned with Labour.
Who's not sick of " clean air cycle lanes lesbians gays transexuals genders.." ?
The Workers Party is unequivocally committed to class politics. Though the fashion of the times is to divide working people along identity lines, we seek to unite them, based on their shared class interest. It is not 'homophobic' or 'racist' for socialists to focus their attention on those contradictions that concern the whole working class in its struggle for socialism. While being totally opposed to discrimination on grounds of race, sex or sexual proclivity, we declare that obsession with identity politics, including sexual politics, divides the working class.

Introducing the Workers Party LEADER: George Galloway :: Deputy leader: Joti Brar
What progressive patriot cannot agree that the British people should be rid of a "unemployed feckless rump living off cheap imported food and the plastic-electronic consumables of global capitalist anarchy"?
Disillusioned supporters of Rebecca  Long-Bailey are said to be flocking to the Galloway-led Workers' Party of Britain,
Now comes this happy news….
Firebrand politician George Galloway to be dad again at 65.
The Daily Record reports.
The Scots former MP is expecting a baby with his fourth wife, Putri Gayatri Pertiwi, who is 30 years his junior.

The baby is due in the summer and will be the couple's third child together and Galloway's sixth in total.

Galloway posted a photograph on social media of his wife sporting her pregnancy bump after she attended a 20 week scan.
Galloway has not let his joy stop him from campaigning…
Galloway's Workers' Party of Britain is on the rise:
You can see why!
The Party has appealed to the "mob" to attend:
Coronavirus looms.
But, help is at hand:
Background:
The Communist Party of Great Britain (Marxist-Leninist) welcomed the announcement made by George Galloway in the days following the general election.

This formation of the Workers Party of Britain (WPB) represents a genuine effort to break a section of workers away from the stranglehold of the Labour party, which has once again shown itself incapable of leading the British working class to socialism.

The Corbyn period of leadership was the period which should once and for all kill off the myth that with a 'socialist' at its head the Labour party can deliver for working people.

Though communists may recognise the truth of the above statement, as yet thousands of well-intentioned workers do not. These sections of the working class are unable to take the necessary steps alone; they need to be guided, as any student must, in drawing out the necessary conclusions from their own practical experience.

The Workers party has the potential to assist in this process, which is of historical importance for the British working class.

Lalkar extends its congratulations to the CPGB-ML and to Joti Brar, one of CPGB-ML's vice-chairs, who was elected the deputy leader of the Workers Party of Britain at its founding congress. This meeting also elected a large 40-person members council with strong working-class representation.

….

More than ever, the political analysis of Marxist-Leninists is needed by workers in Britain. Our job is to defend principles whilst wedding Marxism to the workers.

We hope that all those whose left-social-democratic illusions now lie in tatters will join the Workers Party as a positive step towards their total political redemption; there will be more joy in heaven over one sinner who repents, than over ninety-nine righteous persons who need no repentance
More to follow: