Posts Tagged 'UK'
Donald Trump has retweeted three inflammatory videos from a British far-right group.

The first tweet from Jayda Fransen, the deputy leader of Britain First, claims to show a Muslim migrant attacking a man on crutches.

This was followed by two more videos of people Ms Fransen claims to be Muslim.

Responding to Mr Trump's posts, UK Prime Minister Theresa May's official spokesman said it was "wrong for the president to have done this".
This has deeply offended many people, starting with Brendan Cox, the husband of Jo Cox. Her killer shouted Britain First before stabbing her.
Brendan Cox, the husband of slain British lawmaker Jo Cox, said Wednesday that President Donald Trump has "become a purveyor of hate" after retweeting three anti-Muslim videos from a British far-right account.

"This is like the President retweeting the Ku Klux Klan. This is not a mainstream organization and for the President of the United States, our greatest ally as a country, to be retweeting, to be providing a microphone to those voices," Cox told CNN's Anderson Cooper on "AC360."

"I think no matter what your perception of the UK, I think has been shocked by that." CNN.
This aspect of the news was not just taken up in the UK and the US. The French left-wing daily, Libération noted, "Jo Cox, a été tuée en pleine rue par Thomas Mair. Ce dernier avait crié «Britain First !» avant de lui tirer dessus puis de la poignarder. ( Donald Trump hérisse les Britanniques en relayant des vidéos d'un groupuscule fasciste).
This is not just a detail. Our friends in France have just baptised a road after our fallen comrade.
Murdered British MP Jo Cox joins Churchill in having French street named in her honour.
Instead of trying to explain his offence away Trump has now gone on the attack.
In rare clash between allies, US president tells May to focus on terrorism rather than on him – but sends tweet to wrong person
Donald Trump has publicly rebuked Theresa May over her criticism of anti-Muslim propaganda, opening an extraordinary diplomatic spat between the transatlantic allies.

"Theresa@theresamay, don't focus on me, focus on the destructive Radical Islamic Terrorism that is taking place within the United Kingdom," the US president tweeted on Wednesday evening. "We are doing just fine!".

Trump's message came in response to criticism from the British prime minister's spokesman over the president's retweeting of incendiary videos posted by the deputy leader of a British far-right group.

However, the "@theresamay" Twitter handle that Trump targeted does not belong to the British prime minister, but to a woman called Theresa Scrivener. Minutes later Trump deleted and reposted the tweet, this time with the correct handle: @Theresa_May.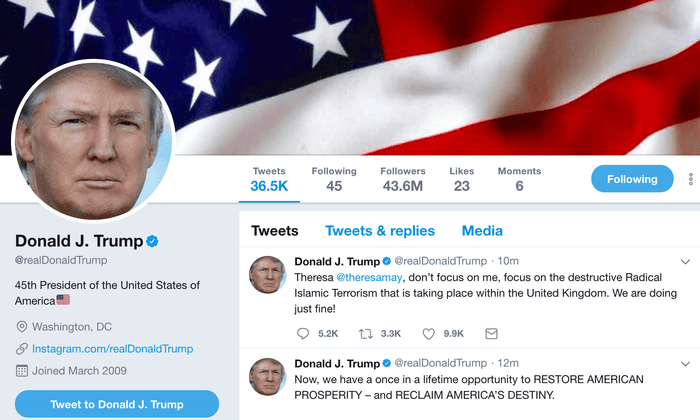 It is
In this context this is bad news.
No 10 responded to Trump's tweet by defending Theresa May's record on tackling Islamist extremism. The prime minister's official spokesman offered no further criticism of Trump, stressing instead the "close and special relationship" between the UK and US.
Asked for May's response to Trump's tweet, he said:
Firstly I should say that the overwhelming majority of Muslims in this country are law abiding people who abhor extremism. The PM has been clear where islamist extremism takes place it should be tackled head on and we are working hard to do that both at home and internationally including with our US partners.

For an example of that i would point you to the work the PM is doing with the US preseident and President Macron and others to get terrorist content removed from the internet as quickly as possible.
He also insisted Trump's state visit would go ahead, saying: "The offer of a state visit has been extended and accepted and we will set out more details in due course."