Posts Tagged 'UK'
'Perfidious Albion': Napoléon Macron and his British nemesis, Admiral Johnson.
Is it a coincidence that the day after the Bicentenary of Napoléons death that Britain and France are again close to war? Or that today is an election day in the UK?

Royal Navy ships patrolling Jersey amid fishing row with France.
BBC
Two Royal Navy ships are patrolling waters around Jersey and two French patrol vessels are nearby, as fishermen protest over their post-Brexit rights.
About 60 French and Jersey boats are blocking the island's St Helier port, with a freight vessel unable to leave.
French military ship heads to Jersey to join post-Brexit fishing protest as Royal Navy patrols waters
Sky
Suffolk's Top News Site reports:
Where does the UK left stand? Is our main enemy at home? Or is it, as the Morning Star might say, the neoliberal imperialism of the EU member France? Some Campists state, "Critical support for degenerated Republican France versus the thoroughly rotten from top to bottom constitutional monarchy of Britain in this conflict."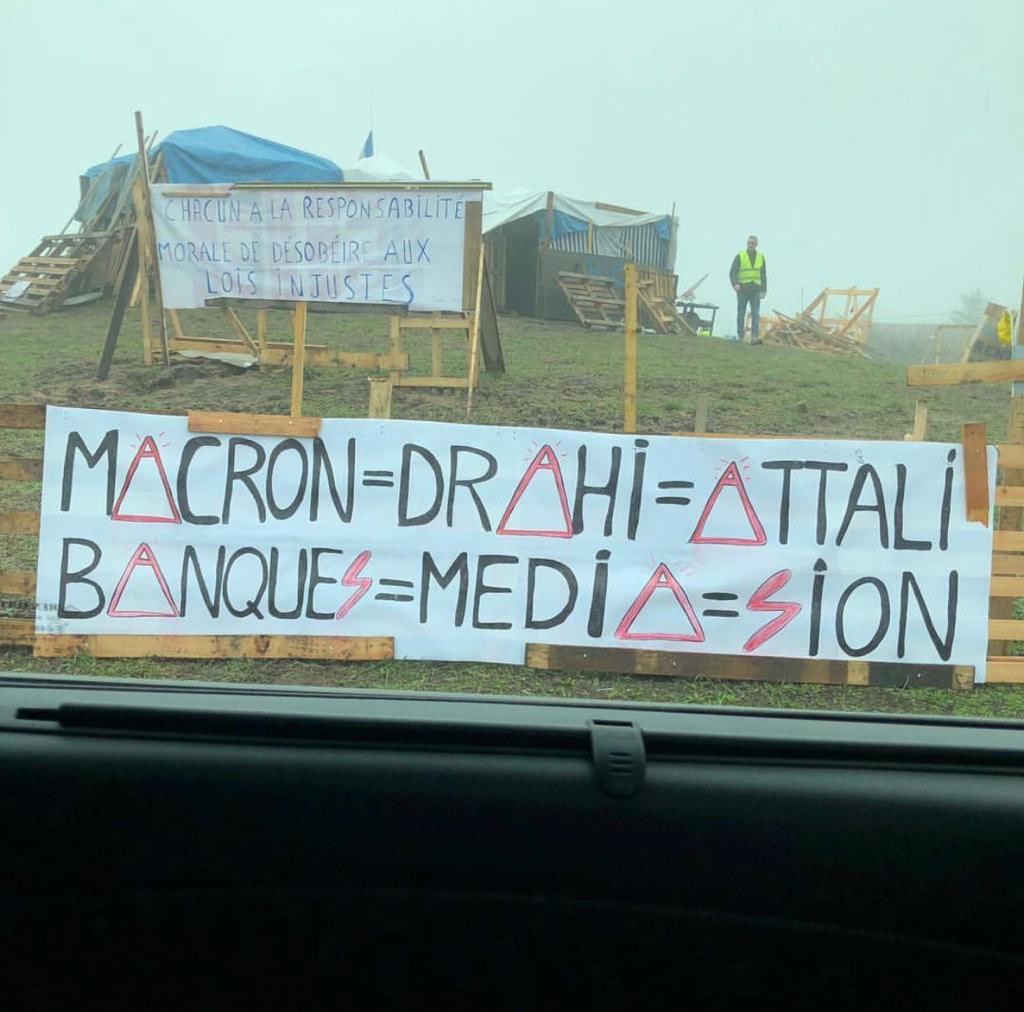 Far Right Fringe of French Gilets Jaunes Have British Imitators.
 British yellow vests announce second London protest
The British Yellow Vests have announced a 'Day of Action' in London on Saturday with a meeting point at Parliament Square, Westminster at 1pm.

The Facebook event page says "Bring your vest and join us!" The event isn't party political and all are welcome. On Friday sixty protesters hit global headlines after bringing a mass rebellion to the capital.

…

Activist James Goddard, who is part of the movement and targeted Westminster Bridge, just yards away from the British Parliament told Politicalite: "This is just the start."

"We wanna see people out on the streets challenging the political class." "We're gonna bring cities to a standstill, We all need to start doing this"

"There's no funding, there's no leader or political affiliation, this is real people taking action, without the help of people who are high up."

Tracy Blackwell was also part of the protest, she told Politicalite: "It's about time the British people stood up to the tyranny of what's going on in our Establishment."

She added: "We don't want another Josh, Harry and George to happen to someone else, and it will it's not a case of if, its a case of when."

"We the people have had enough of being used as cannon fodder by the Elite in this country," said Tracy.
The far-right opposes "globalism", which makes it hard to distinguish from 'anti-globalisation'. Counterfire and their fronts, and many other Brexit Bolsheviks  mobilise against "undemocratic elites", a pillar of the far-right language replacing class.  It looks increasingly unlikely that the pro-Brexit Counterfire stunt  (below) is going to escape being confused with the national populist right.
Donald Trump has retweeted three inflammatory videos from a British far-right group.

The first tweet from Jayda Fransen, the deputy leader of Britain First, claims to show a Muslim migrant attacking a man on crutches.

This was followed by two more videos of people Ms Fransen claims to be Muslim.

Responding to Mr Trump's posts, UK Prime Minister Theresa May's official spokesman said it was "wrong for the president to have done this".
This has deeply offended many people, starting with Brendan Cox, the husband of Jo Cox. Her killer shouted Britain First before stabbing her.
Brendan Cox, the husband of slain British lawmaker Jo Cox, said Wednesday that President Donald Trump has "become a purveyor of hate" after retweeting three anti-Muslim videos from a British far-right account.

"This is like the President retweeting the Ku Klux Klan. This is not a mainstream organization and for the President of the United States, our greatest ally as a country, to be retweeting, to be providing a microphone to those voices," Cox told CNN's Anderson Cooper on "AC360."

"I think no matter what your perception of the UK, I think has been shocked by that." CNN.
This aspect of the news was not just taken up in the UK and the US. The French left-wing daily, Libération noted, "Jo Cox, a été tuée en pleine rue par Thomas Mair. Ce dernier avait crié «Britain First !» avant de lui tirer dessus puis de la poignarder. ( Donald Trump hérisse les Britanniques en relayant des vidéos d'un groupuscule fasciste).
This is not just a detail. Our friends in France have just baptised a road after our fallen comrade.
Murdered British MP Jo Cox joins Churchill in having French street named in her honour.
Instead of trying to explain his offence away Trump has now gone on the attack.
In rare clash between allies, US president tells May to focus on terrorism rather than on him – but sends tweet to wrong person
Donald Trump has publicly rebuked Theresa May over her criticism of anti-Muslim propaganda, opening an extraordinary diplomatic spat between the transatlantic allies.

"Theresa@theresamay, don't focus on me, focus on the destructive Radical Islamic Terrorism that is taking place within the United Kingdom," the US president tweeted on Wednesday evening. "We are doing just fine!".

Trump's message came in response to criticism from the British prime minister's spokesman over the president's retweeting of incendiary videos posted by the deputy leader of a British far-right group.

However, the "@theresamay" Twitter handle that Trump targeted does not belong to the British prime minister, but to a woman called Theresa Scrivener. Minutes later Trump deleted and reposted the tweet, this time with the correct handle: @Theresa_May.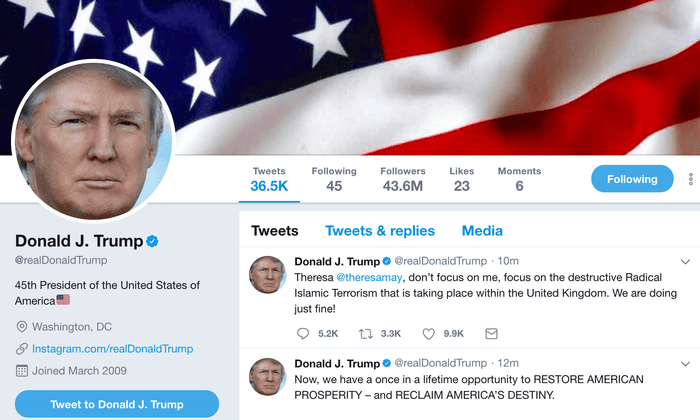 It is
In this context this is bad news.
No 10 responded to Trump's tweet by defending Theresa May's record on tackling Islamist extremism. The prime minister's official spokesman offered no further criticism of Trump, stressing instead the "close and special relationship" between the UK and US.
Asked for May's response to Trump's tweet, he said:
Firstly I should say that the overwhelming majority of Muslims in this country are law abiding people who abhor extremism. The PM has been clear where islamist extremism takes place it should be tackled head on and we are working hard to do that both at home and internationally including with our US partners.

For an example of that i would point you to the work the PM is doing with the US preseident and President Macron and others to get terrorist content removed from the internet as quickly as possible.
He also insisted Trump's state visit would go ahead, saying: "The offer of a state visit has been extended and accepted and we will set out more details in due course."