Posts Tagged 'TUSC'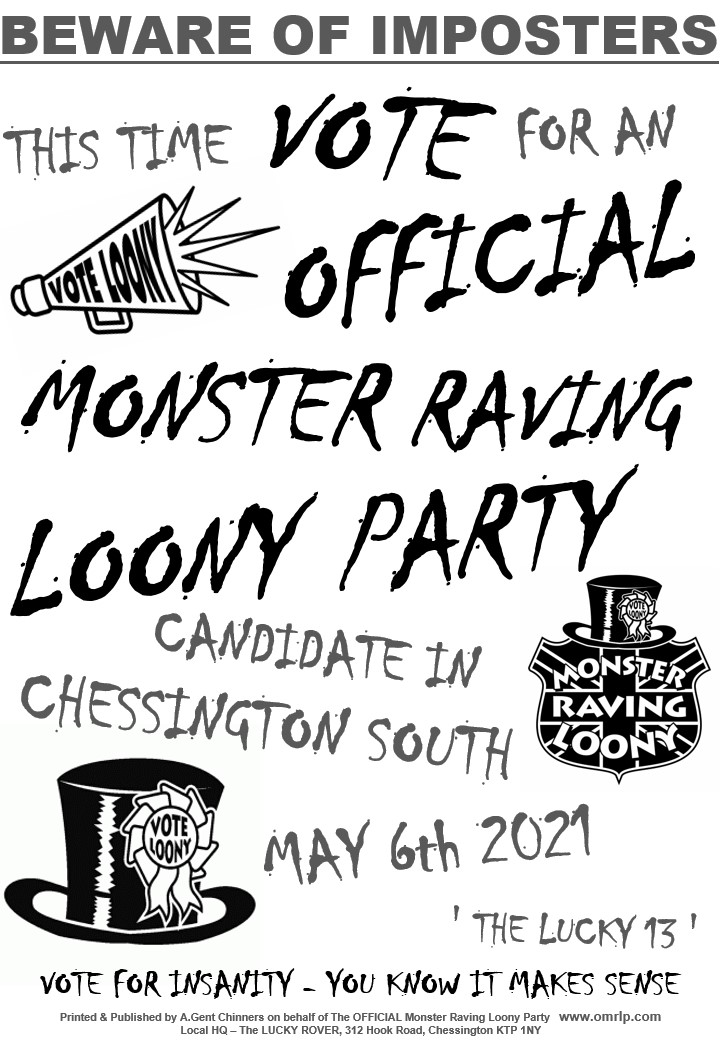 Trade Union and Socialist Coalition (TUSC) Faces Tough Competition From Monster Raving Looney Party.
Newshound David Walsh writes,
In this strange week where nothing political is stirring – anywhere – and nowhere on the left, please see the attached notice of nominations for a mundane by election in the Chessington South ward of Kingston upon Thames Borough Council. This follows the death of a Lib Dem Councillor.
When you open it, you will see that beside the three main parties , there are 13 candidates for the Raving Monster Looney Party – ranging from the Lady Dave Pither to the Count of Casual Corinthians via Captain Coily. In a ward where the last elections saw the Tories fighting off the Lib Dems in the mid one and a half thousands, and Labour trailing in with a couple of hundred it seems an odd place for Loonyism. Street view shows solid upper middle England villas and detached houses, and Google Earth shows a lot of big gardens with the blue dots of swimming pools. For the Loonies to have got the 130 signatures is a job of industrial enterprise. Odder still, the contest also sees a TUSC candidate – they must have found a hidden proletarian enclave that escaped me. See PDF from the council.
The following is a statement of the persons nominated for election as Councillor on Thursday 6 May 2021
Looniest election: Why 13 Official Monster Raving Loony Party candidates are competing for your vote in the same seat.
A total of 13 candidates for the Official Monster Raving Loony Party are standing for just one seat in Kingston's Chessington South by-election, possibly setting a record for the number of candidates a party has contested in a single-seat election.

There is nothing in the rules against this stunt, and there have been occasions in the past where two or three candidates have stood for one political party in a seat.

But it obviously makes it harder for a political party to win if their votes are split between several candidates. But then maybe that's the point…
The story continues.
Loony candidate A. Gent Chinners tweeted about the political ploy stating: "It's going to be a squeeze getting all 13 of them into that seat!"

He told MyLondon that despite "this massive plan of mine taking up far too much time" it was something he'd always wanted to try and arrange in a local election "and this one just seemed right what with lockdown."
Speculation is growing in the international workers' movement as to whether TUSC will manage to beat the Official Monster Raving Loony Party in a crucial contest in the proletarian heartlands.
Paul Embery, Patriotic Flags from "all Corners of the UK'   for Brexit.
Kate Hoey.
Back in March, on the day we were supposed to Leave the European Union, there was a rally at Westminster. Emotions ran high. People had travelled to London from all corners of the UK to tell Parliamentarians how angry they felt about the extension to the departure date. The cross-party platform featured speakers across a wide political spectrum and it had one aim: to call for the referendum result to be respected.

One of the best, and most carefully listened to speeches, was the one delivered by Paul Embery, on behalf of Trade Unionists Against the EU. In it, he reiterated his position on the Brexit debate – that democracy must be defended.
Sadly this befell the work, family and community gent:
…..shortly after the rally, Matt Wrack, the General Secretary of the FBU, issued a statement which said that it was outrageous that so-called Trade Union officials and Labour MPs attended joint rallies with Nigel Farage and others on the nationalist Right. In no uncertain terms, he stated: "They are a disgrace to the traditions of the Labour movement."
Now, Sputnik takes up he cudgels for one of Britain foremost critics of "rootless cosmopolitans".
Trade Unionist and Labour Activist Sacked 'For Supporting Brexit' – Tribunal Hearing
Embery says he was thrown out of the FBU after 11 years due to his vocal support for Britain's withdrawal from the European Union, after addressing a Leave Means Leave rally in London with Brexit Party leaders Nigel Farage and Richard Tice in March 2019.

The firefighter and lifelong Labour Party activist argues that the justifications given for his dismissal were "contrived, unprecedented, and perverse" and was actually down to his "pro-Brexit views and activity." he argues that the "leadership's resentment" of his prominent position as a supporter of the Leave campaign is also to blame.
Paul Embery, a man of quick parts and a deep labour movement education, was stunned to hear, "Hours before his speech at the Leave Means Leave rally (pictured), FBU's Ian Murray told him that to speak alongside Mr Farage would be a breach of union rules".
Paul Embery National Organiser for Trade Unions Against the EU and 'life long Labour activist' had such keen eyes that he could ignore that  the organisation received money from hard right money-bags Aaron Banks.
A stalwart of Blue Labour Mr Embery was welcomed on a speaking tour in 2016  by the Trade Union and Socialist Coalition (Socialist Party and RMT) to preach in his homely toiler's clothes against the European Union and support for a Leave Vote in the Referendum.
Paul Embery, London secretary of the Fire Brigades Union and national organiser of Trade Unionists Against the EU, pointed out: "The EU is rampantly pro-austerity and that approach has caused suffering throughout Europe, a collapse in living standards, the rise of the far-right and the decimation of public services."
Paul Embery is a man whose identity, who defends the  love of flag, relatives, class and creed. He charges the dissolute "Left political establishment swallowed a poisonous brew of economic and social liberalism. They have come to despise traditional working-class values of patriotism, family and faith and instead embraced globalisation, rapid demographic change and a toxic, divisive brand of identity politics."
One can only hope that other supporters of the liberty of expression, of national populism and patriotic identity politics will rally round to defend what promises to be another Free Speech War.
We look forward to hearing support for Embery from the Labour Campaign for Free Speech.