Posts Tagged 'TUSC'
Carnival of Reaction: Leave EU has become an openly racist far-right campaign.
They are based around Foxhole: an alt-right 'news' site.
Welcome to the Foxhole, a news website that goes against the grain of our media elites and speaks to the concerns of normal people.

Dissatisfied with the glaring flaws of the mainstream media – the skewed perspective, the partisan selection of stories, the ruthless suppression of anything that goes against their chosen narratives – we hope the Foxhole will serve to bring more attention to stories that ordinary people care about.

With the internet coming under stricter control, as Big Tech companies impose restrictive limits on what information you are permitted to share and consume, we're keen to cultivate a new avenue to spread awareness of the essential stories that the establishment media and Silicon Valley would rather push from view.

We see this site as a digital foxhole – a defensive position on the battlefield of information warfare, protecting us from an onslaught of corporate censorship and allowing us to better represent the views and concerns of millions of ordinary people who are badly served by the established press.

The site is run by a small team of young news hounds, looking to keep alive the grassroots ethos of the 2016 referendum.

We're powered by the support of the public. If you want to help this project continue to grow and reach more people, please follow us on Facebook and Twitter, read and share our content, and consider becoming a Foxhole Member for just £3 a month to enjoy the site without ads.
This is how they began.
The campaign was co founded by Bristol based businessman and UKIP donor Arron Banks, with property entrepreneur Richard Tice and early financial backing from Jim Mellon"
Leave UK was marked by its hardline anti-immigration stand, "an anti-immigration viral video produced by Leave.EU during the campaign was faked, and that the group appeared to have staged photos of immigrants attacking women in the United Kingdom."
Arron Banks was involved in dodgy funding scandals.
One that caught people's attention was this:
1.9m was donated to Grassroots Out, with smaller sums going to Trade Unionists Against the EU, Ukip, Veterans for Britain, and the TV station Wag TV, which made a pro-Brexit documentary
Trade Unionists Against the EU, headed by anti-rootless cosmopolitan campaigner Paul Embery, was promoted by the Trade Union and Socialist Coalition TUSC: The socialist case against the EU: TUSC tour continues. The Socialist. 2016.
Paul Embery, London secretary of the Fire Brigades Union and national organiser of Trade Unionists Against the EU, pointed out: "The EU is rampantly pro-austerity and that approach has caused suffering throughout Europe, a collapse in living standards, the rise of the far-right and the decimation of public services."
There also a link to Labour Leave:
Labour Leave fined over donation from Arron Banks' company Left Foot Forward.2019
The Electoral Commission has now fined Labour Leave after finding that the group failed to declare two donations, each worth £10,000. These were non-cash donations of office space and services (including PCs) by Better for the Country Limited and Labour Leave leader's John Mills Limited.

Labour Leave was fined a total of £9,000 by the Commission for failing to properly declare donations before and after the referendum. Labour Leave say the lapses were due to 'administrative errors'.

The donation from Better for the Country Limited is notable as Arron Banks is a Director of the company. Banks founded the controversial, unofficial Leave.EU campaign, and donated large sums to UKIP ahead of the 2016 referendum.

As the Guardian reported in February: "Leave.EU was fined £15,000 [by the Information Commissioner's Office] for using Eldon Insurance customers' details unlawfully to send almost 300,000 political marketing messages, and a further £45,000 for its part in sending an Eldon marketing campaign to political subscribers. Eldon was fined £60,000 for the latter violation."
Leave EU still exists though what the relation with ket player Banks is these days is not clear.
Leave.EU has left the UK, as Brexit forced the Eurosceptic campaign group to choose between its name and its country.
Guardian January 2021.
-According to domain name registration records, the organisation, founded by businessman and activist Arron Banks, picked the former. The website is now registered in the name of Sean Power, the chief executive of the Ireland-based professional services company BSG.

When asked, however, Power, who is based in Waterford, insisted that he had no involvement with the organisation. When informed that his name and contact details were present on the registration, he said he would be "looking into the matter".

Leave.EU has had some time to consider its move. The organisation is named after its web address, but .EU domain names can only be held by businesses or individuals based in the EU or wider European Economic Area.
This is how they are now: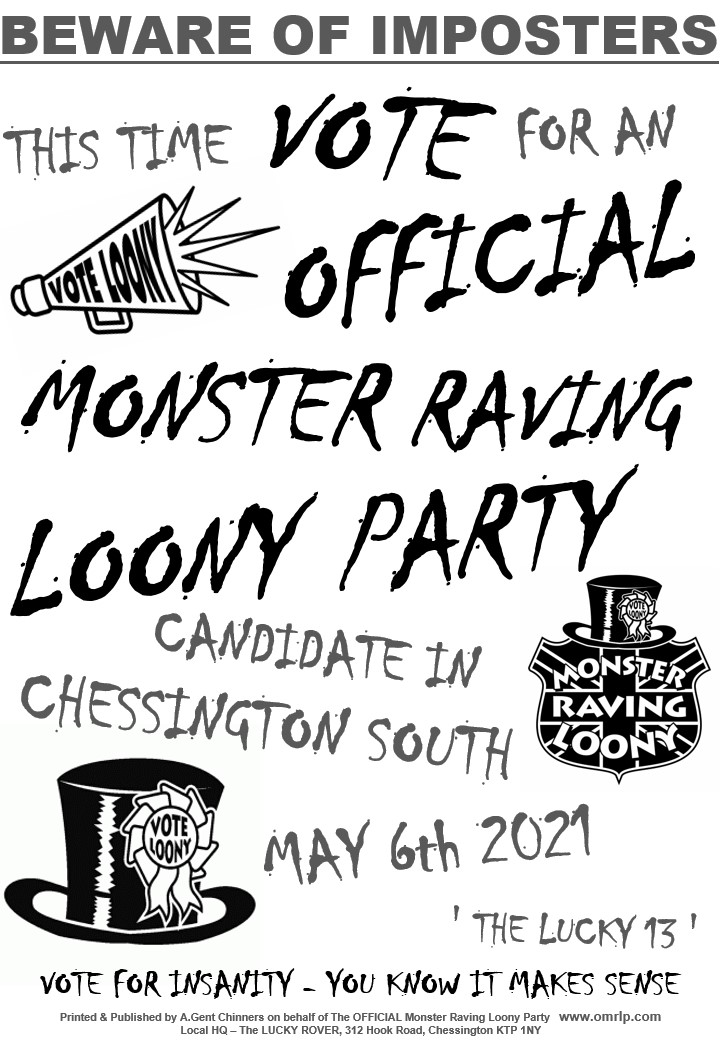 Trade Union and Socialist Coalition (TUSC) Faces Tough Competition From Monster Raving Looney Party.
Newshound David Walsh writes,
In this strange week where nothing political is stirring – anywhere – and nowhere on the left, please see the attached notice of nominations for a mundane by election in the Chessington South ward of Kingston upon Thames Borough Council. This follows the death of a Lib Dem Councillor.
When you open it, you will see that beside the three main parties , there are 13 candidates for the Raving Monster Looney Party – ranging from the Lady Dave Pither to the Count of Casual Corinthians via Captain Coily. In a ward where the last elections saw the Tories fighting off the Lib Dems in the mid one and a half thousands, and Labour trailing in with a couple of hundred it seems an odd place for Loonyism. Street view shows solid upper middle England villas and detached houses, and Google Earth shows a lot of big gardens with the blue dots of swimming pools. For the Loonies to have got the 130 signatures is a job of industrial enterprise. Odder still, the contest also sees a TUSC candidate – they must have found a hidden proletarian enclave that escaped me. See PDF from the council.
The following is a statement of the persons nominated for election as Councillor on Thursday 6 May 2021
Looniest election: Why 13 Official Monster Raving Loony Party candidates are competing for your vote in the same seat.
A total of 13 candidates for the Official Monster Raving Loony Party are standing for just one seat in Kingston's Chessington South by-election, possibly setting a record for the number of candidates a party has contested in a single-seat election.

There is nothing in the rules against this stunt, and there have been occasions in the past where two or three candidates have stood for one political party in a seat.

But it obviously makes it harder for a political party to win if their votes are split between several candidates. But then maybe that's the point…
The story continues.
Loony candidate A. Gent Chinners tweeted about the political ploy stating: "It's going to be a squeeze getting all 13 of them into that seat!"

He told MyLondon that despite "this massive plan of mine taking up far too much time" it was something he'd always wanted to try and arrange in a local election "and this one just seemed right what with lockdown."
Speculation is growing in the international workers' movement as to whether TUSC will manage to beat the Official Monster Raving Loony Party in a crucial contest in the proletarian heartlands.