Posts Tagged 'Trade Unions'
Heavyweight Supporter of Lexit.
Lexit is trending on Twitter.
This is why:
Those from the left who supported Brexit helped the Tories win the last election, by building support to 'get Brexit done' and 'take back control'.
They facilitated this.
UK workers' rights at risk in plans to rip up EU labour market rules
Financial Times.
Post-Brexit shake-up of regulations including 48-hour week likely to spark trade union outrage.
Peter Foster, Jim Pickard, Delphine Strauss in London and Jim Brunsden in Brussels YESTERDAY 833 Print this page Worker protections enshrined in EU law — including the 48-hour week — would be ripped up under plans being drawn up by the government as part of a post-Brexit overhaul of UK labour markets.
The package of deregulatory measures is being put together by the UK's business department with the approval of Downing Street, according to people familiar with the matter. It has not yet been agreed by ministers — or put to the cabinet — but select business leaders have been sounded out on the plan.
The proposed shake-up of regulations from the "working time directive" will delight many Tory MPs but is likely to spark outrage among Britain's trade union leaders. The move would potentially mark a clear divergence from EU labour market standards but the UK would only face retaliation from Brussels under the terms of its new post-Brexit trade treaty if the EU could demonstrate the changes had a material impact on competition.
What was Lexit, the campaign to leave the EU on a 'socialist' basis?
Those on the left with longer memories than than SWP fruit flies will recall it well.
Lexit – the Left Leave Campaign
With the referendum campaign on Britain's membership of the EU now underway, left forces have officially launched a campaign for a left wing British exit. The organisations backing #Lexit — the Left Leave Campaign include the RMT rail workers' union, the Communist Party, the Socialist Workers Party, Counterfire, the Indian Workers Association, the Bangladeshi Workers Council of Britain and Scottish Left Leave.

They are united around five key arguments for a left exit — against the EU's neoliberal agenda, its undemocratic nature, and the horrors of Fortress Europe; and for a defence of workers' rights through collective organisation and union strength, and for exploiting the crisis for the Tories that a leave vote would provoke.
There was also the hardline Full Brexit group, a red-brown alliance of the Brexit Party backing Spiked, many Lexit supporters, the Communist Party of Britain, Labour Party nationalists, sovereigntists, 'Trade Unionists Against the EU led by anti-rootless cosmopolitan campaigner Paul Embery' (supported by the Socialist Party) and various other odd bods.
They had their critics.
Brexit offered the public three wishes: you can take back control of your money, your borders, and your laws. Lexit does much the same with a socialist twist. Offering little more than dreams, both sides fail to realise that in an interconnected world, you can't take back control without giving something up.

Without a proper account of the EU's complexity and origins, the Lexiter position tends to fall into a self-made abyss of misunderstanding. And without having the class power to back up its position, a Lexit – just like Brexit – may condemn the UK to perpetual autarky and possible disintegration.
Lexit still has at least one supporter.
Sparing time from writing about  happy memories of participating in the paramilitary Kampfgruppen der Arbeiterklasse, KdA) in the Deutsche Demokratische Republik (East Germany),leading member of the Communist Party of Britain, Nick Wright says,
We are where we are on Britain's exit from the EU. Where we no longer confront the employers or ministers able to hide behind the conditions that EU treaties impose on member states, we face different obstacles built into the new trade agreement negotiated by a Tory government that now represents an evolving consensus between big business and the banks and the EU's dominant states.

That this is buttressed by the new US regime waiting in the wings is a reminder that the Atlantic alliance is as much a mechanism for economic control as it is a war fighting machine.

Where we once grappled with the pro-employer judgments of the European Court of Justice, we now directly face our ruling-class court system. Britain's bourgeoisie rightly fears an insurgent working class and we have a long history of challenging British courts with industrial action.
We expect the Morning Star to call for trade union factory militias to lead the battles!
Others have a different take.
H
Bob sums up their effect.
The Government has reacted to the FT report with a policy of staunch denial…(which means it's true).
Business secretary has denied claims EU-based employment laws such as 48-hour week will be axed.
******
This blog has begun reading hardline Leave supporter and post-New Leftist Perry Anderson's latest roman fleuve on Brexit  in the London Review of Books……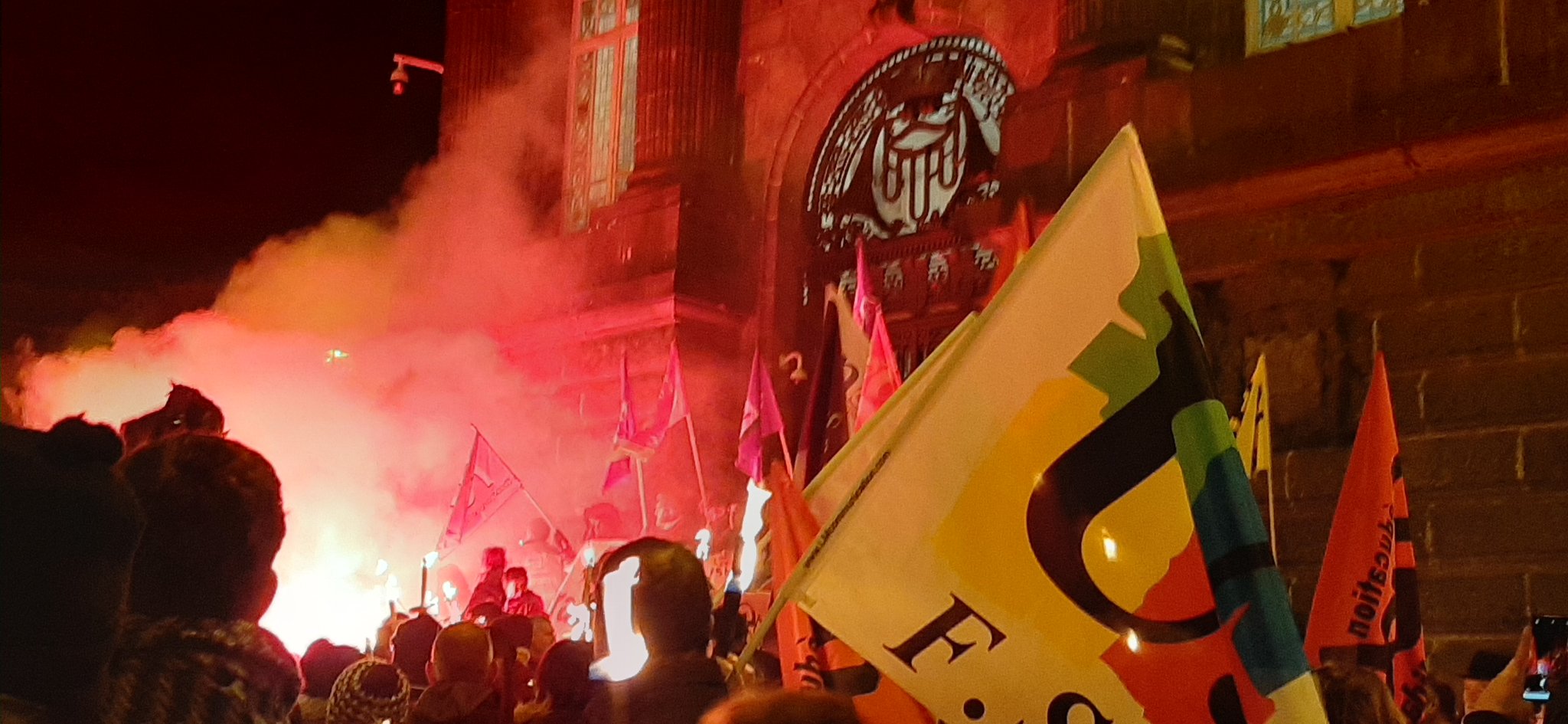 Torch-lit protest on the Eve of 'Vendredi Noir'.
On the 52nd day of moblisation against Macron's Pension reforms unions and protesters have united for a Black Friday (Vendredi Noir) of strikes and marches.
France 24 reports.
French hardline unions have called for a day of industrial action and mass demonstrations Friday as President Emmanuel Macron's plan to reform the country's unwieldly pension system is presented to his cabinet.
After a brief respite from a seven-week strike that extended over the Christmas period, French unions called for major shutdowns and demonstrations to show their "determination" to halt Macron's pension reform plan.

The call came as French Prime Minister Edouard Philippe presents the new plan instituting a "universal system" of point-based pensions to the cabinet Friday, before it is sent to the National Assembly, France's lower house, where debates will begin February 17.

Demonstrators held torch-lit protests in Paris Thursday evening ahead of a "Black Friday" of strikes and shutdowns.

France's hardline CGT union's leader, Philippe Martinez, warned that opposition to the pension reform "has not weakened" in an interview with the Public Sénat TV station, with polls showing that 61 percent of French people are calling for the reform to be withdrawn.
 Suivez la journée de mobilisation contre la réforme des retraites avec «Libération»
There are no Buses, Trains and RER (Paris Region rapid network).
While most of the French unions have opposed Macron's reforms the 'reformist' federation, the CFDT, has been willing to negotiate with the government.
This has led strikers from the trains, SNCF, and the Metro, RATP, invaded their offices. to protest last Friday  by occupying its HQ.
Réforme des retraites : le siège de la CFDT envahi par des grévistes
Envahissement de la CFDT par des grévistes : "vous ne négociez pas en notre nom"
Le Monde noted on Tuesday that the French Left , while backing the protests and strikes, has been unable to agree on a united response.
Réforme des retraites : les partis de gauche sont unanimes, mais ne proposent pas de solutions communes.
Opponents of the movement suggest that this may be a last gesture of defiance while others see the strikes continuing.
It looks highly unlikely that the movement has ended.
"WE ARE READY TO START DEMONSTRATING AGAIN TOMORROW"
l'Humanitê
Massif, historique, inouï, au moins inédit depuis près d'une décennie… À vrai dire, on ne sait plus quelle épithète coller à la mobilisation de ce jeudi contre la réforme des retraites, à l'appel de la CGT, FO, de la FSU, Solidaires, de l'Unef et l'UNL, rejoints par la CFE-CGC.

Massive, historic, unprecedented, unheard of for at least a decade…To tell the truth, who knows what word to use for the mobilisation against pension reform this Thursday, called for by the CGT, FO, (Union federations), the FSU (Teachers), UNEF (Students) and the UNL (secondary school students), joined by the CFE-CGC ('cadres', technicians, administrators and managers).
A strike that crippled public transport and closed schools across France entered a second day on Friday, with trade unions saying they planned to keep going until President Emmanuel Macron backs down from a planned reform of pensions.
The left-wing CGT union federation, celebrates the success of the protests and strikes.
Grève du 5 décembre : réussite générale !
The strike pits Macron, a 41-year-old former investment banker who came to power in 2017 on a promise to open up France's highly regulated economy, against powerful trade unions who say he is set on dismantling worker protections.

The outcome depends on who blinks first – the unions who risk losing public support if the disruption goes on for too long, or the government which fears voters could side with the unions and blame officials for the standoff.

Macron's government, along with many ordinary French citizens, have made plans to cope with the strike action through the weekend, but may take a different view on Monday, if the disruption extends into a second week.

Rail workers voted to extend their strike to Friday, while trade unions at the Paris bus and metro operator RATP said their walkout would continue until Monday. Other trade unionists were due to decide early on Friday how long they would keep up the strike.
Full reports in Le Monde: Grève du 5 décembre : cortèges massifs contre la « casse du système social », grèves reconduites… retour sur la journée de manifestations
Libération: Des dizaines de milliers de personnes défilent dans la capitale contre le projet de réforme des retraites du gouvernement. Mais la colère, plus large encore, s'adresse aussi à «Macron et son monde».
There were violent clashes:
The sovereigntists tried to join in.
Paris: Frexit supporters of the  l'Union populaire républicaine (UPR) prevented from joining march by left-wing trade unionists of SUD.
Mélénchon sounding a dud note, welcomes Marine Le Pen's backing….
Whether this was cynical effort to win over RN voters, or clumsiness, it has not been widely welcomed.
Mélenchon et «l'humanisme» de Le Pen : cynisme ou maladresse ?
The radical left sees this as the beginning of a wider struggle;