Posts Tagged 'Tony Greenstein'
Chaired by Tina Werkmann of Labour Against the Witchhunt and the Communist Party of Great Britain (Provisional Central Committee, CPGB-PCC), Labour Party Marxists,  who "works at Labour Left Alliance".
This important event will discuss how we can fight back against McCarthyite attempts to stifle debate on the issue of Israel/Palestine – and label those unjustly expelled and suspended as 'unpersons' who we are not allowed to share platforms with.

No to (self-) censorship! Discuss how we can fight back and mobilise for free speech in the Labour movement and beyond.

Speakers include Norman Finkelstein, Chris Williamson, Jackie Walker, Marc Wadsworth, David Miller, Tariq Ali and Tony Greenstein.
Many of the speakers are too well known to need further introduction.
But note this: 
David Miller, (2020)
a report in The Times detailed how Prof Miller is a director of a group known as the Organisation for Propaganda Studies (OPS), which has promoted theories about the September 11 terrorist attacks, the shooting down of an airliner over Ukraine in 2014, the White Helmets humanitarian rescue group in Syria, the anti-vax movement and the origins of coronavirus.

Ahead of a probe into his conduct, Bristol professor resigns from Labour blaming 'the Zionist movement'
Norman Finkelstein, Verso Blog 2018:
The chimera of British anti-Semitism (and how not to fight it if it were real)
In hard to read, adjective strewn prose,  Finkelstein continues,
 Is it anti-Semitism to believe that "Jews have too much power in Britain"—or is it just plain common sense? (It is, to be sure, a question apart and not one amenable to simple solution how to rectify this power inequity while not impinging on anyone's democratic rights.) Still, isn't it anti-Semitic to generalize that "Jews" have abused their power? But even granting that a portion have been manipulated or duped, it certainly appears as if British Jews in general support the anti-Corbyn juggernaut. If this indeed is a misapprehension, whose fault is it? The tacit message of the unprecedented joint editorial on the front page of the major Jewish periodicals was: British Jews are united—Corbyn must go! Is it anti-Semitic to take these Jewish organizations at their word?
Then there is Tony Greenstein…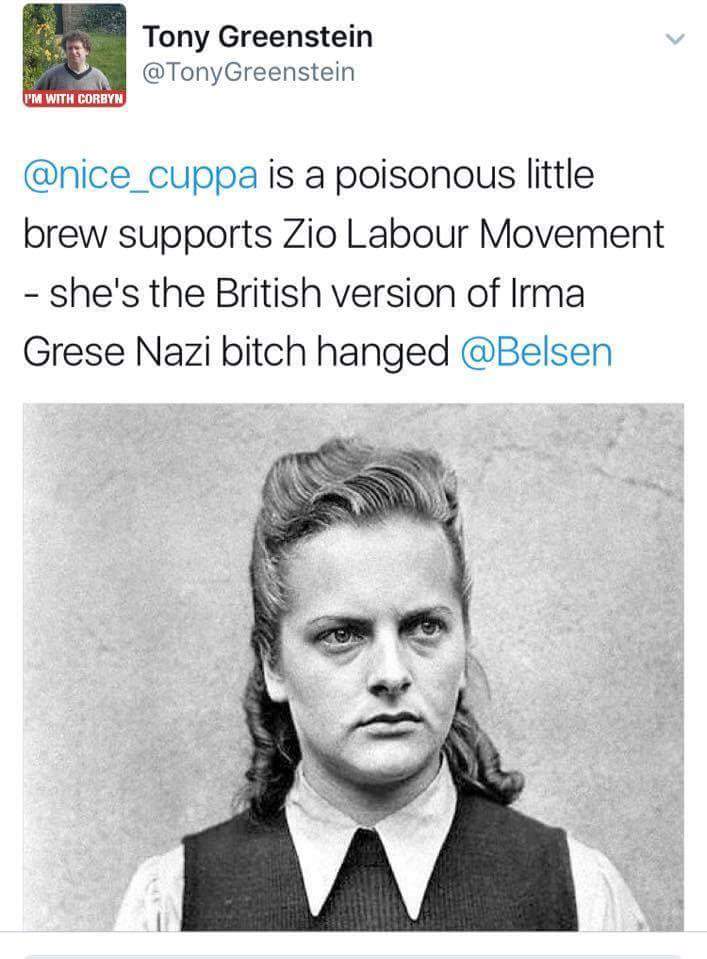 At least a couple of these people (including Tariq Ali)  are members of the Labour Party.
Reports that the Editor of the Canary Kerry-Anne Mendoza may be watching this event and could intervene have not been confirmed.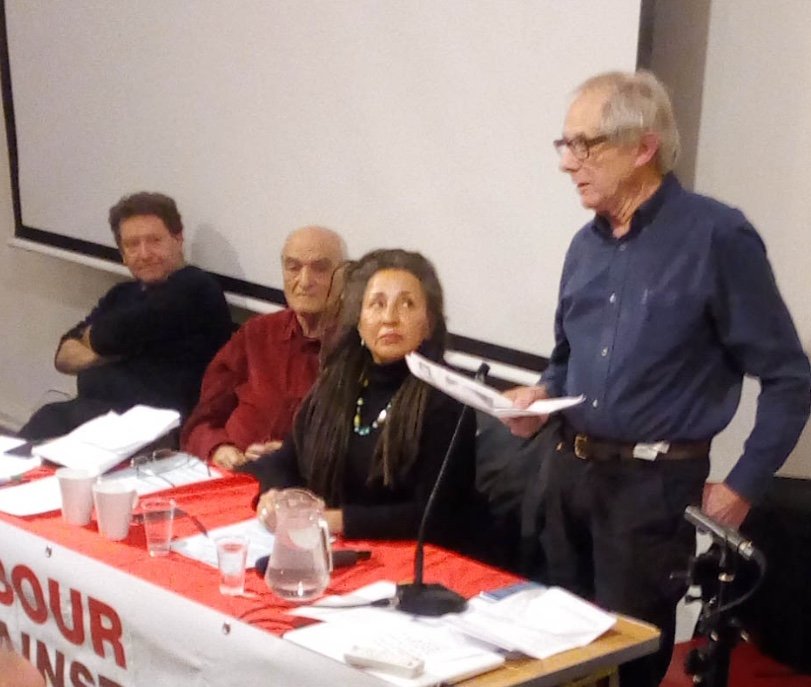 Ken Loach and Friends (Greenstein on the the far left).
Keir Starmer is the candidate that the Deep State & the British Establishment want you to vote for.
Tony Greenstein.
Starmer is the candidate of MI5 and the Political Police – he is Establishment down to his manicured fingers. 'Sir' Keir has pointed to his role in providing legal advice to striking miners and print workers.  This is true but it was a long time ago when he was a socialist. Today he is the darling of the Right.

…

Anyone who is fooled by this 'lurch to the left' is truly pathetic. Starmer is the candidate for the Police, MI5 and the British State that eviscerated Corbyn.  It was just one of Corbyn's idiocies that when Starmer resigned in the chicken coup that he was let back in to wreak more havoc.
Mr Greenstein is the Vice-President of Labour Against the Witch-hunt and a frequent contributor to the Weekly Worker.
He has also contributed to Al-Jazeera's web site.
LAW's honorary presidents are Professor Moshé Machover and Ken Livingstone.
LAW's sponsors include:
Ken Livingstone
Alexei Sayle, comedian
Professor Moshé Machover, Israeli socialist and founder of Matzpen
Ian Hodson, president of the Bakers Union
Ken Loach, film director
Noam Chomsky, author and activist.
If you had doubts before, Starmer is now the candidate to back!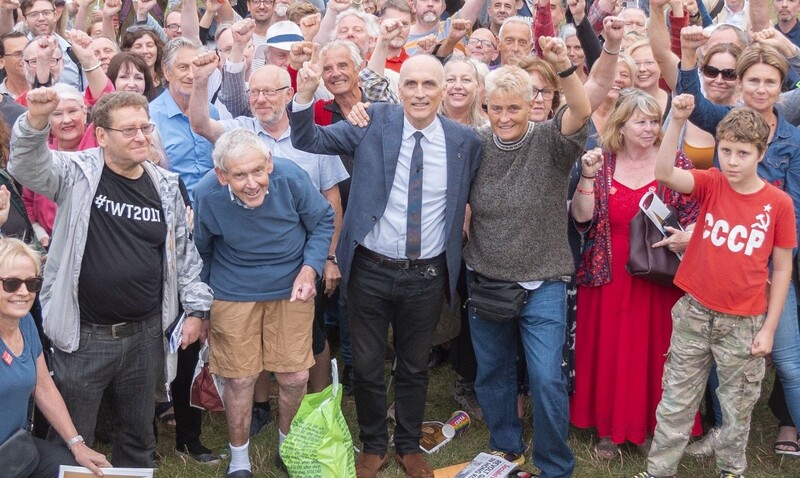 Chris Williamson in Brighton: Top Supporter (Tony Greenstein) on far-left.
This has now been tweeted.
The case of Chris Williamson is well known.
The man is so far gone that it hard to imagine the suspended from Labour MP  taking any notice of reality but here is an article, this year, from Labour Briefing by Mike Phillips, a Spanish speaker who knows Nicaragua,
New human rights report condemns Nicaraguan government
A new report has slammed the Nicaraguan state for abuses carried out in the aftermath of last year's protests. Crackdown in Nicaragua: Torture, Ill-Treatment, and Prosecutions of Protesters and Opponents, published by the US-based Human Rights Watch and based on work by an independent group of experts, appointed by the Inter-American Commission on Human Rights, says that some of the abuse amounted to torture.

"Many of the people detained during the crackdown on protests were subject to serious abuses that in some cases amounted to torture – including electric shocks, severe beatings, fingernail removal, asphyxiation, and rape," says the report. "Many injured detainees were reportedly denied medical care in public health institutions and doctors who provided care said they suffered retaliation."

The prosecution of protestors has also violated the norms of due process, argues the report. "Protestors have been held in incommunicado detention, subjected to closed door trials, and denied the right to confer privately with their defense lawyers."

The report further accuses the government of targeting journalists and cracking down on independent media outlets. It further cancelled the legal registration of nine civil society organizations. Top officials who bear responsibility for the abuses, far from being held to account, have been promoted by President Ortega.

The full report is available here https://www.hrw.org/report/2019/06/19/crackdown-nicaragua/torture-ill-treatment-and-prosecutions-protesters-and#page
Williamson, a vegan, is no doubt an authority on identity politics.
This is another strand he is following:
His supporters have had another setback with this news today:
Labour suspends Liverpool Momentum co-chair over alleged antisemitism
Jewish Chronicle.
He allegedly shared messages on social media that used antisemitic tropes around philanthropist George Soros
The co-chair of pro-Corbyn campaign group Momentum in Liverpool has been suspended by Labour pending an investigation over allegations of antisemitism.

Chris Cavanagh – who is a close ally of suspended MP Chris Williamson – is accused of sharing messages on social media that contravened party rules including several that used antisemitic tropes around philanthropist George Soros.

The JC can reveal that Mr Cavanagh, a member of West Derby Labour Party, was informed of his suspension from the party earlier this month.

It is unclear whether he has also been suspended from his role as co-chair of Liverpool Momentum.

Last July, Mr Cavanagh had helped organise a Momentum meeting as part of Chris Williamson's 'Democracy Roadshow' in which the Derby North MP – now facing expulsion over his repeated interventions in the party's antisemitism crisis – attempted to unsettle Labour MPs deemed unloyal to Jeremy Corbyn.

During the meeting at Liverpool's Quaker Meeting House, which the JC attended, one speaker was loudly applauded after he said: "What could be a greater threat to our democracy than a foreign government who is trying to veto the person we want for Prime Minister?

"Of course, I'm talking about the Israelis with their foot soldiers in Labour – the LFI [Labour Friends of Israel], the JLM [Jewish Labour Movement]. They are trying to take our democracy away from us."